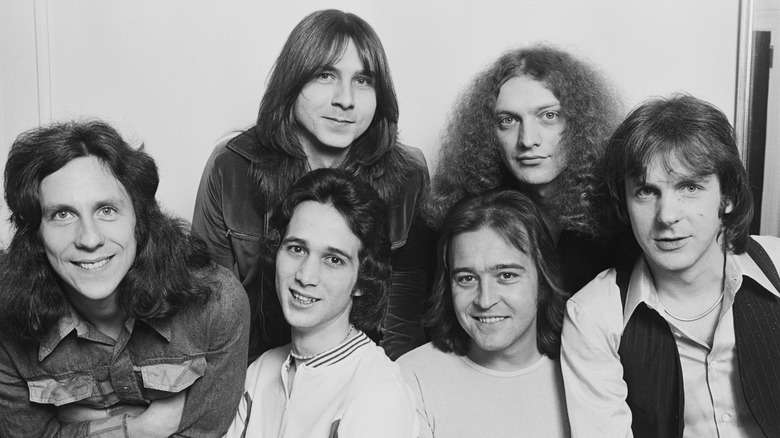 Think of most of the iconic bands of the 1960s and '70s, and images of kids just starting out come to mind. They meet in school before playing in nightclubs and bars, hoping for that big break. Some are lucky enough to get it, and the sky might just be the limit. Strangely, that's absolutely not the case with Foreigner. If anything, it's the opposite.
In Mick Jones' autobiography (via Louder), he talked about not only forming the group, but the full-fledged career he had before that. He toured Europe with some of the biggest names of the era, including The Beatles, and rubbed elbows with the likes of Peter Frampton and Jimmy Page. He had his own band — Spooky Tooth — and headed to America.
When things went sideways, he decided he was going to hand-pick a new band not because they were old high school friends or because they had some serious skills, but because they had the sound, ability, and personality that he wanted. So, he did: Then, he wrote the songs with the sound he wanted — American music, seen through a British lens — told everyone how to play, and set Foreigner on the road to immediate success.
Louder says that even though they were turned away by major producers and labels, their debut album sold around 5 million copies, and contained three massive singles that still get serious play today, including "Cold as Ice." It hasn't all been smooth sailing, though. The untold truths of Foreigner have included several tragic steps along the way.
That time Mick Jones fired half the band
Foreigner wasn't always called Foreigner, per Louder. When they first started courting record labels, they were known as Trigger. The name never took hold, and Mick Jones eventually came up with Foreigner because there were three Englishmen and three Americans in the band. "Wherever we went," he said, "there would always be a foreign element in the band."
Foreigner's debut album was released in 1977 to some serious accolades, chart-topping hits, and sales figures, but fans' desires to hear a lot more from the same lineup that gave them songs like "Feels Like the First Time" wasn't going to happen. In 1981, The Morning Call reported (via Newspapers.com) that even though Foreigner seemed to work magic together, Mick Jones and Lou Gramm had teamed up to boot two other founding members. Ian McDonald and Al Greenwood were out, and although no one was really saying anything, it was clear there was a lot of conflict there. But, as Greenwood cynically noted, "It's been swept under the rug. Conflict isn't good for the Foreigner image."
At the heart of it were accusations from either side: While Greenwood and McDonald claimed they were getting shut out of the creative process, Jones complained that they weren't working hard enough. In the end, no one was happy, and it only resulted in a lot of hurt feelings: "I was told by the manager I was no longer needed," Greenwood recalled. "It was a very cold and businesslike way to do things. I thought I meant more to the band, but I guess I was wrong."
Ian McDonald's death
Foreigner founding member Ian McDonald passed away on February 9, 2022, and according to The New York Times, the cause of death was colon cancer.
His obituary lauded his many, many contributions to music, from his time in King Crimson to getting Foreigner on the map. He was wildly talented, playing nine instruments, writing or co-writing many of the songs he worked on, and producing albums, too — including Foreigner's "Head Games," "Double Vision," and the self-titled "Foreigner."
His obituary in The Guardian brought up his time with Foreigner, and made sure to mention that it didn't end on his terms. They cited an interview he'd done in 2000 with Big Bang magazine, where it was clear that his departure was still painful: "I wouldn't have left," he said. "I loved the group, it was not my decision."
As for Mick Jones, he posted a photo on Foreigner's Instagram, saying that when he had started the band, there was no doubt that he wanted McDonald to be a part of it. In recent years, the two had taken the stage together again, and Jones wrote, "He will be sadly missed."
Lou Gramm has been candid about his struggles with addiction
Lou Gramm was one of the founding members of Foreigner, but he still had to audition for Mick Jones. Still, Jones has said (via Louder), "As soon as he came in to the audition, I realized we'd found our guy. He sounded exactly the way I wanted the band's singer to come across."
Gramm may have nailed the audition, but it wasn't an easy road from there. He's since been candid about his struggles with drugs and addiction, telling OnMilwaukee that "It's no secret that I was a drug addict for a dozen years."
He went into more detail with The Maine Edge during an interview that coincided with the release of his autobiography, saying that things had started out pretty good. But in 1991, he hit a point where he realized the drugs were too much: When he knew that he was in a state where he didn't want his kids to see him, he knew he needed to change things.
"I remember going back to my room and thinking that I didn't want this stuff in my life anymore," he said. "I literally fell to the ground and started praying that God could take this addiction away from me."
Gramm says that it was the very next day that he called a friend who had gone through rehab, booked himself into the same facility, and has been clean and sober ever since leaving.
If you or anyone you know is struggling with addiction issues, help is available. Visit the Substance Abuse and Mental Health Services Administration website or contact SAMHSA's National Helpline at 1-800-662-HELP (4357).
The death of Jason Bonham's famous father
If the name Jason Bonham sounds familiar, it should — he's the son of Led Zeppelin's legendary drummer, John Bonham. He's also one of many people to take the stage as part of Foreigner, playing with them from 2004 to 2008 (via Blabbermouth.net).
John Bonham died on September 25, 1980 after drinking around 40 shots of vodka in a single day. He was just 32 years old. Loudwire says that it was effectively the end of Led Zeppelin, with Jimmy Page calling his death "a massive loss to everybody."
Jason recounted that day for a podcast called "Patcast" (via Ultimate Classic Rock). He was 14, and recalled, "When you don't know anything about death, and no one close to you has died … I can play that day back perfectly clear in my head."
It was Robert Plant who had come to the door to tell Jason and his mother what had happened, and Jason recalled, "I remember seeing family arrive out of the corner of my eye and getting upset, and I didn't know why I was upset, but I knew something was up."
Years later, in 2012, Jason stepped into his father's shoes to play alongside the remaining members of Led Zeppelin. He spoke with The Globe and Mail about doing exactly that. "It made me realize that it wasn't about me anymore," he said. "They lost my father as much as I lost him."
There's been some heated debate over songwriting credits
Songwriting credits aren't just about bragging rights; they also impact who gets what in royalties. According to what Lou Gramm shared on "The Jeremy White Podcast" in 2021 (via Blabbermouth.net), he hasn't always been thrilled with the way things went down in Foreigner.
According to him, the problems started with "Waiting for a Girl [Like You]." Up until then, Gramm and Mick Jones typically shared songwriting credits 50/50, or close to it. (In fact, The Morning Call reported that one of the big complaints from Ian McDonald and Al Greenwood surrounding their dismissal was that "It became a two-man band. The rest of us were squeezed out.") Gramm later claimed he was still doing the work, but not getting the credit.
"When 'Waiting for a Girl [Like You]' came out, it was 75/25," he said. "And then when 'I Want to Know What Love Is' came out, he offered me 95/5, and I said, 'I don't want five.' So, he kept a hundred."
He went into more detail in a 2022 interview with The Sessions (via Blabbermouth.net), saying that although he had asked for a 65/35 split — taking the 35 for himself — Jones' first offer made it clear he considered Gramm's contributions only 5% of the song. "I was so stunned and crushed that he'd think I contributed next to nothing on that song," he said. "That put a wedge in us that was the beginning of the end."
Original bassist Ed Gagliardi dies of cancer
In 2014, Ultimate Classic Rock reported that Foreigner had said a final farewell to one of their own. The passing of original bassist Ed Gagliardi was announced first by Lou Gramm, who posted on his Facebook fan club that he was heartbroken he had passed away. He had spoken to Gagliardi not long before his death, and claimed that they had been making plans to meet up.
The news was later confirmed by Gagliardi's daughter, who announced that he had died due to complications from the cancer he'd been diagnosed with eight years prior.
Gagliardi had only been with the group for the first three years, and played on their first two albums. Gramm described him as a headstrong young musician who had plenty of ideas about how things should be done, but it was an attitude that wasn't really compatible with the way Mick Jones wanted to run things. Gramm wrote that he took being fired from the band pretty badly — "He actually fainted after being told" — but he went on to join fellow Foreigner alum Al Greenwood in the band Spys. After that, his career in professional music sadly came to an end, but Foreigner fans never forgot his contributions.
Lou Gramm's brain tumor
Lou Gramm was 47 years old when he got the news that no one ever wants to hear: He was diagnosed with an inoperable brain tumor. He told Fox News in 2016, "Basically, I was sent home and told I was going to die."
Gramm learned that he had been born with a brain tumor that had been slowly growing, and it had taken nearly five decades to become a problem. He wrote in his book (via the Express) that he had known something was wrong when he had started suffering from memory problems, vision problems, and headaches worse than anything he had ever experienced. By then, the tumor was the size of an egg, and pressed against both his optic nerve and pituitary gland.
Faced with a diagnosis of near-certain death, Gramm said it was just a few days later that he happened to be watching "20/20" when they aired a segment on a doctor named Dr. Peter Black. The Boston surgeon was pioneering new laser technology to operate on tumors that had previously been deemed inoperable, and Gramm got on the phone with him immediately. A day and a half later, he was in surgery. He chalked it up to sheer luck that he had seen the "20/20" segment: If not, "I don't know what I would have done," he told Fox News.
Jason Bonham's retraction
In 2018 — the same year Blabbermouth.net says that Jason Bonham reunited with Foreigner — the son of Led Zeppelin's John Bonham was asked by the radio station 97.5 KMOD (via Metal Wani) about his relationship with his father's former bandmates. He described it as being on friendly terms: He toured with Jimmy Page in the late 1980s, won a Grammy, and embraced music … which makes his 2019 claim so weird.
He was on Howard Stern when he said (via Esquire) that he was 16 when we walked into Page's room to be handed a "grinder thing." "He turned it over," Bonham recounted, "and he went, 'Here you go,' and I went, 'Thanks.'"
He went on to say that it was the first time he had tried cocaine, and given that he's been open about his addiction issues, it was a big deal. (Ultimate Classic Rock says that he credits Lemmy Kilmister from Motörhead as being the one to point him in the right direction, which was away from the same path his father had gone down.)
The story, per Esquire, got quite a bit of backlash. And sadly, it all seems as though it was completely unnecessary: About a week after telling the story, Bonham retracted it, said it wasn't true in the least, and issued a statement reading (in part): "I apologize to Mr. Page, unreservedly, for making these unfounded and untrue comments about him."
Lou Gramm's continued health problems and retirement
Lou Gramm underwent emergency brain surgery five years after going through rehab for drugs and alcohol, but according to what he told the Toronto Sun, that wasn't the end of his problems. Post-op, his treatment included the use of steroids — and that, in turn, meant he gained around 100 pounds.
Fans did, of course, notice, and he was candid about the bullying: "I didn't feel good or look good, and I took a tremendous backlash from fans who thought I was eating too much when it was the steroids that were blowing me up," he explained.
It also hasn't been the end of his health-related issues. Although he stepped away from Foreigner in 1990, he joined up with Mick Jones once again for a series of 40th-anniversary reunion shows. That wasn't to be, though: Billboard soon reported (via Syracuse.com) that Gramm had pulled himself from the show on doctors' orders after being hospitalized for "severe respiratory infection, dehydration, and fatigue."
At the time, Gramm was looking ahead to official retirement. When he spoke with Daily Boom in 2019, he said that although he was having a ton of fun reuniting with Foreigner, and performing on-stage again, "I'm in the process of winding down, and I'm at peace with it."
Mick Jones vs. Lou Gramm
When Ian McDonald and Al Greenwood were fired from Foreigner, their comments suggested that the group would work best as a duo — Lou Gramm and Mick Jones. At the time, Jones was happy with the music, saying, "It's more aggressive than anything we've done before. It has a harder rocking feeling. That's what we wanted" (via Newspapers.com).
It's ironic, then, that Jones later told CBS News that the split between himself and Gramm happened, once again, over direction. As the years rolled on, Jones says they butted heads: Gramm wanted to go more in the rock direction, while Jones was down with the ballads.
Years later, Gramm would tell a slightly different version of the story, citing the ultimate reason for his retirement from Foreigner as coming after a slew of songs that he just didn't feel he had any input into. "He just wanted me to sing them," Gramm would later say (via iHeart). "No input on lyrics or melody or anything — he came to me with complete songs that he had written, and just wanted me to sing 'em."
It was almost 10 years after the split that Jones admitted that he had started to see things in a new light with the virtue of hindsight: "You know, I look back on it now, I can't have been easy to work with in those days. I knew what I wanted — I was pretty domineering." When asked whether or not he had regrets? "Yes, I do" (via CBS News).