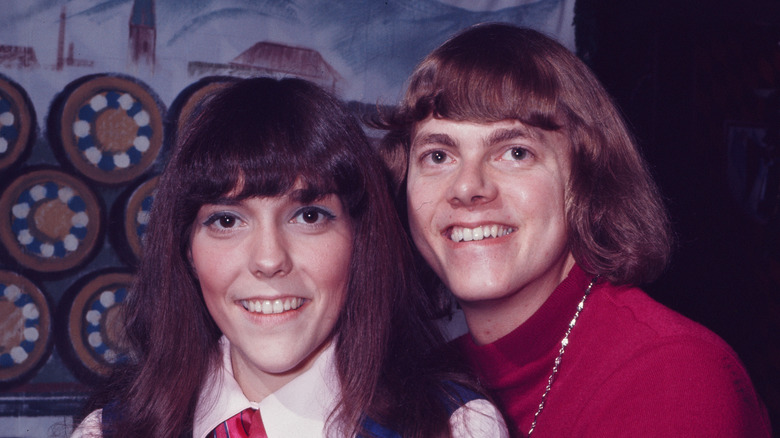 In 1969, the brother-sister duo Karen and Richard Carpenter took the world by storm with their classy style of soft rock that brought Karen's stunning but melancholic voice to the front. While most, according to the Guardian, viewed them as a wholesome, humble duo without any major issues, the sometimes-dark lives of the Carpenters behind the glamor of fame are not as well-known.
Coming from humble beginnings in New Haven, Connecticut, the Carpenters' lives provided many moments that made them and their fans smile, from getting fired from an early gig for being too full of themselves to crossing paths with Elvis Presley, the King of Rock and Roll, in Las Vegas. But there was a darker side of family conflict, addiction, and — for Karen — a tragic and premature death from anorexia, per Time Magazine. Here are some of the lesser-known, untold moments from the siblings that captivated the world.
They were not Cali natives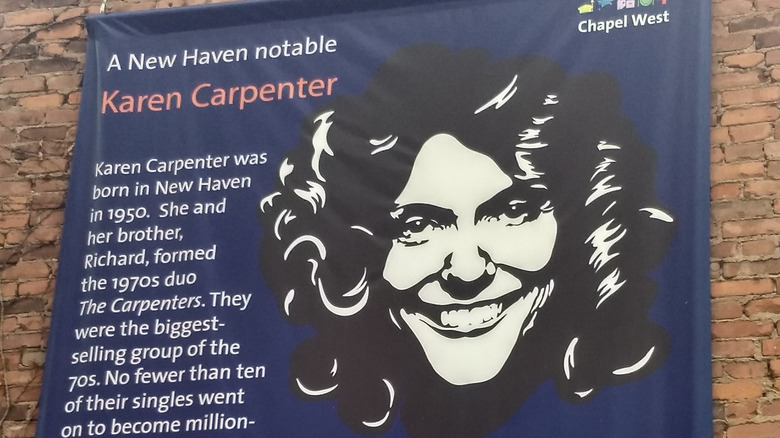 The Carpenters, like many other individuals involved in show business, have close ties to the state of California. According to LAist, their old house in the Los Angeles suburb of Downey was the subject of a fierce battle between the new owners and the duo's fans. But the Carpenters did not move to California until they were grown and were not natives of the state. Instead, the Carpenters got their start in a very different place: the Connecticut town of New Haven.
According to Tony Renzoni's "Connecticut Rock n' Roll: A History," Richard and Karen Carpenter were born in 1946 and 1950, respectively, at Grace-New Haven Hospital (now Yale-New Haven Hospital). By all metrics, they lived an ordinary middle-class life on Hall Street in East Haven, one of the towns comprising the greater New Haven area. Although they spent the majority of their formative years in New Haven, the New Haven Register notes that town pride over the Carpenters is "a bit muted." But Richard actually began his musical career in New Haven, well before he and his sister struck it big in California.
During his time at Wilbur Cross High School, Richard formed a band with two of his friends. They would play gigs around New Haven, giving the town a glimpse of the talent that would later take the world by storm. Richard made his recording debut in 1963 as a pianist for the Connecticut group The Barries. That year, the Carpenters moved to California. The rest is history.
The Carpenter siblings were very different
Although the two siblings eventually formed a duo, few could have predicted their future from their time in New Haven. The siblings had different interests, and it seemed unlikely that Karen Carpenter in particular would become an internationally-renowned singer. According to "Connecticut Rock n' Roll: A History," Richard Carpenter was born to be a musician. He learned to play the accordion at 4 and the piano at 8. According to CT Explored, his teacher from the Yale School of Music declared him a prodigy at the tender age of 13. He had few other interests outside music, making him bound for show business.
Karen was another story. According to the New Haven Register, although she took up accordion (which did not excite her) and listened to records with her brother, her interests lay elsewhere. Randi Schmidt's "Little Girl Blue" notes that she was an outgoing tomboy who found joy in playing pick-up baseball on the street, playing with the family dog, and protecting her brother from bullies. She was a huge Major League Baseball fan who memorized player statistics and loved the New York Yankees. When not playing baseball, she played army with neighborhood friends at Fort Nathan Hale Park. She even had a toy machine gun. That is not to say that she did not like music, but she never had any formal musical training, according to the Times Argus. Despite her lack of musical education, she still developed the flawless contralto voice that made her famous by the time she was 19.
Karen Carpenter was second fiddle … at first
The Carpenter family's move to the LA suburb of Downey in 1963 came for a few reasons. According to the New Haven Register, Harold Carpenter, the family patriarch, hated New England winters and desired to move somewhere warmer. His wife Agnes, meanwhile, saw California as the perfect place for their son to start his professional musical career in earnest. According to "Little Girl Blue," the 13-year-old Karen was left out. She did not want to leave New Haven and felt that her family was dragging her along for the ride. This sentiment led to a lifelong feeling of inadequacy on Karen's part, who felt that her mother had placed Richard's career prospects above her well-being. Nevertheless, she found her place in California while her brother launched his career.
According to Smooth Radio, Karen took up drumming in high school. Her high school band director originally had concerns, since drums were considered to be a boys' instrument, but eventually relented. According to Karen herself, it was "the most natural-feeling thing [she'd] ever done." When she and her brother first formed The Carpenters, she would play the drums and sing at the same time. Her dedication to the drums and singing paid off. Although the family had moved for Richard to jump-start his career, Karen soon surpassed her brother. According to KAWC, she became the first member of the family to gain a (short-lasting) recording contract at age 16.
Richard Carpenter was fired from an early Disneyland gig
According to the Herald Weekly, the two siblings and several of their friends formed a band called Spectrum while Richard was in college. The group was successful enough to be noticed by Disneyland. According to the Carpenters' website, in 1967, Disneyland hired Richard and his bandmate John Bettis to play at the park as a piano-banjo duet. The contract stipulated that they should restrict their repertoire to Dixieland jazz mostly from the early 20th century. No acid or psychedelic rock, both popular among the hippies of the 1960s, was permitted.
Richard himself noted that he and Bettis were young and cocky. When spectators began requesting popular rock songs from the 1960s, Carpenter and Bettis were more than happy to oblige, despite protests from their boss Victor Guder. After playing the controversial Doors hit "Light My Fire," which contained drug references and was not considered appropriate, Guder fired Bettis and Carpenter. The two youngsters were furious, even though it was justified under breach of contract. Carpenter and Bettis decided to write a song protesting their boss called "Mr. Guder." In their little "anti-establishment" ballad, Carpenter and Bettis criticized Victor Guder for not allowing them to go against company policy and enforcing the conditions of their contract. Later, a much more mature Richard lamented his behavior, noting that he and Bettis were fortunate to have picked up the Disneyland gig. Thus, he regretted not following the terms of his contract and chalked it up to youthful immaturity.
Karen Carpenter drew the charms of the King
In the 1970s, Karen and Richard Carpenter achieved international stardom after forming The Carpenters in 1969. As a result, Karen found friends in the celebrity world, including British singer-actor Petula Clark. The two became friends and one year, according to an interview with the Guardian, went to see Elvis Presley, the "King of Rock n' Roll," live in Vegas. After the Vegas performance, "the King" invited some of the fans, including Clark and Karen, to the dressing room. Clark claimed that Elvis attempted to seduce both of them with his old-fashioned southern gentleman manners. Karen was young and naïve, but Clark realized exactly where Elvis was going. He wanted both women at the same time. She shuffled Karen out of the dressing room. Elvis allegedly laughed at the incident.
The main issue with this story is that Clark could not give a date for the alleged meeting with Elvis. When asked during her interview, she merely said it occurred when Elvis was "at his best." In an interview with the British show Today, she claimed that she met Elvis several more times. Unfortunately, Karen died in 1983, so she is not around to confirm or deny the story.
They performed for President Richard Nixon
The Carpenters' image was considered squeaky-clean. They didn't drink, smoke, or swear, at least in popular imagination. In a 1974 interview with Rolling Stone, the duo noted that they hated their clean, apple pie image. Both of them claimed to be ordinary people that fell in between the hippie climate of the 1960s and the clean, polished image of suburban America. Richard had no problem with pre-marital sex and the legalization of marijuana.
Despite their personal beliefs, they continued to project a clean image and caught the attention of U.S. president Richard Nixon. According to The Sunday Times, Nixon viewed the Carpenters as representative of a wholesome, family-oriented suburban America that was not a threat to the nation's cultural fabric. In a time of cultural and social upheaval, the Carpenters were a beacon of normality that Americans could look up to. According to Daily Rock Box, Nixon invited them to play at the state dinner he was hosting for West German chancellor Willy Brandt. Following their stellar performance, Nixon referred to them as "young America at its very best." When interviewed at the White House, Richard Carpenter rejected the clean label. They just looked clean compared to the acid rock scene. In reality, he and Karen were normal people with their own beliefs and views.
Karen Carpenter, gay icon
Despite the Carpenters' wholesome image as a representation of the "normal America," Karen Carpenter gained a considerable following in a sector of American society that faced intense discrimination: the gay community. Now, Karen never involved herself in gay rights activism. In fact, according to the Advocate, she desired nothing more than a white picket fence life with a husband and children, and there is little to suggest she was particularly interested in politics. But this is exactly why the gay community loved her so much and continues to do so.
Karen Carpenter's desire for normality resonated among the gay community. According to writer Karen Tongson (via WPR), her failure to find love and a happy home life allowed many members of the gay community, who were searching for the same thing, to identify with her pain. Many members of the LGBTQ+ community identified with her struggle to find someone that would love her for who she was. Tongson notes that the LGBTQ+ community faced issues of unrequited love, feeling that no one would accept them for who they were. Yet, according to Republican American Archives, they suffered in silence while waiting to find love and acceptance, much like Karen did until the day she died.
Dreaming of a family
Out of the social and cultural ferment of the 1960s emerged the women's liberation movement. Women of the 1950s were traditionally expected to be homemakers and raise children. In the 1960s, according to Literary Hub, writers such as Betty Friedan urged women to abandon the domestic sphere and go work careers in traditionally male-dominated spaces. As a result of this movement, according to HuffPost, divorce rates spiked. The movement coincided with a gradual drop in marriage rates according to Business Insider. Meanwhile, women's participation in the labor force increased.
Karen Carpenter came of age in the middle of such tumult. However, she was not particularly impressed with the women's liberation movement. This is somewhat surprising given Karen's background. The Akron Beacon noted in 1973 that she had been successful as a drummer, a musical role that was not considered appropriate for women. Yet, she had "little patience" for feminism. Instead, Karen proclaimed that not only did she enjoy cooking, but that it would be her duty as a wife to cook for her husband when she eventually married. Karen even suggested in the Beacon that men were bad cooks, claiming her brother could not even "cook water." This humorous instance brought out a Karen that desperately sought a stable family life with a loving husband, which, sadly, she never found.
Marrying against her instincts
The Carpenters' grueling and difficult tour schedule made it impossible for Karen to find love. According to Smooth Radio, she said that as long as she had to be always on the road performing, she would never have a chance at marriage. She dated a string of men but did not marry any of them. NPR notes that Karen's favorite song was allegedly the 1976 hit "I Need to Be in Love." The song described the story of her life, always looking for love and never finding it. But according to "Little Girl Blue" (via the Guardian), she took a chance on a blind date in 1980.
Thomas Burris seemed to be a great candidate for Karen. Although the 39-year-old real estate developer was separated from his wife with an 18-year-old son, he was blond, handsome, and at first glance, a self-made man who had worked his way through industry after dropping out of school as a 13-year-old. Karen was smitten, but her friends warned that he was too good to be true. Despite their misgivings, Karen agreed to marry Burris.
Shortly before the wedding, Karen's dreams came crashing down. Burris told her he had undergone a vasectomy, which, even if reversed, made it unlikely that she would ever conceive. She was devastated over the lies and deception. Karen called off the wedding. But her mother Agnes had other ideas. She had already spent a small fortune on the wedding and ordered her daughter to go through with the marriage. As expected, the marriage was a failure and ended in divorce in 1981.
Behind the glamor was suffering
Despite the smiles emblazoned on posters and other promotional material, the Carpenters' schedule took its toll Richard's health. NPR notes that Richard was a workaholic, maintaining a busy tour schedule with few breaks. According to "Little Girl Blue," Richard and his bandmates struggled to sleep on the road due to stress and anxiety. To help him rest, doctors prescribed him the anti-anxiety drug Quaalude, which he even shared with his girlfriend and bandmates.
Initially, Richard took the medicine as directed. But as he developed a tolerance, he began taking twice or even thrice the prescribed dose, falling into addiction by 1978. The addiction left him unable to perform or even sign his name. According to the New York Times, his problems placed the duo's future in doubt at a time when they were starting to lose ground to disco. Karen decided to go solo while Richard was finally forced to confront his habit after he fell down a flight of stairs, according to the Chicago Tribune. Fortunately for Richard, the saga had a happy ending. After a six-week stint in rehab, he came out clean and sober, never to relapse.
If you or anyone you know is struggling with addiction issues, help is available. Visit the Substance Abuse and Mental Health Services Administration website or contact SAMHSA's National Helpline at 1-800-662-HELP (4357).
The struggle with eating disorders
Karen, despite her cheery nature, was insecure deep down. Her weight as a teenager only stoked her insecurities, leading her to crash dieting and an eventually fatal diagnosis with anorexia nervosa. According to "Little Girl Blue" (via the Guardian), Karen had begun dieting as a teenager. After high school, she trimmed from 145 pounds to 120 pounds using the Stillman Diet. At this point, it did not appear she was anorexic, since she ate normally and maintained her weight.
Karen soon became concerned about her looks again. She dropped further to 110 pounds. However, despite her friends telling her that "she looked fabulous," she went further, and her relatives began to notice. She developed various ways of hiding her condition, such as offering her food to her friends to avoid having to eat it. Her friends tried to intervene but did not know how. According to the American Academy of Family Physicians, the life-threatening potential of eating disorders was not recognized in the 1970s. Karen's friends simply told her to eat more, overlooking the mental aspect of anorexia. When she finally consented to treatment under psychotherapist Dr. Steven Levenkron, Karen was taking laxatives and a whopping 10 thyroid pills daily — despite having a fully-functioning thyroid gland. Eventually, Karen dropped to less than 80 pounds and could barely stay awake, stand up, or perform. Her housekeeper found her several times passed out in her wardrobe from weakness.
If you are struggling with an eating disorder, or know someone who is, help is available. Visit the National Eating Disorders Association website or contact NEDA's Live Helpline at 1-800-931-2237. You can also receive 24/7 Crisis Support via text (send NEDA to 741-741).
Death by ipecac
According to People Magazine, on February 4, 1983, firemen answered a call at the Carpenter family house in Downey. There, they found Karen lying down in her wardrobe, barely alive with the faintest of pulses. According to Rock n' Roll Garage, she had been scheduled to finalize her divorce that day. Instead, she was rushed to Downey Community Hospital. Any chances of saving her evaporated when she went into cardiac arrest and was pronounced dead at 9:51 that morning.
Karen's death stunned the world, although it should not have been surprising. According to the Irish newspaper The Independent, Karen had taken ipecac, a syrup used to induce vomiting. Mayo Clinic notes that this medication was used to treat poisoning by inducing vomiting to clean out the toxin. However, in the 1970s, according to Karen's own therapist, Dr. Steven Levenkron (via The New York Times), the syrup was a favorite among American women seeking to lose weight. But ipecac contains a chemical called emetine, which damages the heart muscle when taken in large amounts. According to Rock n' Roll Garage, Karen's body contained a blood sugar level over 10 times the average.
Karen's death, according to Time Magazine, helped raise awareness of anorexia. Soon, other leading public figures such as Princess Diana went public about their struggles with the disorder. Doctors lobbied for ipecac and related products to be banned. Although it was never banned, it has, according to the AZ Poison and Drug Information Center, been discontinued.