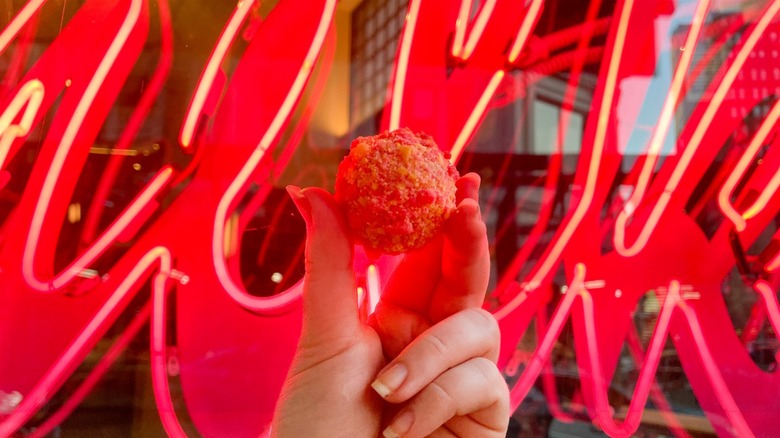 We may receive a commission on purchases made from links.
Taco Bell and Milk Bar made a dessert? Is this is a joke? We assure you, it is not. The two iconic brands have really teamed up to bring us a limited edition dessert, the Strawberry Bell Truffles, and we're here to tell you everything you need to know about them.
This isn't the first time Taco Bell and Milk Bar have teamed up to make an unexpected dessert, but chances are you never got the opportunity to try the first collab. It was affectionately named "Dessert Nachos" and consisted of triangle-shaped Milk Bar cookies topped with chocolate fudge and vanilla cream sauces, candies, crunchies, and chocolate chips. Sounds great, right? But it only existed for one day in 2018 — at the Friendsgiving party at Taco Bell's headquarters. Four years later, we've finally been presented with a dessert collaboration for the masses, and we could barely wait to get our hands on it.
If you're a fan of Milk Bar's sweets, you're probably already familiar with the cake truffles that come in two flavors online, and can even be shipped nationwide. If you're not familiar with the cake truffles, they're essentially like cake pops, but without a stick. So how did Milk Bar create a cake truffle with the help of Taco Bell? Read on to find out everything you need to know about the Taco Bell x Milk Bar Strawberry Bell Truffles.
What's in a Strawberry Bell Truffle?
Let's just go ahead and get this out of the way — these do not have any ground seasoned taco meat in them. No beans or salsa or queso, or any other overtly savory ingredients.
What Milk Bar has incorporated from the Taco Bell menu are the crispy corn taco shells, which have been ground up and used as a slightly crunchy otherworldly-looking coating on the outside of these special cake truffles. That might sound a little weird at first, but when you take a moment to think about all of the delicious baked goods made with corn, it starts to make a lot of sense. Cornbread doused with honey and topped with whipped butter. Corn creams and puddings that are delicately sweet and indulgent. And even Milk Bar's own Corn Cookie, that's been on the menu for years. Ground corn has a precedented place in desserts, making the inclusion of ground corn taco shells not as strange as it sounds.
The cake portion of these truffles is the very same cake used to make the strawberry shortcake truffles you can find in some Milk Bar locations. It's a vanilla cake that's been mixed with dried strawberry pieces, and then moistened with strawberry milk to bring it together into a cake truffle. The truffle is then filled with a little bit of "Sweet Corn Fudge" before being rolled in a strawberry and sweet corn cake coating, along with the ground Taco Bell corn shells.
How much do they cost?
It was originally reported that the Strawberry Bell Cake Truffles would cost $2.99 before tax, and would come in a pack of two. While that may be true at other locations, the price of the truffles we purchased at the Milk Bar Flagship store in NYC cost a little bit more. The cake truffles were available individually and ended up costing us $5.50 for two, or $2.75 each, before taxes.
Ultimately, we think $2.99 is a fair price for a pair of cake truffles, but they start to be a little bit more of a luxury item than a fast food item at $5.50. In comparison, a three-pack of B'Day Cake Truffles is available for $8.00, which is slightly less per piece than the price we were charged for the Strawberry Bell Cake Truffles. A two-pack of Cinnabon Delights at Taco Bell costs about $1.89, and the 12-pack costs about $5.99. A higher price tag comes with the territory on specialty items, but if you're looking for a sweet bite at a slightly lower price, you may want to stick with the standard desserts at Taco Bell for the time being.
Where can you find them?
The Strawberry Bell Cake Truffles may be available to a wider audience than the Dessert Nachos were, but they're still pretty tough to come by for many people. The cake truffles are currently only available at three locations. One Taco Bell restaurant in Orange County, California, is carrying the cake truffles (at 14042 Red Hill Ave., Tustin, CA 92780), and two Milk Bar Flagship locations are carrying them — in NYC (at 1196 Broadway at 29th Street, New York, NY 10001) and in LA (at 7150 Melrose Avenue, Los Angeles, CA 90046). So unless you're in the NYC or LA areas, you're out of luck for the time being. But there's hope that they'll be available in more locations in the future.
The limited release dates for the Strawberry Bell Cake Truffle were originally slated to run from August 3rd to 16th or "until supplies last" -– less than two weeks, which is a relatively short amount of time for such big-name restaurants. But on August 16th, Milk Bar posted on Instagram that the truffles were still being produced for the NYC and LA Flagship stores. This leads us to believe that the crossover treat has garnered enough interest to keep it going for as long as possible.
In fact, when we went to taste the cake truffles for ourselves, we were told that they had sold out in the first few days, but were able to pick up production and keep them on the menu.
You may want to try making them at home
All Christina Tosi fans know that she's an accomplished pastry chef, but not everyone may realize that she's also published seven books, including five cookbooks, a kid's cookbook, and a children's storybook. She's not stingy about putting her recipes out into the world, and really wants people to enjoy baking. She also keeps a "Recipe Hub" on the Milk Bar website, filled with recipes she created for Milk Bar's most popular desserts. It's both surprising and impressive that a chef would give away the actual recipes to their success, but we're so grateful she has.
In the Milk Bar Recipe Hub, the exact recipe for the corn fudge used in the Strawberry Bell Cake Truffles has been posted for anyone to make. Not only that, but the recipe for the Strawberry Shortcake Truffles is also listed in the Recipe Hub. The only other ingredient you'll need to make the Strawberry Bell Cake Truffles yourself are some crunchy Taco Bell taco shells. Now, you can head over to your local Taco Bell restaurant and see if they'll sell you a handful of shells, or you can just pick up a pack of Taco Bell Crunchy Taco Shells online or at the grocery store. We'd recommend making the cake truffles as recommended, but filling them with the corn fudge before rolling them in white chocolate. We'd also replace the two cups of graham crackers in part, or entirely with the crunchy taco shells.
What other desserts does Milk Bar offer?
Maybe this mashup isn't quite what you're craving, but you still have a sweet tooth to satisfy. Nearly all Milk Bar locations sell the B'Day Cake Truffles, which are made with Milk Bar sprinkle-studded birthday cake, as well as the chocolate B'Day Cake Truffles made with the chocolate birthday cake. Some locations offer additional flavors, like the Strawberry Shortcake Truffles. You can also pick up a full-sized Milk Bar Signature birthday cake if you're planning on serving a group, in a variety of flavors. For even more convenience, you can order them online and have them delivered straight to your door.
If cake isn't really your thing, Milk Bar offers six different kinds of cookies and a host of ice creams — including the Cereal Milk Ice Cream that helped launch Milk Bar to fame. Of course, you could order both cookies and ice cream and make your own fantastic Milk Bar ice cream cookie sandwiches with your favorite flavors. There's also the famous Milk Bar Pie (once known as the crack pie, but the name was updated in 2019 to the more socially conscious), which we'd recommend ordering entirely for yourself.
The collab you didn't know you needed
Our initial reaction when we heard that Milk Bar and Taco Bell were teaming up wasn't so much shock as confusion. What could these seemingly opposite food icons possibly have to offer each other? But once the Strawberry Bell Truffle was announced, we were genuinely curious to try it.
One thing we like about Milk Bar's cake truffles is that they're soaked and shaped with milk instead of frosting (like many other cake pop-style treats are). Using milk helps to keep the cake moist, but it doesn't contribute as much sweetness as frosting, for a less cloying dessert. We also like that the cake truffles are rolled in something crunchy for a variety of textures and pops of flavor. The Strawberry Bell Cake Truffle tastes like perfectly soft yellow birthday cake, that's got just enough strawberry going on to keep it from being one-note.
The addition of the corn fudge to the center of these cake truffles is subtle in flavor, but luxurious in texture. The sweet corn and strawberry, boosted by vanilla, match each other so well -– as anyone who's enjoyed a fresh corn muffin slathered with butter and strawberry freezer jam will tell you. The ground taco shells on the outside of the truffles add a hint of salt for balance, and a slightly crunchy texture, but it mostly just brings us joy knowing it's there. This is the collaboration we never saw coming, but we're so glad it happened.