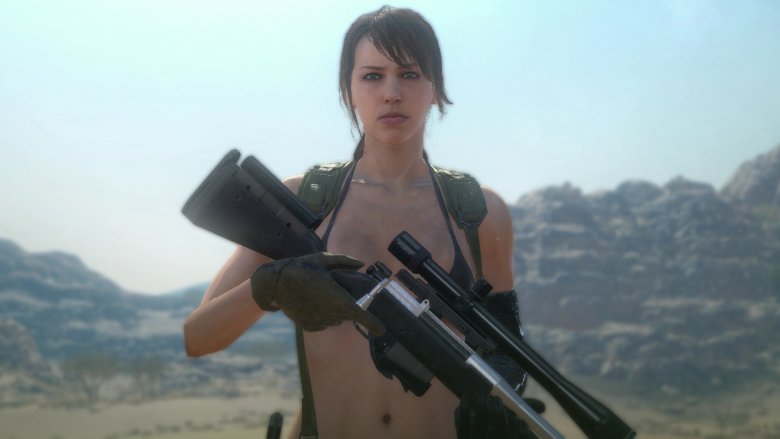 If you're someone who watches TV shows or movies on the regular, you likely have a favorite actor or actress. They're responsible for bringing your favorite characters to life, and helping you become even more immersed in the universe that character resides in. And when they show up in something, you can't miss it — because you know they're going to knock it out of the park.
Video game actors and actresses can have that same effect.
What's unfortunate, though, is that a lot of the people who voice — and even provide the motion work for — your favorite game characters aren't as well known. They're just as good at drawing you in and making you feel something for a character comprised of polygons and textures, but they don't always find the spotlight the same way.
That ends today. For every Tom Hanks or Meryl Streep in Hollywood, there's a Nolan North or Ashly Burch in video games working tirelessly to tell incredible stories. And it's time you meet them.
These are some of gaming's most well-known characters — and what the people who play them look like.
Melina Juergens as Senua in Hellblade: Senua's Sacrifice
Melina Juergens turned the gaming world on its ear with her stunning performance in Hellblade: Senua's Sacrifice, so much so that she ended up taking home an award for it at the 2017 Game Awards. But even more surprising than her powerful portrayal of the game's lead character, Senua, was the fact that Melina hadn't had any acting experience prior to playing the part. In fact, she didn't even audition for it. She worked with the Hellblade team at Ninja Theory as its video editor, and she only donned a motion capture helmet to help the studio test out some tech.
As soon as the team saw her in action, they knew they had the right woman for the role.
"I think there's a lot of myself in Senua, because I've never acted before, and I don't know how to act," Juergens said in an interview with PCGamesN. "I basically just used method acting — I used experiences from my own life, like traumas or my anxiety, and connected that with the scenes from Hellblade."
Juergens still works at Ninja Theory, though she says she's now more comfortable with the idea of taking other acting jobs. And she'd love to follow up her performance as Senua if the opportunity presents itself.
Let's hope it does.
Stefanie Joosten as Quiet in Metal Gear Solid V: The Phantom Pain
A few years ago, Stefanie Joosten was a Dutch girl who found herself fascinated with Japanese culture and gaming. So much so, in fact, that she studied Japanese at the University of Leiden and received her master's degree in Tokyo. It was there that she was approached by a modeling agency that specialized in finding Western models, and it led to her becoming one of the most recognizable characters in Metal Gear Solid V: The Phantom Pain.
According to Joosten, she received a call one day about a video game audition. The name of the game was a secret, but once she arrived to try out and saw Hideo Kojima, she knew something was up.
She talked about the audition with Dutch newspaper Het Parool: "There was a crate with gun replicas. 'Take one, and pretend like you're infiltrating an army base,' they said. Kind of awkward, because I had no idea how to hold this thing. Fortunately, I could draw inspiration from the games I play, the other girls didn't have a clue at all."
Since her appearance in The Phantom Pain, Joosten has worked on several films and television shows, as well as another game called ICEY.
Ashly Burch as Aloy in Horizon: Zero Dawn
Prior to becoming Aloy in Horizon: Zero Dawn, Burch had already made her mark in video games by playing Tiny Tina in Borderlands 2, as well as Chloe in Life is Strange. But what made her turn as Aloy so different was the massive scale of the role, and the game itself: it's a 30-plus hour jaunt, and Burch was there to record every single line, every step of the way.
She took particular pride in making Aloy feel like a fully realized character.
"When we create female characters, I think often there is a tendency to kind of make female characters emotionally bulletproof," Burch told Engadget in an interview. "You've heard people talk about the 'capital-S Strong Female Character' who's sort of humorless and doesn't really have a spark and is sort of flawless in their execution. They just don't feel like fully fleshed out, real characters. And I really didn't want Aloy to feel that way."
Burch's work in Horizon helped cement what would become an all-around great video game experience. And Burch hasn't let up since then, either, helping write an episode of the cartoon Adventure Time that earned her an Emmy, and continuing to voice characters in games like Fortnite, Marvel vs. Capcom: Infinite, and Life is Strange: Before the Storm.
Based on the reception Horizon received, there's a good chance we'll see her as Aloy again in the future.
Christopher Judge as Kratos in God of War
Christopher Judge has acting experience, too, but his isn't primarily based in the world of video games. Instead, Judge — who played Kratos in the God of War reboot — was able to lean on his past work in dozens of television shows and films, such as The Dark Knight Rises, Stargate SG-1, and The Mentalist. In fact, after voicing Jericho in 2008's Turok reboot, Judge had basically sworn off doing video game voice work for a while.
But one day, he showed up for an audition and read a script he couldn't put down. "The material was so good though I didn't care," Judge told the BBC. "And after a further call back I was told it was for a game but I was fine with it because it didn't seem to be written like that."
It doesn't look like Judge has worked on anything since appearing in God of War, but it seems his feelings on doing video game work have changed. It's a safe bet he'll voice another video game character someday. "Games are not just about the gameplay anymore, but about the stories. There are wonderful tales to be told in this medium, and it truly is just another form to exercise your craft."
James McCaffery as Max Payne in Max Payne 3
James McCaffery's relationship with the Max Payne franchise is an interesting one. He's always voiced the character, starting with the original Max Payne in 2001. And he's done so despite the fact that the character model has changed three different times. Max was first based on Remedy co-founder Sam Lake, but for Max Payne 2, the team behind the game used actor Timothy Gibbs. Finally, in Max Payne 3, McCaffery was able to finally able to be the face as well as the voice.
And that's not all he did. McCaffery worked with Rockstar Games to provide the motion capture work for Max, suiting up in the appropriate gear to act out scenes and — in some cases — perform many of the game's stunts. According to Rockstar, he did not do any of the "Shootdodging" stunts — those were left to professional stuntmen. Otherwise, much of what you see Max doing in action-related sequences is actually James McCaffery's movement, captured and recreated in the game.
So what's McCaffery been up to since Max Payne 3? He appeared in a few episodes of TV's Revenge, and also showed up in two episodes of the Netflix series Jessica Jones. And he's acted in a few movies, as well, including Compliance and Blind.
But will we ever see him act as Max Payne again? The odds aren't good. But there's always a chance.
Camilla Luddington as Lara Croft in Tomb Raider
The name Camilla Luddington might not ring a bell for you, but she's shown up on quite a bit of TV in the past decade or so. She nabbed the role of Kate Middleton in William & Kate: The Movie, and has also appeared on shows like Californication and Grey's Anatomy. But even though she's a legit television actress, Luddington didn't bat an eye at portraying Lara Croft in the Tomb Raider reboot series.
She talked a bit about the difference between television acting and video game work in an interview with Hollywood Life. "I think the biggest difference is — I do motion capture for the character — and the biggest difference is that we film in this giant room. And there's no real set on Grey's Anatomy," she said. "Obviously, it looks like a hospital, but it takes a lot of imagination to actually feel like you're in an OR. But for Tomb Raider, they can't build a forest of a cliff or something like that. They actually just have blocks and kind of tell you what they symbolize. You're really forced to use your imagination to create that world around you. And that actually makes it super fun because your imagination can be really strong and powerful."
Luddington is set to reprise her role as Lara Croft in Fall 2018's Shadow of the Tomb Raider.
Valorie Curry as Kara in Detroit: Become Human
Valorie Curry is an actress that you've likely seen in a TV show or movie, but could never put a name to. Her characters are usually off to the side — there strictly for support. She worked alongside Kevin Bacon, James Purefoy, and Shawn Ashmore in The Following, and shared the screen with Don Cheadle and Kristen Bell in House of Lies.
But more recently, Curry managed to land herself a starring role. And though it may seem like one that is completely out of her wheelhouse, it's not all that new to her. Because it's essentially the same role she played all the way back in 2012.
Curry is the star of the new PlayStation 4-exclusive title Detroit: Become Human, in which she lends both her voice and her body to the role of Kara, an android servant. Interestingly enough, though, Curry had experience with this character that preceded Detroit. She had worked with Quantic Dreams, the developer of the game, on a tech demo called Kara that eventually served as the foundation for Detroit.
And it sounds like she enjoyed the part. "The really beautiful the thing that I've had the gift to be able to do is to essentially build a person from the ground up, because that's what she's doing throughout the game," Curry said in a Sony vidoc.
Troy Baker as Joel in The Last of Us
There may be no busier man in video game acting than Troy Baker. Baker has voiced countless characters in games and has provided motion capture work on several, as well. He was the voice of Booker DeWitt in BioShock Infinite. He was the Joker in Batman: Arkham Origins. And he's done voice work in games like Mass Effect 3, Halo 4, and Middle Earth: Shadow of Mordor. But one of his biggest roles came in 2013's The Last of Us. And in that title, he not only provided the voice for Joel — one of the two main characters — he also did motion capture for it.
Baker, alongside actress Ashley Johnson (who played Ellie), made the post-apocalyptic, zombie-infested world of The Last of Us feel real. And the two had quite a bond, as evidenced in an interview between the two that released shortly before The Last of Us Remastered in 2014.
"When I walked in and I saw you, all I knew is that I wanted to take care of you," Baker told Johnson.
The emotional connection certainly came through in the role, which Baker is stepping into again. The Last of Us Part II is currently in development with no firm release date as of yet. Aside from that, Baker continues to keep busy, with a part in the upcoming World of Warcraft expansion and a rumored role in Death Stranding.
Nolan North as Nathan Drake in the Uncharted series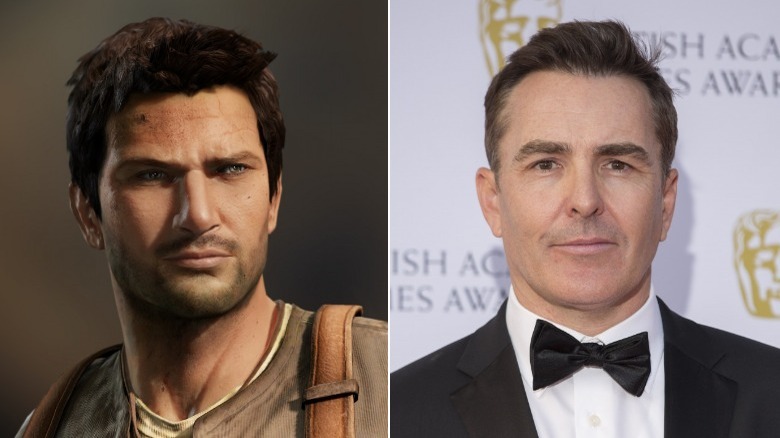 Over twenty years ago, North started his run on the late-'90s/early-2000s soap opera Port Charles. It was right around that time he started to dabble in video game work, providing voices in Interstate '82 and EverQuest II. His voice work in games continued, even as he kept showing up on various TV programs. While he was recording lines for games like Call of Duty 2 and Final Fantasy XII, he still managed to fit in appearances on Malcolm in the Middle, NCIS, and Modern Family.
His biggest role by far, though, has to be that of Nathan Drake in the Uncharted series. A video game.
In Uncharted, which has spanned four games over the course of nine years, North both provided the voice acting for Nathan Drake, as well as the motion capture work. In an interview with Tech Radar, North spoke about how similar acting in Uncharted was to his past work: "For a lot of games, you're in a booth. You're alone," he said. "Uncharted is more like doing live action than it is doing any of the other games."
And North, somehow, someway, has found more time to do it all. He recently wrapped up seven seasons of the TV series Pretty Little Liars. And he'll soon play the part of Edward Richtofen in Call of Duty: Black Ops 4.
Johnny Yong Bosch as Nero in Devil May Cry 4 & 5
Johnny Yong Bosch will most likely be best known to live action audiences for his role as Adam Park in various incarnations of the long-running Power Rangers franchise. For those who remember the first Mighty Morphin Power Rangers film, Adam was the Black Ranger who wasn't super excited to receive frog powers (a hilarious moment that was actually suggested to the film's director by Bosch himself).
However, one of the roles Bosch is proudest of is his performance as Nero in Capcom's Devil May Cry 4, with Bosch noting, "I got to go to Japan to do the motion capture and really be the character as opposed to just voicing him." He would go on to reprise the role in the smash-hit Devil May Cry 5.
Aside from his live action and video game work, Johnny Yong Bosch is huge in the anime community for multiple high-profile roles. In addition to voicing lead character Ichigo in Bleach, he voiced main protagonist Vash the Stampede in the modern classic series Trigun. His tenure as Vash is also what broke him into the realm of voice acting. As Bosch tells Dot and Line, "He's not only my first but one of the biggest roles I'll ever play."
In addition to continuing his acting career, Bosch was the lead vocalist of the band Eyeshine. After Eyeshine broke up, he began fronting a new band, Where Giants Fall.
Nick Apostolides as Leon Kennedy in Resident Evil 2 (2019)
For Nick Apostolides, playing Raccoon City Police Department's rookie-turned-zombie hunter Leon Kennedy was "a dream come true." Apostolides has been a fairly prolific performer in not only studio features, but also fan film productions as well. In fact, as he explains in an interview with GSU Phoenix, he thought the original casting call he answered for the role of Leon was for a fan film. It was only when he received a notice to come in and audition that he realized it was for an actual Resident Evil 2 remake. After that fact clicked for him, he says, "I wanted the role. Badly. After the 3 auditions I got the part. The rest is history."
In addition to his role as Leon, Apostolides will be familiar to gamers as the voice of a few characters in the Life is Strange universe: he played Charles Eriksen in Life is Strange 2 and The Awesome Adventures of Captain Spirit, as well as Frank Bowers in Life is Strange: Before the Storm.
In a Reddit AMA about the Life is Strange series, Apostolides explained how he became drawn to the business of video game voice acting, saying, "I have been a video game fan ALL my life. As an actor, I eventually made efforts to shift my focus to find more VO and Motion Capture opportunities for games like this."
Lauren Landa as Kasumi in the Dead or Alive & Ninja Gaiden series
Lauren Landa has voiced ninja heroine Kasumi since Dead or Alive 5's release in 2012, reprising the character that same year in Ninja Gaiden 3: Razor's Edge. Aside from her role as Kasumi, Landa is likely well known to anime fans as the English dub voice of Annie Leonhart in Attack on Titan and Sailor Neptune in Sailor Moon Crystal.
In an interview with Geekadelphia, Landa explained how she first got interested in the world of animation. Her father worked as an editor for Disney, so she would often accompany him to the studio as he cut together episodes of shows like Gargoyles. She eventually landed her first anime role after taking a workshop with noted anime voice actor Tony Oliver.
In explaining the process of preparing for a new voice role, as well as the pressures involved with the craft, Landa said to Geekadelphia, "As a voice actor and an actor in general, everything is going to be on a time crunch, so when you go into the studio you only have about five to ten minutes to talk about the character … It really depends on the relationship between the director and actor, if they work well together they will find it sooner rather than later."
Noshir Dalal as Sekiro in Sekiro: Shadows Die Twice
Players of the incredible (but rage-quit-inducing) Sekiro: Shadows Die Twice will recognize Noshir Dalal's voice. He plays the title character for the English-language dub of the game.
Though the game defaults to the original Japanese language track, the English dub featuring Dalal's voice has received quite a bit of praise within the gaming industry. Tom's Guide referred to Dalal's performance as sounding "badass," while Supergiant Games' Greg Kasavin urged gamers who had the Japanese voice track toggled on "to try the English voice option," adding that the game featured "some really standout performances."
Dalal seems to gravitate toward characters that he can relate to. When portraying Charles Smith in Red Dead Redemption 2, the son of an African-American man and a Native-American woman, Dalal explained that he was able to draw on his own experiences in feeling like an outsider. "I'm half-Japanese and half-Parsi," Dalal explained, "so I'm Indian on one half and Japanese on the other half and either group doesn't really look at me as belonging in their culture … there were a lot of parallels that I could draw from my personal life that worked really well for Charles."
In addition to his video game work, Noshir Dalal has had an extensive career in television. He has been seen in guest roles in shows like General Hospital and Criminal Minds.
Haley Joel Osment as Sora in the Kingdom Hearts series
Haley Joel Osment will be familiar to audiences for his career in motion pictures, which began when he was very young. He first gained widespread recognition as the lead character in M. Night Shymalan's The Sixth Sense, the film wherein Osment famously intoned, "I see dead people."
While the Kingdom Heart series has been around for close to two decades, Haley Joel Osment has been playing lead protagonist Sora since the beginning. Osment explained the hurdles of playing an adolescent character for such a long time to USgamer: "I started [voicing Sora] when I was 12, and my voice had started to change and everything. So learning how to manipulate that and keep the voice sounding young while still preserving the range of emotions that Sora had; that was a unique challenge."
In the years since The Sixth Sense, Osment has stayed active in film and television, including roles in Steven Spielberg's A.I. Artificial Intelligence and IFC's Comedy Bang! Bang! In 2018, he guest-starred in an episode of Fox's second revival season of The X-Files, with Geek.com praising his performance as "the creepiest part of this whole episode."
Laura Bailey as Mary Jane Watson in Marvel's Spider-Man
Laura Bailey has notably played two of Peter Parker's great loves in two similarly named projects: she voices Gwen Stacy on the Marvel's Spider-Man animated series and Mary Jane Watson in the PlayStation exclusive game also called Marvel's Spider-Man, a performance that Digital Trends praised as "the best [Mary Jane] yet."
According to an interview with The Verge, Bailey began her voice acting career "right out of high school" when she landed the role of Kid Trunks in Funimation's dub of Dragon Ball Z. This and other voice roles eventually led to her first video game performance in 2002, voicing lead character Rayne in Bloodrayne.
In the years since, Laura Bailey has played several other comic book characters, including Black Widow in Avengers Assemble, Catwoman/Selina Kyle in Batman: The Telltale Series, and Supergirl in Injustice 2. She has joined the cast of The Last of Us Part 2, voicing a character in the game's much-publicized Paris Games Week teaser.
In an interview with The Escapist, Bailey explained what draws her to the craft of acting: "One of the aspects I love most about acting is the escape. The ability to forget yourself and experience things in a way that you never would normally."
Hellena Taylor as Bayonetta in the Bayonetta & Super Smash Bros. series
Hellena Taylor has admitted that she knew nothing about Bayonetta's plot when she recorded the character for the first time. In fact, she wasn't given anything to work with in the recording booth aside from her own lines. As she explained in an interview, "I had no idea if I was fighting demons, dragons, or flying giraffes. I just imagined the biggest thing I could envisage in my mind to up the stakes for her."
Obviously, Taylor's vivid imagination paid off, as she has been providing the English-dub voice for the title character Bayonetta since the first game's release in 2010. She has since reprised the role in multiple games, including Bayonetta's appearances in the Super Smash Bros. franchise, as well as the first game's anime spin-off, Bayonetta: Bloody Fate. For her performance in Bloody Fate, she received positive reviews for "her playful and flirty take" on the lead character.
Outside of the Bayonetta franchise, she may sound familiar to gamers as the voice of several characters in Dragon Age: Origins and for her performance as Phiona in Valkyrie Profile: Covenant of the Plume.
Ronda Rousey as Sonya Blade in Mortal Kombat 11
Ronda Rousey is an MMA fighter, Olympic medalist, professional wrestler, and actress. She'll be recognizable to mainstream film audiences for her roles in action films like Mile 22 and Furious 7. Rousey signed with WWE full-time in early 2018, and she was very quick to tell ESPN and wrestling fans all over that this was a legitimate enterprise. "This is not a smash-and-grab; this is not a publicity stunt," said Rousey. "There are other things I can do with my time that'll make way more money, but I won't enjoy nearly as much."
Rousey was ecstatic at the prospect of joining the Mortal Kombat franchise, saying, "Sonya Blade was the first kick-ass, female video game character that I related to … It's a dream come true to be a part of the Mortal Kombat franchise that I grew up playing."
Meanwhile, Rousey has embraced the role of Sonya Blade to the point that she dressed as the character for WWE's Elimination Chamber pay-per-view event in February 2019. Rousey's choice to cosplay in the ring was a move that Forbes' Brian Mazique praised as a marketing tactic, but decried as "bad for [Rousey's] WWE persona." By the way, she won the match. Sonya doesn't play around.