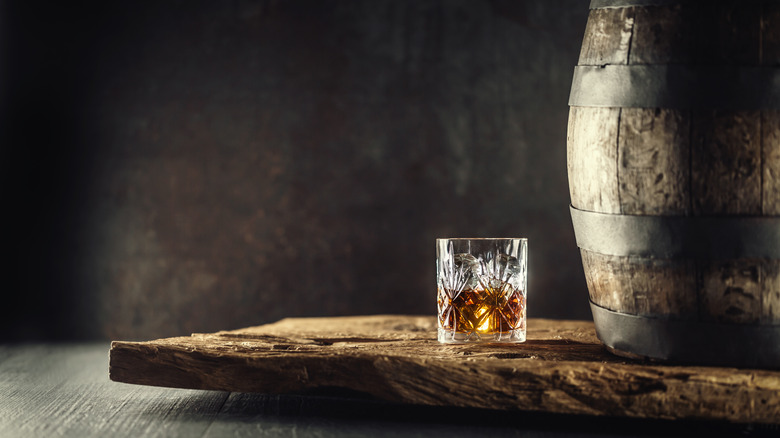 If you consider yourself a connoisseur of fine spirits, there's a great chance that you have a soft spot for that liquid amber gold that is bourbon. Bourbon differs from whiskey as a result of a stringent set of characteristics that regulate both the taste and quality of the drink (via BBC). As a result, getting a bad bottle of bourbon is almost impossible, but there are a number of gems out there that stand out among the rest.
If you think you have to drain your bank account to enjoy a fabulous bourbon, you're in luck because that isn't the case. If you know what you're looking for, you can find an impressive, smooth, and multi-layered bourbon for under $50. Our top bourbon selection runs the gamut from traditional to whimsical. These bottles marry standard flavors with unexpected notes for exceptional drinks that taste just as fine neat, on the rocks, or stirred into your favorite mixed beverage.
15. Jim Beam Black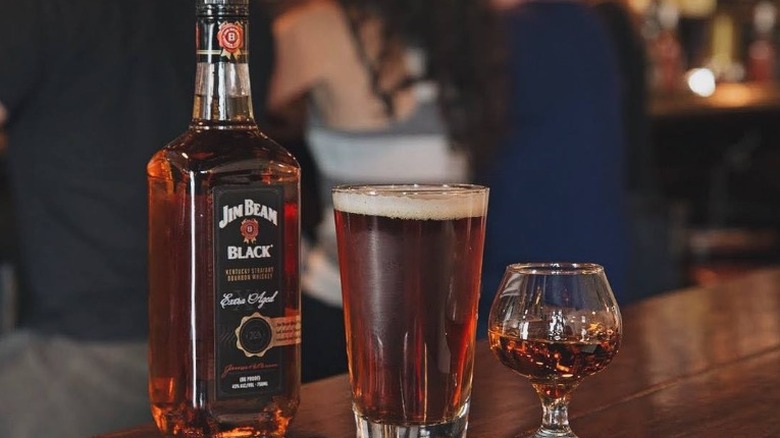 Jim Beam Black is an affordable bourbon that's a step up from its standard fare thanks to a unique maturation process. According to Jim Beam, white oak barrels are the secret to this bourbon's success, infusing the blend with plenty of oaky notes and a rich caramel flavor. Unfortunately, although you can taste the refinement, Jim Beam Black doesn't have the wow factor of some of the other powerhouse bourbons on our list.
While The Lane Report reports that Jim Beam Black is affiliated with several top-notch events like the Ryder Cup (a prestigious golfing event, in case that isn't your field of expertise), that panache only goes so far. At its core, Jim Beam Black is a serviceable, drinkable, and consistent bourbon but it simply won't impress most bourbon aficionados. But, on the other hand, at around $25 as of August 2022 for a 750-ml bottle (per Drizly), it's not a bad idea to keep it on hand for mixed drinks or shots. Its mellow and inoffensive finish still goes down smoothly.
14. Basil Hayden's Kentucky Straight Bourbon
Jim Beam's Basil Hayden's bourbon retails for a reasonable $45 per 750 ml as of August 2022 (via Drizly), and you're guaranteed a predictably good, standard blend of flavors like caramel, fruit, and lots of vanilla. There's an excellent oaky base that offsets the sweetness and just a tiny touch of fire on the end in the form of black pepper. Although some bourbon aficionados might find Basil Hayden's flavor to be a bit too subtle or even watery, there's a case to be made for the easy drinking properties of this classic Jim Beam offering.
If you like playing at-home bartender, Basil Hayden's bourbon might be precisely what you've been waiting for. According to VinePair, Basil Hayden's is available nearly everywhere, easy to drink, and incredibly versatile. The fruity, sweet, and oaky nature of this bourbon is also universally appealing, and while it won't knock your socks off, it won't leave you wanting either.
13. Hirsch The Horizon
Hirsch's The Horizon certainly comes in one of the prettiest bottles you'll find on our list, with a bold robin's egg blue label brimming with amber-colored goodness inside. The deliberate old-school modern fusion speaks highly of Hirsch's marketing acumen, and the bourbon itself is pretty solid too. According to its website, Hirsch is a relatively new distillery with a penchant for bold flavors and experimentation. The Horizon represents this mandate well, with notes of rich caramel, cherries, and tinges of cinnamon.
According to Drizly, this bourbon is priced low to middle-of-the-road, with bottles selling for about $40 as of August 2022. The Whiskey Wash notes Hirsch's bold packaging but points out that the finish is slightly harsh. If you want a bourbon with expertly combined flavors and a satiny finish, this one isn't it. On the other hand, if you're looking for something that will look good on your bar and stir nicely into your next Old Fashioned, pick up a bottle of The Horizon.
12. Woodford Reserve Batch Proof
Woodford Reserve Batch Proof is a solidly sophisticated bourbon that will set you back more than the others on our list, but rest assured that every drop is absolutely worth it. According to Paste Magazine, this premium product comes with a fairly hefty price tag of $130 per 750-ml bottle as of August 2022. While the sum might give you sticker shock, consider that Woodford Reserve Batch Proof is arguably one of the finest bourbons you're likely to taste, infused with rich jammy blackberries and cherries, plus chocolate, vanilla, corn, caramel, and a bright burst of citrus.
Mingling with all of that fruity flavor are aromatic notes, hints of spice and pine, and luscious toffee. Not to mention, this bourbon packs in a hefty ABV of around 60%. It's a tour de force in a bottle, starting strong and finishing long and smooth, while still harkening back to those oaky, toasty, vanilla notes that make the original Woodford Reserve such a sought-after bourbon (via The Beverage Industry).
11. William Grant & Son's Fistful of Bourbon
Fistful of Bourbon is a silky blend of five distinct bourbons designed to deliver tons of different flavor notes while still maintaining a sumptuous consistency. You'll get the best of all worlds, plus a sweet surprise from the corn — rather than rye — at the tail end (via Inside Hook). As the name suggests, this brew is, indeed, a fistful of traditional bourbon flavors, playing with corn, a touch of wheat, plenty of molasses, and warm caramel. Yet, despite the sugary influences, Fistful of Bourbon remains nuanced and super drinkable.
While the mouthfeel might be a little bit robust for some drinkers, the price tag is extra nice. At $27 per 750-ml bottle as of August 2022 (via Drizly), Fistful of Bourbon is an economical and intelligent addition to your home bar. Plus, it's smooth enough to enjoy poured straight over some ice-cold whiskey rocks on a hot summer's day.
10. Wolf Spirit Puncher's Chance
Oregon-born and bred Puncher's Chance encompasses the holy trinity of Kentucky bourbon ingredients: rye, barley, and corn. So if you're a true bourbon lover, you'll want to add this one to your home bar immediately. An intrepid combination of different bourbons, this product is deliberately approachable and familiar. You won't find many off-the-wall notes in your bottle of Puncher's Chance, but you will find a standard, delicious bourbon crafted just the right way.
According to BevNet, the Eugene, Oregon, distillery that makes Puncher's Chance looks to flavors of vanilla, caramel, and sumptuous leather to make its bourbon sing. Even better, this liquor is also budget-friendly; a 750-ml bottle will set you back approximately $33 as of August 2022 (per Drizly), a modest investment to take your bar to the next level. Although you could drink Puncher's Chance straight, it's much better stirred into a classic Manhattan or artisanal cocktail of choice. The balance of woodiness and sweetness will make your drinks shine.
9. Old Grand-Dad
Old Grand-Dad is the brainchild of Jim Beam patriarch Basil Hayden Sr. and a rye-heavy, amber-colored bourbon with equally prominent notes of caramel and spice. Ranging in potency between 80 and 114 proof, Old Grand-Dad is flawlessly smooth in both cocktails and served on the rocks. Bourbon educator and author Susan Reigler divulges that Harry Truman had a soft spot for the spirit, enjoying a shot with his breakfast every morning (via VinePair).
While you can always enjoy your Old Grand-Dad trademark Truman-style as an early-morning eye-opener served with bacon, it's just as good during traditional drinking hours. At around $20 a 750-ml bottle as of August 2022 (via Drizly), Old Grand-Dad is a smooth, cost-effective addition to your home bar. It's both hearty and unapologetic, ad true bourbon lovers will appreciate its spicy palate and rye flavoring. At the same time, it is accessible enough for bourbon novices too. Since you can enjoy it in many different cocktails, neat, or even alongside your eggs and coffee in the morning, Old Grand-Dad is a winner.
8. 1792 Small Batch
As a moderately-priced and satiny bourbon, 1792 Small Batch Bourbon manages to tread that delicate line between sophisticated draught and wildly approachable liquor. With an inspired combination featuring both rye and richer dessert flavors like vanilla and caramel, this is a winner. As a result, it's a drinkable bourbon that never veers too far into a spicy or cloyingly sweet territory, making it an excellent complement for the cherry and deep citrus flavors of an Old Fashioned. It's also delicious served neat or with just a cube of ice or splash of water to open it up.
According to the Lane Report, 1792 Small Batch Bourbon won the Whiskies of the World's Gold Outstanding Medal in 2021 and continues to be a perennial favorite for bartenders and home mixologists. So pick up a bottle of this delightful bourbon if you want to elevate your home bar and enjoy a versatile spirit that you can mix with almost anything — all without dipping too far into your bank account. As of August 2022, a 750-ml bottle retails for around $33 (per Drizly).
7. Knob Creek Kentucky Straight Bourbon Whiskey
According to Drizly, as of August 2022, you can score a sweet and mellow 750-ml bottle of Knob Creek Kentucky Straight Bourbon Whiskey for just under $40, making it a moderately priced, endlessly versatile addition to your home bar. The distillery highlights that it strived for a "pre-Prohibition-style bourbon" heavy on oakiness and infused with tons of caramel and vanilla when creating this product. It's an excellent example of what an apex bourbon should be, with very few frills or gimmicks. Instead, you'll enjoy a velveteen texture and plenty of mature and developed flavors.
VinePair notes that Knob Creek is undoubtedly a sipping bourbon, ideally served neat or on the rocks. Its strong but easygoing flavor palate means you can pair it with classic and artisanal drinks like an Old Fashioned, without compromising the other ingredients. So if you're a serious bourbon lover, make a point to have a bottle of Knob Creek on hand at all times.
6. Larceny Barrel Proof
As of August 2022, Drizly prices a 750-ml bottle of Larceny Barrel Proof Bourbon at around $50, making this middle-of-the-road spirit great for people who want to sip something splendid without emptying their bank accounts in the process. According to its website, Larceny Barrel Proof Bourbon has a wheat base, providing a slightly different and exciting flavor profile that will give mixed drinks an unexpected boost.
It's also a pretty liquor with the bronze hue of a shiny new penny. Larceny Barrel Proof Bourbon looks downright sunny and smashing in a rocks glass with a slight twist of citrus, so if a dazzling presentation is one of your top priorities, this will do the trick. Additionally, it's a pleasant and yummy bourbon, with bright butterscotch and toffee notes, a bready undertone, and plenty of honeysuckle running throughout. According to Uproxx, intrepid drinkers might even pick up rich brown butter and maple laced throughout each sip.
5. Nevada H&C Distilling Company Smoke Wagon Straight Bourbon
For a slightly unconventional take on bourbon, try Nevada H&C Distilling Company Smoke Wagon Straight Bourbon. According to the distillery's website, this newer release relies on plenty of rye and some sweetness for a light, lovely, and creamy bourbon that is mellow from start to finish. Bourbon novices will really like this blend because there are no over-the-top tannins or a harsh finish. Instead, the bourbon is unassuming, pleasantly sugary, and just a little bit nutty at the end of each sip.
There's also a fair amount of honey in the mix and a minute burst of spice to keep things interesting. At around $36 per 750 ml as of August 2022 (via Drizly), this affordable product is also incredibly versatile in the mixology department. Since the flavor palate tends to be moderate and accessible, it's excellent for both sipping or mixed drinks. Plus, you can expect a fine shot every time with no residual harshness.
4. Buffalo Trace Eagle Rare
Buffalo Trace's Eagle Rare Bourbon Whiskey is an excellent find if you want to sip on a premium bourbon without spending your entire paycheck. According to Drizly, as of August 2022, a 750-ml bottle of this liquid gold retails for around $50, setting it solidly in the moderate price range. Eagle Rare Bourbon Whiskey is also a straight-up fine product with plenty of herbaceous notes, some citrus, and a ribbon of oakiness that ties the entire experience together.
The distillers also go light on the sweetness, applying a bit of honey with a deft hand to offset the citrus and balance the bourbon just right. It's possible to pick up on cocoa, almonds, toffee, and sugar too. Another ingredient you'll get a lot of sweetness from is the corn, thanks to Eagle Rare Bourbon Whiskey's mash bills. Ultimately, it's a natural-tasting, well-balanced product that won't set you back too much.
3. Elijah Craig Small Batch
If economical bourbons are your jam, check out Elijah Craig's Small Batch Bourbon. According to Drizly, you can snag yourself a 750-ml bottle of this bourbon for around $30 as of August 2022. Plus, even though Elijah Craig Small Batch is highly affordable, it's also taste-forward and sophisticated with plenty of honey, herbal, and marzipan notes. The sweetness doesn't dominate the bourbon though, thanks to a rich backdrop of oakiness. In turn, you'll enjoy a rounded sip that's never cloying or too woody.
Elijah Craig Small Batch has plenty of complexity too, with a minty nose and slight hints of smoke and nutmeg laced throughout. It's bold without being overpowering and lets each of its different flavors shine, a huge accomplishment given the bevy of dessert-like notes in each glass. Enjoy this bourbon ice-cold on whiskey rocks so as not to dilute its powerful palate. To truly enjoy it as a peak experience, it's best served straight-up next to a roaring fire.
2. Balcones Texas Pot Still
Balcones Texas Pot Still is essentially the flavor of fall in a shot glass, with vigorous notes of crisp apples, graham crackers, and toasty, bready aromas. There's also some nuttiness in the mix thanks to pecans and a touch of spice, with just the slightest bit of cream to round it off and give the bourbon a satisfying mouthfeel. Although Balcones Texas Pot Still has many bold flavors, it's still drinkable and approachable, even for bourbon novices. This innate versatility is part of the drink's charm and success.
As of August 2022, each bottle comes with a $42 price tag if purchased at the distillery. While it's not the cheapest option out there, you still get a lot of Texas-sized bang for your buck. Texas Monthly credits the Lone Star State's weather for providing a charitable barrel-aging climate and allowing the distillers at Balcones Texas Pot Still to think outside of the box with their process. The result is a bourbon that's not your typical Southern fare and presents a charm all of its own.
1. Four Roses Yellow Label
For a mere $20 investment for a 750-ml bottle (per Total Wine), you can stock your home bar with one of the best budget bourbons on the market. Four Roses Yellow Label is easily one of the top cheap bourbons you should always buy, with its old-school statement bottle and pure golden goodness inside. Equal parts floral, spicy, and sweet, Four Roses never fails to surprise and delight. Savvy sippers will notice nostalgic notes of caramel apple at first blush, followed by bright corn and a gentle and soft ending. However, unlike lesser bourbons, you won't get an abrupt burn or feel overwhelmed by the flavors.
Paste Magazine credits Four Roses Yellow Label's exquisite taste to its trademark yeasty mash bills. While you can certainly nerd out on the science of what makes each mash bill unique, it's just as pleasant to sip and savor the mysterious combination that makes Four Roses Yellow Label so palatable.