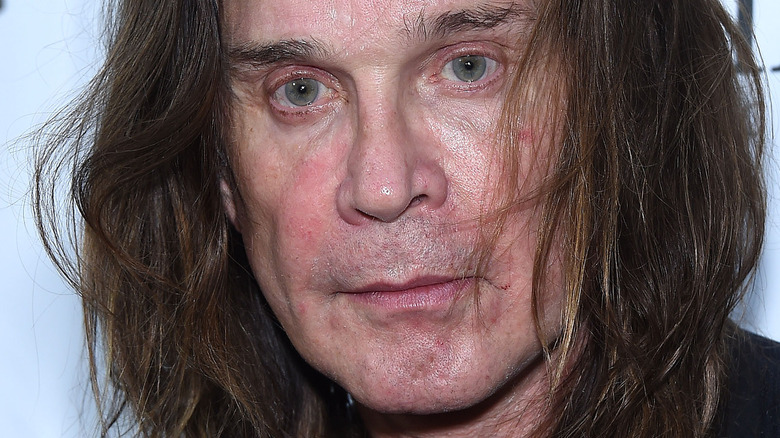 As declared by the band Poison in a 1988 hit, the 1980s were nothing but a good time. The whole decade was a period where rock ruled popular culture and the musical landscape. But it was more than just guitar-drums-bass driven songs about love, lust, and partying — the music came from bands fronted by swaggering singers and virtuoso guitarists who held court from the stage in front of thousands of fans. The 1980s were a golden age of hard rock, arena rock, heavy metal, hair metal, and other unabashedly loud and celebratory varieties of the all-American pop music style.
Many of those 1980s rock stars weren't kidding when they sang songs about how hard and fast they lived. Numerous singers, guitarists, and drummers ran afoul of the law for various crimes and misdeeds against the community, loved ones, and themselves. Here are some of the biggest rockers of the 1980s who were accused of (and even convicted of) some terrible and illegal actions.
Tommy Lee and Nikki Sixx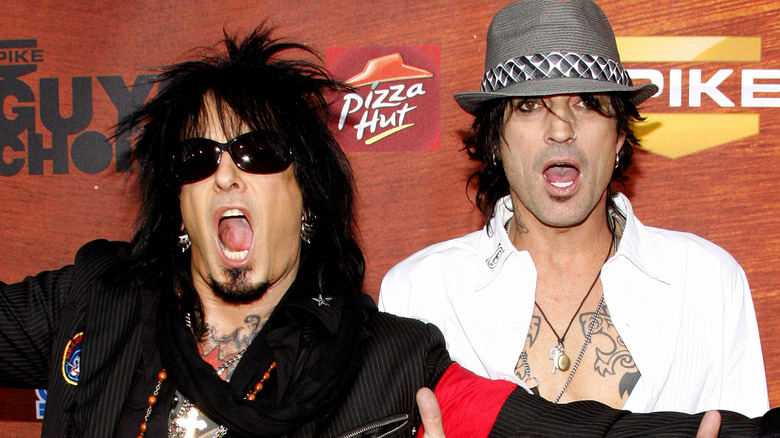 If any one band embodied the menacing-meets-sleazy party rock scene of the 1980s, it's Mötley Crüe. They were the toast of the L.A. glam-metal world, and sold millions of albums worth of its proud tales of debauchery, relationships, and partying, with memorable songs like "Kickstart My Heart," "Shout at the Devil," and "Dr. Feelgood."
In 1997, Mötley Crüe hit the road for its comeback "Generation Swine" tour and at the end of a show at America West Arena in Phoenix, according to MTV, invited the audience to storm the stage. Fearing a destructive riot, security guards tried to hold back the crowd, but Nikki Sixx and Tommy Lee didn't like that, so they allegedly kicked, pushed, and spat on guard Kenneth Lee Chambers. (Hundreds of fans made it onto the stage and caused extensive property damage.)
According to the Los Angeles Times, Lee's sentence consisted of an $800 fine and 30 days in jail, which thanks to a plea bargain, he served as part of the six-month sentence he was already serving at the time over an act of domestic violence involving his former wife, Pamela Anderson. Sixx, per the Greensboro News and Record, pleaded no contest, was convicted of assault and inciting a riot, and received a 30-day suspended sentence and probation.
Vince Neil
A big part of why Motley Crüe caused a sensation in the early 1980s was its frontman, Vince Neil, a wailing strutter in the tradition of Robert Plant and Roger Daltrey, the poster boy of hair metal with his flowing, bleached-blond locks and photogenic looks.
According to Ultimate Classic Rock, Neil was in the midst of a days-long party at a house in Redondo Beach, California when, on the evening of December 8, 1984, he got in his car to go buy more alcohol. Already intoxicated, he bought along Nicholas Dingley, a.k.a. Razzle, drummer for the band Hanoi Rocks, and at one point, Neil lost control of the vehicle and smashed into a Volkswagen. The occupants of that car, Daniel Smithers and Lisa Hogan, suffered injuries, while Dingley was pronounced dead upon arrival at a nearby hospital.
Neil, according to the Los Angeles Times, was arrested that evening and was found to have a blood alcohol level of .17%, well above California's then-legal designation of intoxication of .10%. (It's currently .08%.) In September 1985, a court made Neil pay $2.6 million in restitution to Smithers, Hogan, and Dingley's family. That was part of a deal — Neil agreed to enter a guilty plea on charges of drunk driving and vehicular manslaughter. He was also ordered to serve 200 hours of community service, five years of probation, and 30 days in jail.
Axl Rose
Guns N' Roses ruled rock in the late 1980s: Their era-defining "Appetite for Destruction" is the bestselling first album in history. The band remained massive into the '90s, with frontman Axl Rose one of the most famous people on the planet. At a 1991 concert at Riverport Amphitheater near St. Louis, per UPI, Rose got angry when he spotted a fan with a camera, which he'd assumed guards had confiscated. Rose then dove into the crowd to grab the camera and remained so mad that he and the rest of Guns N' Roses left the stage, prematurely ending the concert. That, in turn, incensed the crowd, who rioted. Authorities say that about 3,000 fans participated, which led to $200,000 worth of property damage and 60 injuries. Rose was arrested for inciting a riot, and per Variety, was found guilty of assault and causing property damage and sentenced to two years' probation and made to donate $50,000 to charity.
In 1998, Rose was arrested at Sky Harbor Airport in Phoenix after allegedly threatening a security guard. Rose was making his way through a Southwest Airlines bag check station, and according to a Phoenix Police officer who spoke with MTV, Rose yelled, "I'll punch your lights out right here and right now" at the worker and also shook his fists. A publicist from Rose's record company later explained that Rose was worried the guard would break a fragile glass item in his suitcase. Rose was charged with disorderly conduct, posted bail, and was released from jail.
Ozzy Osbourne
Ozzy Osbourne is one of rock's most legendary, longest-lasting, and controversial figures. He helped popularize metal in the 1970s as the lead singer of Black Sabbath before embarking on a very successful solo career in the 1980s, recording hard-charging anthems like "Crazy Train" and "Bark at the Moon." All the while, the singer struggled mightily with substance abuse issues, according to Variety.
Osbourne's popular 2000s reality show "The Osbournes" depicted him in a calm and stable marriage with his wife, Sharon, a long way removed from the night in 1989 when the self-proclaimed Prince of Darkness tried to kill his spouse. As Sharon detailed in the documentary "The Nine Lives of Ozzy Osbourne" (via Talent Recap) Ozzy approached his wife in a dark and disoriented state one evening after she put their children to bed. "I just couldn't get through to him. And he just said, 'We've come to a decision that you've got to die.'" Assuming he was under the influence of drugs, Sharon Osbourne recalled her husband then "dived on me and started to choke me. He got me down on the ground on top of me." Sharon Osbourne had a panic button device nearby and activated it, which summoned police and ended the attack. Ozzy Osbourne was arrested for attempted murder, a charge that went away after the rock star entered a six-month rehabilitation program.
Rick James
Rick James was an innovative musician, blending the catchiest elements of funk and rock n' roll to create a whole new kind of music, which can be heard on enduring party-starters like "Super Freak" and "Give It to Me Baby." After his creative peak in the '80s, James got more attention in the '90s for his legal problems. In 1991, according to the Los Angeles Times, James and his girlfriend, Tanya Hijazi, were arrested and charged with false improvement, assault with a deadly weapon, sexual assault, making terrorist threats, and furnishing drugs. According to police, James and Hijazi met a woman at a party and invited her to stay at their home. Soon after she arrived, James allegedly brandished a gun and threatened to kill the woman if she tried to leave. Then, according to reports, James and Hijazi physically restrained the woman and burned her with a hot crack cocaine pipe around 20 times and forced her to perform sexual acts and smoke crack cocaine against her will. Upon release, the victim sought hospitalization, where medical staff called police.
Free after posting bail and awaiting trial, James and Hijazi were arrested again in 1992, per the Los Angeles Times, after a woman accused the couple of physically assaulting her in a West Hollywood hotel room. Acquitted on a torture charge from the first incident, James earned a two-year prison sentence for the assaults, according to Billboard.
Richie Sambora
Bon Jovi was the band that took hard rock to the top of the charts. The New Jersey group mixed clean production, singalong-ready lyrics, and piercing, metal-style guitar licks to become one of the biggest bands of the '80s, scoring #1 pop hits with "You Give Love a Bad Name," "Livin' on a Prayer," and "Bad Medicine." The guy responsible for the guitar theatrics that complemented the emotive warbling of singer Jon Bon Jovi: guitarist Richie Sambora.
Around 11 p.m. one night in March 2008, according to People, police in Laguna Beach, California, pulled over Sambora's Hummer when they noticed it drifting through lanes. Police reported a strong alcohol smell on Sambora, and, after administering field sobriety tests and a blood alcohol test, arrested the guitarist and charged him with driving under the influence. Per People, authorities later sought to add a child endangerment charge to Sambora's rap sheet on account of how his 10-year-old daughter and another child had been passengers in the SUV at the time of the musician's arrest. According to Today, Sambora brokered a deal with prosecutors. He entered a no contest plea to a misdemeanor count of drunk driving while other charges were dropped, and he earned a sentence of three years of probation and three months of alcohol awareness courses.
Sebastian Bach
In December 1989, Skid Row brought its brand of heavy hair metal to the Springfield Civic Center in Massachusetts. According to MassLive, somebody in the crowd threw a drinking vessel at lead singer Sebastian Bach, although reports vary over whether it was a cup or a glass bottle. Bach, extremely startled by nearly being brained by a projectile, asked "Who the f*** did that, man?" and then "Was that you, c*********?" to a particular individual in the audience.
Bach retaliated by forcefully throwing a bottle into the crowd, where it struck 17-year-old Elizabeth Meyers, breaking her nose. Bach wasn't done — he jumped into the stands and kicked a man in the face in the process. After the show, police arrested Bach and charged him two counts of assault and battery and one count of mayhem.
Following a plea agreement, Bach received two years' probation, had to pay a $16,000 fine, and worked out a payout with one of the victims. "There was a large cash settlement," Bach later told the Hartford Courant. Around $500,000, paying it "basically wiped me out," Bach added.
Yngwie Malmsteen
Hard rock in the 1980s was all about shredding — who could play guitar the fastest and with the most dexterity. Ranking up there with the likes of well-known, America-launched Eddie Van Halen and Stevie Ray Vaughan: Swedish guitarist Yngwie Malmsteen, who played his instrument with the speed and energy of a classical pianist while fronting '80s metal bands like Steeler and Alcatrazz.
In August 1993, according to the Associated Press, then-30-year-old Malmsteen was arrested in Miami Shores, Florida, and charged with assault. Police arrived after receiving a call from Elaine Potter, who alleged that her 19-year-old daughter (and Malmsteen's girlfriend) Amber Landin was being held in the guitarist's home without her consent. When Potter tried to get Landin off the premises and return to the family home in Arizona, Malmsteen allegedly turned frighteningly aggressive and violent. "He took out a shotgun and he took out a handgun," Potter reported. "He said, 'If you think you are taking her anywhere you are not going or you are going to find out how this gun works."
After an hour-long standoff with police, Landin exited the home, followed by Malmsteen. The musician was booked and charged with aggravated assault with a deadly weapon. According to Guitarsite, the charges were eventually dropped and Malmsteen and Landin married.
Phil Rudd
One of the loudest, heaviest, most unpretentious, straightforward rock n' roll bands of all time, AC/DC emerged from Australia in the 1970s to become worldwide sensations in the 1980s, selling more than 50 million copies (per Loudwire) of its 1980 album "Back in Black." It's chock full of head-banging standards like the title track, "Hells Bells," and "You Shook Me All Night Long."
Providing the powerful rhythm for the majority of AC/DC's history: drummer Phil Rudd. According to Rolling Stone, Rudd drummed for AC/DC during its late 1970s and early 1980s heyday, sitting behind the kit from 1975 to 1983, and from 1994 until 2015, when his extensive legal issues precluded him from participating in band activities. In November 2014, per Stuff, police raided Rudd's home in Tauranga, New Zealand, and arrested the drummer for attempting to order the murders of two men. The following day, according to Rolling Stone, that charge was dropped, but Rudd still faced charges of possession of marijuana and methamphetamine. A judge ultimately sentenced Rudd to eight months of house arrest and 24-hour-a-day surveillance, to be served at his home in New Zealand.
Boy George
A style and musical icon in the mid-1980s, Boy George sang anguished, sophisticated songs of love and heartbreak as the frontman for the British group Culture Club. He was as well known for his traditional gender-role-defying style of dress as he was for his many hits, which included "Karma Chameleon," "Do You Really Want to Hurt Me," and "It's a Miracle."
According to The Guardian, Boy George brought model and escort Auden Carlsen to his London apartment in April 2007. After inviting Carlsen into his bedroom to ingest cocaine and pose for a nude photoshoot, Boy George left to go buy cigarettes and upon his return, grew incensed when he became convinced that Carlsen had accessed his computer. Carlsen would later testify in court that Boy George then said, "Now you're going to get what you deserve" and handcuffed the escort to his wall and beat him with chains and leather straps. Carlsen managed to break free and attempted to flee, and as he ran out, Boy George beat him with a piece of metal. In a 2009 court proceeding, Judge David Radford ruled that Boy George's actions were "premeditated, callous, and humiliating" and left Carlsen "shocked, degraded, and traumatized." The singer was sentenced to 15 months behind bars for false imprisonment.
Jack Russell
Great White hit it big in the late 1980s, in the tail end of the hair metal era. Fronted by lead singer Jack Russell, Great White found a big audience for its bluesy, glam-metal sound and scored major hits like "The Angel Song" and "Once Bitten, Twice Shy."
In 2003, Great White played The Station, a small club in West Warwick, Rhode Island, and their tour manager opened the show with some unauthorized (via CNN) pyrotechnics at the back of the stage. That started a fire, according to Rolling Stone, and Russell and his bandmates exited to safety via a fire door by the stage, which a bouncer prevented any of the 400-plus fans in attendance from using, leaving them to rush for the four posted exits, two of which had been barricaded. The bottleneck of panicked people led to a large crowd trapped as the fire quickly engulfed the building and liquor bottles exploded, beams cracked, and the ceiling collapsed. When it was all over, 100 people died at The Station that night. No one in Great White faced criminal charges over the tragedy, but they did face a lawsuit from survivors and the families of those who died. Great White agreed to pay out $1 million, according to the Associated Press, and as part of the settlement, didn't have to publicly admit wrongdoing.
Rick Springfield
Rick Springfield made a name for himself as a pop-rocker in the early 1970s with hits like "Speak to the Sky," only to resurface a decade later with some of the most definitive rock radio songs of 1980s, like "Don't Talk to Strangers," "Human Touch," and "Jessie's Girl." All the while, he became a sex symbol with a role on the hit soap opera "General Hospital."
Springfield spilled all in his 2010 memoir "Late, Late At Night" (via Entertainment Weekly), including details of his mid-1970s relationship with actor Linda Blair. At the time, Blair was a rising star, Oscar-nominated for her role as a demonically possessed child in "The Exorcist." When she began dating Springfield, she was 15, and he was 25 — a set-up that constitutes statutory rape. "I am her first lover and she is an enthusiastic learner," Springfield wrote. "We're actually really shocked by the incensed articles in both teen and regular press about our affair."
The singer would later meet Barbara Porter when she was 15. Springfield told People he rejected her because she was "too young," but after she turned 18 in 1981, they started dating. Springfield married Porter in 1984, and in 2000, according to ABC News, police in Malibu, California, responded to an emergency call at the couple's home and arrested the rock star on spousal abuse charges.