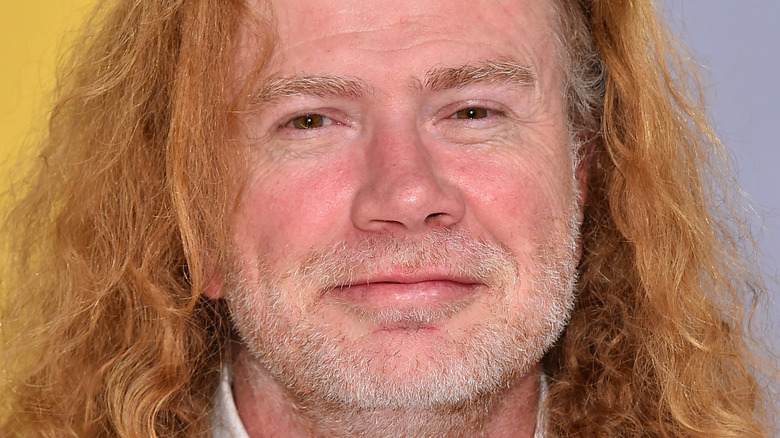 Megadeth's Dave Mustaine has been an instrumental part of the music industry for decades now. He was attracted to metal music as a teenager and was keen to play the guitar. According to All Music, he eventually managed to teach himself and delved deeper into the world of music, paying attention to popular bands at the time such as Venom and Iron Maiden.
One of his most memorable songs is "Jump in the Fire," a track that he came up with for Metallica. Mustaine told the Rolling Stone, "I was writing about myself being young and sitting in my room and feeling dejected – I had my head in my hands and didn't know what to do." He added that at that age, he was really lonely and felt like he could only be himself with his friends.
Mustaine would go on to have an interesting career, filled with dramatic moments that he probably didn't anticipate himself. However, he never forgot to be grateful for how far he'd come as a musician. As he remarked, "It's almost laughable, because I never thought I would be able to make money playing music."
His childhood was difficult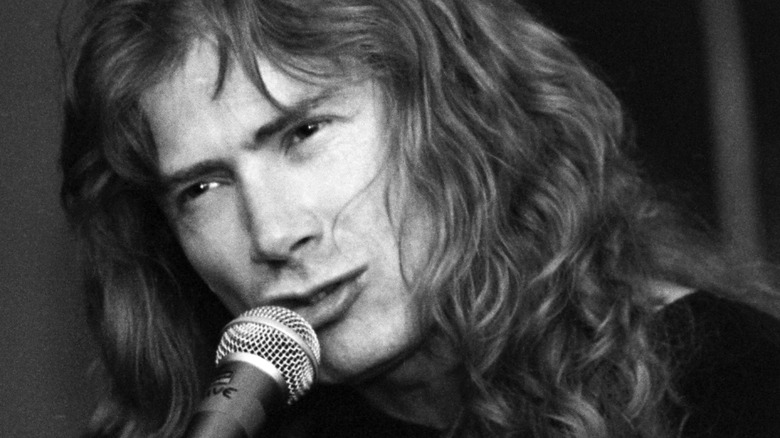 For Dave Mustaine, his early years were incredibly traumatic. He was born in La Mesa, California in September 1961 (via All Music). It was really difficult for Mustaine and his family to have a peaceful environment at home on account of his dad. He was addicted to alcohol and would not hesitate to get violent with those around him. As a result, they kept moving to different places to avoid him.
Per Kerrang, Mustaine's mom was very strict and religious which made him feel quite restricted at home. Talking about his childhood, he remarked, "My dad drank a lot and was abusive, so my parents got divorced when I was young and it got worse from there." They stayed in Costa Mesa with his aunt who was also deeply religious and a Jehovah's Witness. This, in turn, influenced his mom and motivated her to become a Jehovah's Witness as well. Mustaine resented living like that. He said, "My life was ruined from that point onwards until I moved out."
If you or anyone you know is struggling with addiction issues, help is available. Visit the Substance Abuse and Mental Health Services Administration website or contact SAMHSA's National Helpline at 1-800-662-HELP (4357). Also, if you or someone you know is dealing with domestic abuse, you can call the National Domestic Violence Hotline at 1−800−799−7233. You can also find more information, resources, and support at their website.
Dave Mustaine lost his band members
Dave Mustaine was drawn to music as a child. According to a piece by Guitar World, it started with a funny story: his sister was trying to get better at playing the piano but she wasn't very skilled. He started practicing the guitar just to "drown her out." He had a generous brother-in-law back then who lent his guitar to Mustaine. After that, there was no looking back. He had found something he really liked doing.
However, Mustaine didn't have it easy. For one, he couldn't afford expensive equipment and his first guitar was a simple piece that cost him $80. He also formed a music group called Panic, but he didn't realize that would mean he'd get a taste of tragedy early on when he lost three band members in two different terrible accidents. Describing the incidents, Mustaine said that the first accident occurred after a party. "I stayed behind and these two guys went home. They were driving down the Pacific Coast Highway, south of the pier, by the Jack in the Box, and crashed," Mustaine explained. He added, "Panic had a very painful beginning; our other guitar player also died in a car crash. It was kind of a very painful, dark period when I started playing."
Dave Mustaine was let go from Metallica
Dave Mustaine was forced to endure a professional heartbreak early in his career. According to Loudwire, in 1983, Mustaine received shocking news: he had been replaced by guitarist Kirk Hammett as a part of Metallica. Mustaine was gutted. He said, "The thing that really upset me was that they never gave me a warning and I never got a second chance. It was just, 'Hey man. You're out. See ya later.'"
On the bus ride back home, the musician decided to express his feelings by writing a song. He didn't know it back then, but this would inspire him to form his popular metal band, "Megadeth." Because he didn't have any writing tools on him, Mustaine used a flyer from Senator Alan Cranston. It had a message on the front which read, "the arsenal of megadeath can't be rid." This is how he came up with a name for his next band.
Also, Mustaine's only complaint was that he should have at least received some kind of warning from Metallica before he was ousted from the group. He knew he was a reckless band member and was irresponsible, which is what ultimately led to his exit.
He was filled with self-doubt
Dave Mustaine couldn't help but reflect on his future after he was fired from Metallica. The bus that would take him home gave him a lot of time to think about his next steps, as per Loudwire. He said, "I did a lot of soul searching on the way home — 'Did I want to play guitar? Did I wanna keep doing this? What am I gonna do?'"
Despite feeling confused about everything, he felt that he could perhaps form a band of his own, something that would essentially set him free from Metallica. Through the years, Mustaine tried to step out of his comfort zone whenever he could as a performer (via MusicRadar.) For example, when he tried a wah-wah pedal for the first time, he was unsure about the results but gave it a shot anyway. He posted a video on Instagram before his performance and said, "I don't know how it's gonna turn out, so if you're here, you'll find out. If you're not, check back later and see. But I'm really excited about it."
Dave Mustaine dealt with addiction
For Dave Mustaine, one of his toughest struggles was confronting his substance abuse. Per the Baltimore Sun, when he was caught by cops, Mustaine had "nine different chemicals" in his body. He said that at first, he was hooked on alcohol and pot, but as time went by, he found himself reaching out for other options such as cocaine and heroin. In the ensuing chaos, Mustaine's career took a backseat.
His environment didn't do him any favors either. Mustaine said that one of his ex-managers would keep sending his band plenty of drugs when they were touring to keep the group distracted. After Mustaine achieved sobriety in 1990, he went back to focusing on Megadeth with bassist David Ellefson. In a powerful statement, Mustaine said that it's only when you lose something that you learn to value what you have. "It's almost like you need to have that carrot taken away from you for you to appreciate it. I had it when I was with Metallica in 1983 and lost it. I had it when I started Megadeth and then I lost it again to drugs," he said.
If you or anyone you know is struggling with addiction issues, help is available. Visit the Substance Abuse and Mental Health Services Administration website or contact SAMHSA's National Helpline at 1-800-662-HELP (4357).
An injury damaged his left arm
In 2002, Dave Mustaine suffered a severe injury that made him wonder whether he'd ever be able to play music again. According to Billboard, the musician made the decision to put an end to Megadeth at that point. It was said that Mustaine had suffered "severe nerve damage" and doctors told him that he had "a compressed radial nerve." He added that he would need at least one whole year to recover, and it was impossible to tell whether he'd be fit enough to play.
Mustaine had not given up hope, though. He mentioned that he was determined to work hard with his doctors and physical therapists to get back to playing once again. He also said, "For the time being I have decided to exit Megadeth, and explore other areas of the music business where I might make a contribution without being able to play my instrument."
It was later revealed that Mustaine got injured when he was asleep on a chair, as per Guitar World. His arm was awkwardly positioned which led to the injury. He somehow got back on track and made a comeback in 2004 after taking a break for 18 months.
Dave Mustaine experienced personal tragedy while working on 'Dystopia'
According to Paste Magazine, Dave Mustaine and his family suffered a huge blow when Megadeth was recording songs for their album, "Dystopia." The musician calls it a "black cloud" that was over them. His wife's mother was battling Alzheimer's and it was very tough for them to see her go through the things she did. Per People, the musician's mother-in-law, Sally Estabrook went missing in 2014. They were distraught and requested help from members of the public to find her. According to NY Daily News, tragically, her body was discovered almost two months after she was first reported as missing.
Mustaine said that what made it harder to deal with the illness was that she wasn't a distant family member. "When it's somebody you're seeing every single day, it becomes real, and it's devastating. It's like Winston Churchill when he used to talk about the black cloud, and it's exactly what was over our house," Mustaine explained. He also said that it was really odd for them to come to terms with reality after she died. Things were suddenly back to the way they were before Alzheimer's took over. It was unsettling for them to go through it.
He has health issues
Dave Mustaine has faced several health problems over the years. He told MusicRadar that his neck was damaged on account of all the headbanging that he had indulged in as a professional musician. He said, "It had degenerated the discs. When they were taking out one of the discs to replace it, they discovered a big bone fragment that had broken off and was pushing against my spinal column." The musician added that he was in a lot of pain throughout the ordeal.
Per a tweet from the guitarist, the neck injury drastically changed his voice, and it was permanent. What's also worth noting is that doctors told Mustaine that he had arthritis in 2008, something that definitely made his neck troubles a lot more difficult to bear (via Loudwire.) Despite everything, the musician stayed strong and managed to overcome his troubles and continued creating music for his fans.
Dave Mustaine fought cancer
In 2019, Dave Mustaine received terrible news: doctors said that he had throat cancer. He was 57 years old at the time, per the Guardian. While this update was undoubtedly grim, the musician said that he was going to follow a treatment plan that had a high success rate. Inevitably, this took a toll on Megadeth and the band ended up backing out of most work commitments as Mustaine focused on getting better.
After undergoing treatment, the musician said in a conversation with Rolling Stone that his family stood by him through everything. He expressed gratitude for the support that he received from his peers and fans after they heard about his diagnosis. For some reason, he really didn't see that coming. He said, "I'm really grateful for everybody. Even the people who have a hard time with my behavior and my big mouth, I'm just so grateful for them showing care for me."
He also didn't hesitate to admit that when he was first told about his illness, he thought he wouldn't make it because he wasn't sure how severe it was. However, he thought about his fans and those who were rooting for him and said to himself that he would beat the disease. He stayed true to his word and managed to overcome the illness. Per Louder Sound, the musician was confident about his health by the time his doctors gave him the update. "I had faith that I was going to be healed," he said.
Dave Mustaine had a huge conflict with Nick Menza
Megadeth's ex-drummer, Nick Menza, died unexpectedly in 2016 after he suffered a heart attack. He'd been a part of Megadeth from the late 1980s till 1998. (Apparently, the drummer chose to exit the band after doctors found a tumor on his knee.) According to the BBC, the tragedy occurred when Menza was playing a gig in Los Angeles with his band. His death was shocking to his friends, and his biographer said at the time that they were "all too numb to think about anything but Nick's family."
As per Louder Sound, Nick Menza did not get along with Dave Mustaine at all. The drummer's ex-manager, Robert Bolger said, "Dave wasn't very nice to Nick towards the end before his passing. Bolger added that Mustaine had made up stuff while speaking about his relationship with Menza in his book, "Rust In Peace." He also said that Menza's family was never included when Mustaine was working on the book and they didn't even know that it was going to be published.
Per Music Feeds, after Menza's death, Mustaine offered his condolences and said that he was friends with the drummer. He also said, "There were several times we discussed him coming back to the band, but for various reasons, it never came together. We've been in touch all along, he had come out to our shows recently, and he had remained a great friend, a true professional and a larger-than-life personality."
He lost his sister too soon
In March 2020, Dave Mustaine took to Instagram to write about a personal loss. He posted an old photo of himself and his sister, Michelle and wrote, "My friends, I have sad news to share with you today. My sister Michelle has passed away. I was truly lucky to have a sister like her. Rest in peace, my dear Michelle."
According to Loudwire, not much was known about the circumstances surrounding Michelle's death but some believed that she had been battling an "undisclosed ailment" for a while. Mustaine's friends such as Gary Holt, Chris Jericho, and Alex Skolnick among others reached out to him in support. His daughter added a comment with heart emojis as a tribute to her aunt. The musician's fans on Reddit said that Dave Mustaine and his family had been through a lot. One Redditor wrote, "My heart goes to the Mustaines. They suffered too much in recent years … may this be the last loss they will have to suffer for a long, long time. RIP."
Dave Mustaine feels like the public doesn't know him
As a musician and as an individual, Dave Mustaine knows that he doesn't appeal to everyone. He told Kerrang! that he isn't perceived correctly. "People don't know me at all. They think they do, but they only know the guy Lars [Ulrich] and James [Hetfield] have been trying to smear for 40 years," he said, referring to his former band members from Metallica. He further stated that the audience knows the person who reacts to these comments but not him.
Mustaine also went on to say that he usually doesn't say much unless he's provoked. He added, "If someone said something I didn't like, I may have retaliated in jest, but never seriously. I would never attack anyone without good reason." In the same interview, the musician spoke about some of his early struggles such as the fact that one of his former managers wasn't legitimate and was, in fact, a drug dealer who stole a major chunk of their money and made life really hard for them.
If you or anyone you know is struggling with addiction issues, help is available. Visit the Substance Abuse and Mental Health Services Administration website or contact SAMHSA's National Helpline at 1-800-662-HELP (4357).