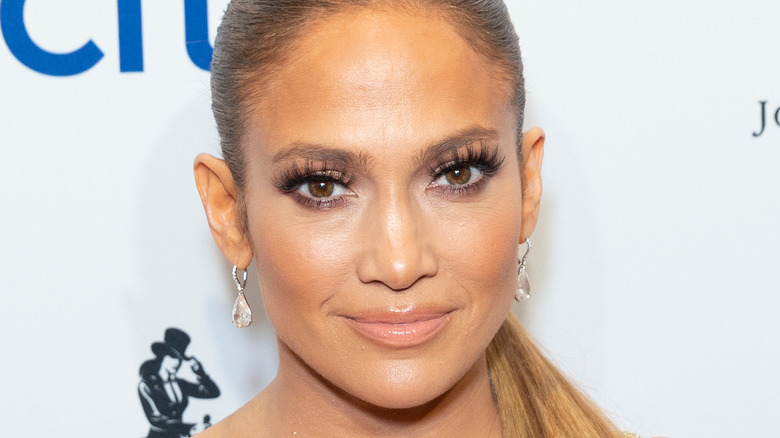 Multihyphenate talent Jennifer Lopez has seemingly never shied away from love. Prior to tying to knot with Ben Affleck in 2022, she had three prior husbands — Ojani Noa, Cris Judd, and Marc Anthony (with whom she shares twins Emme and Max).
Lopez and Affleck's rekindled romance could be straight out of a movie that we'd all end up shedding a happy tear over. The married couple, who wed in Las Vegas in July 2022, were engaged for the first time two decades earlier only to break it off, move on, start families, and experience their fair share of relationship drama with other people. It was almost as if fate brought the exes back together. A few months before she exchanged vows with Affleck, Lopez told Ellen DeGeneres, "You never could imagine something like that could happen. It's a beautiful thing."
Yes, Lopez and Affleck's relationship journey is truly something special, but the "Let's Get Loud" singer went through several heartaches and a few failed marriages before getting back with the "Gone Girl" actor. The men that have come into her life, whether it was for a few years or a few months, are all a part of said relationship journey, and she's shared her own sentiments about a few, telling Cosmopolitan in 2013, "The biggest insecurity I had was my singing … And while I was married to Marc, he helped me get over it. He kept telling me, 'You're the only one holding yourself back from reaching your full potential as a singer.'" Understandably, most of Lopez's exes sure seem to hold her in high regard all these years later. Here's what they've said about her publicly.
Ojani Noa wasn't allowed to talk about their marriage
Jennifer Lopez became a bona fide movie star when she was cast as Selena Quintanilla-Perez in the 1997 biopic "Selena." Her performance was celebrated by critics and fans alike, and director Gregory Nava was beyond proud of her portrayal. As he told Yahoo!, "I felt she not only should have been nominated, but she should have won an Oscar for that part."
Lopez was enjoying the limelight with her then-husband Ojani Noa, whom she married the year "Selena" hit theaters. Per Us Weekly, their marriage was short-lived; the couple divorced just 11 months later. As reported by The Sydney Morning Herald, Noa was in talks to publish a tell-all about their marriage, however, Lopez won a lawsuit which forbade him from "criticizing, denigrating, casting in a negative light or otherwise disparaging" the star.
Although Noa's book was never released, he did divulge some details about their courtship in a 2011 YouTube video. "The wedding was very crazy," he shared. "I love the fact that I got married because I was totally in love, I was crazy in love. … We were totally in love." Cut to 2022 when Lopez and Ben Affleck got married and Noa shared his reaction to the nuptials with the Daily Mail. "I wish her and Ben the best, but I'm not convinced it will last," he said. Zoinks.
Diddy has no hard feelings over their breakup
Jennifer Lopez and Sean "Diddy" Combs' relationship began around September 1999, per Newsweek. The former "it" couple connected on the set of her music video for "If You Had My Love," and when they attended the 2000 Grammy Awards together, they made all of the headlines thanks to Lopez's iconic green Versace dress. Years later, Diddy told ET, "I didn't know how big it was gonna be, but it was a great moment for her."
Her relationship with the rapper ended on Valentine's Day in 2001. Evidently, things behind the scenes weren't so glamorous. Reflecting on their courtship in a 2003 Vibe interview (via Entertainment Weekly), she said, "It was the first time I was with someone who wasn't faithful. I was in this relationship with Puff where I was totally crying, crazy and going nuts, it really took my whole life in a tailspin." She added, "I never caught him but I just knew."
While a romantic relationship did not pan out, it sure looks like the two artists have nothing but respect for one another. "She was one of my girlfriends, and the most highly publicized one," Diddy told People in 2006. "But I've been blessed to go out with a couple of great women, and she was one of the great ones." The two even shared a friendly hug after Diddy attended Lopez's last show for her "All I Have" residency show in Las Vegas in 2018.
Cris Judd and Jennifer Lopez weren't meant to be
After Jennifer Lopez and Sean "Diddy" Combs split in 2001, the singer began dating backup dancer Cris Judd, whom she met on the set of her music video for "Love Don't Cost a Thing." The couple moved fast and tied the knot in September of that same year, but she would file for divorce less than a year later.
After their relationship drew to a close once and for all, Lopez told Entertainment Weekly, "I loved Cris, still love him, he's one of the best people. This wasn't an easy thing to walk away from, but we didn't have what it takes to make a marriage work. … Cris knows the last thing I ever wanted in this f****** world was to hurt him."
In 2014, Judd opened up about their marriage to Us Weekly, noting that becoming the husband to an A-list star had its down-sides, including a lack of privacy. He added, "I can't give you the answer as to why her relationships don't work. I think that it's that it is work. It's whether you want to work on it or not. … When you sign up to get married, you can't just walk away." As of this writing, Judd is married to Kelly A. Wolfe, whom he wed in 2009, and the two share a daughter.
Ben Affleck blamed the media for their split
After her marriage to Cris Judd fell apart, Jennifer Lopez fell head over heels for her co-star Ben Affleck while on the set of "Gigli" in 2002. Sure, the film became one of the most expensive box office flops of all time, but it brought together two of the biggest stars in Hollywood. According to People, the couple, who were dubbed "Bennifer," announced their engagement in November 2002, planned to wed in September 2003, but officially split in January 2004. Following their breakup, Lopez said in People, "I think different time different thing, who knows what could've happened, but there was a genuine love there." Years later, Affleck admitted on "The Howard Stern Show" (via Harper's Bazaar), "I would say [media attention] was about 50 percent [of what destroyed our relationship]. The idea that people hate you and they hate you together and that being together is poison and ugly and toxic and the thing none of us want to be part of." According to ET, the two stayed on amicable terms.
Affleck went on to marry Jennifer Garner in 2005. They welcomed three children together before officially divorcing in 2018.
In April 2021, a month before the Affleck and Lopez reconciliation was made official, the "Gone Girl" actor said to InStyle, "[Lopez] remains, to this day, the hardest-working person I've come across in this business. She has great talent, but she also worked very hard for her success." The duo announced their engagement for a second time in April 2022 and wed in Las Vegas in July 2022.
Marc Anthony holds no grudges after their divorce
Jennifer Lopez didn't waste any time crying over Ben Affleck when the duo parted in January 2004. She quickly moved on with singer Marc Anthony, whom she had known ever since they'd recorded "No Me Ames" together back in the '90s. The couple also didn't waste any time getting married: They tied the knot in June 2004, just a week after Anthony finalized his divorce from his first wife Dayanara Torres, per MTV News.
The pair of musicians several joyful years with one another, and on February 22, 2008, they welcomed twins Emme and Maximillian. However, by July 2011, Us Weekly reported that the two were going their separate ways. Talking about the reason for their divorce, Anthony said on "Nightline" (via E! News), "I'll tell you that it wasn't something sensationalistic happening. It was a realization on both our parts. So, you know, it wasn't shocking. These things happen. It was a decision that we made jointly."
Lopez and Anthony's divorce was finalized in 2014, and the former spouses remain committed to co-parenting their children and being supportive of one another. In a 2021 InStyle interview, Anthony said of his ex, "She's the first one in the room and the last one to leave. The hardest worker I've ever met. When we were together, it was quite the opposite for me. That has changed since. I learned so much from her."
Casper Smart thinks Jennifer Lopez is 'phenomenal'
Beau "Casper" Smart came into Jennifer Lopez's life when he started working for her as a backup dancer, and not long after her divorce from Marc Anthony in 2011, the two became an item. Despite their 18-year age difference, the couple made it work with Smart sharing with Univision (via Hola!), "I was very young, I was 23 or 24, she was 18 years older, so she was about 42 years old with two kids. But in the moment, everything just clicked. We spent every day together for a year."
Smart and Lopez had their ups and downs over the years, but they called it quits for good in 2016, per People. Smart would later blame their large age gap on their breakup. "I was very young and selfish. I thought I was ready for a relationship with a woman with kids and everything," he shared (via Hola!). Even so, it sounds like there wasn't much bad blood. He said in Us Weekly in 2017, "Jennifer is, like, phenomenal, phenomenal, phenomenal."
Though much was made of Lopez dating a significantly younger guy, the pop star shrugged it off. She told Ellen DeGeneres in 2017, "If they're older, they're older. If they're younger, they're younger. It doesn't matter, It's whether or not I'm attracted to them or not, attracted to their spirit, their soul, whatever their energy is."
Drake hinted at a relationship with Jennifer Lopez in his song
Rumors began swirling in December 2016 that Jennifer Lopez was romantically linked to Drake after he not only attended her "All I Have" show in Las Vegas, but took a snap with the pop powerhouse and another snap with her hat. That same month, both stars posted a photo of Lopez lying on Drake's lap with his arms around her, igniting more romance rumors. The "Jenny from the Block" singer tried to clear the air by pointing out that she and Drake were simply collaborating on music together. She told Ellen DeGeneres in 2017, "Actually, he sent me a song that he wanted me to be on, and I got on the song."
If anything actually did happen between the two music superstars, it apparently fizzled out and we all moved on… until Drake mentioned Lopez in his song "Diplomatic Immunity": "2017, I lost a J.Lo / A Rotterdam trip had me on the front page, though." (As outlets like Us Weekly, E! News, and People all noted, the second lyric seems to be a reference to some headlines Drake generated while in the Netherlands, as well as a play on "A-Rod.")
Presumably, Lopez was not caught off guard by this name drop. After all, when ET asked her about the rapper in January 2017, she cryptically replied, ""We'll see if it's on his next album."
Alex Rodriguez admires her work ethic
Former New York Yankee player Alex Rodriguez and Jennifer Lopez first crossed paths in 2005, but did not become a couple until 2017. Looking back on the day he reconnected with J.Lo, A-Rod told Ellen DeGeneres, "I describe it as the luckiest day of my life." Two years later, the couple got serious when Rodriguez popped the question while they were vacationing in the Bahamas. The two tried to make wedding plans happen, but as Lopez told Elle in January 2021, they hit pause on those plans due to the coronavirus pandemic. And then, in the wake of some cheating rumors, Lopez and Rodriguez shared they'd parted ways. They said in a joint statement to Today, "We have realized we are better as friends and look forward to remaining so." Three months later, Lopez confirmed on Instagram she'd gotten back together with Ben Affleck.
Following their breakup, Rodriguez told ET, "I had five years of an incredible life and partnership and also with my daughters, we learned so much. And now we have the opportunity to take that and move forward and say, 'You know what? We're so grateful for the last five years, how do we make the next five years better because of lessons learned?' And in July 2022, the MLB alum said of his ex on Martha Stewart's podcast, "Hardest worker and I think she is the greatest performer in the world today that's alive." Evidently, his admiration for J.Lo has yet to fade.