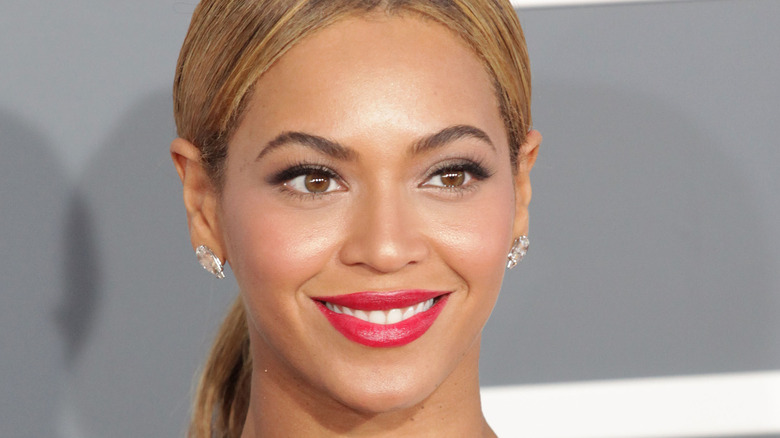 In 1981, the world was graced with Beyoncé Knowles (via IMDb), aka Queen Bey, and we are forever grateful. Beyoncé is one of the greatest pop stars of her generation and has an incredible career. Since the Texas native's rise to fame with Destiny's Child, fans all over the world have been following her work. With her accomplishments ranging from a chart-topping singer and notable actor to a proud mother of three and a philanthropist, it's hard not to be in awe of Beyoncé's life.
On July 29, 2022, Beyoncé dropped her seventh studio album, "Renaissance," which came six years after the release of the critically acclaimed "Lemonade" (according to People). At the time of this writing, "Renaissance" has been topping the charts. In fact, on the day of its release, it "became Spotify's most-streamed album in a single day by a female artist in 2022 so far" (via Spotify's Twitter account).
While Beyoncé has been in the spotlight since she was a teenager, she has managed to stay out of any big tabloid drama and has kept her personal life pretty quiet. Fans may know a bit about the songstress through her music and documentaries, but there are some lesser-known facts surrounding her life and career. Keep reading for some fun and interesting Beyoncé facts you may not have known.
Beyoncé's name was passed down by her mother
Ever wonder how Beyoncé acquired her name? The rare moniker actually came from Beyoncé's mother, Tina Knowles-Larson. It was Lawson's maiden name, and she felt that there weren't enough men to carry on the family's surname, so she chose to alter it so that her firstborn could use it as a first name. "It's my maiden name. My name was Celestine Beyoncé, which at that time was not a cool thing, to have that weird name," she stated during the premiere of the podcast "In My Heart with Heather Thomson."
She also revealed that a few of her family members have different spellings of the Beyoncé last name. She explained, "I think me and my brother Skip were the only two that had B-e-y-o-n-c-e." The actual spelling of Lawson's maiden name should be B-e-y-i-n-c-e, but according to Beyoncé's mother, the misspelling occurred intentionally. She was told by her own mother just to be happy that she even has a birth certificate since there was a time when "Black people didn't get birth certificates."
Her dance teacher discovered her singing ability
Growing up in Houston, Texas, Beyoncé and her sister Solange took dance classes. Darlette Johnson-Bailey, who founded the Kids In Dance studio in Missouri City, Texas, was the girl's dance teacher. While teaching Beyoncé, Johnson-Bailey realized that her student was a gifted singer. Johnson-Bailey told Moneyish that while the shy young Beyoncé was "a force to be reckoned with" on the dance floor, she also "had a golden voice." She went on to say, "She was sitting on the floor — she had on a pink top and pink shorts and her pink tights — and I told her, 'You are gonna be a world star. You are gonna be so big, the whole world is gonna know you. And she just looked up at me and grinned and said, 'I am?' And I said, 'Yes, you are.'"
In 2006, during a pre-birthday surprise for Bey, Ellen Degeneres shocked the singer when she brought out Beyoncé's dance teacher during a special "Ellen" episode. The performer was reminiscing about "Miss Darlette," telling DeGeneres that she was the first person to take notice of her singing talents, before the proud dance teacher appeared on stage. Johnson-Bailey shared that one day when Beyoncé was singing, the teacher was so taken aback by her voice that she asked her to re-sing one of the notes. After that, Beyoncé started entering singing and dancing competitions. According to Johnson-Bailey, "it's been history since."
Beyoncé was a contestant on the talent show Star Search
At 12 years old, Beyoncé appeared on the once-hit talent show "Star Search" in 1993 as a member of the group Girls Tyme. For Bey, this was a dream realized. "In my mind, we would perform on 'Star Search'; we would win, we would get a record deal," she stated in "Self-Titled: Part 2," her behind-the-scenes mini-documentary about her album. Beyoncé thought there was no way the group would lose. Unfortunately, while Girls Tyme received three stars from the judges, they came in second place, with the victory going to a group called Skeleton Crew.
Beyoncé also shared that her appearance on the show was "a defining moment of [her] childhood" (via People). When reminiscing about her time on "Star Search" in the mini-documentary, she recalled, "at that time, you don't realize that you could actually work super hard and give everything you have and lose." The award-winning singer disclosed that it was "the best message" for her. She even included a soundbite of Ed McMahon introducing her group on the show before they performed her song "Flawless." While Skeleton Crew didn't go on to become mega superstars, they graciously told People in 2013 that "Skeleton Crew will remain a footnote in the career of Beyoncé … This is Beyoncé's story, and obviously, our 'destiny' was to play a part in it."
She once had a reptile as a pet
In 2002, Beyoncé appeared on Rove Live, an Australian television variety show. While talking with the comedic host, Rove McManus, about her portrayal of Foxxy Cleopatra alongside Mike Myers in the movie "Austin Powers: Goldmember," she reminisced about having a pet. McManus asked Beyoncé if it was true that she once had a pet snake, to which she answered yes.
According to the singer, the snake — which was named Fendi — belonged to her cousin, and when the two roomed together, the two of them shared the reptile. "We had to get rid of it because of my dad … he was terrified," she said. She recalled a time when Fendi got loose, and her father told her and her cousin that once it was located, it had to go. Beyoncé said that she and her cousin found the python hanging in a closet. She also revealed that she loved the python and even slept and watched television with it.
Beyoncé donated her entire salary from the movie Cadillac Records
Beyoncé starred in the 2008 biographical drama film "Cadillac Records," portraying Etta James, the successful blues and soul songstress who, unfortunately, was in and out of rehab during the early 1970s for her addiction to heroin (via IMDb). After earning a healthy paycheck from the film, Beyoncé decided not to pocket the money. Instead, she donated her entire $4 million salary to help a string of drug treatment centers across America. Beyoncé's gift was made to Phoenix House, a nonprofit drug and alcohol rehabilitation organization formed in 1967 (via Marie Claire).
In 2007, the actress spent time with patients from their facility in Brooklyn, New York to do research for her role in the film (according to The Seattle Times). Beyoncé and her mother also created an affiliated cosmetology school at the Phoenix House Career Academy in Brooklyn. It offered individuals a seven-month training program to learn real-world skills during their recovery. At the ribbon-cutting ceremony, Beyoncé explained why she wanted to open up the center, saying, "I felt like they needed something that was geared toward women — something that would teach them skills that would give them hope even after the Phoenix House" (via MTV).
If you or anyone you know is struggling with addiction issues, help is available. Visit the Substance Abuse and Mental Health Services Administration website or contact SAMHSA's National Helpline at 1-800-662-HELP (4357).
A key part of her vocal training included running while singing
Beyoncé has a singing range that's out of this world. She always sings live, but her pitch-perfect chops and vocal gymnastics are barely ever affected by her explosive dance moves onstage. That's all thanks to her dad and ex-manager Mathew Knowles. In the early days of shaping Destiny's Child, Knowles had his daughter and the rest of the members run a few miles while singing as part of their rigorous training system as they tried to break into the music industry.
According to the Mirror, former Destiny's Child member LaTavia Roberson shared that Beyoncé's father would set up a summer boot camp at his house. "He would make us wake up early in the morning and take us to Herman Park," she said. "There was a three-and-a-half-mile track, and we would sing while we jogged around it. Then we would go to the house and rehearse." It seems all that running paid off, because Beyoncé has never looked exhausted while bringing down the house during her show-stopping concerts.
Beyoncé and Mariah Carey share a huge accomplishment
In 2020, Beyoncé surprised her fans when she jumped on the remix of Megan Thee Stallion's hit track "Savage." Of course, it became an instant hit, and it wasn't long before the song reached No. 1 on the Billboard Hot 100. This not only gave Megan her first top 10 hit, but Beyoncé joined the ranks of musicians who have had at least 20 top charting songs as a soloist and 10 or more as a member of a music group, a list that includes Michael Jackson and Paul McCartney (via Billboard).
The artist's first No. 1 hit dates all the way back to 1999 when she was 17 years old, with the Destiny's Child song "Bills, Bills, Bills." The catchy tune was No. 1 on the Billboard Hot 100 list (via Vibe). Beyoncé is one of only two musicians who have landed No. 1 songs in '90s, '00s, '10s, and '20s; the other is Mariah Carey (according to the Daily News). While Carey's Christmas song "All I Want for Christmas" came out in 1994, it has continued to grow in popularity over the years. It reached No.1 in December 2019 for a few weeks and again in 2020 (via Billboard).
It will be interesting to see if anyone will be able to tie Carey and Beyoncé's string of blockbusters or if they will remain the only two artists on this coveted list.
Beyoncé's favorite number is 4
It seems that Beyoncé really, really loves the number four. The number is such a part of her and her husband's lives that one of her albums is named after it. Her mother was born on January 4 (via IMDb), Beyoncé was born on September 4 (via IMDb), and her husband Jay-Z was born on December 4 (according to Britannica). Their daughter's middle name, Ivy, is reported to have stemmed from the roman number four, which is IV. The Roman number four is also tattooed on both Jay and Bey's hands alongside their wedding rings (via Elite Daily). Also, the pair were married on April 4, 2008, and only 40 guests were invited to celebrate their big day (via Essence).
Jay-Z has even discussed what the number means to him after announcing that he and Beyoncé would follow a vegan diet for 22 days. On his website Life+Times, he wrote, "There's something spiritual to me about it being my 44th birthday and the serendipity behind the number of days in this challenge; 22 (2+2=4) coupled with the fact that the challenge ends on Christmas Day … It just feels right!"
She wrote Bootylicious to empower women and men
During Beyoncé's interview with Harper's Bazaar, she also shared that her father was the driving force behind her writing her own songs when she was younger. "My father constantly encouraged me to write my own songs and create my own vision," she said. The singer-songwriter also revealed that the Destiny's Child's hit song "Bootylicious" was written because she felt a bit insecure about her body. "I remember when I started hearing people criticize me after I had put on some weight. I was 19," she said. "I was feeling a bit insecure from hearing some of the comments, and I woke up one day and refused to feel sorry for myself, so I wrote 'Bootylicious.' It was the beginning of me using whatever life handed me and turning it into something empowering to other women and men who were struggling with the same thing."
While speaking with Newsweek in 2002, she talked about the story behind the hit song, stating that she was larger (in size) than most actresses in the industry. Beyoncé noted that when she wrote the song, she was "getting bigger and bigger" because she likes to eat and just needed an outlet to talk about what was happening. Her creativity and her curves sure paid off, because "Bootylicious" became not only a fan favorite, but also an anthem for people of all sizes.
Beyoncé has experienced depression
In 2006, while Beyoncé chatted with Parade, she divulged that after Destiny's Child parted ways, she was severely depressed. "I didn't eat. I stayed in my room. I was in a really bad place in life, going through that lonely period: 'Who am I? Who are my friends?' My life changed," said Beyoncé (via CBS News).
According to Today, the group announced they were disbanding in 2005. Beyoncé also opened up to Parade, sharing that her worst fear was that she wouldn't find anyone to love her now that she was famous and that she "was afraid of making new friends." She had been dating the same guy from the age of 12 until she was 19. It seems things ultimately turned out well for Beyoncé, as she is happily married to Jay-Z and shares three children with the rapper, record producer, and entrepreneur.
If you or someone you know needs help with mental health, please contact the Crisis Text Line by texting HOME to 741741, call the National Alliance on Mental Illness helpline at 1-800-950-NAMI (6264), or visit the National Institute of Mental Health website.
Self-care is important to her
In August of 2021, American pop icon Beyoncé gave a rare insight into the choices she has made in protecting her own self-care and mental health in an interview with Harper's Bazaar. She spoke about her approach to self-care after struggling with numerous issues, including insomnia and diet consciousness, for a huge part of her life. Beyoncé told the publication that she has felt the pressure of being the pillar of her family and her enterprise. The queen of pop revealed that it took her a while to see the toll it was taking on her, physically and mentally.
"I have not always made myself a priority … I've personally struggled with insomnia from touring for more than half of my life. Years of wear and tear on my muscles from dancing in heels," she shared. "But I know that to give the best of me, I have to take care of myself and listen to my body." She went on to say that she's been focusing on her physical and mental health, which she noted is also a form of self-care. Beyoncé also said she was changing her eating habits for the better, and has found hemp and honey to have excellent healing properties. "And now I'm building a hemp and a honey farm," she shared.
Beyoncé is the most-nominated and awarded woman in Grammy history
Even though Beyoncé got snubbed at the 2022 Grammy and wasn't up for a single award, she still has more nominations under her belt than any other woman. She has earned a whopping 79 nominations and has won 28. The "Austin Powers in Goldmember" actor earned her first Grammy in 2001 with Destiny's Child. The top-charting group was nominated in 2000 for "Bills, Bills, Bills," and then the following year won two Grammys for best R&B performance by a duo or group with vocals and best R&B song for "Say My Name" (according to the Recording Academy Grammy Awards).
On March 14, 2021, Queen B made history during the illustrious awards show when she broke the record of the most Grammy wins by a female artist, surpassing the bluegrass-country singer Alison Krauss, who held that record with 27. Beyoncé snagged two Grammys during the pre-season for best rap performance for "Savage" with Megan Thee Stallion and best music video for "Brown Skin Girl" (via Vogue). Later in the evening, the superstar won best R&B performance for "Black Parade." During her acceptance speech, she stated, "As an artist, I believe it's my job and all of our jobs to reflect the times. And it's been such a difficult time. I wanted to uplift, encourage, and celebrate all of the beautiful Black queens and kings that inspire me and the whole world" (via The Hollywood Reporter).