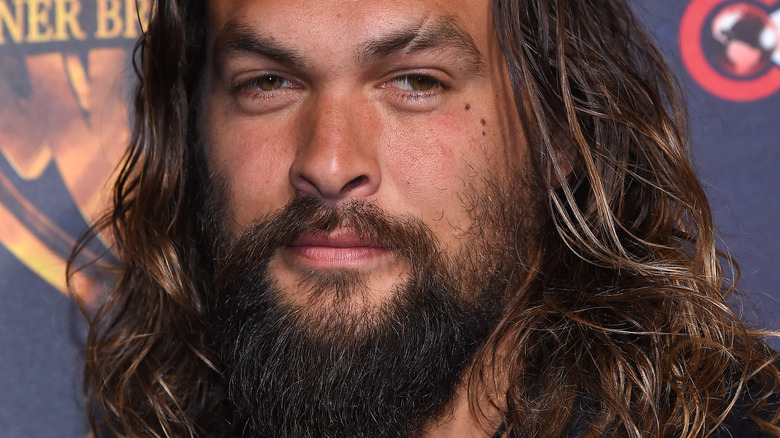 Aquaman might be something of a punchline in the comic book world, but when Jason Momoa stepped into his shoes and donned his fins, things changed for the speaks-to-fishes superhero. Suddenly, he was one of DC's biggest, up there with Superman and Batman in terms of respectability. When "Aquaman" broke a big deal record, Momoa shared a big thanks to fans in an Instagram post, writing, "BILLION DOLLAR UNDERDOG. From Baywatch to making what once was the most disrespected superhero into a billion-dollar movie. no one gets to the top without the people that love them. My success is from my fans."
As unthinkable as it might seem now, that movie almost didn't happen — at least, it almost didn't happen with Momoa, for a heartbreaking reason. It turns out that he very nearly turned it down, and it wouldn't have been the first time he said "No, thanks," to a comic book movie. He was originally offered a role in what would become a major blockbuster for Marvel, and according to CinemaBlend, he declined — he didn't want to take what he saw as another big step on the road to being typecast as the brute who didn't say much.
In spite of the seemingly effortless way he wears his fame, it hasn't always been easy. It never is: Especially when you've been judged, labeled, and typecast by your appearance for your entire life.
He grew up bullied — and not fitting in anywhere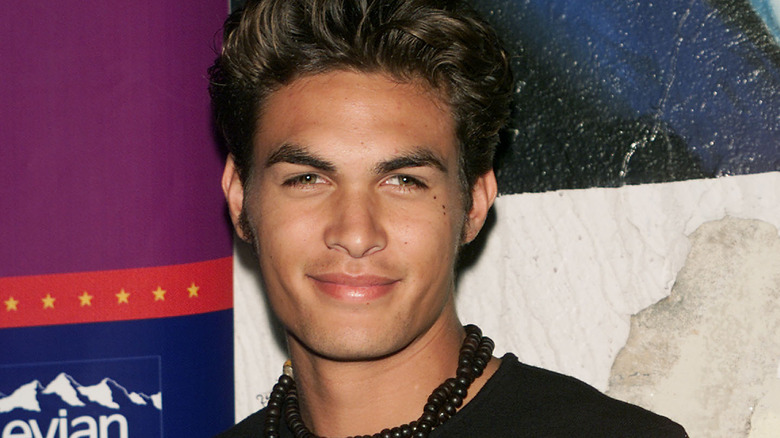 Many good superhero origin stories are something of a fish-out-of-water tale… and that's right, we went there. Aquaman is no different, and when Jason Momoa sat down with Entertainment Weekly to talk about taking on the iconic role, he said that he actually had a lot in common with his fictional alter ego. Just like Aquaman was half-human, half-Atlantean, Momoa says he grew up partially in Hawaii and partially in the Midwest. After being born in Hawaii, his parents split: His dad stayed in his home on O'ahu, while his mother moved back to her home in Iowa. Momoa told the Star-Advertiser that he was seen as an outsider in both places.
"I love Iowa, but I just didn't fit in," he explained. "If you're a Hawaiian kid in Iowa, you're kind of a fish out of water. Then I went back to Hawaii, and I got ostracized there, too. I loved both, but just made my own path. … I definitely got bullied."
Momoa's father, Joseph, has also shared how hard it was to be so far away from his son. It wasn't until Momoa was 12 that he went to Hawaii to meet that side of the family, and it was never easy to spend summers there, then leave: "I think it's almost the story of Aquaman," Joseph shared. "When his mom has to leave him and jumps back in the water, that's me, I have to leave my son. Oh, my god, that's a flashback."
Game of Thrones nearly destroyed Jason Momoa's career
Jason Momoa is such a fixture in the entertainment industry that it's easy to forget his career hasn't actually been that long. Although he got his foot in the door with "Baywatch" and a few other early-00s television series (via IMDb), it wasn't until "Game of Thrones" that people really took notice of him. It premiered in 2011, and he was only in 10 episodes, but he made a huge impact. So it definitely kicked off his career, right?
Not exactly.
He talked to InStyle in 2020, and said that the role ended up doing more damage than good. "I mean, we were starving after "Game of Thrones." I couldn't get work," he explained. "It's very challenging when you have babies and you're completely in debt." Momoa found out that it's possible to be too good at something, and he elaborated to Entertainment Weekly. He found that casting directors assumed he was pretty much like a real-life Drogo: "For a while afterward, a lot of people bagged me on it. It hurt me a lot. People thought I didn't speak English," he explained.
Even when he started getting work, he's said that he found himself being typecast as the muscle — it's why, reports CinemaBlend, he turned down the role of Drax in "Guardians of the Galaxy." He already saw himself as dangerously close to being permanently typecast, and it was the opposite direction as where he wanted his career to go.
He's had an iffy relationship with his GoT role
In 2021, Jason Momoa was looking forward to finally being able to branch out. He told The New York Times that he was excited: "I'm finally getting to play characters with depth and color." That was after struggling with the typecasting that came after his appearances as characters like Conan and Khal Drogo of "Game of Thrones," and it was also well after a shift in the way depictions of sexual assault in movies and television were filmed, viewed, and discussed.
Momoa was asked about whether or not he had any regrets about the role of participating in something that NYT reporter David Marchese described as "belong[ing] to an older cultural moment." He answered the question, saying, "It was a really, really, really hard thing to do. But my job was to play something like that, and it's not a nice thing, and it's what the character was. It's not my job to go, 'Would I not do it?' … We'll put it this way: I already did it. Not doing it again."
The interview continued, and after answering — and declining to answer — a few more questions, Momoa wrapped up the interview by calling out the GoT inquiry as being "icky," and adding that an actor doesn't get to dictate what they will and won't do based on what's going on in the world. "That never happens," he added. "So it's a question that feels icky. I just wanted you to know that."
The end of Jason Momoa's long-term relationship
Every so often, there's a Hollywood couple that seems to restore everyone's faith in healthy relationships — and for nearly two decades, that was Jason Momoa and Lisa Bonet. They were together for 16 years, shared two children, and when they announced their split in January 2022 (via E! News), it led publications like Grazia to lament, "If they can't last, is there any hope for us?"
The pair's official, joint statement was vague, not really giving a definite reason for the split, and simply saying that they were parting ways at the same time they would still be focused on raising their children. It only took about a week, though, before E! News was reporting on what an anonymous insider had shared with them. According to them, their priorities were no longer in alignment: Momoa was focusing on his career and his work, while Bonet wanted to stay in Los Angeles (and not spend large parts of the year on various filming locations) while concentrating on wellness.
Strangely, the media seemed unable to let go of the idea that the pair might reconcile, with places like Glamour collecting and reporting on "evidence" that they might be getting back together. Does that make a break-up any easier? Probably not: It wasn't until March of 2022 that they reported Momoa had finally told Access Hollywood in no uncertain terms: "We're not back together."
The attack that left him needing 140 stitches
Sci-fi fans knew Jason Momoa long before he went mainstream with "Aquaman," because he was in a whopping 78 episodes of "Stargate Atlantis." He told Esquire that it was there that he learned the ins and outs of filming, and eagle-eyed fans will notice that he didn't always have the trademark scar on his face. That happened during a shocking incident in 2008. He would later tell Access Hollywood, "It was crazy. A guy smashed a pint glass in my face. I got a little over 140 stitches in my face. … I got my wife beforehand, so … if she doesn't like [the scar], too bad. She likes it."
According to NBC Los Angeles, the man arrested in connection with the fight was 21-year-old Dominic Bando. Although he was released on bail for that incident — and had four injuries of his own, necessitating 15 stitches — he was arrested again on a firearms charge. Momoa surmised the attack had been part of a gang initiation, and Bando was ultimately sentenced to five years in jail, says Men's Health.
Momoa would later say that the scar helped transform his image from a slow-motion, running-down-the-beach Baywatch lifeguard to the tough guy who could handle himself in a fight: And that helped him land roles in "Game of Thrones" and "Conan."
Explaining to his kids why he dies so often on-screen is tough
Watch enough movies, and you know which actors are going to live or die. Tom Cruise? He'll probably live. Harrison Ford? Live. Sean Bean? Don't get too attached.
Jason Momoa is following in Bean's footsteps, as GQ noted during a 2022 interview. He's died a lot, in some pretty graphic ways — including some pretty gruesome stabbings. While it might be a great way for an actor to show off his acting chops, Momoa says it's made it hard to share his work with his kids. "My kids are always like, 'Are you gonna die again? You always die.'" He was watching one of his films — which will remain unnamed for the sake of spoilers — with his 12-year-old son when his death scene started. "It was pretty heart-wrenching, cause I was like, 'I'm right here, buddy!' But he was like, 'Papa, nooooooo!'"
That's not saying that Momoa lets his kids watch all his projects, and while some of them make pretty obvious sense — "Game of Thrones," for example — others are just downright hilarious. Momoa talked about what he allowed his kids to watch and what was off-limits when he appeared on an Australian radio show called "Fitzy and Wippa" (via Entertainment Weekly), and confirmed that they wouldn't be watching "GoT" for a while. Or "Conan," for that matter, and also off the table? "Baywatch." As he explained, "We don't say the B-word at home! We hide all of that, mate! Never happened, mate!"
Jason Momoa has spoken about the racism he's experienced
As a comic book character, Aquaman was famously fair-skinned and blond-haired. That, Jason Momoa told GQ, gave him pause when Zack Snyder told him that he had been cast as DC's big-screen version of the character: "When Zack told me he wanted me to play Aquaman, I was like, 'What? That's like the farthest thing [from what I thought] I would ever be. Then he laid it out and I thought, 'Why can't it be someone of Polynesian descent?'"
Interestingly, his standalone Aquaman movie would include an easter egg and reference to both his casting and a shocking bit of background. As the tale of a mysterious underwater civilization and those who can walk between worlds, it's got some serious H.P. Lovecraft vibes going on. Lovecraft, though, was a fanatical racist and wasn't afraid to show it: Slate says the inclusion of one of his books on the table in Thomas Curry's home is a direct acknowledgment of the deliberate subversion of racism — and it's a nod to Momoa's casting.
Unfortunately, that wasn't the beginning or the end. In 2020, The Hollywood Reporter shared how Momoa was one of the first to speak up in support of Ray Fisher, who had leveled some serious allegations of abuse on the set of "Justice League." And in 2019, Momoa was put in an incredibly awkward position when (via StyleCaster) Ashley Graham pressured him to perform the Haka at the Academy Awards.
He said goodbye to his biggest fan
When big stars take a personal interest in little fans, it can result in some of the most adorably special moments ever to grace social media. That happened in 2020, says People: When Jason Momoa heard about then-7-year-old Danny Sheehan's sheer joy at receiving an Aquaman toy, he decided to FaceTime the boy. Sheehan — who was undergoing treatment for both brain cancer and cancer of the cerebral spinal fluid — was clearly over the moon talking to the real-life Aquaman about everything up to and including swimming with dolphins.
Sheehan passed away in 2021, and Momoa recorded a TikTok (via People) that said, in part, "I have no words that could do you justice. All I can say is what a privilege it is to be your friend. You are as bright as the sun. I'll always be awestruck by you."
He went on to promise that he was going to dedicate "Aquaman 2" to his young friend.
He's gotten hurt on set … a lot
Age sneaks up on everyone, and anyone who hasn't been shocked by the appearance of some gray hairs is going to get there eventually — even a superhero. For Jason Momoa, the extreme stunts and action sequences have also taken their toll, and in 2022, he worried fans when he posted a photo of himself on Instagram, getting an MRI. It wasn't immediately clear what had happened, but sources later confirmed it had been done as a precaution, and everything was fine.
According to Prevention, there was reason to be worried: Momoa has gotten hurt a lot. In addition to needing to spend rehearsals for the Oscars in a wheelchair because of a recent hernia surgery (which was a consequence of "Aquaman 2" stunts), he also posted an Instagram video highlighting a torn bicep, and another referring to an old injury where he broke his femur.
When he appeared on "The Ellen DeGeneres Show," he spoke more about the injuries (via People). "I'm getting old," he said. "I messed up my eyes. I just got something in it that kinda cut it up, and then I've gotta get surgery, I have a hernia, I've got ribs out. I'm just getting beat up."
Not taking a side caused him to feel some backlash
There are a lot of court cases that get referred to as the trial of the century, but when it comes to the entertainment industry, the Johnny Depp vs. Amber Heard case is at least in anyone's top five. Given that Heard was associated with Jason Momoa through "Aquaman" in what ended up being a contentious connection, GameRant says that everyone was dying to know what he thought of the whole thing. Especially, notes Entertainment Weekly, amid rumors that she had nearly been recast.
Momoa declined to make an official statement one way or another, staying quiet for the duration of the trial. It didn't go unnoticed that while he had only been following Heard on Instagram, he started following Depp, too. Then, when both Heard and Depp posted their post-trial messages on social media, Yahoo! reported that Momoa reacted to them both with likes.
The backlash was swift, and it wasn't only people saying that he couldn't take both sides. Others pointed out that his silence on the matter was precisely the problem, and people had stayed silent on the subject of domestic violence for too long already. Regardless of his personal feelings on the matter, not only did his film face major boycotts, but his reaction was calling him everything from "disgusting" to branding him "a spineless coward."
Jason Momoa absolutely hated Conan too
If anyone was going to be able to reboot the iconic Conan the Barbarian, it was Jason Momoa. A movie happened, sure, but a proper reboot? A properly amazing, incredible, ode to the original? The whole thing was summed up by the film's 30% score on Rotten Tomatoes.
With the movie years in his rear-view mirror, Momoa hasn't held back on how he really felt about it. He told GQ, "I've been a part of a lot of things that really sucked, and movies where it's been out of your hands. Conan was one of them. It's one of the best experiences I had and it [was] taken over and turned into a big pile of s***."
Not long after, "Conan" director Marcus Nispel released a statement to People — and he agreed. While he said it "was the worst experience that I had and I was as unhappy with the result," he still had nothing but good things to say about Momoa. He said that he absolutely stood by the casting decision and still believed it was the right one, expressing that with a beautiful turn of phrase that suggested that even if the movie had been a disaster, it wasn't all bad: "In regards to having had the pleasure and privilege of having given Jason his first leading part, I say: 'There can also be a sense of victory in a defeat.'"