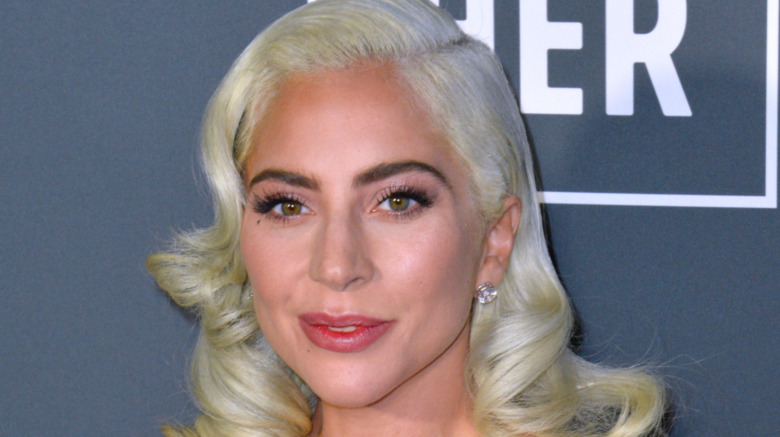 When it comes to dieting, celebs will try the darndest things. Take Christina Aguilera, who, as Cosmopolitan noted back in 2012, apparently put a monochromatic spin on her menu when she began the 7-Day Color Diet. Or when Madonna reportedly timed her meals according to the phases of the moon — aka the Werewolf Diet — according to Shape magazine. And as for Reese Witherspoon? Shape reported that there were rumblings that she went back to baby foods. Shout out to Gerber! Of course, you can always try living off a colorful variety of uppers, like Hunter S. Thompson, who famously said, "I hate to advocate drugs, alcohol, violence, or insanity to anyone, but they've always worked for me" (via The Guardian).
Stars take on a wide range of diets for a variety of reasons, and as anyone who has picked up a magazine in the checkout line at the drugstore knows, many famous humans have opened up about what they eat in a day. Have a peek at some of the most creative (sure), bizarre (absolutely) diets our beloved celebrities have publicly admitted to trying.
Shailene Woodley fancies herself a mound of clay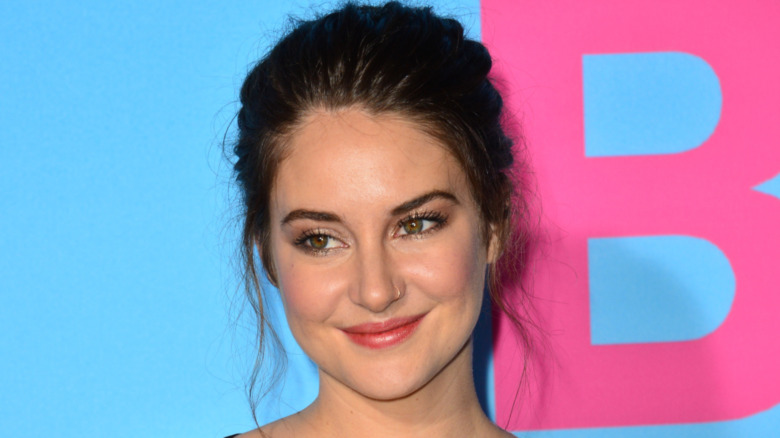 After an enlightening conversation with a taxi driver, Shailene Woodley decided it was her time to explore the classic snack that is clay. The Divergent star told Into The Gloss she nibbles on clay for its detoxifying properties. "I've discovered that clay is great for you because your body doesn't absorb it, and it apparently provides a negative charge, so it bonds to negative isotopes," she shared with the outlet. "And, this is crazy: it also helps clean heavy metals out of your body." (As Today noted, there has been much debate about the effects of eating clay.)
But Woodley's very down-to-earth health routine doesn't stop there. She told Flaunt, "I gather my own spring water from mountains every month. I go to a farm to get my food. I make everything from my own toothpaste to my own body lotions and face oils." Evidently, she doesn't have much of a need for pharmacies ("I make my own medicines," she shared) and her grocery shopping lists must be short. "I make my own cheese and forage wild foods and identify wild plants," she said.
Woodley's health habits didn't win many points with co-star Miles Teller. "Before our first kissing scene, Shailene took these Chinese dirt supplements and shoved them in her mouth," Teller said, according to Variety. "It's like a dirt pouch, and it smells like crap."
Karl Lagerfeld drank Diet Coke from morning to night
Prolific fashion designer Karl Lagerfeld lost over 90 pounds in 13 months following a strict regimen that he detailed in The Karl Lagerfeld Diet.
"It has to be a sort of punishment," Lagerfeld said (via The Cut). "You are a general and you have a single soldier in your army. You must give him instructions, and he must carry them out. It may annoy him, but he has no choice." But what did the German-born designer eat? As he shared with Harper's Bazaar, lunch usually wasn't his thing, but he did fancy steamed apples for breakfast, and confessed to largely living off of soda. "I drink Diet Coke from the minute, I get up-to-the-minute I go to bed," he told the publication. (Wait 'til Gwyneth Paltrow hears this!) "I can even drink it in the middle of the night, and I can sleep," Lagerfeld said. "I don't drink coffee, I don't drink tea, I drink nothing else."
As for Largerfeld's HIIT routine? "I exercise very little because my doctor said it's not necessary," he explained to Harper's Bazaar. "I did a lot when I was very young, and all you do when you're young stays." You know, science. "So it's not the problem, as with people who started later. I'm very flexible; I have no problems."
Laura Prepon injected herself with hormones
In 2015, Orange Is The New Black star Laura Prepon co-authored The Stash Plan, a 22-day health and wellness venture, where she noted her previous struggles to lose weight. "It got to the point where it felt like I couldn't do my job or live a normal life, and I felt like I couldn't eat anything or I would gain weight," she wrote in her book (via Self).
"A doctor I consulted prescribed injections of HCG (a hormone secreted by pregnant women) to trick my body into thinking it was pregnant," Prepon shared. "The idea was that these injections (which I did myself every morning) would cause my body to burn stored fat to support the 'baby.'" She said the plan included limiting her calories to 500 a day. "It's just as crazy as it sounds, but I was willing to try anything." As if things could get any worse, Prepon said the whole thing backfired. "When I stopped it, not only did I gain all the weight back, but my hormones were completely out of whack."
The actor credits nutritionist and co-author, Elizabeth Troy, for introducing her to a healthier mindset and lifestyle. "Not to sound cliche," she began, "[but] truly embrace who you are. Embrace every curve, and embrace everything about yourself." Amen, sweetheart!
The Kardashians supplement with placenta pills
Biotin, collagen, fish oil. There are a plethora of postpartum vitamins mothers supplement with to boost nutrients, energy, and to improve overall health. But if you haven't turned on a television, opened a magazine, or left the house in 15 years, the Kardashians are not your traditional Deborahs and Carols browsing through the vitamin aisle. Kourtney Kardashian has made her love for placenta loud and clear on Instagram, going so far as to call the pills "life-changing." If taking placenta bits in capsule form isn't your thing, there's always the option to cook it up and serve it as an entrée like Kourtney did on Keeping Up with the Kardashians.
Kourt isn't the only Kardashian sister who swears by placenta. "I had great results and felt so energized and didn't have any signs of depression!" Kim Kardashian wrote on her website (via Entertainment Tonight). "I definitely had to do it again. Every time I take a pill, I feel a surge of energy, and feel really healthy and good. I totally recommend it for anyone considering it!"
While Kourtney and Kim are all about taking placenta pills, there are some people who aren't fans. After the CDC released a study that highlighted the risks that can come with taking placenta pills in 2017, the Mayo Clinic noted that "there's no evidence that eating the placenta provides health benefits."
Jimmy Kimmel mixes up how many calories he eats
In 2015, Jimmy Kimmel told Men's Journal that his weight-loss journey started very traditionally with smoothies and a 2000 calorie diet, which helped him lose 25 pounds. But today, the late-night host's diet of choice "is starving myself two days a week. People call it the 5:2 diet, but I've been doing it since before it had a name. On Monday and Thursday, I eat fewer than 500 calories a day, then I eat like a pig for the other five days." Kimmel says that his metabolism is revved up by consuming varying levels of calories.
"On fasting days, I'm pretty unpleasant to be around," he shared. "I mostly just drink coffee and eat pickles endlessly." If he's really hungry, Kimmel said he'll go for a bowl of oatmeal or hard-boiled eggs. And then, Kimmel goes full gluten, pizza, and steaks for the remaining five days. "It sounds hard, but you get used to it and learn you can get through it," he explained. "It's helped me stay at 182 pounds. And it's made me appreciate the food that I do eat."
Now exercise is another story. "I've realized that you can work out, and that's great, but if you really want to lose weight, you have to eat less," Kimmel told the publication. "I always thought, 'Well, if I start running, I'll be in good shape.' But I know people who run every day, and they still have a gut."
Beyonce embraced the lemonade diet, naturally
In 2016, Beyoncé released the critically acclaimed album Lemonade, but before that, lemonade played a different role in the "Get Me Bodied" singer's life. For her upcoming film Dreamgirls, the singer said on The Oprah Winfrey Show, "I figured in the '60s, Twiggy was the hot model, and Diana [Ross] and Cher, and all the legends were thinner than I am," she explained. "So I decided I wanted to lose weight and make a physical transformation."
Beyoncé credited her 20-pound weight-loss to the Master Cleanse, which is a 10-day juice fast of fresh-squeezed lemon, maple syrup, salt, and cayenne pepper, along with an herbal laxative tea. Pros? It's cheap and easy. Cons? It may be a drag for anyone who prefers solid food. After day 10, participants are encouraged to add fresh-squeezed orange juice, then organic soups, and fruits and vegetables.
"It was difficult because I love food. I love to eat," said the "Crazy In Love" singer. "Everybody was eating Krispy Kremes around me. I was grouchy, but I did it and I lost the weight." But before Dreamgirls was Beyoncé's motivation to lose weight, she explained her cucumber and tomato lunches to Irish Examiner. "I am a natural fat person, just dying to get out," she said. "I go through agonies to keep my stomach as flat as possible – though it is never flat enough for me."
Gwyneth Paltrow gave drinking only goat milk a shot
Goop founder Gwyneth Paltrow has built the reputation as the fairy godmother of weird, wonderful, and headline-grabbing health advice. There's the jade yoni egg, which is meant to facilitate "a Kegel-like physical practice." She also got a lot of buzz when she told The New York Times that she's voluntarily been stung by bees. "It's a thousands of years old treatment called apitherapy," she said. (The practice has generated a decent amount of controversy.) Suffice to say, she doesn't shy away from much. As she said in Shape, "At Goop, they call me 'GP the guinea pig,' because I'll try anything."
Which brings us to parasites. The CDC estimates 60 million people in the United States carry microscopic parasites, and Goop-approved naturopath Dr. Linda Lancaster encouraged people to use goat milk to get rid of 'em. (Dr. Jen Gunter called this "ridiculous and dangerous.")
"The theory is that we all have parasites, and they love the milk protein," Paltrow explained to Shape. "So if you eat nothing else, they all come out of the intestinal wall and then you kill them with the herbs." The Iron Man actor noted that she tried it once, but usually maintains a more dynamic diet. "I had to try it for Goop, but I felt so good after it. But usually, I just try to eat pretty clean during the day-good proteins and lots of vegetables, and not too much grain or sugar, and nothing baked-and then I tend to eat whatever I want for dinner," she said.
Anne Hathaway grubbed on oatmeal paste
Anne Hathaway is a glamorous and talented Oscar winner, and the road to that Academy Award statuette wasn't actually paved with decadent brunches. Hathaway was serving up a devastatingly painful, economy-sized portion of oatmeal paste twice a day to lose weight for her role as Fantine in Les Misérables. "I had to be obsessive about it – the idea was to look near death," Hathaway told Vogue about her strict diet. "Looking back on the whole experience — and I don't judge it in any way — it was definitely a little nuts. It was definitely a break with reality, but I think that's who Fantine is anyway."
Hathaway lost 25 pounds but the process left her feeling discombobulated when she returned to her everyday life. "I was in such a state of deprivation — physical and emotional," she shared with Vogue. "When I got home, I couldn't react to the chaos of the world without being overwhelmed. It took me weeks till I felt like myself again." Luckily Hathaway had the supportive arms of her husband waiting for her at home. "This time, Adam was there," she recalled. "He gets what I do and who I am and supports me in it, and that's pretty awesome."
Lady Gaga got drunk on whiskey
Lady Gaga has worn a dress of meats, strutted around in a coat of Kermits, and spent 72 hours in the egg that she arrived in at the 2011 Grammys. So when it comes to her health routine, we weren't expecting the most traditional of strategies. When the "Born This Way" singer went on Sirius XM radio in 2011 (via Reuters), she opened up about her dietary regimen at the time. "I am on the drunk diet," she said. "I live my life as I want to, creatively. I like to drink whiskey and stuff while I am working."
During an appearance on The Tonight Show with Jay Leno (via Billboard), Gaga said her wins at the 2011 Grammys were a bit of a blur. "I don't remember very much. I know it was fun. I do remember being called drunk-y Gaga at one point," she joked. Although, the Grammy winner said she's committed to breaking a sweat daily, regardless of how much fun she had the night before. "But the deal is I've got to work out every day, and I work out hung over if I am hungover," she shared on Sirius XM. "And it's about the cross-training and keeping yourself inspired. I have to say, I do a ton of yoga." A pioneer in more ways than one, folks.
Jared Leto's diet landed him in the doctor's office
Actor, musician, and decapitated head art installation Jared Leto has gone full method for many movie roles, several of which included drastic weight fluctuations. "I stopped eating," he told The Wrap regarding his 40-pound weight loss for Dallas Buyers Club. "It wasn't an easy thing to do."
Before that, Leto lost 25 pounds for his role in Requiem for a Dream. Speaking to The Independent (via Elle), Leto said, "I was in a constant state of hunger. I started fainting when I was on the set. I had to go to the doctor. My bone marrow dropped 400 points. My liver f***** up. I was miserable. It was a painful dark place." He said he experienced hallucinations while fasting. "I'd look up at the sky, and I'd get a feeling of complete serenity," he continued.
When Leto isn't preparing for a role, the Oscar winner told GQ he gets down on veggies and chilling out. "It's probably just down to sleep and diet. I've been that way for a long time – 20 solid years of eating vegetarian/vegan and taking care of myself," he said. Sounds good to us.
Natalie Portman stuck to carrots and almonds
Natalie Portman took on a rigid diet when it came time to Nina Sayers, a tormented ballerina in Darren Aronofsky's Black Swan. "I was barely eating. I was working 16 hours a day. I was almost method acting without intending to," Portman said in the Daily Mail. "I do wonder now how people can do this kind of role when they have a family."
"There were some nights that I thought I literally was going to die," Portman explained to Entertainment Weekly. Already a petite frame, the actor lost 20 pounds for the film which began to make others nervous, including Aronofsky. "At a certain point I looked at [Natalie's] back, and she was so skinny and so cut – I was like 'Natalie, start eating,'" the director told Access. "I made sure she had a bunch of food in her trailer. [She] took [her role] very seriously — these dancers get really, really skinny."
Later he discovered the extremes Portman had put herself through. "I only found out recently that the person who suffered most from pushing was Natalie, just living on carrots and almonds," Aronofsky said in The Independent. Fortunately, she said she's since settled her differences with gluten. "The [day after shooting ended] I was like, pasta, pasta, pasta!" she recalled to Access.
Katy Perry grew up on apple cider vinegar
Sure, Katy Perry's music videos are full of candy and dancing cupcakes, but it's apple cider vinegar that helps keep her healthy. Not only does the "California Gurls" singer spike her water with the bitter refreshment, but Perry also uses it to clean her vegetables and adds it to her bathwater. "My mother made me drink it every day, but now it's a staple for me," the "Firework" singer told Prevention. Perry's mother even struck up a friendship with Patricia Bragg of the famed apple cider vinegar company. "She invited her to our church when I was little—and Patricia bought me my first guitar when I was 13."
Perry isn't only staying healthy for herself, but for her fans. "I've had a lot of opportunity in my life, and I know how fortunate I am, but when I don't have my health, nothing else matters," she said in Prevention. "If I can't get on the stage and do it, I disappoint so many people." Then as kismet would have it, when husband Orlando Bloom picked her up for their first date, Perry noticed they had each brought along water bottles containing ACV, to which Perry responded, "Is this looove?" with Orlando Bloom having a similar reaction. "No! This is it!" he said on The Tonight Show with Jimmy Fallon. Clearly, it was love at first cider.