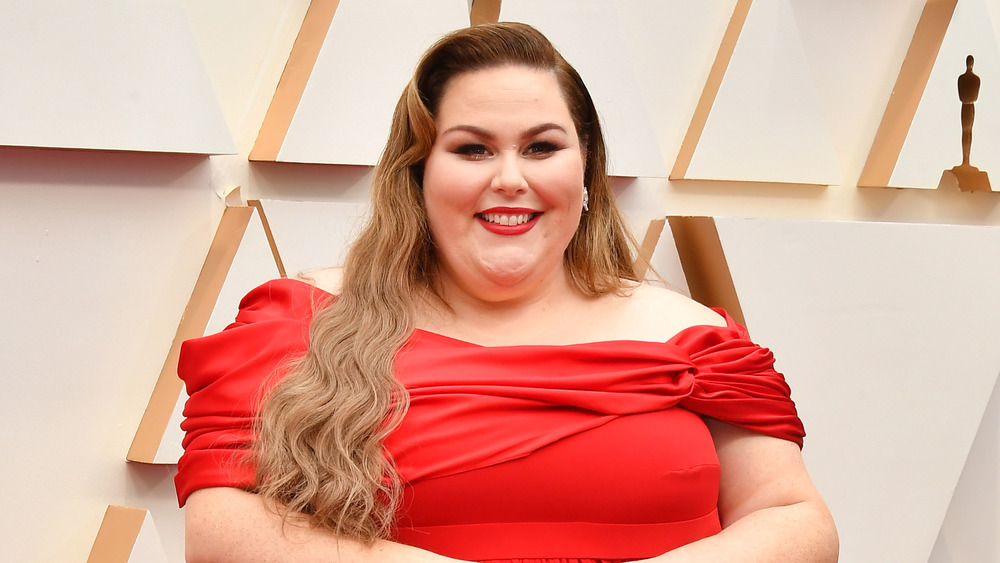 Between her role as Kate Pearson on This is Us, her film debut as real-life mom Joyce Smith, and an empowering music career, Chrissy Metz is an inspiration to all. The emboldened vulnerability with which she tackles Kate's journey as a plus-size woman on the hit NBC drama has earned Metz her fair share of acting accolades and nominations, though the breakout role hit especially close to home for the Florida-born actor who believed that representation had not been seen before. "So many people are defined by a number," she said during the Paley Center Fall TV Preview panel ahead of the show's 2016 premiere (via Variety). "If there was going to be a pioneer of the plus-size girl of my shape on TV, why not me?"
But the "Talking to God" singer hasn't always been this confident, and her blossoming career is the product of years of hard work, endurance, and learning to love herself. This is the transformation of Chrissy Metz.
Chrissy Metz lived in Japan and Florida as a kid
Chrissy Metz was born in Homestead, Florida, though she spent the majority of her childhood in Japan as her father was stationed there for the Navy, according to Glamour. When she was 8 years old, her parents split, and Chrissy, mother Denise Hodge, and siblings Monica and Philip Metz moved back to Florida, per People. It was in Gainesville that her mother gave birth to her Chrissy's half-sister Morgana Morrison, and met her stepfather Crayton Hodge. With Crayton, Denise had another daughter, Abigail Hodge.
Although Chrissy now describes her family as "salt of the earth; funny, loud people" (via Marie Claire), her childhood was rough to say the least. The actor told the outlet that her mother enrolled her in Weight Watchers when she was 11 years old and "chubby." Her stepfather, who she calls Trigger, was especially critical of her weight, forcing Chrissy to do weigh-ins, bullying her, and turning to physical violence. "My body seemed to offend him, but he couldn't help but stare, especially when I was eating," she wrote in her 2018 memoir This is Me (via People), adding that "he joked about putting a lock on the refrigerator" and her "mother was always at work, so she didn't see how he treated [her]." The middle child in her family, "food was equated with love" for Chrissy, she told Marie Claire, and her passion for the arts offered an escape. "I wanted to entertain and make people laugh," Chrissy explained to Glamour. "I think it really hit in third grade."
Money wasn't always easy to come by for Chrissy Metz
Chrissy Metz might have a solid gig as Kate Pearson on This is Us, but the actor hasn't always had a steady paycheck. In 2019, she told Yahoo Finance's My Three Cents that she "was broke once" and she "[didn't] need to do that again." Metz explained that after her parents' divorce, her mother "did the best she could" as a single mom, but "it was tricky" until she remarried.
Metz's childhood experiences and her first job at McDonald's helped teach her the value of a dollar at an early age. Making $4.25 an hour behind the counter, Metz originally got the job because she wanted to buy a pair of shoes her family could not afford. "My mom's like, 'We're not spending a hundred dollars on a pair of tennis shoes,'" she told My Three Cents. "I'm like, 'Oh, you might not. But I will!'" It was that thriftiness that helped Metz survive for years in L.A., where she was unemployed and buying "ramen noodles at dollar stores" with only 81 cents in her bank account when she booked her role on This is Us in her thirties, according to Glamour.
The audition that changed Chrissy Metz's life
Even though Chrissy Metz's passion for comedy and performing got her through a turbulent childhood — she told Glamour she participated in high school chamber choir and "wanted to be the female Jim Carrey" — she wasn't quite sure it was going to work out. Metz was working as a preschool teacher attending community college in Gainesville, Florida when she was discovered in an audition at 21-years-old, but it wasn't originally her gig!
Metz had accompanied her younger sister Morgana to a casting call when she ran into one of her old teachers who implored her to also audition, according to Marie Claire. She sang Christina Aguilera's "Beautiful," and the rest was history. "They said, 'You don't belong in this town,'" Metz recalled in a 2019 interview with Glamour. "It kind of all started from there, realizing acting could be a real thing from a small town in Florida." By the time Metz turned 22-years-old, she had left her family behind and hit the West Coast with her dreams in tow.
The roles didn't come for Chrissy Metz right away
After scoring a manager, Chrissy Metz was ready to take on pilot season but her big break didn't come quite so easily. According to Marie Claire, Metz worked as "her manager's de facto assistant" before becoming her agent's actual assistant in 2006, eventually becoming an agent herself because "there just weren't roles" for plus-size actresses. While Metz scored the odd role in television shows like Entourage, All of Us, My Name is Earl, and films like The Onion Movie, her weight tended to dictate her character. "I would like to think talent 'weighs' out, but plus size actresses are still typically the butt of the joke in the storyline," Metz told Chubstr in 2015.
While working as an agent and averaging "just one audition a year" (via Marie Claire) was not what she moved to L.A. for, Metz persevered, finding a community with her fellow plus-size actresses struggling to get booked. "I think [being a curvier woman in Hollywood] is challenging for anyone in this business, in front of or behind the camera," she told Chubstr. "For the record, I've lost weight, have been told I was too heavy for roles, and too pretty to play the big girl."
Chrissy Metz's 30th birthday was a turning point
Having made it so close but still so far from her dreams, Chrissy Metz was struggling through her twenties. She told People that working as an agent while wishing to be an actor "was like watching your boyfriend take another woman out every day," and her depression began to take a toll on her. After gaining over 100 lbs., Metz had a panic attack in 2010 on her 30th birthday. "I'm like, 'What is this? Am I dying? What's happening,'" she explained to People. "It was really scary." The incident made her decide to make some adjustments to her "soul/spirit/mind/body collective thing."
"When you do put the food down and those feelings come up, you're not being numbed anymore," Metz explained to Marie Claire. "You're like, 'I got to deal with this.' That is hard." After her 30th birthday, she turned to spirituality where she "realized that … at the core of who we are, we're these perfect beings — and we're not taught that." She lost 100 lbs. over the next five months and "got into self-help and spirituality."
In 2013, Chrissy Metz's marriage came to an end
Chrissy Metz found love in the City of Angels, but it wasn't meant to be. After several years in Los Angeles, Metz married Martyn Eaden, a British journalist, in 2008, per Radar Online. While Metz's mother told the outlet he was "a nice guy" and her daughter's "first real love," the two called it quits in January 2013. There seems to have been no big explosion that led to their divorce as much as a series of differences between where they were at in their lives. "I was trying so hard to get ahold of my relationship with my body and break my habit of eating my emotions and of equating food with sharing love," Metz wrote in her memoir This is Me (via Daily Mail). "I didn't know how to spend time with Marty without using."
According to Radar Online, Eaden filed for divorce in November 2014, citing "irreconcilable differences," and it was official the following year. For her part, Metz explained that she remains friendly with her ex in her memoir, adding that she's "always checking in on him" and is "still working on being a better ex-wife than [she] was a wife."
Chrissy Metz's freakin' good first series regular role
In 2014, Chrissy Metz found herself acting alongside legends like Kathy Bates and Jessica Lange in Ryan Murphy's American Horror Story: Freak Show. Metz portrayed Barbara "Ima Wiggles," a sideshow Fat Lady who falls for Evan Peters' character Jimmy Darling. "Ima is a big ol' adorable innocent girl who just wants to belong and be around people who treat her like she's normal," Metz explained to Yahoo! Entertainment in 2014.
Although Metz's size helped her score the role, she was "thrilled" that she had to wear a fat suit for the role, adding that not being "big enough" was a "first in [her] life." Furthermore, Ima's storyline allowed her to chart more emotional territory than her past roles had allowed. "Not only was Ima accepted into the freak family, but she accepted herself, first," Metz explained to Chubstr. "It was … refreshing to see a big girl who was attractive, and dare I say, sought after."
This is Us was a watershed moment for Chrissy Metz
Chrissy Metz was initially discouraged after her series regular spot on American Horror Story didn't immediately lead to something bigger, but her patience paid off big time when she landed an audition for Dan Fogelman's This is Us. After reading the script, Metz told Glamour that the role of Kate Pearson instantly felt different. "I remember reading the breakdown and thinking, 'I want this,'" she recalled to the outlet. "'This is me.'" Although she told Marie Claire that she felt like she "bombed the audition," Metz had barely made it to the parking garage when she got the call from Fogelman saying the role was hers. "I said, 'I'm gonna pee my pants!' They laughed," Metz remembered. "I told them, 'You've hired a classy broad.'"
Metz's character is candid about her weight loss journey and how it affects her self-esteem and relationships throughout the show, weighing herself in her underwear in the very first episode. "You don't see women of that shape that exposed — mentally, emotionally, and physically," Metz told Glamour in 2016. "I thought, 'This is my chance to give courage to the men and women who go through that every day when they step on the scale.'"
The awards started to pour in for Chrissy Metz
Chrissy Metz's life transformed when This is Us premiered on NBC in September 2016. The intergenerational drama, which also stars Mandy Moore, Milo Ventimiglia, and Sterling K. Brown, quickly became a hit, with the network renewing it for six seasons. Following the lives of Kevin, Kate, and Randall Pearson in present-day, and their parents Jack and Rebecca through flashbacks, the series has been revered by critics for its heartwarming and often tear-jerking storylines. For Metz, that's the show's appeal. "It's one of those things I believe everybody needs right now— a cathartic cry or a laugh," she told Marie Claire, adding that her character in particular is "really a raw and vulnerable portrayal of a plus-size woman."
It's not just the fans who have fallen for Metz's performance. In 2017 and 2018, she received Golden Globe nods for Best Supporting Actress in a Series, Miniseries or Television Film for her role on the show. She took home her first acting trophy with the rest of the This is Us cast in 2018 for Outstanding Performance by an Ensemble a Drama Series at the Screen Actors Guild Awards, a feat they repeated the next year.
Chrissy Metz played the mom to a mean girl on Netflix
Kate Pearson's weight loss journey might be a big storyline on This is Us, but Chrissy Metz has been outspoken about her own body goals and how they're independent of the characters she portrays. While she told People in 2016 that dieting with her character was "a conversation" she had with NBC, she explained to Marie Claire that they have never "talked about an actual number with Kate" and "nothing is mandated," though her fitness goal is just "to be proportioned."
Metz presented a different side of the coin with her role in Netflix's 2018 teen rom-com Sierra Burgess is a Loser. As Trish, the mother of popular girl Veronica (Kristen Froseth), Metz's role represented what Bustle described as "a little-discussed, harmful side to internalized fatphobia." By obsessing over everything her children eat, the site noted, Metz's character "might think she's helping her kids, but by obsessing over their bodies in the hopes of stopping them from having the same body image issues she has, she's actually causing more harm."
Thankfully, Metz has a clear head on her own shoulders off-screen. "I don't find my identity in my weight, I'm so much more than the weight I carry on my body," she told Glamour in 2016. "I don't really care what people say, if it's plus-size or even if it's fat or she's a BBW (big beautiful woman). It's really how you choose to perceive it, just like life."
Chrissy Metz's breakthrough role in Breakthrough
Chrissy Metz made her big screen debut as Joyce Smith in 2019's Breakthrough, portraying a mother whose son is pronounced dead after a tragic accident, but is guided by her faith to keep praying for him after the doctors give up, leading to him coming back to life. Based on a true story and book penned by Smith herself, the film was nominated for Choice Drama Movie at the 2019 Teen Choice Awards.
Metz, who identifies as Christian, told The Christian Post that portraying Smith forced her to "delve deeper into what it is [she really believes] in," and she had no qualms about taking on an "overtly" religious role. "Going through personal experiences with my mother and her medical emergency, it was like a no-brainer, how can I not be a part of this," she told the outlet, recalling how she prayed following her mom's sudden stroke in 2017, an experience she expounded on in an essay for Christian magazine Guidepost. "I was so glad to play the part of that movie mom in Breakthrough [to show] the world what resilience can do," she wrote.
Chrissy Metz led her own band for a while
Chrissy Metz showed the world her powerful singing voice as both Kate Pearson on This is Us and as a country musician — more on that later — but before she was either, she was the lead singer of Chrissy and the Vapors. It appears the group only released one single, "Trouble With the Winners," in 2016. According to Jango, the song, which was released after her gig on American Horror Story, was "inspired by Chrissy's personal narrative in the overt cookie cutter entertainment industry … playfully [poking] fun at the keeping up with the Joneses mentality." Metz starred in the theatrical black and white music video, pictured above, which followed her as she performed at a jazz club and navigated heartbreak. Though the group did not release any more music and has seemingly disbanded, the bluesy and soulful track was a great preview of the musical prowess Metz was about to let loose.
Metz's character Kate saw her life change after a stunning performance of "Landslide" in Season 2 of This is Us, and in many ways, Metz's career took a turn as well, with Kate's storyline allowing her to flex her musical skills. "I think she's got a little soul in her," Metz told TV Guide of her character's tastes, adding, "She likes some throwback, Motown stuff. I know for me, I love every genre of music." That deep appreciation for the art would lead to her next big venture.
A debut country album by Chrissy Metz is in the works
Chrissy Metz sang the empowering, Oscar-nominated song "I'm Standing With You" for the Breakthrough soundtrack. She also delivered a show-stopping performance of the track at the 2019 ACM Awards. A few weeks prior, she scored a record deal with Universal Music Group Nashville, per CMT.
Metz released her first two singles "Talking to God" and "Actress" in 2020. As she explained to CMT, the latter of the two is a play on words evoking her career as a performer and how "we put on that brave face when our heart is just broken." Although Metz told People that she felt like she was learning the music industry "on [her] feet [and] in front of people," she admitted that had never felt "encouraged or supported" enough to give it a go until now.
Her career reached a new milestone in July 2020 when she performed for the first time at Nashville's legendary Grand Ole Opry — a scary, albeit pinch-me moment for the actress. "Surrender and trust, that's sort of what my mantra has been," she told Hoda Kotb on the Today Show Radio. "When the opportunities present themselves, I'm like, 'Oh I'm scared,' but if I'm scared, that means I need to do it." Though music was her "first love," it also meant being seen in a more vulnerable light. "This is not hiding behind someone else's words or scene, but like my heart just sort of exposed," she explained.
Chrissy Metz combined her passions with her own radio show
In August 2020, Chrissy Metz launched her own Apple Music show, Country Faith Radio. According to the show's description, Metz "sits at that intersection of faith and country music — which makes her an ideal host to guide us through … what those two worlds have in common." Considering the actress' role in Breakthrough, her debut single "Talking to God," and the spiritual experience that preceded it all, it marked a true coming together of some of her greatest passions. "I get to merge my love for country music and worship music, but also talk to country artists who have a faith, a clear connection with their higher power," Metz gushed to People.
The show, which runs two hours, has featured country stars Gabby Barrett, Josh Turner, and Lady A's Hillary Scott, as well as popular Christian acts Chris Tomlin and Matthew West. Because of its premiere during the COVID-19 lockdown, Metz said the show found a deeper resonance out of necessity during trying times. "I know that people aren't going to church, or they're not able to commune … and have fellowship," she explained to People. "Not only is music such a communal thing and there's so much fellowship in it, but it also really is a religious experience, whatever it is that you believe in. It really brings people together, and it's such a universal language."
Her 'This is Us' character's storyline made headlines in 2020
In 2021, Chrissy Metz explored another facet of her This is Us character, when the Season 5 midseason premiere revealed a secret that Kate had never shared with anyone before: she had an abortion as a teenager. "It's really easy to point a finger and say, 'Oh, I wouldn't have done this,'" Metz told Entertainment Weekly of her character's big secret. "I just hope people are open-minded and open-hearted about a decision that is obviously never, ever, ever, ever made lightly."
Metz explained to US Weekly that while filming the episode was "challenging," she thought it marked a real "turn for the better" for her character. The episode was well received by critics, with CBR.com writing that the show handled the story "with compassion and nuance." For her part, Metz admitted to US Weekly that pressure was definitely on going into the episode. "This is something that I have personally not experienced, but I know people who have and have made that decision," she told the outlet, adding, "And I think that it's so important for people, whether you agree with it or not, art is supposed to bring sympathy, empathy, and understanding to people."
Chrissy Metz found love on a dating app
In 2020, Chrissy Metz found love online. Oh stars, they're just like us! The actress told Andy Cohen on his show Radio Andy that she had "no shame" about meeting boyfriend Bradley Collins on Bumble. He wasn't first swipe though! "I do remember seeing a guy's picture and he was an aspiring writer and he had a This is Us coffee cup and I was like, 'Oh, I can't … That would just be too weird,'" she recalled in January 2021. "And then I was like, 'Oh, that's sweet. But, like, I can't.'"
With all her extra time during the COVID-19 lockdown, Metz said she turned to dating apps out of boredom. She was surprised to stumble upon Collins, a Nashville native who has worked in music publishing for years, who had "all the same friends" as her. "We've been in the same rooms, but we had never met … I feel like it was meant to be, for sure," Metz told Cohen.
The two made their relationship official in September 2020, when Metz shared a photo of the two for National Boyfriend Day, according to People. "From the moment I laid eyes on you, I wanted and needed to know you," Metz wrote. "Now I feel so lucky to love you." Aw! For his part, Collins got effusive on Instagram for Metz's birthday, writing, "You're not the best thing that's happened during quarantine; you're the best that's ever happened to me."
Chrissy Metz continues to blaze a trail
While Chrissy Metz's star didn't really take off until 2016's This is Us, years of perseverance and self-love have primed her for an expansive career where she's already making a difference. In addition to her candidness on the small screen, Metz partnered with Walmart in 2020 to highlight their plus-size selection, telling StyleCaster, "As a plus-size woman, I didn't really have somebody to look up to." With her new platform, she hopes to continue to help the "sixty-seven percent of women … considered outside of straight size" feel "seen and heard."
Though it looks like This is Us is set to end with Season 6, Metz told StyleCaster in 2020 that she's "hopeful that there might be another season or a spinoff." What's even more exciting than her burgeoning music career and award-winning dramatic performances is boyfriend, Bradley Collins who she's called an "absolute wonder." Don't expect her to walk down the aisle anytime soon though. In January 2021, she clarified on The Covino & Rich Show that although she had been spotted wearing a "honeycomb ring," her beau did not propose. "I'm obsessed with bees, I love bees," Metz explained, adding that Collins purchased it for her over Christmastime. "I'm like who thought that this was an engagement ring?" Good point!