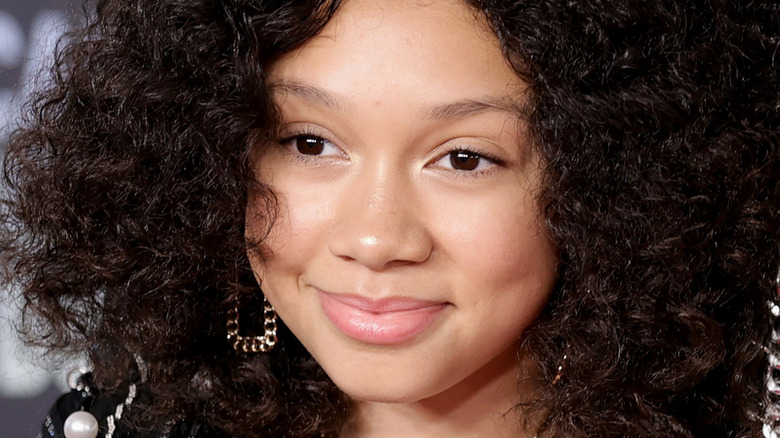 If you peruse Machine Gun Kelly's Instagram page, you'll see a lot of photos of him with a curly-haired young girl by his side. That's his daughter, Casie Colson Baker, and they're often seen joking around on social media, hugging, and wearing similar items. They also do daddy-daughter time in epic fashion, seeing that Baker accompanies her famous father on many of his gigs and professional outings. Though Kelly's little one seems rather visible in his rock star world, her life is still a mystery, which, in this day of social media meanness, could be a good thing.
MGK fans might find it impossible not to wonder and ask questions about Baker, who turned 13 on July 24, 2022. Like, is she musically inclined? Does she want to follow in her father's footsteps, and if not, what are her interests and passions? We've answered those questions and more by delving into the teen's life while giving details on some of the moments when she's been seen with her father. So get comfortable, and prepare yourself for a lot of adorable daddy-daughter moments as we reveal the untold truth of Casie Colson Baker.
Emma Cannon is Casie's mom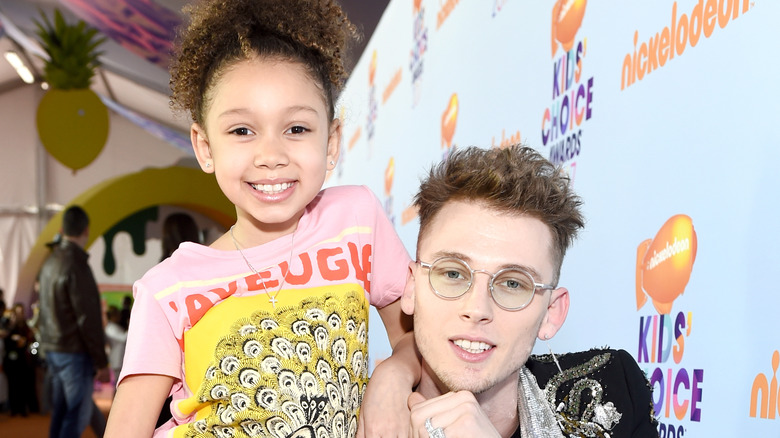 Of course, Machine Gun Kelly pretty much resides in the spotlight, but Emma Cannon, who's Casie Colson Baker's mom, couldn't be farther away from it. Based on reports per the Daily Mail, the rapper-turned-rocker-turned rapper again met Cannon at a Blink-182 concert as a teenager. Now, the amount of interaction Kelly and Cannon have as of this writing isn't clear. Yet Kelly doesn't mind praising Cannon's parental skills publicly. "My daughter has an amazing mom," he tweeted on Mother's Day in 2020. "Big love to all the young moms out there killin it 💝."
Another piece of information surrounding Kelly and Cannon's relationship comes from an In Touch Weekly insider, who said they share nothing but positive feelings for each other. "MGK and Emma share common co-parenting values and there aren't any hard feelings between them, which makes co-parenting Casie fluid and easy," claimed the source. "Their first and foremost priority is Casie's happiness and well-being. That's what counts."
More proof that Cannon doesn't want to be a public figure is her lack of online photos and seemingly absent (or just very private) social media profile.
Machine Gun Kelly was a young and broke parent
Look, even those who are considered financially well-off and have a good deal of age behind them will probably say parenting is difficult. So imagine what it's like for someone who's young and broke. Machine Gun Kelly could tell you; his daughter, Casie Colson Baker, came into the world when he was 19. This was before he signed to Sean "Puffy" Combs' Bad Boy label and became a household name. It was also before he was financially stable, something the artist discussed with journalist Jen DeLeon in a YouTube video posted in 2015.
"Like when you watch movies like 'Pursuit of Happyness' and stuff … I was kind of in that position," Kelly recalled. "Like when she was born, she was in the house that she was in, that was a wild neighborhood that she grew up in. Before I got enough money to move them out of that house … I was doing whatever to make it happen for her. Stealing diapers out of mother f***ing Walmart … Doing whatever we had to do to get money to build a crib for her."
Elsewhere in the interview, Kelly said not having the best relationship with his dad growing up fueled his desire to give Baker the opposite experience. And it looks like he's pulled that off, based on the close bond they appear to have.
Casie Colson Baker can rap
Of course, there are some kids of musicians who have zero musical talent, but Casie Colson Baker isn't one of them. Proof of that can be found in an Instagram video posted by Machine Gun Kelly in July 2022. The clip shows Baker rapping to Jay-Z's verse in Beyoncé's "Crazy in Love," with Kelly performing beside her. "My daughter got next," Kelly typed over the video, meaning she'll be rap's next It person.
But if the rap star thing doesn't work out for Baker, maybe she'll play professional volleyball. Her dad once suggested she's pretty skilled at the sport, telling Kelly Clarkson that Baker was chosen to play on a national team. But the funny thing is, when the Ohio artist read his daughter's volleyball contract, he misinterpreted some of the language at first.
"I just took her to volleyball tryouts," he explained to Clarkson, saying that when he was handed Baker's recruitment papers, "I looked at the contract and was I like, 'Casie, dude, they're going to pay you $1,800 [to play],' … and then I looked closer and was I like, 'Oh, I have to pay $1,800.'" A bit later in his talk with Clarkson, the "Hotel Diablo" writer said that when attending his daughter's volleyball games, he goes with a large crew of people, who tend to trash-talk the opposition from the bleachers.
Machine Gun Kelly and Casie Colson Baker travel together
Volleyball tryouts are far from the only place that Machine Gun Kelly has taken his daughter Casie Colson Baker. They've already traveled to places like Greece, New York City's Times Square, Utah's Lake Powell, and Washington D.C. The "Lace Up" artist will sometimes post photos of the trips, which usually rack up a slew of likes and comments. Kelly also referred to his daughter as his best friend in one Instagram photo, showing just how close they are.
The way it seems, there hasn't been any sporadic parenting for Kelly. It appears that he's been in Baker's life from the very beginning. Just scour the Internet for a while and you won't find any reports of the 6′4″ musician abandoning his daughter for any period of time. And based on the lyrics in his 2020 song "Play This When I'm Gone," it's nothing that he ever plans on doing.
"I'm writing you this message just so I can say that I love you / I had to let you know that everything about me was you / I think it's time for me to leave but I'll never leave you," sings Kelly about Baker. He also expressed plenty of emotion when talking about her during an interview with Billboard. In fact, Kelly got so worked up, he suddenly got up and walked away from the conversation.
MGK follows Casie's music advice
Before Machine Gun Kelly walked out of a Billboard interview, he said that his little one Casie Colson Baker doesn't want to get into the music business. But that doesn't mean she isn't up on the latest musical trends, and that her father doesn't benefit from her perspective. "I trust her opinion more than I trust my own now, like, she has her finger on the pulse of, like, what's hot," the "More than Life" creator revealed to Kelly Clarkson in 2021. "Or if I'm doing a song and it's the right one, like, she'll confirm it." On top of that, Kelly said that his daughter will tell him if one of his songs isn't up to snuff.
But in one video, it's easy to tell that she liked his song "Kiss the Sky," because she and Kelly are seen singing it together in what looks to be a backstage area. Some will undoubtedly find the clip adorable; however, it's just one of the many videos of daddy and daughter that are overloaded with cuteness.
Casie Colson Baker was a hit at the American Music Awards
Yes, Machine Gun Kelly and Casie Colson Baker appeared on the red carpet at the Nickelodeon Kids' Choice Awards in 2017 and 2019, although it was really an orange carpet. So that means their appearance at the American Music Awards in 2021 wasn't the first time that Baker stood in front of photographers at a major event, but the famous daughter still captured plenty of attention. She sported a sleeveless black dress that hung to the floor for the occasion, while her rock star dad also wore black.
He chose to accessorize his outfit with hanging chains, earrings, and a spiked choker, which gave him a sort of biker look. Kelly referred to his daughter as his date while walking the red carpet and looked super happy.
Furthermore, Baker got to see her dad win Favorite Rock Artist. In his speech, he accepted the award in honor of all aspiring musicians. He also shot down a headline that he read about "the age of the rock star" being dead and said his win disproves that point. But either way, some might say that Kelly's daughter was the true rock star at the American Music Awards based on all of the attention she received.
She got dragged into her dad's beef with Eminem
In 2012, Machine Gun Kelly called Eminem's daughter Hailie Jade "hot" on Twitter, and she was 16 years old at the time (via XXL). In a 2015 radio appearance on Hot 97, MGK said the backlash from the tweet meant that some outlets wouldn't review his "General Admission" album, and some stations wouldn't play it. Kelly claimed on Power 106 that Eminem had him banned from the Detroit rapper's Shade 45 radio station. Kelly then took a subliminal shot at the "8 Mile" artist on rapper Tech N9ne's 2018 song "No Reason." Eminem responded on the Royce Da 5'9-assisted song "Not Alike." But the beef wouldn't stop there; it intensified after Kelly released the Eminem diss song "Rap Devil."
So what does all this have to do with Kelly's daughter? She got dragged into it since Em mentioned her in "Killshot," his response to "Rap Devil." "I'm really sorry you want me to have a heart attack / Was watching '8 Mile' on my NordicTrack / Realized I forgot to call you back / Here's that autograph for your daughter, I wrote it on a Starter cap," rapped Eminem.
Eminem borrowed the line from his classic cut "Stan," about a deranged fan, to whom he compared Kelly. The back-and-forth has simmered down since "Rap Devil" and "Killshot" were released; however, there's no word that Kelly and Eminem settled their differences. Since Machine Gun Kelly has such a close relationship with Casie Colson Baker, perhaps he understands why Eminem took offense at his tweet.
Casie's parents control her public image
With Casie Colson Baker being a pretty famous kid because of Machine Gun Kelly, she must have millions of Instagram followers, right? It's actually the total opposite, because she doesn't have a social media page at all, unless it's under another name. The way it seems, despite being seen on her dad's Instagram page and strolling red carpets, MGK and Baker's mom want to control their daughter's public image. It's an approach that not every celeb goes with. Take Dwyane Wade and Gabrielle Union's daughter Kaavia James Union Wade, who has over 1 million Instagram followers, or Kelly's buddy and musical collaborator Travis Barker, whose daughter Alabama Barker also has over 1 million followers.
Kelly spoke about wanting to protect his daughter during an interview with Drew Barrymore, and while the rocker didn't mention social media, he talked about wanting to maintain her innocence.
"I was just walking behind my daughter in the airport the other day and, like, she just has this walk. It's this pure bounce," he explained. "She's so excited for life. Like, she's so young in her life, and I've experienced so much in my life. I just pray to every god that exists that, like, she, keeps that bounce forever and no one interferes with that and that I always get to stand back and watch her have that bounce. … Her voice is so sweet and it's not tainted with, like, what the world has to offer."
Casie Colson Baker seems to get along with Megan Fox
Megan Fox and Machine Gun Kelly began dating in 2020, per Cosmopolitan. They got engaged in 2022 and are going strong. In between those times, they obviously met each other's kids. Fox has three children with her ex-husband Brian Austin Green. On top of that, she was a stepmom to his eldest son Kassius Marcil-Green, whom the former "Beverly Hills, 90210" star shares with actor Vanessa Marcil. So that means Fox has some experience being with a man who has a child.
The way it seems in a photo that Fox posted to Instagram stories in February 2022, later shared by People, she and Casie Colson Baker get along famously. Reportedly, the "Transformers" actor spent the day with Kelly and Baker at a Cleveland coffee shop. The engaged couple can be seen cheesing in the pic, and Baker makes a funny face while looking at her dad. There's a shot of Fox and Baker directly interacting as well. Of course, it's impossible to gauge from a photo how close Baker and Fox are, but there haven't been any reports about them having issues with each other. So that's good, isn't it?
Casie defended her dad against a bully
Being a celebrity's child and all, Casie Colson Baker probably gets a fair amount of attention from her classmates. But there's at least one time that being well-known got her into trouble at school. It happened when she was 12 years old and someone was speaking badly about her dad, Machine Gun Kelly. It's not exactly clear how Baker reacted, but let's just say that she didn't turn the other cheek. And whether it was a verbal or physical altercation that took place, Kelly wasn't upset about it after finding out.
"I got a call and her school was like, 'Hey, so your daughter got into a thing with this boy.' And I was like, 'What happened?'" he said on "The Drew Barrymore Show." "And they were like, 'The boy was talking bad about you.' And I was like, 'Good job, don't ever do that again, but I love you so much.'"
Kelly may have been lenient with Baker because he knows a thing or two about being bullied, as he reportedly was given a hard time by the kids in his neighborhood while growing up. He was raised in poverty and didn't have a lot of outfits. "I used to stand out because I was tall and I couldn't really fight back then," Kelly once told First Avenue. "Then I got tired of getting beat up so I started fighting people with my words instead."
She's been on plenty of stages
Whether Casie Colson Baker chooses to be a musician or not, she has tons of stage experience. Already in her young life, Machine Gun Kelly has brought her on stage at venues in Nashville, Tennessee, San Francisco, California, and at his EST Fest in Butler, Ohio. That's according to the information listed by the folks who presumably shot the vids. Someone also set up a fan page for Baker and her father, where she can be seen performing in more places, both when she was tiny and then closer to her pre-teen years.
But Baker isn't just seen with her father on stages and red carpets; she also supported him when he was given his own day by Cleveland's mayor Justin M. Bibb on August 13, 2022. There are photos of Baker hugging her dad and taking shots with his certificate. Later, Kelly expressed the emotional nature of the honor and admitted that it choked him up. "i typed out and erased how i'm feeling 20 times but i'll never be able to put it in words so i won't even try," he tweeted. "just know i'm still smiling ear to ear and wiping tears. sold out stadium show in my hometown (on MGK Day) to end a legendary tour. it's a fairy tale." The fact that his pride and joy was there to celebrate with him for MGK day probably made the honor even sweeter.