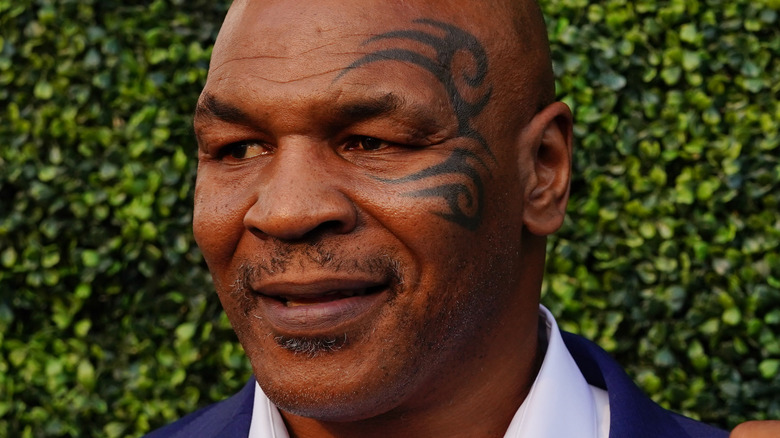 The following article includes allegations of domestic abuse and sexual assault.
Mike Tyson and Robin Givens were married in February 1988, but the honeymoon phase didn't last long for this couple. Their personal problems were aired in a very public, scathing interview with Barbara Walters on ABC's "20/20," with Givens telling millions of viewers that Tyson had a volatile temper. Cameras continued to roll while Tyson sat silently as Givens shared details about the dark side of their marriage on national television. She detailed her grievances about a man that the rest of the world recognized as being the greatest heavyweight boxer in history, according to Newsweek.
Stunned fans heard allegations of abuse and violence that reportedly existed in their marriage as the embattled couple continued along their path toward what would soon become a very public, high-stakes divorce. Tyson's mental health was questioned and news of his troubling behavior and violent tendencies continued to grip the headlines while his marriage unraveled. Concerning details about their troubled relationship continued to emerge and were publicly discussed for years.
Tyson proved he could also deliver hits outside of the ring by slamming back against Givens with his own version of what happened between them, as the media soaked up all the real-life drama that this former couple dished out. The U.S. Sun reports that their bitter divorce came with a huge price tag, and stories about the shady side of their relationship became "the main event," in a battle that lasted far longer than their short-lived marriage did.
Robin Givens described her relationship with Mike Tyson as torture
Fans admired Mike Tyson's ability to dominate in the ring, but nobody expected to learn about the fights that allegedly unfolded within his very own home. Robin Givens used some very expressive words to describe the status of her relationship with Tyson, saying that her marriage felt like "torture, pure hell, worse than anything I could possibly imagine." The explosive "20/20" interview with Barbara Walters soon became the forum used by Givens to publicly reveal what her then-husband was really like behind closed doors. She shared personal stories and was among the first women of her generation to speak candidly about domestic abuse.
A full 30 years after describing her torturous living conditions with Tyson, Givens was interviewed on "The Wendy Williams Show" in 2018 and was credited with coming forward about her marriage. Givens recalled an example of that "torture" that she originally shared on "20/20" and told Williams "I remember being in our house in New Jersey in a closet off our kitchen, and we were all in the closet, all four of us hiding, and I remember by sister bawling, saying, 'How long are you going to put us all through this?' It was just a little crazy, it was just crazy," Givens said. She has since moved on with her life but still lives with the memories. "Somebody told me what you said … 'You were like ground zero of MeToo,'" she said to Williams.
If you or someone you know is dealing with domestic abuse, you can call the National Domestic Violence Hotline at 1−800−799−7233. You can also find more information, resources, and support at their website.
The actor suggested the boxer would harm himself
The dark side of Mike Tyson and Robin Givens' marriage showcased the fragility of Tyson's mental state, and Givens hinted that there was a chance he would harm himself. In spite of Givens' reports of violence within her home, she told Barbara Walters that she stayed with him out of concern for Tyson's well-being, and she continued to share that sentiment for years to come. "He would be alone … And I don't want that to happen," she said during her "20/20" interview. Givens said she feared that without her physical presence, "He would have gotten so, so bad that I think maybe one day he would have been more deliberate and killed himself or hurt somebody else" (via The New York Times).
On "The Wendy Williams Show" in 2018, Givens said she carried the burden of responsibility, believing she had to stay with Tyson to protect him from himself. She was questioned about why she tolerated the abuse for so long, to which Givens replied, "I think sometimes you have a hard time sticking up for yourself, but it's easier to stick up for people you love."
Tyson reportedly threatened to take his own life after a minor vehicular collision in September 1988 that resulted in him slamming into a tree. The New York Daily News quoted Tyson as saying, "I'm going to go out and kill myself," via UPI. "I'm going to crash my car." He also reportedly told his wife, "I'll kill you and then me."
Mike Tyson admitted to being abusive
The tenderness and love found between a married couple didn't seem to exist for Robin Givens and Mike Tyson. Givens claims to have been both physically and emotionally abused during her tumultuous marriage to the boxing star, and Tyson himself has admitted to getting physical with her. In one particular instance, his admission of abuse was aired on "The Oprah Winfrey Show" in 2009. "I have socked her before, and she socked me before, as well. It was just that kind of relationship," Tyson told Oprah.
When Tyson sat down with Graham Bensinger for a two-day interview in 2011, he was asked just how abusive he had been in his relationships. "I had fights with women, I was a young kid I knew nothing about any kind of relationship with women," Tyson said. He went on to address the allegations made against him. "And um, I don't know what do you want me to think, am I a monster, am I a brutalizer, do I hate women? No way. Am I a young kid who never had experience with women, who learned late in life and then realized that I'm in over my head? Yeah," Tyson said.
He candidly admitted to his behavior by saying, "I'm a human being. I've abused women, women abused me. It's like a twin blade, we both abused each other."
If you or someone you know is dealing with domestic abuse, you can call the National Domestic Violence Hotline at 1−800−799−7233. You can also find more information, resources, and support at their website.
Tyson's behavior was eerie
When Mike Tyson enters the ring, everyone knows he will be an aggressor that will dominate. However, when Tyson sits down for an interview or interacts with people in his personal life, anything can happen. During the infamous interview with Barbara Walters, Tyson was eerily silent while Robin Givens exposed him as being her abuser. He was completely devoid of emotion, and nothing Givens said seemed to trigger a response.
In contrast, while visiting local news station CP24 in Toronto, a reporter named Nathan Downer made mention of the fact that Tyson was a convicted rapist, and Tyson was completely unable to hold back, even when being reminded he was on live television. "You're really a piece of sh**," Tyson said to the reporter, among many other crass statements he slung in his direction.
Somewhere in between Tyson's extreme calm and his brazen name-calling lies yet another layer of disturbing behavior. This was visible during an interview that was conducted in his home. Tyson and the reporter were discussing the devastating loss of his daughter, and the star was opening up about the myriad emotions he felt at the time of the tragedy. He spoke candidly as he fought back tears, and then without any warning at all, mid-sentence, his face visibly changed. His eyes narrowed as he leaned in toward the reporter and said, "You have to go. Now. You understand, right, thank you." He abruptly got up and walked away.
Robin Givens claims she hasn't received any money from her ex
It's been no secret that Mike Tyson spends his money with ease. Considered to be among Hollywood's biggest spenders, Tyson has publicly flaunted his wealth and reportedly squandered it on a variety of luxury items including a 24K gold bathtub for Robin Givens that was purchased for $2.2 million, according to HuffPost. The Mirror reported that he has even owned a total of three exotic tigers, each of which came with a $60,000 price tag and was treated to a luxurious lifestyle at his home. However, when it came to paying his divorce settlement, Givens claims she did not receive the $10 million that was promised to her, according to The U.S. Sun. At the time of their divorce, Tyson was reportedly worth an estimated $50 million.
Givens isn't the only woman that has accused Tyson of failing to pay a settlement. Monica Turner, Tyson's second wife, also claims that she was granted a multimillion divorce settlement at the conclusion of her marriage to Tyson, but in 2004, NBC News reported that he had not made good on the court's order to pay up.
Givens claims she was re-victimized when Tyson trashed her in the media
Robin Givens became the most hated woman in America when she came forward with serious abuse allegations against "Iron Mike" Tyson, according to Essence. However, the worst was yet to come for Givens, who would soon be publicly dragged by her ex-husband. She lashed out when she discovered she would unwillingly play a role in Tyson's biopic, starring Jamie Foxx.
Givens told People, "I felt this drop in the pit of my stomach and was like, 'Oh no, here we go again.'" The thought of having to relive the trauma of her past and have the public weigh in on her failed marriage once again was too much for Givens, who said she felt re-victimized each time Tyson spoke ill about her to the media. "I felt like the world was crumbling again," she said to People.
Tyson triggered Givens once more with the release of his memoir "Undisputed Truth." Among other comments, Tyson wrote this about Givens and her mother: "They were two broke charlatans. They didn't own anything."
Givens took Tyson's death threats seriously
Mike Tyson's words were as piercing as the force of his fists, and Robin Givens truly felt he would make good on the threats that he uttered. She claims that after publicly declaring him an abusive husband, Tyson became so threatening toward her that he uttered a death threat that the she took seriously. In an effort to permanently silence her, Givens alleges that Tyson called her on the phone and said, "I've decided I'm not going to kill you. I'm going to make your life so miserable you're going to slit your own throat and die," Givens told People.
During an intimate interview that took place shortly after the death of his daughter, Tyson admitted to wanting to use a gun against people as a means to express the feelings of anger and sadness that were building up inside him due to the devastating loss. "This was my best thinking at the time. Get my gun, automatic, just like this, and just go crazy," Tyson said. And when he was asked who he was going to hurt, he didn't have an answer, only saying, "That's just my first thought."
If you or someone you know is dealing with domestic abuse, you can call the National Domestic Violence Hotline at 1−800−799−7233. You can also find more information, resources, and support at their website.
Mike Tyson had a lot to say about Robin Givens' mother
Mike Tyson and Robin Givens' marriage was full of darkness and controversy, and according to Tyson, it also involved an intentional plot to rob him of his fortune. Within the pages of his memoir, "Undisputed Truth," Tyson wrote: "I also didn't know that Robin and her mother, Ruth, had been on the prowl for a big black celebrity for Robin since she graduated from college." Tyson went on to state his belief that Givens' mother was after his money right from the very start of their relationship. Throughout the memoir, he referenced Givens' mom by calling her "Ruthless," rather than by her real name, Ruth. Per Daily Mail, he claims they put a great deal of focus on acquiring real estate and financial payouts that would directly benefit them In the future. He alleges he issued $5 million for Givens and her mother to find a new place to live and met a number of similar demands over time.
Tyson alleges that in addition to being a gold-digger, Givens' mother also happens to be a dangerous woman that drugged him. Referencing his ex-wife and mother-in-law during an interview with the New York Post, he said, "They were giving the medicine to my friend, Rory (Holloway), to give to me," according to the The Oaklahoman. "They wanted him to make sure I took it," Tyson said. Tyson insisted that Thorazine and lithium were prescribed by a psychiatrist and issued to him in an effort to sedate him.
The lawsuit and the cease-and-desist
Mike Tyson and Robin Givens' short-lived marriage soon became a legal mess. In addition to legally filing for divorce, Givens secured Manhattan attorney Arthur Aidala to issue a cease-and-desist letter to the boxing champion. This was sparked by news that Tyson was releasing a memoir and a movie that would potentially portray Givens in an inaccurate and unflattering light.
She initiated the process in order to prevent her likeness from being used in the Jamie Foxx-led movie that depicted Tyson's life, according to People. Aidala said, "[The cease-and-desist] was pretty extensive. It highlighted all of the past abuse by Michael of her in the media and in his one-man show and in his book and that we were going to take legal action if the movie was going to feature derogatory and slanderous remarks."
The letter went on to "demand that Mr. Tyson cease and desist from further defaming Ms. Givens, and to put those producing, writing and/or directing the proposed Tyson biopic, and those producing Mr. Tyson's podcast, on notice that they are to refrain from portraying Ms. Givens in a false, negative and defamatory light," according to Page Six. "He's not physically hitting me anymore, but it hurts almost as much," Givens said to People.
Mike Tyson's reasons for marrying Robin Givens were sketchy
Some people marry for love, others for money, but Mike Tyson admits to having married Robin Givens for a reason that is dramatically different. During his guest appearance on the podcast "You Already Know with Kenan Thompson & Tani Marole," Tyson admitted to marrying Givens to fill a void created by his low self-esteem. "Periodically at times I have this big f***ing deep f***ing hole in me … every now and then, it's not activated now, but it activates every now and then, and then I just want it all," Tyson said. He went on to describe the overwhelming intensity of that feeling. "It's not enough can't fill it up, yeah. Drugs not enough … nothing not enough."
In a tweet posted to his account November 17, 2013, Tyson candidly expressed his low self-worth yet again. "My low self esteem takes over the wheel fueled by my megalomaniac ego. Explosive combination." The Twitter post was in promotion of his tell-all, "Undisputed Truth," which took a deep dive into the inner workings of his personal relationships as well as his mental and emotional health.