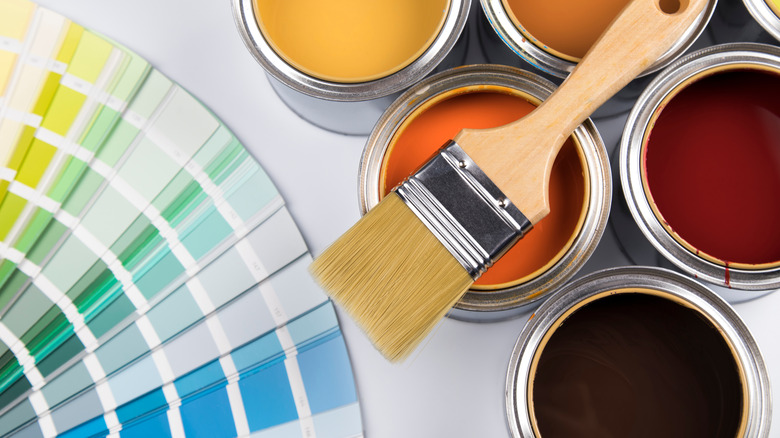 Pink bedding can be a bold choice depending on the shade you choose. There's baby soft pink all the way through to hot pink. You can have pink bedding in your little girl's room, or your teenager might prefer a dusky pink. For yourself, you might choose a deep magenta or hot pink, but regardless of what pink you choose and for which room, you'll want to make sure that the paint color on the wall pairs well with it and helps to tie the whole look together.
There are many colors that can work well with pink, but some work better than others. Let it B says that choosing to repaint can be an inexpensive way of making interior pieces, such as your favorite bedding, work for you and bring your bedroom up to date by injecting a new look.
Choosing the right color can be tricky, so using tester pots will help you to decide, and Tikkurila also explains that it will show you how the dried paint actually looks on your walls, as the color displayed on a screen or on a color card isn't the same as actually putting it on your wall.
Pink and gray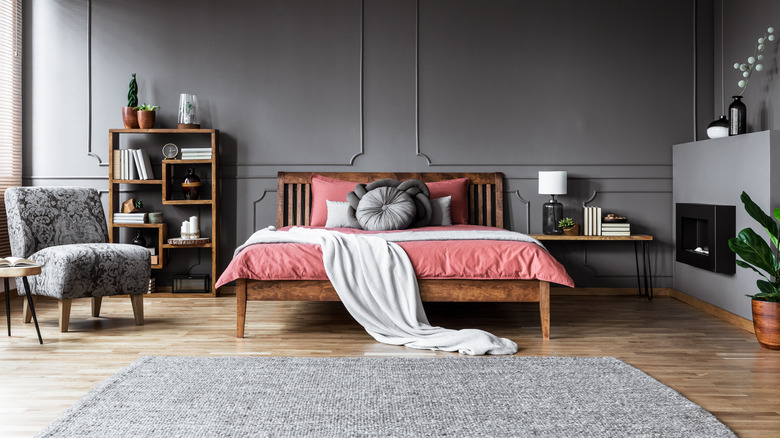 Gray pairs well with almost any shade of pink, states Good housekeeping. Gray is a very popular color right now in regard to interior design, and there are many shades to choose from. Some shades are barely there, only just a couple of tones up from white, whereas other shades can be dark, like charcoal gray. Depending on the room aesthetic you want to achieve and also the age of the person the room is intended for, plus other things like the size of the room will make a difference in which gray you ultimately decide to choose.
A large room can take bold, dark colors such as charcoal gray paired with hot pink, whereas a nursery setting would benefit from a pale gray and a dusky or baby pink. Whatever pink and gray combination you choose, they will work together perfectly and look up-to-date and modern. You can also add a cushion or a throw here and there in your chosen shades to pull it all together seamlessly.
Pink and navy
This is a bold color scheme, and Explore Wall Decor explains that as navy is a masculine color, it is a good way of ensuring your pink bedding doesn't feminize your bedroom too much if you share it with a male partner. However, if your room is small, then navy would be a dark choice and could make the room seem even smaller and a little overbearing, so perhaps a way to overcome this would be to choose an accent wall in navy and keep the other walls light by choosing white or cream instead.
If you choose to only have an accent wall, bringing in things like navy cushions or pillows will pull the whole look together and make sure there is plenty of masculine navy touches to offset your pink bedding. Also, being sure to choose a dusky or a blush pink rather than a hot or cerise pink will keep things more neutral and make it a perfect his and hers space.
Pink and white
This color scheme works perfectly in a nursery or a little girl's room. Pale pink and white is a common theme for a baby girls' nursery, and Happiest baby points out that many people worry about using pink in a babies room as it can be too 'obvious,' but when paired with white and done in the right way, it can turn out very chic, and it doesn't have to be over the top.
When it comes to a young girl's bedroom, if you choose a hot pink shade, it can keep things away from looking 'babyish' and give them that more grown-up feel they're probably craving. Pair this with some really funky patterned pink bedding, and it can elevate it even further. Add some cushions, throws, or lampshades to tie it all together, and you can create something unique and gorgeous with just shades of simple pinks and whites.
Pink and green
Again, this is a color scheme that works with many different shades of green or pink. They are opposite each other on the color wheel, and according to Canva, colors that are on opposite sides of the wheel complement each other very well. Greens fall into the cool category while pinks are in the warm category, so they balance each other out perfectly.
Livingetc explains that the cozy, comfy feel of the pink paired with the vibrant coolness of the green brings a pleasing contrast that you can definitely make work for you in a bedroom setting. Also, pink and green can bring to mind pink roses with green stems, and roses evoke thoughts of romance, which is a good feel and aesthetic for a bedroom.
A dusky pink, together with a muted olive green, can give a very sophisticated, chic look to a room. Foter mag points out that pink and olive green together can create a very feminine space, so if that's what you're looking for, then maybe olive green is the way to go.
Pink and pink
If you really have a soft spot for pink, then perhaps even more pink is the answer! Different shades of pink can work brilliantly together, especially if your room is well-lit and large enough to take it. For example, if you have hot pink bedding, then a muted pale pink would tone it down and look good. Alternatively, if you have a paler pink bedding set, then you could go for a deep pink on the walls.
If done right, pink bedding and pink walls don't have to be for a little girl. If you choose the right shades, you can end up with something incredibly sophisticated and relaxing. The Nordroom states how popular velvet beds and headboards have become, especially in different shades of pink, so there are many different ways you can get a variety of pink shades and textures into your room to give it a really cozy, chic feel.