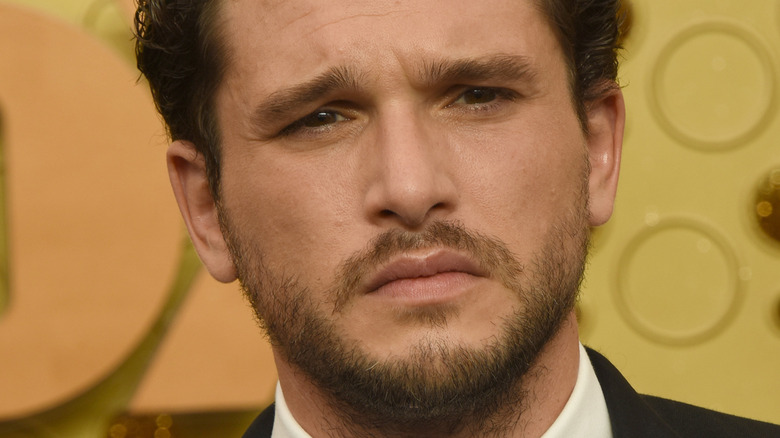 As of the first episode of "House of the Dragon," the world is stricken with Westeros fever yet again. The "Game of Thrones" spinoff is set almost 200 years before the likes of Arya Stark and Tyrion Lannister came to be. Focused on the Targaryen family in the early days of their domination of the Iron Throne, the prequel series stars Matt Smith, Emma D'Arcy, and Paddy Considine as white-haired members of House Targaryen.
Even though "Game of Thrones" ended in 2019, a mere three years before its first spinoff got rolling, that must feel like a lifetime for the primary members of the "Games of Thrones" cast. The show's stars have all moved on with their lives and careers, but nevertheless, the HBO series was a huge experience for them, with some meeting best friends or even significant others. So, of course, a handful of them have shared thoughts on "House of the Dragon."
Some previous cast members are hyped for the show, but others are a bit more cautious about the direction it's going. Regardless of how they feel, plenty of "Game of Thrones" stars have been publicly vocal about this prequel to the saga of ice and fire.
Emilia Clarke gave Matt Smith advice on being a Targaryen
No one person has more experience as a Targaryen than Emilia Clarke, who famously played Daenerys in "Game of Thrones." Considering the new series' focus on Targaryens, it only makes sense that Clarke would have some wisdom to impart on the "House of the Dragon" cast. As it turns out, she offered some guidance to Emmy nominee Matt Smith, who is taking on the role of the ambitious Daemon Targaryen, and it's probably not the advice you would expect.
In an interview with Jake Hamilton, Smith shared the advice given to him from the OG Queen of Dragons — get used to the wig. The English actor said it was a "whole convoluted process" to put on his bald cap and long blonde hair piece every day on set.
"I spoke to Emilia [Clarke] about this years ago," Smith said. "She's like, you know, 'I have to go through an hour and a half every day of putting a wig on and it's a lot.'"
Nikolaj Coster-Waldau says it feels surreal
First hated, then redeemed to be one of the best "Game of Thrones" characters, and ultimately breaking again due to his bizarre feelings for Cersei, Jaime Lannister has a rollercoaster of an arc. Over the years, actor Nikolaj Coster-Waldau became a fan favorite for his performance. In an interview with People at the Cannes Film Festival, the Danish actor opened up about his overwhelming thoughts on the debut of "House of the Dragon."
"It's going to be quite surreal to watch," Coster-Waldau said after watching the first trailer. "I know it's probably going to be weird." Since Jaime is a mainstay until the very end of the final season of "Game of Thrones," "House of the Dragon" marks the first season of Westeros on TV without him. These upcoming episodes will be Coster-Waldau's first time watching as just a fan.
The actor also complimented the cast of "House of the Dragon," calling them "incredible" and saying "I hope they'll have all the success."
Kit Harington thinks watching House of the Dragon may be painful
Jon Snow actor Kit Harington has gone on to star in Marvel's "Eternals" as well as a handful of other projects. But that doesn't mean he's forgotten "Game of Thrones." Of course, forgetting about Jon Snow would be a difficult thing for Harington to do, since he met his wife Rose Leslie on the set of the show, turning their steamy on-screen romance into real-life happiness. Harington has said he plans on watching "House of the Dragon" but that it may be a little bit painful.
In an interview with Insider, Harington admitted that the prospect of a new show in the world of Westeros makes him emotional, especially since his experiences on "Game of Thrones" are still so recent. "To see people get into outfits and costumes that resemble what we wore for all those years and it have the same music and style and tone but to not be in it … there's going to be a rawness there."
Peter Dinklage hopes the series isn't a cash grab
We can all agree with Peter Dinklage when he says he hopes "House of the Dragon" doesn't become a money grab. The seasoned actor who became a household name after "Game of Thrones" played Tyrion Lannister, who was never afraid to speak his mind. Of course, neither is Dinklage when it comes to discussing the potential pitfalls of a "Game of Thrones" spinoff series.
When asked about the show in an interview (via The Independent), Dinklage said that to him, the trick is not to try to recreate the magic of the original show. He argues that "a lot of sequels" are cash grabs and pale in comparison to their influential predecessors. Ultimately, though, Dinklage isn't as cynical about the project as he might initially seem. "I am excited to watch 'House of the Dragon' purely as a viewer, not knowing what will happen next," he said.
Maisie Williams thinks the stars of House of the Dragon are under a lot of pressure
The growth of Arya Stark from innocent child to full-grown bloodthirsty assassin is one of the highlights of "Game of Thrones." The cast became a family to Maisie Williams, who basically grew up on the show, and she even maintains a group chat with everyone (via Variety). Of the entire "Game of Thrones" cast, from what we can tell, it seems like Willaims is the most likely to actually watch "House of the Dragon" in its entirety.
In that same interview, Williams was asked if she planned on watching "House of the Dragon," to which she responded with an enthusiastic "yes." As it turns out, Williams is close friends with Olivia Cooke, one of the show's stars. She mentioned that in talks with Cooke, it sounded like a lot of pressure to work under.
"All of the hung-over concerns of our show are now just being piled onto this new cast of people who had nothing to do with it," Williams said. "I want to be as supportive as possible to her as an actress, but also, I'm just really curious. I'm kind of looking forward to watching 'Game of Thrones' — even though it's not 'Game of Thrones' — and experiencing it as a person that's not on it."
Gwendoline Christie says it will be great for Game of Thrones fans
Almost every "Game of Thrones" fan loves Brienne of Tarth. Rugged female warrior and Jaime Lannister's one true love, Brienne has all the makings of a quintessential fan favorite. Actress Gwendoline Christie loved the character and still does, as she later admitted at the 2022 San Diego Comic Con (via Extra).
When asked if she was looking forward to the upcoming "House of the Dragon" at SDCC, Christie responded by saying, "It will be great for people to see what feels like a continuation of the 'Game of Thrones' story. It was so beloved and still is now." Christie follows this up by saying she will never stop loving Brienne of Tarth. We are right there with you, Gwendoline Christie. The jaw-dropping premiere numbers that HBO put out suggest that many "Game of Thrones" fans are chomping at the bit for more Westeros.
Rose Leslie assures us it will be high-quality programming
Not many "Game of Thrones" characters got a happy ending. Certainly not Jon Snow's first love, Ygritte of the Free Folk, played by Scottish actress Rose Leslie. But unlike her character, Leslie walked out of "Game of Thrones" alive and married to her co-star Kit Harington to boot.
The couple were asked about "House of the Dragon" at a recent charity event months before the show's premiere aired and Leslie could not help but sing its praises. Based on what the actress had seen at the time, she was noticeably hyped.
"The quality will be very high because that's how HBO rolls," Leslie said. She also made a direct comparison to "Game of Thrones," saying the world of Westeros looks "just as rich and beautiful" this time around. So far, the production values on "House of the Dragon" are impressive, especially considering its budget compared to other streaming shows.
John Bradley is prepared for the discourse
"House of the Dragon" is already starting conversations and breaking HBO viewership records. Even the bleak final season of "Game of Thrones" couldn't stop the Westeros hype train from rolling into the hullabaloo station. But one "Game of Thrones" star is worried the conversation will break bad. John Bradley, the actor behind Samwell Tarly, is well aware that HBO's latest is living in the shadow of a giant.
Bradley has gone on record saying he is preparing for the "completely unnecessary and unwarranted" comparisons fans are going to make between the two shows (via Yahoo). "Some people saying they prefer it to our show, some people saying that our show was better than theirs — it's bound to happen because people can't resist that kind of thing," he said.
He went on to say he is going to stay completely removed from whatever discourse "House of the Dragon" starts. Despite these concerns about the fan culture, Bradley is looking forward to catching the new show. "I'm very, very excited to watch it and not be worried that my scene's next," said the English actor.
Richard Madden can't wait
It has been years since Richard Madden, who played the ill-fated Robb Stark, has been on "Game of Thrones." In fact, his final appearance during the infamous Red Wedding first aired all the way back during the show's third season in 2013. Still, that doesn't mean the Scottish actor isn't following all the goings-on in the wide world of Westeros. The actor even recently reunited with his "Game of Thrones" brother Kit Harington in Marvel's "Eternals" where Madden played Ikaris, one of the titular Eternals.
In fact, Madden expressed his excitement about "House of the Dragon" when he was asked about it back in July (via Bad Taste Italy). Asked if he'd watch the show, Madden responded by saying he can't wait and, "It will be even more relaxing because I won't be in it." It's an interesting response, considering Madden wasn't involved in the last five seasons of "Game of Thrones" whatsoever. Perhaps he can breathe easier knowing the possibility of them calling him back to play a White Walker version of Robb Stark is off the table for good.