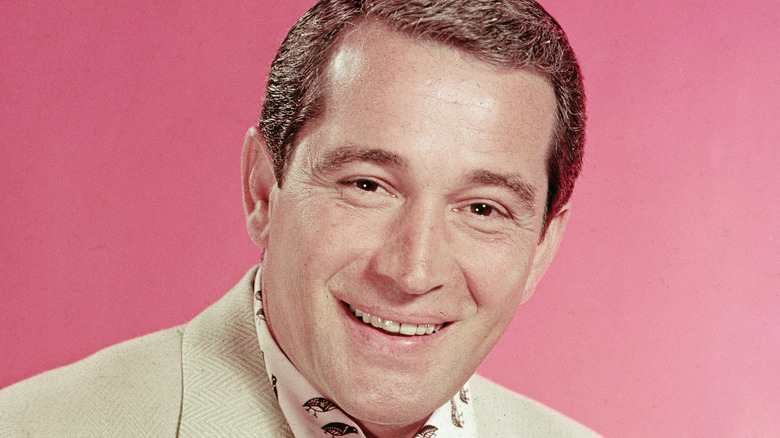 During the course of Perry Como's life on the A-list, it was difficult to find a single soul who had a negative thing to say. It turns out, the post-World War II-era singer's lighthearted and easygoing tunes were just as enjoyable as his personality. "He doesn't have an enemy in the world — personally or professionally," recalled singer Steve Lawrence to the South Florida Sun-Sentinel. "He's not a controversial person, and he has a wonderful personal life with his wife and kids," Lawrence added, noting that Perry is simply "at peace with himself."
Unlike his contemporaries, such as the often-compared Bing Crosby, Como lived a life without regrets. Where Crosby's personal life was filled with dysfunction, Mr. C's was as comfortable as the iconic cardigans he loved to wear. Growing up in a large Italian-American family in Canonsburg, Pennsylvania, Como "married his childhood sweetheart" (via the American Music Research Center) and always maintained that family came first — no matter how successful he was. "I'm a bad interview because, aside from making records and my radio and television activities, not a lot has happened to me in the past fifteen years," he once told The Saturday Evening Post, quipping, "I was a barber. Since then I've been a singer. That's it."
While one can describe his entire brand as laid-back, it doesn't mean the iconic crooner simply coasted through life. This is the tragic, real-life story of Perry Como.
Perry Como entered the workforce at an incredibly young age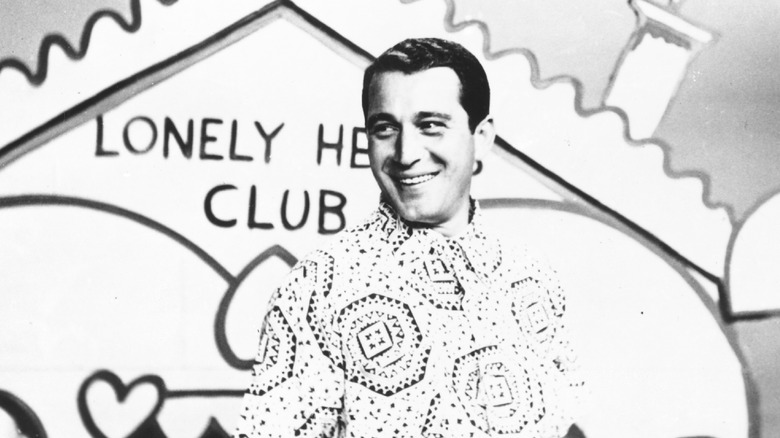 Born in 1912 and growing up in small-town Pennsylvania, Perry Como was the seventh child of Pietro and Lucia Como's 13 children, with the couple having immigrated from Italy (via the American Music Research Center). As revealed by The Saturday Evening Post, Perry entered the workforce at the age of 10, getting up bright and early at 6 a.m. every day, ready to sweep floors at a barbershop before heading to school. When his studies were done, "he returned to shine shoes, heat towels, and sharpen razors." A mere three years later, he worked his way up to a barber position, manning his own chair.
"[Dad] raised 13 kids, and not one of them a black sheep," Perry recalled, writing in Guideposts in 1953, adding, "We all worked." He explained that because of his family's hard work ethic, "it was natural" for him to start working young, and the future crooner had one goal he was striving towards: "to be the best barber between Canonsburg and Cleveland."
As Perry writes, by the time he was ready to cut hair, he passed his downtime at the shop by singing and playing the guitar. "The singing was … a reflection of the joy that came from a happy home," he explained.
The Como family's financial burden was put on Perry at age 14
Working at such a young age would come in handy for Perry Como. As he explained in his piece for Guideposts in 1953, the boy's entry into barbershop work began with the basics: sweeping hair and polishing mirrors. Clearly, the owner must have taken a liking to the preteen, and he eventually taught him how to cut hair for 50 cents a week.
As Canonsburg was a small mining and mill town in southwestern Pennsylvania, Como's father, Pietro, worked as a millhand. However, as the singer explained, "during the last 15 years of his life he was a hopeless invalid." While Perry remembers his father always living an active lifestyle, tragically enough, heart problems took over, and he had to leave his job at the mill. Thus, at the age of 14, the "Home for the Holidays" singer suddenly found himself with a heavy financial burden placed upon him.
With Pietro unable to work, he got his son his own shop. And while he "never made more than $175 a month" by working at the mill, the American Music Research Center estimates that Perry remarkably managed to gain "$125 per week net profit." As the singer himself recalled in Guideposts, "By the time I was 20, I was making a big fat $40 a week." Throughout it all, his parents reminded Perry to remain humble, telling him that the meaning of prosperity was having "enough to remind you to be thankful."
The start of Perry Como's singing career wasn't easy
Perry Como met his future wife, Roselle Belline, while he was running his own barbershop in Canonsburg, Pennsylvania. According to The Pittsburgh Post-Gazette (via Kokomo), the pair began dating, and she stayed by his side in the '30s when he started "performing on stages" near his hometown.
According to Billboard, one chance vacation to Cleveland led Como to audition for the Freddy Carlone band, and he was eventually offered to join for a mere $28 a week. While he was making $125 weekly from his barbershop, the decision to quit his job must have been a difficult one for the aspiring crooner. Nevertheless, 1933 saw Como choosing to "sing for a living" — and it also marked the first year of his life as a married man since he finally wed his longtime love.
The Pittsburgh Post-Gazette explains that for the remainder of the decade, both Como and his bride lived on the road, living in different apartments while he worked with Freddy Carlone. "We had some tough times," Belline told the outlet. "Money was tight but we were frugal and we lived on what he made."
Perry Como almost gave up singing early in his career
Three years after his first big break with the Freddy Carlone band, Perry Como joined the Ted Weems Orchestra in 1936, a well-liked dance band at the time (via the Orlando Sentinel). As revealed by Billboard, the pay raise was a fantastic boost, too, and the artist was suddenly making $50 a week.
According to "Roadkill on the Three-chord Highway" by Colin Escott, Como was relatively happy with the Weems Orchestra, but the endless touring proved to be difficult for the young man. After all, Como and his wife, Roselle Belline, had just begun starting a family. Per The Pittsburgh Post-Gazette (via Kokomo), the pair welcomed their son, Ronnie, in 1940 and eventually adopted two more kids, Terry and David. As Belline recalled to the outlet, the duo "always put family first," to the point that when Ronnie was born, Como was almost fired for leaving a gig right in the middle of his performance so he could be with Roselle at the hospital.
As revealed in "Roadkill on the Three-chord Highway," when Weems himself was enlisted to join the Army in 1942, the band broke up, and Como used that as an excuse to head home, ready to settle down in domestic bliss. Belline wasn't having any of it and urged her husband to keep pushing forward. "If it wasn't for her I'd have the best barbershop in town," a nostalgic Como told the Orlando Sentinel.
Perry Como didn't like his biggest, gimmicky hits
Unless you're a die-hard Perry Como fan, the first songs that may come to one's mind when they hear his name are probably "Papa Loves Mambo," or "Hot Diggity Dog (Ziggity Boom)," the former being popularized again in both "Back to the Future Part II" and "Oceans 11," decades after it was recorded. What some fail to realize, however, is that the Pennsylvania-born crooner is so much more than his gimmicky hits. As The Saturday Evening Post so perfectly puts it, "the greatest enemy of Como's legacy has been, paradoxically, his greatest successes."
So, how did Como feel about these catchy tunes? According to "Roadkill on the Three-chord Highway," the singer would refer to his biggest hits as "[pieces] of crap," explaining, "I'd tell the A&R [artists and repertoire] man, 'I can't sing that garbage.'" But, sure enough, Como had no choice, as it was those songs that made him the most money.
In his later years, it appears that the "It's Impossible" crooner started taking control of what he wanted to sing, avoiding the "novelty" tracks. Admitting to the Orlando Sentinel that he was "embarrassed" to have the songs attached to his name, Como revealed, "No, I don't sing any of those songs in my show. I reserve the right to say no."
Perry Como wasn't taken seriously as an actor
While Perry Como's singing style fit in perfectly among the likes of Bing Crosby and Frank Sinatra, his crossover onto the silver screen wasn't as successful. In fact, the singer only has four big-screen credits to his name — a stark contrast to Ol' Blue Eyes' long and accomplished résumé. "I get sick to my stomach when I see [my movies]," Como once declared (via "Roadkill on the Three-chord Highway"), further explaining that he actually asked to be released from his movie contract in 1947: "What the hell did I know about acting?"
It's not that Como didn't like being in front of the camera, however. He found a lot more success on the small screen, hosting his own variety show. As The Guardian notes, this was an opportunity for fans to see a "relaxed, smiling man" — and they lapped it up. For almost a decade, "The Perry Como Show" was quite popular in both the U.S. and England and saw the star take home multiple Primetime Emmy Awards.
However, "The Perry Como Show" didn't come without its own hiccups, as Mr. C explained to the South Florida Sun-Sentinel years later. As he recalled, one episode was doomed with technical problems, "[starting] out with six cameras and [winding] up with one." As he revealed, "By the end of the show, everything had gone wrong that could go wrong, people were running all over the place, and the audience was going crazy with laughter."
Was he bothered by the Bing Crosby comparison?
Perhaps the most tragic part of Perry Como's professional career is that the masses didn't take him as seriously as his contemporaries. Maybe it had something to do with his biggest hits being novelty tracks, or perhaps the singer was simply too laid-back for his own good, as the public didn't find any sort of turmoil or salacious gossip in his life to splash amongst front pages of magazines — such as with Frank Sinatra, for example. "The only criticism that seemed to hurt was that of laziness," writes "Roadkill on the Three-chord Highway."
"Laziness" wasn't the only feedback that plagued the crooner, however. In fact, even when he was starting off singing with the Ted Weems Orchestra in the mid-'30s, record labels brushed him aside, saying he sounded too much like Bing Crosby. Per "Roadkill on the Three-chord Highway," Dave Kapp, the brother of the president of Decca records, once snapped to Weems, "Why are you letting him sing?" As Como later reflected, "It was like someone was stabbing me."
The comparison to Crosby only continued, especially when Como began appearing on television. "When I got on TV, the thing about Bing bothered me," he told the Orlando Sentinel in 1991. "It felt to me like I was copying him. And I was." Nevertheless, Mr. C freely admits that Crosby was an industry pioneer. "Frank [Sinatra] admits it too. If it weren't for Bing … neither Frank nor I would be here."
He stopped performing for eight months due to an injury
On stage, Perry Como was the king of ease. His on-stage persona was seemingly always intimate, managing to hook audiences by simply walking on stage, sitting on a stool, and singing. "I'm not very high-strung or animated by nature," the crooner once told Good Housekeeping (via Kokomo). All that said, even by Como's standards of understated performances, eagle-eyed fans noticed something was wrong during a TV special in November 1972, where the performer was moving glacially. So, what happened?
According to the Daytona Beach Morning Journal, a year prior, Como was in Hollywood, ready to perform an NBC special. As he was heading on stage, the platform he was on was supposed to split in two — but the spotlight never went on the singer. "Something went wrong," Como recalled to the outlet. "I moved to my left to compensate for it." As he started walking, the platform finally separated, causing Como first to hit his knee and then fall five feet below. After multiple examinations, the singer discovered his knee was broken — meaning he had to wear a cast and stop performing for eight months.
"I almost went out of my mind," Como recalled to the Daytona Beach Morning Journal, adding that he mainly watched television and went fishing. Once the cast was removed, a rehabilitation process for his knee took place, and after that, he was back on stage — albeit not as spritely (for Como's standards) as before.
When his wife died, Perry Como was absolutely 'devastated'
Remarkably enough, Perry Como remained with the same woman throughout his entire life — a refreshing take during a time when some respected musicians were, well, terrible people. "It'll be 58 years soon and I told Roselle just the other day that I think I'm getting a little tired of it," Como quipped to Good Housekeeping Magazine in 1990 (via Kokomo). Jokes aside, he revealed that Roselle Belline was his "best friend," noting, "Throughout our lives she has always been so supportive. And honest … She has been my anchor."
Mr. C's lady was always quick to reciprocate her beau's love, as well, and in 1998, just before the couples' remarkable 65th wedding anniversary, she gushed to The Pittsburgh Post-Gazette, "He was and still is the most gentle and humble man I ever met" (via Kokomo). When asked what their secret was to maintaining such a successful marriage, Belline had none. "When you make your wedding vows as a commitment to each other and to God, you will keep them," she explained.
Heartbreakingly enough, a mere two weeks after their anniversary, Belline died of a heart attack (via the Chicago Tribune). According to Warm 106.9, her death left Como "devastated." During a charity event in the weeks that came, the singer dedicated his song "And I Love You So" to his best friend and life partner, per Tributes.
Even with all his success, Perry Como still had one regret
Never appearing in the tabloids negatively, it seems that Perry Como was beloved by all, even in his later years. As a 1991 documentary segment on the singer for "Hard Copy" says, "After 60 years in show business, they say Perry Como hasn't lost a friend." Eddie Fisher, Como's friend, told the doc, "Any moment that anyone can spend with Perry has got to be a wonderful moment."
But did Como's family get any of those wonderful moments with him? Sure enough, right as his career blew up in the mid-'30s, he was also growing his nest with his wife, Roselle Belline — and he admitted that touring brought along a "disruption of family life" (via The Washington Post). "My only regret in life is that I didn't spend as much time with my kids as I now wish I had," a wistful Como told Good Housekeeping Magazine in 1990 (via Kokomo). He noted that while he did try to come home "late afternoon [on] most days," it was Belline who was in charge of the house. "I missed out on a lot of wonderful moments, missed watching my kids grow into the wonderful people they are today," he reflected.
Thankfully, the singer had one silver lining. "Summer vacations were different," he proudly declared to Good Housekeeping, noting that with his "13 weeks off," he would plan trips with his entire family to go on. "I loved it. I needed it," he explained.
His family fought to care for him during the final years of his life
During the final few years of his life, Perry Como's health was, sadly, deteriorating. According to Warm 106.9, he overcame bladder cancer in 1993 and was later diagnosed with Alzheimer's disease before dying in 2001 (via the Sarasota Herald-Tribune). He was 88 years old (via Billboard).
According to the South Florida Sun-Sentinel, Como died in his sleep while sitting in his bedroom chair. A week later, a service was held in Palm Beach with 700 mourners — a modest amount for the iconic crooner. "He was just Dad," Como's daughter, Terri Thibadeau, told those in attendance before poignantly adding, "We were taught that life in and of itself was an expression of love. Thank you for loving our father as we did."
Tragically, it looks like the Como clan were stuck in a bitter dispute during Perry's final years. As revealed by the Sarasota Herald-Tribune, Thibadeau and her brother, Ronald Como, were locked in a battle over who would provide their famous father with medical care. While Perry wrote in his will that he requested Ronald to be named "executor of his estate," Thibadeau argued that her brother went against other requests made by Perry in his living will, such as putting him on a respirator and feeding him through a tube. Ultimately, the singer's estate was distributed among his three children and 13 grandchildren.