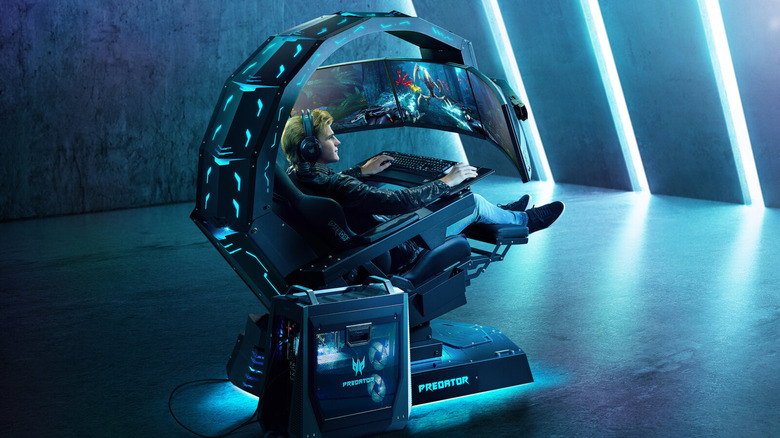 The idea of a dedicated gaming chair might have seemed silly a few decades ago, but as video games have gotten more immersive, playing times have gone up exponentially. Anyone sitting in the same position for hours on end needs a suitable chair, and as a result, sales of gaming chairs have skyrocketed over the past few years. Brands like Secretlab, DXRacer, and Noblechairs have emerged as market leaders, with prices usually ranging anywhere between $300 and $700 for a high-quality chair. However, there are some gaming chairs that cost double, triple, or even 10 times the amount that most people would be comfortable paying. These chairs represent the very top of the market, catering to the most demanding gamers with the deepest pockets. Whether it's a gaming station shaped like a giant scorpion or a designer chair that's featured in several movies, getting your hands on one of these gamer thrones will mean coughing up more cash than most people's monthly rent bill.
Imperatorworks IW-R1-PRO – $4,499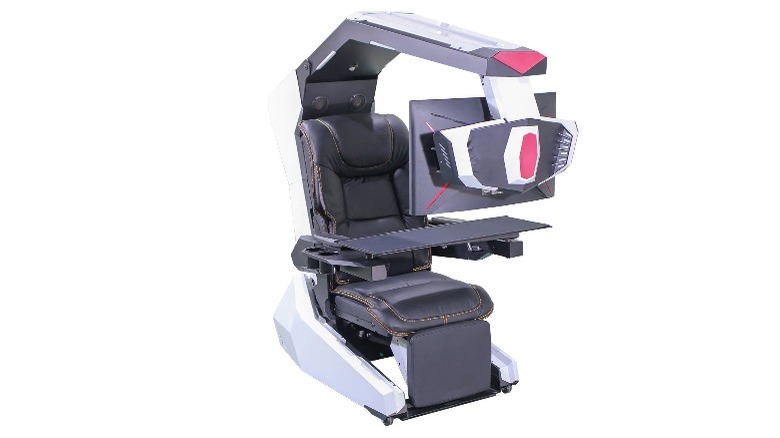 For the wealthiest gamers who want ultimate comfort during long sessions of play, a simple chair won't cut it. The Imperatorworks IW-R1-PRO is a lot more than just a chair, as it comes with a built-in desk and an adjustable overhead structure to mount up to three monitors. The chair can recline up to 130 degrees, with the monitors able to adjust accordingly. Almost every aspect of this "workstation" can be adjusted for precision gaming, including the monitor-to-eye distance, keyboard tray angle, and even the chair's roof structure, which includes a starlight headliner.
A choice of two seat setups is available for the IW-R1-PRO, either a 22-inch-wide racing seat or a 20-inch-wide executive chair. Both retail at a price of $4,499, a figure that will rule out all but the most seasoned (and well-heeled) gamers. The whole setup is so heavy that it weighs 440 pounds (200 kg) according to the Imperatorworks website, making it almost impossible to move around a room once it's been set up. Plus, with dimensions of 69 x 38 x 64.5 inches, it'll take up a good portion of whatever room it's in.
Herman Miller Embody Gaming Edition – $1,795
Herman Miller makes a variety of high-end chairs, desks, and furniture, and the brand recently branched out into making gaming chairs. The Embody Gaming Edition takes its best-selling Embody office chair and tweaks it for the optimal gaming experience, with extra layers of foam on the seat for additional comfort. Gamers also have a reputation for getting hot and sweaty during intense sessions, so the Embody Gaming Edition features copper-infused foam technology designed to draw heat away from the body, keeping the chair's occupant cooler through the most heated parts of a match.
Retailing at $1,795, the Embody Gaming Edition is roughly the same price as the standard Embody office chair, which starts at $1,745. It's costly, and it's very much in line with the rest of Herman Miller's prices, with most of the brand's non-gaming chairs also retailing for similar figures. As well as featuring cutting-edge cooling technology, the Embody Gaming Edition is arguably one of the most astonishing low-key chairs on the market, with a spine-like split design at the rear that will look good with any gaming setup.
Imperatorworks IW-SK – $4,199
If Imperatorworks' first gaming workstation wasn't outlandish enough, their IW-SK model looks even crazier. The roof structure of the chair forms the shape of a scorpion tail, with the monitor mounts attached to the end of it. In place of standard chair legs, the IW-SK comes with eight metal supports that resemble scorpion legs, and even the adjustable armrests are designed to look like pincers. It's a thoroughly impressive piece of furniture design, but it comes with a painfully expensive price of $4,199.
There is also no choice of seat style with the IW-SK, unlike the IW-R1-PRO. The sole seat option is made of memory foam for optimal comfort, although for over $4,000, it's a little disappointing to see PU leather being the only upholstery option. Most other chairs at this price point will offer a real leather option, plus a cotton-based fabric option, which is usually better for dealing with sweat. The workstation can be configured with either a single ultra-wide monitor or up to three 29" monitors and has a maximum monitor weight capacity of 52.8 pounds.
Osim uThrone – $1,299
In comparison to some of the other wild-looking chairs here, the Osim uThrone looks a bit plain. But, its unique selling point is hidden beneath the chair's cushions, as it claims to be the first gaming chair with realistic massage technology. The uThrone features what Osim calls "V-hand Technology," which is meant to simulate the hand movements of a masseuse to provide a more effective massage than anything else on the market. It features built-in rollers that roll along the neck and shoulders which are designed to reduce stress and tension across two parts of the body that are most often strained during long gaming sessions.
PC Gamer tested out the uThrone for themselves and was impressed with its massaging capabilities, although they noted that it was very much a niche product at its price point. Most dedicated massage chairs cost more, but they're able to provide a more varied and customizable set of functions than the uThrone. Likewise, most gaming chairs will be significantly cheaper, with even top-of-the-line products from market leaders like Secretlab costing hundreds of dollars less. Nevertheless, for the few gamers who can't resist getting a full massage while playing their favorite game, the uThrone is a surprisingly competent option.
Trak Racer Alpine Racing TRX – $1,395
As anyone who's ever tried to get into sim racing knows, it can be a very expensive business. Just buying a wheel can cost a fortune, since companies like Fanatec have pushed the boundaries of sim racing hardware in recent years, collaborating with the likes of Bentley to make wheels that are more realistic than ever. This of course comes at a price, and top-spec Fanatec wheels will cost well over $1,000 by themselves. Then of course, there are sim racing chairs, which are, unsurprisingly, also very expensive.
Trak Racer have collaborated with Alpine F1 Team to create the Alpine Racing TRX, a rig that's designed for both hardcore sim racers and the team's own Formula 1 drivers. With an array of adjustable mounts, trays and seating positions, the TRX aims to accurately replicate the driving positions of a number of track-based motorsports, including everything from karting to LMP racing. At a retail price of $1,395, it's hardly a bargain, but a proper rig like this is essential for any high-level sim racer who wants to take their immersion to the next level.
Acer Predator Thronos Air – $13,995
Unveiled in 2019, the Acer Predator Thronos Air is actually the cheaper version of its predecessor, simply called the Predator Thronos, which cost $30,000 and included a cutting-edge Acer gaming PC. The Predator Thronos Air doesn't include a PC, monitor, or any other form of hardware as standard, instead simply being the chair and surrounding steel structure. Acer called the Air "the perfect gaming cave for hardcore enthusiasts," but with its sky-high price of $13,995, even the most dedicated gamers would have to weigh up their options before buying one.
The chair includes haptic feedback technology that syncs with PCs to create vibrations in response to action within games, but there's also a massage feature to unwind after each gaming session. For optimal comfort during longer sessions, the chair and monitors can be tilted between 130 degrees and 180 degrees. There's also a built-in headset holder, cup holders, a USB hub, and a camera that's designed for live streaming to YouTube or Twitch. It's pretty much everything the most serious gamer could need, minus any actual gaming hardware, of course.
ErgoQuest Zero Gravity Workstation Ultimate – $19,995
Gaming chairs don't get much more extreme (and wallet-busting) than the ErgoQuest Zero Gravity Workstation. With support for up to three 34" monitors, the Zero Gravity Workstation aims to offer one of the most immersive experiences on the market. You'd certainly hope so for a chair setup that costs more than many people's cars. The chair uses hydraulics to provide a "zero gravity" style position, but it can also recline to be fully flat.
A variety of cushion types are available, including memory foam, polyurethane, and latex foam. Upholstery options include vinyl, cotton polyester blend, and full-grain leather, and the frame can be finished in either wood veneer or a powder coat. All these options affect the overall price of the chair, but in top-spec form, the Zero Gravity Workstation Ultimate costs an eye-watering $19,995. And, remember, that price doesn't include an actual PC. Buying a top-spec gaming PC will cost several thousand dollars at a minimum, but ironically, with the ErgoQuest, it might well be the least expensive part of the whole setup.
Herman Miller Aeron Gaming Edition – $1,695
If Herman Miller's Embody chair looked a little too unusual, the Aeron Gaming Edition might be just the ticket. At a glance, it looks like a standard office chair, but it's been reworked to better suit long periods of gaming. The chair is designed to encourage a more upright posture, which aims to help prevent strain on the back and neck. It's also fully adjustable, with the arms, height, and recline functions all designed for a range of different body types.
It's not as feature-packed as many of the other chairs at its price point, but it is more sustainably made than most of them. Herman Miller uses recycled plastic waste that's diverted from the ocean, and the frame and base are made from glass-filled nylon for a smaller environmental impact. Herman Miller's website also mentions that the chair comes in Onyx, their darkest paint shade yet, which is supposed to match any gaming setup. While that's a good thing for potential buyers, the color of the chair seems like an odd thing to champion given that this is a $1,700 piece of furniture.
De Sede DS-2100 – $7,759
Boutique Swiss manufacturer De Sede makes a skeleton-style chair that it says is suitable "for every use." It's primarily sold as a high-end office chair, but there's no reason that it couldn't be used in a gaming setting. It's available in both high-backed and low-backed form, with all the usual tilt mechanisms and height adjustments. It's available with a variety of luxury leathers, including Nappa leather and Nubuck. Over 2,000 leather colors are available to choose from, so buyers can spec the chair to their exact tastes.
As well as being almost infinitely customizable, the DS-2100 boasts an unusual selling point: it's featured in a number of blockbuster movies. Both the "James Bond" franchise and "Men In Black" feature scenes where the chair is prominently used. So, for anyone who wants to feel like they're a character in a Bond movie, this seems like the obvious choice. Well, it does until you look at the price, which is currently listed at the equivalent of $7,759 on Chaplins, a UK-based specialist furniture retailer. It might be an A-Lister, but the DS-2100 costs so much that anyone who's not made it big in Hollywood would struggle to justify buying one.
RSeat S1 – $1,249
Sim racing strikes again with the RSeat S1, a rig that's designed to emulate the seating position of both rally and GT cars. At a starting price of $1,249, it already sits towards the upper end of the racing rig market, but to really get the most out of it, it's worth adding in all of the chair's optional extras. A speaker upgrade kit will add an extra $99, the keyboard and mouse tray upgrade kit an extra $129, and the shifter and handbrake kit a further $129. This all leads to a chair that can cost well in excess of $1,500 when all these extras are taken into account.
The seat comes wrapped in Alcantara, a patented high-end material that's often found on real racing seats and in luxury vehicles. Unlike certain other rigs and workstations, there's no built-in monitor mount, so that will have to be purchased separately too, with RSeat's most high-end monitor stand retailing for $599. All in all, a very costly setup, but a relative bargain considering some of the other crazily expensive gaming chairs and workstations on the market.