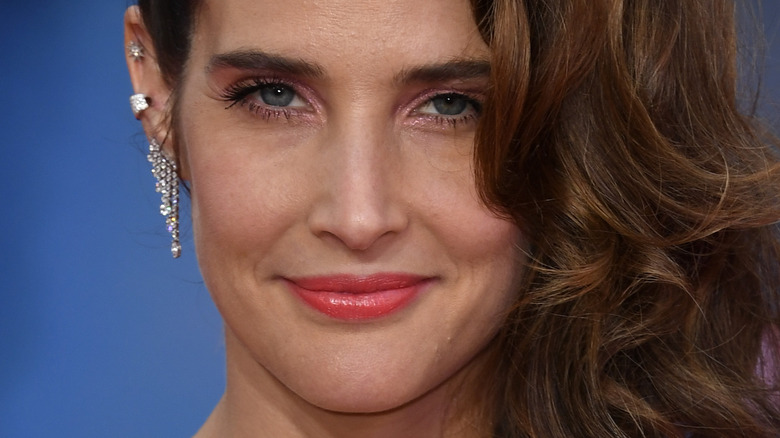 Cobie Smulders may have had a few TV credits under her belt, but she was still a relative unknown when she landed her big break as Robin Scherbatsky in "How I Met Your Mother." Since then, the Vancouver-born actress has been a fixture on the small and big screens, displaying her versatility through an array of disparate roles in a wide range of genres.
After "How I Met Your Mother" ended its nine-season run in 2014, Smulders' star has just continued to rise. Highlights included landing a big-screen starring role opposite Tom Cruise, joining the Marvel Cinematic Universe, starring in the Netflix comedy "Friends From College" and, in 2019, heading up her own hit ABC series, "Stumptown."
Along the way, Smulders fell in love, got married, had children, and overcame a serious disease. Despite her high profile in Hollywood, though, there's a lot that even her most devoted fans may not know about this talented Canadian actress. Prepare to learn even more by delving into the untold truth of Cobie Smulders.
Cobie is actually a nickname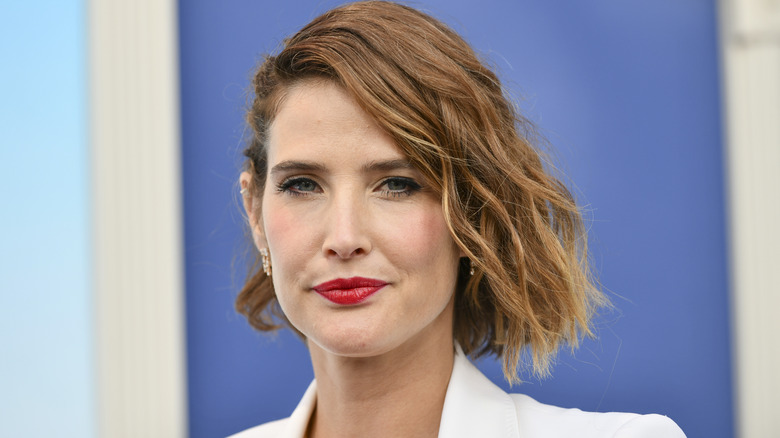 Many celebrities take on a stage name or change their name entirely once they become a professional actor in the entertainment industry. From using shortened last names to childhood nicknames or middle names, celebs often make the major change when they first start out in Hollywood. The same goes for Cobie Smulders.
While appearing on "The Late Show with Stephen Colbert," the actor revealed that while her last name is indeed Smulders, her first name is not actually Cobie. Her full name is actually Jacoba Francisca Maria Smulders, which by the way, is a beautiful name! Telling Colbert of the origin of her name, Smulders explained, "My father is Dutch, my mother is British, and it's a European thing. All my siblings, we have two middle names, and it's just what they decided to do." Many aspects of her name are a combination of different members of the family, coming from European and Catholic origins.
Cobie Smulders' character on this show wasn't originally Canadian
Robin Scherbatsky became known as arguably the most iconic Canadian character on any American TV sitcom. The character's heritage, in fact, gave the series' writers a wealth of material with which to relentlessly lampoon America's neighbor to the north.
Robin's nationality, however, wasn't planned but was rather the result of a happy accident. As Cobie Smulders explained in a Canadian TV interview, it wasn't until the "How I Met Your Mother" writers learned of her nationality that they came up with the idea of making the character Canadian as well. When the writers suggested to Smulders that Robin should be revealed as Canadian because it seemed "exotic," she said, "I was like, 'Never been called that in my life, but sure, sure, let's do it.'"
Of Robin's first episode as an out-and-proud Canadian, Smulders said she was pleased that her character got to brag about Canada's "universal health care and our school system and all these great things that Canada provides." That pride proved to be short-lived, with mockery unleashed in the next episode. "We had one episode, and from then on, just trashing our country," she joked.
How Cobie Smulders really felt about Robin Sparkles
Not only was Cobie Smulders' "How I Met Your Mother" character Canadian, viewers eventually learned she had a secret past as teenage Canadian pop star Robin Sparkles, best known for her chart-topping hit (in Canada, at least) "Let's Go to the Mall."
The character became a fan favorite, recurring several times throughout the show's run. In fact, Robin Sparkles eventually took on a life of her own. "I was happy that people enjoyed it so much. It became such an Internet hit and there's even a [Robin Sparkles] MySpace page, which I find hilarious," Smulders told TV Guide. Smulders admitted she also loved the vintage costume, which included "a bedazzled acid-wash jean jacket that has [her name] graffitied on the back." While Smulders conceded that anyone who actually wore clothing like that in the 1980s would probably look back and cringe, she declared that "I personally think it is awesome, just because it is so cheesy."
Speaking with The Star Scoop, Smulders gushed about her occasional forays into the '80s as Robin Sparkles, admitting she enjoyed the "silliness" involved with portraying her character's pop-star alter ego. "It's my favorite thing," she said. "I love it."
She brought back Robin Sparkles during the pandemic
At the beginning of the pandemic back in March 2020, many celebrities virtually came together with past cast members to encourage families to stay home, wear a mask, and wash their hands. Cobie Smulders was one of many celebrities who reconnected with their previous roles and gave fans of the hit show something to be excited about during such a scary time.
During lockdown in May 2020, Smulders took to Instagram to share a rendition of Robin Sparkles' "Let's Go to the Mall" called ' "Let's All Stay At Home." In the caption of her post, Smulders thanked the "How I Met Your Mother" creators Craig Thomas and Carter Bays for helping create new lyrics for the jingle. "It was a wonderful journey down memory lane," Smulders wrote in her post, ending with the Instagram handles of multiple organizations and charities, including Canada Helps, Save The Children, and Daily Bread Food Bank.
Cobie Smulders was a model, but she 'kind of hated' it
When Cobie Smulders was 12 years old, one of her girlfriends — whom she admitted she sort of "idolized" — was working as a professional model and encouraged Smulders to enter the biz as well. Her friend paved the way by setting up introductions at her agency and Smulders eventually found herself in the modeling scene as well.
By the time Smulders was in her late teens, she told Venus Zine, she was traveling all over the world as an in-demand international model, jetting to New York and Europe on someone else's dime. "I'm meeting all these great people, and it was just sort of fun," she recalled.
However, she eventually came to realize that "it just really wasn't my bag," admitting she "kind of hated" modeling. When she decided to make the leap to acting, certain aspects of her modeling experience came in handy when she attended auditions, while others left her woefully unprepared. "I've had the experience of people judging you physically for so long and I was over that," she explained. "But then it was like, 'Oh no, I have to actually perform.'"
Cobie Smulders was once on the short list to play Wonder Woman
Long before Gal Gadot began deflecting bullets with her Amazonian bracelets in 2017's "Wonder Woman," a completely different movie about the iconic comic-book superhero was in development. While the film that made it to the screen was directed by Patty Jenkins, about a decade earlier director Joss Whedon was working on a Wonder Woman movie. Among the actresses rumored to be in contention for the title role? Cobie Smulders, of course.
As Smulders told TV Guide, Whedon is "a friend of mine," and reports indicated she was his number-one choice for the role. In a 2007 blog post, Whedon announced that he was no longer attached to the movie, but did confirm Smulders had indeed been his top pick. "Sorry, Cobes," he wrote.
In an interview with Total Film (via Games Radar), Smulders declared she would have loved portraying "such an amazing character," but also admitted Wonder Woman was "very iconic, so it's scary stuff … with big shoes." Interestingly enough, Smulders actually did get a chance to step into those shoes — in animated form, that is, when she provided the voice of LEGO Wonder Woman in 2014's "The LEGO Movie."
Cobie Smulders signed on to The Avengers before reading the script
While Cobie Smulders never did get her chance to play a superhero in a live-action film, she was surrounded by them when she was cast as S.H.I.E.L.D. agent Maria Hill in 2012's "The Avengers." The film's director? Her friend Joss Whedon. When Whedon offered her the "Avengers" role, she told the Toronto Star, she immediately signed on without even bothering to read the script.
As she joked, knowing that "the king of all fanboys" would be both writer and director of Marvel's "The Avengers" gave her enough confidence to take the gig, sight unseen. If Whedon "says I can be Maria Hill," she explained, "I'm going to do it."
Smulders ultimately reprised the role in several other Marvel Studios movies, and also in a few episodes of ABC's "Agents of S.H.I.E.L.D." As she told the Star, she relished being a recurring member of the Marvel Cinematic Universe. "You are constantly challenged," she said. "It's a new world for me and so it's really cool to go in and play and learn."
Cobie Smulders 'bombed' her audition for Lost
Cobie Smulders and fellow Canadian Evangeline Lilly are both part of the Marvel Cinematic Universe, with Smulders' S.H.I.E.L.D. agent Maria Hill and Lilly's "Ant-Man" character The Wasp both making brief appearances in the superhero-packed "Avengers: Endgame." However, the two actually met long before that movie — a decade earlier when they wound up on the same flight to Los Angeles.
Not only were both actresses on their way to Hollywood, they were also heading to the same audition, vying to play Kate Austen in a buzz-worthy new ABC pilot for a series called "Lost." As viewers well know, Lilly, not Smulders, wound up playing Kate. "She owes me a lot because I went in and bombed the audition," Smulders told E! News with a laugh. "And she was like, 'Thank you!'"
Even though Smulders lost out on a big role, she held no grudge, and wound up becoming Lilly's first friend in Los Angeles. "She took me under her wing, she let me hang out with her friends, she took me shopping in Venice, she let me stay at her place," said Lilly of the woman whose failed audition launched her to stardom.
Cobie Smulders wouldn't have had a role in How I Met Your Mother if not for this
While fans of "How I Met Your Mother" would likely have a difficult time envisioning anyone but Cobie Smulders playing Robin Scherbatsky, this was far from the case when the show was being cast. In fact, the network's original plan was to have a different — and far more established — actress play the character.
The series' co-creator Carter Bays told Entertainment Weekly that Robin "was offered to a pretty famous actress and she turned it down," but declined to offer a name. He later spilled the beans during a Reddit "Ask Me Anything" session, revealing one of Hollywood's most down-to-earth celebrities was originally tapped for the role: "Jennifer Love Hewitt did The Ghost Whisperer instead of HIMYM." After Hewitt took a pass, Bays told Entertainment Weekly they "ended up going with Cobie" who he claimed was their "first choice from the beginning." It's wild to think how different the show could've been with a different actress portraying Robin.
Cobie Smulders is married to a former Saturday Night Live star
Cobie Smulders married former "Saturday Night Live" cast member Taran Killam in 2012, after the couple had already been together for several years. As Smulders recalled during a 2019 appearance on "Live with Kelly and Ryan," she and Killam met when they were just 22. "We were babies and we survived our 20s together — I don't know how that's possible, but we did," she said. Smulders divulged that they met at a birthday party thrown for a mutual friend who was turning 30. This led Killam to think Smulders was likewise 30, even though that birthday was still several years away. "So it was a really funny meeting of like, 'When were you born?'" she added.
The couple welcomed their first child, a girl, in 2009 and then another daughter in early 2015. Smulders kept the birth announcement of her second child beyond low-key, casually dropping the news while promoting her pregnancy-themed indie film "Unexpected" at the Sundance Film Festival. "I'm in Sundance and I have a three-week old baby, so I can certainly relate [to the theme of the film]," Smulders told Bustle. "It's my world at the moment…"
Cobie Smulders has some advice for new moms
In fall 2019, both Cobie Smulders and her husband Taran Killam were busy starring in their own TV series (Smulders in "Stumptown"; Killan in the ensemble comedy "Single Parents") on the same network. As any mom or dad knows, starting a family involves major life adjustments. It's also, she admitted in an interview with Parents, nothing like the fantasy of parenthood she envisioned before actually having kids.
Before having a baby, she recalled, she used to imagine what it would be like, picturing herself as a stay-at-home mom raising her kids in the woods, eating only "organic food that we've grown ourselves from our garden. And every month we'll kill that chicken and they'll learn about the cycle of life.' And it's like no."
Now that she'd experienced the day-to-day realities of motherhood, she shared the biggest piece of advice she gives to her friends who are about to embark on the journey of parenthood. "Just flow with it," she said. "Just be present and let it happen and do your best." Being a mother, she admitted, "really is the hardest job in the world."
Cobie Smulders believes going through cancer made her stronger
At 25 years old, Cobie Smulders was on top of the world. She was living her dream, starring in a hit TV sitcom that was enjoying big ratings and critical acclaim. It was during the third season of "How I Met Your Mother," she revealed in an interview with Women's Health, that she received some truly shocking news. "I had tumors on both ovaries," she said, "and the cancer had spread into my lymph nodes and surrounding tissues." After several surgeries over the course of two years, she had finally conquered the disease. However, she confessed, "I don't think I'll ever feel like I'm cancer-free."
Years later, she shared what she'd learned from the experience. "I think that going through [ovarian cancer] has made me a better person, a better mother, certainly able to tap into things in terms of creating characters," she said during a session at the Television Critics Association, as reported by USA Today.
If there's a "gift" to be received from surviving a life-threatening illness, she added, it's simply the gratitude she feels for being alive. She revealed she is "now in a grateful place with it."
Working with Tom Cruise helped Cobie Smulders prepare for Stumptown
In 2019, Cobie Smulders was cast in the lead role of down-on-her-luck private investigator Dex Parios in "Stumptown", an ABC drama based on a graphic novel. And the role was a physical one. In the pilot, one scene featured her character simultaneously fighting two would-be assailants in the backseat of a car — while it's flying off a bridge. "I took some hits in that one," she admitted during a "Stumptown" session at the Television Critics Association press tour, as reported by the Panama City News Herald.
During that same press session, reported Fox News, Smulders said she felt well prepared for her new role after receiving a crash course in stunt training from Tom Cruise, her co-star in "Jack Reacher: Never Go Back." Working with Cruise, she explained, "was when I learned the most I had up until then about training, about fighting, about stunts, about how to do everything safely because he was such a pro at just doing everything correctly and really well."
While she admitted all that stunt work was "physically wearing," Smulders managed to escape unscathed. "If you're getting hurt," she explained, "someone's not doing their job right."
Cobie Smulders has a love-hate relationship with action roles
Through her roles in "Jack Reacher: Never Go Back," "Stumptown," and all those outings in the Marvel Cinematic Universe, Cobie Smulders is no stranger to performing in fight sequences and other stunt-heavy scenes.
In an interview with CTV News, Smulders admitted there's a part of her that enjoys doing the stunt work, even though "it's pretty exhausting." Working opposite Tom Cruise in the Jack Reacher film, she admitted, required not just doing the stunts, but also hours upon hours of training and exercising ahead of time. "It was just insane — also a great experience — but I remember being in there like, 'I can't do this again. I can't.' It takes over your whole life," she said.
That training definitely came in hand for Smulders' role in "Stumptown," though. When the actress spoke with The New York Times during a break in filming, she revealed she was "literally strapped into stunt gear, like pads and a backpack." According to Smulders, she performed all the "hits and kicks" in the show's high-octane fight sessions, but uses a stunt double to handle anything that's more potentially injurious. "She gets thrown into a lot of walls," joked Smulders.
Cobie Smulders rarely wears makeup
In a video filmed in conjunction with People's "Most Beautiful" issue in 2014, Cobie Smulders was asked when she feels the most beautiful without makeup. "Probably when I wake up in the morning and start my day," she explained. "I mean, I never wear makeup in my life, truly I don't."
In fact, Smulders revealed that the only time she tends to wear any makeup is when she's "working or I'm doing photo shoots or something fancy." In her daily life, she prefers to go for a look that involves "very, very minimal makeup." According to Smulders, the sans-makeup look is what her husband, Taran Killam, prefers. Smulders also expressed her belief that, much of the time, "women do look their best" without makeup and shared her appreciation that People was working to promote the concept of going makeup free.
Smulders keeps her skin-care regimen just as simple. The actress told Self she uses an exfoliating brush a couple times per week and gets a facial "every few months" — a ritual she joked was "like getting your car washed." She continued, saying, "They get in there and get stuff out."