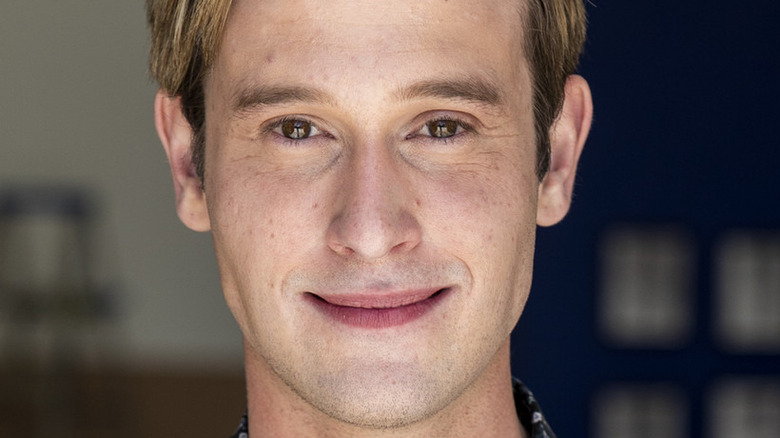 Tyler Henry doesn't look like your typical medium — someone who connects with the spirit world — at least, not what we might expect one to look like. Often described as displaying an uncanny resemblance to actor Macaulay Culkin, with his blonde hair, blue eyes, polite demeanor, and friendly smile, Henry does not appear dark or moody.
Henry's ability to connect with the other side stems from his own personal gifts he discovered at only 10 years old, according to his personal website bio. Watching Season 1 of his Netflix series "Life After Death with Tyler Henry," which consists of nine episodes of 45 minutes each, it's clear that he enjoys helping people find closure amid their grief.
In the series, which premiered on March 11, 2022, Henry travels to cities across the country to conduct readings with everyday people. "I am so excited and grateful for this show. It has given me the opportunity to bring answers and healing to so many people around the country. It allowed me to truly change people's lives," Henry told Newsweek. The series also delves into Henry's personal life, including his own mystery involving his mother's family.
Whether you're feeling a bit skeptical about Henry's abilities, questioning what happens behind the scenes, or wanting to learn some little-known details about the series, you're in luck. This is the untold truth of "Life After Death with Tyler Henry."
Prior to Tyler Henry's Netflix series, he starred in Hollywood Medium on E!
Before launching his latest Netflix series, "Life and Death with Tyler Henry," Tyler Henry starred in the E! series "Hollywood Medium with Tyler Henry," which lasted four seasons, ending in 2019. On the series, he helped Hollywood stars — everyone from the Kardashians and the Jenners to Bobby Brown, Megan Fox, and the late Anne Heche — connect with the loved ones they'd lost. And, according to his website, he's even been able to convince skeptics Tom Arnold, Dr. Drew, and Moby of his otherworldly abilities.
During an interview with Metro Weekly, Henry spoke about the reactions he'd commonly receive from the celebrities he worked with. "It's really fascinating to see the range of reactions, because some are very emotional, and others will just be very stoic," he said. "I've found that shock has a lot of different reactions. Some people burst into tears, other people just kind of stay silent and sit there and process."
Life After Death with Tyler Henry has viewers divided
The work of mediums, including Tyler Henry, is typically met with much skepticism. While some reviews of the Netflix series "Life After Death with Tyler Henry" – including ones from The Guardian and the McGill University Office for Science and Society – are fairly cynical, those who meet him seem to be convinced.
For example, USA Today reporter Erin Jensen met with Henry for her own personal reading while promoting the Netflix series. The reporter, who had her mother and a cousin join her for the reading, was assured that her name had not been given to Henry beforehand. Jensen left the reading "convinced of Henry's ability," explaining that he knew much information that he would have had no way of knowing. Jensen's young cousin, who died at age 21, was someone who came through to Henry. During the reading, Henry said to her, "I feel like part of our reading today really is meant to deliver messages to his (immediate) family. There's just a feeling of needing it to be known that he's [okay]."
This is all by design, according to Henry himself, who revealed in a radio interview that he purposely looks for and shares inside information with his clients that he would have no way of knowing if he weren't a medium.
Tyler Henry uncovered a family mystery in real time
Alongside Tyler Henry's visits with clients for readings, "Life After Death with Tyler Henry" explores the medium's personal life. For example, Henry tries to uncover the dark past of his mother, Theresa Koelewyn, and learns through an Ancestry DNA test that the woman she thought was her mother is not. Instead, Henry's grandmother is a woman who had abducted Koelewyn and raised her alongside her siblings before going on to commit two murders for which she was found guilty, as Henry and Koelewyn explained to Tamron Hall on her talk show.
Some might think that the mystery was uncovered years ago and then added to the series for dramatic effect, but this is not the case. As it turns out, Henry and his mother actually found these dark details of her past while filming the series, as he revealed to ABC7 News. "The timing was synchronistic," he said in another interview on WGN Radio. "It's a crazy story, but really one to me that reflects that of identity, the importance of sometimes going back in the past to resolve things in the future."
COVID-19 delayed the debut of Life After Death with Tyler Henry
Listening to Tyler Henry speak about the details of unraveling his family mystery, it's clear he has known this information for quite some time. Yet, he also said that he explored his family mystery while working on the first season of "Life After Death with Tyler Henry," which premiered in 2022. If you're thinking there seems to be a time delay, you'd be correct.
As it turns out, there's a perfectly logical reason: The filming and debut of the show's first season were held up by the COVID-19 pandemic. "Now this [series], because of the pandemic, took two years to get on the air because we had to stop and start everything," series producer Michael Corbett shared with the Desert Sun. "Shooting over the pandemic was difficult."
This occurred after "Hollywood Medium" ended in 2019, when Henry's team clamored to get his next show — something that was delayed by forces completely out of their control. "We have now been producing Tyler's series for years," Corbett explained.
Tyler Henry has no information about his clients prior to the readings
According to "Life After Death with Tyler Henry" producer Michael Corbett, Tyler Henry has no prior information about his clients. "He never knows where he's going and who he's going to read, ever," Corbett revealed in an interview with the Desert Sun. "We keep that all secret. We just plop him on the doorstep and roll the cameras."
In fact, when Henry met with celebrities, Corbett shared with TV Insider that Henry possesses little pop culture knowledge. "Tyler is just a simple kid … He rarely watches TV," he said. "He's a quiet, not at all flashy kind of guy, and sometimes our celebrities — like Boy George — get a little annoyed when he doesn't know them." Interestingly, the one celeb that Henry did get excited about meeting was Nicole "Snooki" Polizzi of MTV's "Jersey Shore" franchise.
Of the fact that much public information is available about celebrities, Henry said to Metro Weekly, "Celebrities know of the public details that are out there about them because of the interviews they do … And so these people know when they sit across from me what's coming through and the specifics that they've never shared with anyone."
The medium is on his way to fulfilling an earlier goal
With his new show, "Life After Death with Tyler Henry," the medium may soon fulfill a goal he spoke about in a 2015 interview: working with parents who have lost a child to suicide. In the interview, Henry said that working with mothers who have lost a child has been very moving. "To see what those people go through and really be able to heal and touch those lives, is where my passion's at," he said. "My goal is ultimately to work with parents who have lost children to suicide." He explained that he knows people personally affected and that it's a topic that deserves more attention. "For me, that's … something that needs to be discussed more. A huge part of my work revolves around being an activist and being able to create a conversation."
With his Netflix series, the medium has worked with "people who have major tragedies, losing loved ones in all kinds of situations, from murders to shootings to accidents to natural causes," as series producer Michael Corbett explained to the Desert Sun. In the series, Henry even aids in a police investigation, meeting with a woman whose son died under mysterious circumstances.
If you or anyone you know is having suicidal thoughts, please call the National Suicide Prevention Lifeline by dialing 988 or by calling 1-800-273-TALK (8255)​.
Tyler Henry says tapping into your intuition just takes practice
While Tyler Henry is clearly a talented medium with superior abilities, he claims we all have the ability to tap into our sense of intuition. He learned to put his gifts into practice when he was 16. Before that, as he said in an interview with Metro Weekly, he described his abilities as "something that would happen to me." He explained that our intuition is something we can all access. "I think we all have an intuition. If you look at the word intuition — inner-tuition — it means inner knowledge. I think most people shut their intuition down," he said, explaining that people often regret not listening to what their gut tells them.
According to Henry, we can all tap into this inner knowledge with practice and mindfulness. "In my life, I've really had to make a conscious decision to be able to tune in and focus and be present," he said of his own experience. "That's how I'm able to pick up on a lot of these subtleties that come through in readings, because I'm just super present and I'm able to put my own thoughts and feelings and emotions to the side."
In an Instagram post, for example, Henry shared a photo of a painting he'd done, explaining "the intuitive processes behind" its creation, including "the patience it instills, and the knowingness needed to be 'done.'"
Tyler Henry doesn't drive because of a personal health issue
If you've watched at least one episode of "Life After Death with Tyler Henry," you may have noticed that as Henry commutes to each appointment, we never see him behind the wheel. Instead, he's always the passenger, usually alongside his mom, Theresa Koelewyn, or his assistant, who drive him to and from meetings. As it turns out, Henry decided not to drive again after experiencing a brain cyst and mini-stroke when he was 18. He seems to have a good attitude about it, telling TV Insider, "Trust me, I don't mind being chauffeured through the crazy LA traffic. I plan to milk this for as long as I can."
In another interview from 2017, Henry shared another reason why he has no driver's license, explaining that as a medium with his unique abilities, he constantly has visions and feels things that may get in the way of driving safely.
His dad chose not to appear on his son's Netflix series
On "Life After Death with Tyler Henry," viewers see the medium's mother, Theresa Koelewyn, either driving him to client readings or talking with him at home. Based on their relationship depicted on screen, it's clear that Tyler Henry is super close with his mom.
This might make the audience question whether the star's dad is in the picture. It turns out that Henry's dad, David Koelewyn, just chooses not to appear in the Netflix series, according to an article from Spiky TV. The source also shares that Koelewyn and his wife live in Hanford, California, where he's a well-known tile contractor.
The talented medium has talked about his close relationship with his dad on social media over the years. In one post on Instagram, Henry shared a photo of him with his dad on Father's Day 2017, writing, "Though you guys haven't seen him on the show as of yet, he's an incredible source of support." He went on to credit his dad for encouraging him to share his unique ability with the world. In another Father's Day Instagram post from 2019, Henry referred to his dad as "a loving father" who "allowed [him] to shine."
Anyone can apply to be on Tyler Henry's show
Although Tyler Henry now focuses on conducting readings for everyday people, this doesn't mean it's easy to get a reading with him. Per Newsweek, he has a waiting list of over 300,000 and counting. If interested, fill out the contact form on his website, which asks for basic information, including name, email address, city, state, and zip code. There is also a space to provide information about yourself and what you're looking to accomplish.
While it's unclear how much Henry charges for a session, we did find out the rates of two other well-known psychic mediums. Per Netflix Deed, the Long Island Medium, Theresa Caputo, had at one point charged anywhere from $50 to $175 per session, while a session with medium John Edward, who became famous with Oprah's help, costs a whopping $850.
The best way to get close to Henry is probably to see him live, as he's on an American tour through 2023. Ticket prices, according to Henry's website, start at around $49 for some shows.
Tyler Henry landed on TV after impressing a producer
"Life After Death with Tyler Henry" producer Michael Corbett is a fan of Tyler Henry's work. In fact, this is what led to Henry's first television show, "Hollywood Medium with Tyler Henry."
In an interview with the Desert Sun, Corbett explained how Henry's abilities turned him into a believer after he met the then-17-year-old at a Christmas party in Los Angeles. When someone at the party told him about Henry and how he "talks to the dead," Corbett was skeptical. "I was like, 'yeah, right, [okay], whatever," he said.
After Corbett scheduled a reading with Henry for the following day, the producer was astounded at what he heard. "He told me things that no one could ever know. I mean, it was unbelievable. I called my producing partner that afternoon and I said, 'We have to develop a show for this kid because he's amazing.'" He went on to say, "Within six months, we were receiving offers from networks to produce the show ['Hollywood Medium']."
The producer of Life After Death with Tyler Henry also produces the medium's live shows
Emmy-winning Hollywood producer Michael Corbett has produced both of Tyler Henry's shows: "Hollywood Medium with Tyler Henry" on E! And "Life After Death with Tyler Henry" on Netflix. And he doesn't stop there: Corbett also produces Henry's live tour, which is known as "An Evening of Hope and Healing." The producer told the Desert Sun, "I have relatives and friends who go and they're such skeptics and they walk out the door going, 'I have no idea how it's possible!' There's just no real explanation for it."
Henry's tour dates are available via his website, which also includes a promotional video of what audience members can expect. Over the years, the psychic medium has shared his fondness for his live tours on Instagram. In one post, he reflects on the experience alongside a photo from a past show, writing, "Every room full of people leaves a lasting impression and I'm forever filled with endless gratitude." In another post, he shares a video from a live show and thanks everyone for attending.
Something Henry enjoys about the live shows is the number of people he can impact at once. "The live shows are very meaningful for me because I can do a lot of readings in a limited time," he said in an interview with Forbes.
Tyler Henry provides free readings and answers fans' questions on social media
Without getting a reading in person or seeing Tyler Henry on tour, there may be a way to connect with the medium from the comfort of your own home, according to Life & Style. On his Twitter page, Henry gives away complimentary private Skype readings. And, while it may not be a reading, the psychic medium conducts interactive Q&A sessions on his Instagram page.
Additionally, Henry posts a lot of great content on his social media platforms, including short videos he posts to Instagram — some from his TikTok page — where he provides various insights. In one such video, he talks about the importance of awareness and what it means to "take a beat." In another video, he shares his thoughts on managing expectations. The medium also posts some of his favorite video interviews and podcasts on social media.
There's a chance of a second season of Life After Death with Tyler Henry
Since the first season of "Life After Death with Tyler Henry" wrapped on Netflix, fans have eagerly awaited news of a second season. As of publication, it appears that the Netflix series has not yet been canceled or officially renewed, as Fansided pointed out.
However, the outlet did predict the likelihood of a Season 2 on the network's horizon, considering that Season 1 made it to Netflix's Top 10 during its premiere month in March 2022 (he does have over 300,000 people on his waiting list, after all) and that it's the only show of its kind on the network. If the decision is made to renew the series for a second season, according to Fansided, it will likely be released on Netflix sometime in 2023. According to an article from Best Toppers, it's likely that the network will come to a decision by the end of summer 2022.