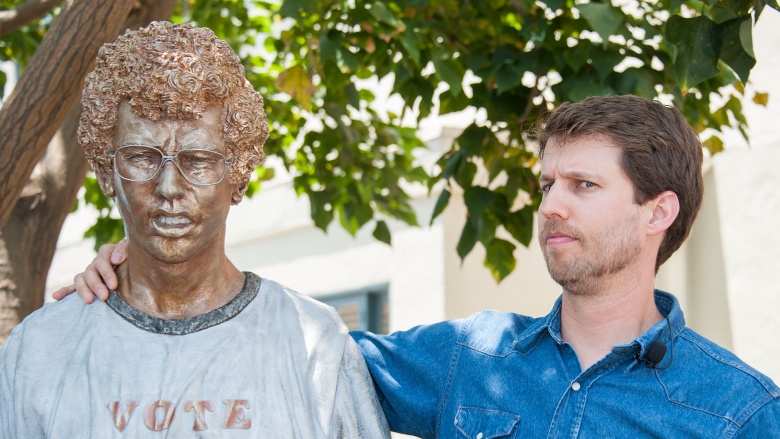 In 2004, Jon Heder shot to fame as the star of the warm, quirky, but ultimately difficult to categorize indie hit Napoleon Dynamite. Heder starred in the laid-back, surreal rural comedy as Napoleon Dynamite, a teenager like no other. More or less stuck in his own mental bubble where he's the coolest guy in the world, the always annoyed and plotting Napoleon is obsessed with drawing ligers (a tiger-lion breed), dominating at tetherball, and developing his "skills." It took a special actor to nail just the right tone for this very original and difficult to like character, and that was Heder, who made Napoleon a cinematic hero and cultural icon for countless millennials.
A star was born, and Heder appeared in plenty of high-profile comedy movies of the late 200s, including Just Like Heaven, The Benchwarmers, and Blades of Glory. And then, it would seem, he pretty much disappeared from the A-list. Nowadays, it would appear that Hollywood doesn't have much want or need for him, apart from the occasional sitcom guest appearance. Want to know whatever became of Jon Heder? Just read the article, gosh.
He's been a victim of typecasting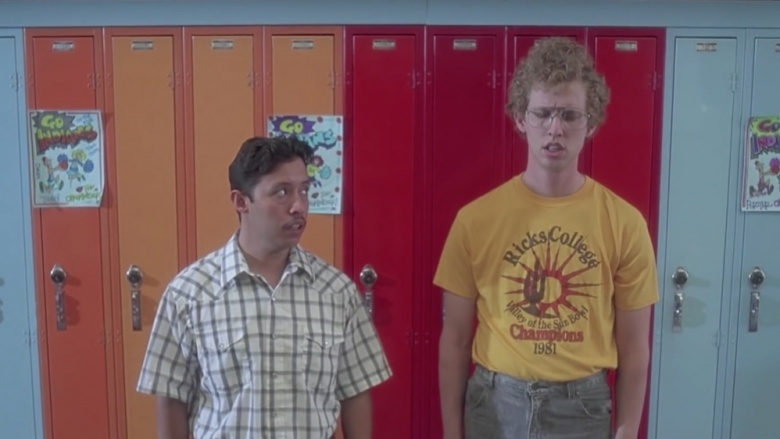 Yes, Jon Heder has appeared in lots of high-profile projects, most of them in the mid-to-late-2000s, made in the wake of the thing that made him the toast of funny Hollywood: Napoleon Dynamite. And yes, Just Like Heaven, The Benchwarmers, School for Scoundrels, Blades of Glory, and When in Rome all delighted and entertained various levels of audiences to various degrees. Heder isn't a bad or uncharismatic actor either; it's just that no matter what he does, he may never shake the specter of Napoleon Dynamite. Portraying such a famously eccentric and one-of-a-kind character may have launched Heder's career, but it may have also held it back. Whenever audiences hear his voice or see his name, they're primed and ready to see Napoleon, and many of them probably aren't interested in seeing some other character. It could be argued that Heder has been typecast as an actor who portrays nerds, but that doesn't help him much either. There aren't too many roles out there for a guy in his 40s best known for playing a high school age dork. In fact, Heder's most prominent post-2010 project is Fox's Napoleon Dynamite animated series.
Jon Heder appeared in a string of flops
Some of Jon Heder's non-Napoleon Dynamite movies met with immediate box office success. Just Like Heaven, in which he played a supernatural matchmaker figure opposite Reese Witherspoon and Mark Ruffalo, earned $100 million, and the silly Will Ferrell figure skating buddy comedy Blades of Glory took in $145 million — about the same as each of his prominent animated features, Monster House and Surf's Up. Even the goofy baseball comedy The Benchwarmers amassed a $65 million take. All of those totals exceed the $46 million racked up by Napoleon Dynamite, so it seemed like Heder was a box office draw. And he was… until he wasn't anymore. His subsequent films, if they were theatrically released at all, faltered with audiences. Very few people hit the theater to see Moving McAllister, Ghost Team, and For Ellen, and for a while he specialized in direct-to-home video fare like Walt Before Mickey and A Mouse Tale. Whether those films' lack of success is Hader's fault or not, his name is forever attached to those commercial duds.
He's not really a nerd
Napoleon Dynamite of Napoleon Dynamite is one of pop culture's all-time greatest nerds. The character ranks with Screech from Saved by the Bell, Steve Urkel from Family Matters, and Eugene from Grease as a dweeb for the ages, selecting odd and fill-fitting clothes, a weird haircut, a personality that tends to repel rather than attract, and a simultaneous deep self-confidence and unawareness that they're unliked by their peers. Jon Heder brought Napoleon to life (originating the role in Napoleon Dynamite filmmaker Jared Hess's short film "Peluca"), but take away the wild hair, glasses, blank stare, snow boots, and "Vote for Pedro" T-shirt, and the actor looks nothing like the awkward nerd he so believably portrayed. In real life, Heder resembles a classic, rugged leading man with a square chin and sharp jawline. In addition to their actual talent, actors depend on casting directors and audience members recognizing them — so when an actor doesn't actually look like his most famous character, it can be a bit of a problem.
He'd rather do voice work
Even though we haven't seen that much of Jon Heder, it doesn't mean he's completely out of the picture. In fact, he's been behind it. In 2005, still in the wake of Napoleon Dynamite mania, Heder started to book voice-acting gigs, beginning with an episode of Adult Swim's Robot Chicken, followed by the big-screen hits Monster House and Surf's Up, which earned an Oscar nomination for Best Animated Feature. Heder has put his familiar, distinctively raspy voice to good use over the last decade, with many of his acting credits coming in cartoons and video games. He's been a regular presence in animated TV series, including Star vs. the Forces of Evil, Stretch Armstrong & the Flex Fighters, Clarence, Pickle and Peanut (he's Pickle), Uncle Grandpa, Ben 10, and Teenage Mutant Ninja Turtles. On the console front, those Heder pipes are prominent in Armikrog and Epic Mickey 2. And of course, Heder reprised his role of Napoleon Dynamite in Fox's short-lived animated series version of Napoleon Dynamite.
He does a lot of web series work
Jon Heder's prolific career as a voice actor keeps him plenty busy, but the performer hasn't stayed completely behind the scenes and on the microphone. Like many creative professionals, particularly ones who don't want to or cannot find work in the traditional avenues of film and television, Heder has gone to work for himself by taking his talents to the internet. Since 2009, Heder has appeared in several indie-minded, web-only projects, such as the zombie comedy Woke Up Dead — a limited series in which he portrayed a newly single sad sack who's just realized he's no longer living. Heder continued to delve into online entertainment with projects like the procedural spoof Fact Checkers Unit, the Dungeons & Dragons-themed Critical Role, and another zom-com called Dead Grandma. With these successful ventures, and the outside-the-studio freedom it affords, there's no reason for Heder to bother with Hollywood productions.
He doesn't generate controversy
The reason movie watchers are attracted to some celebs — like, say, Lindsay Lohan — is that their public lives are often just as interesting as, if not more than, their screen personas. Alternatively, film fans love a comeback and a redemption story, like how Robert Downey, Jr. overcame a serious and debilitating drug problem to become Iron Man in the lucrative Marvel Cinematic Universe. Either way, movie studios love this — as the old adage goes, after all, there's no such thing as bad publicity.
Jon Heder just has not played this game or fit into either trajectory. He leads a fairly innocent life, and nothing sensational of note has ever occurred in his life after his rise to stardom in Napoleon Dynamite. In fact, he's even made sure to stay away from potentially scandalous projects. "I did get a lot of offers," he told Vulture, "of stuff that I'm not comfortable with. A lot of the projects just seemed too raunchy." He's not comfortable making stuff that's too broadly edgy or which would conflict his faith — he's a practicing member of the LDS church (colloquially known as the Mormons). Heder's personal life is so serene and squeaky-clean that it actually takes up a lot of time and energy he could otherwise spend making entertainment. Alongside his wife, Kirsten, he's the father of four young children.
What's next for Jon Heder?
Jon Heder probably doesn't need to revive his career as a big-time comedy movie star, if he even has any interest in doing that. The raunch-averse father of four has carved out a niche in sectors of the entertainment industry where the spotlight may not burn quite as brightly — cartoons, video games, indie content — and he's earned a nice living and built up a solid reputation as a small-screen comedian and voice actor in projects geared at adults as well as children. He'll likely continue to show up in various sitcoms, animated shows, and web series. He's also not completely off of the radar for the makers of live-action feature films, either: In 2020, he co-starred with long-time franchise player Michael Gross in Tremors: Shrieker Island, the seventh installment in the giant worm-based action series. In the coming years, he's got a couple of projects on the way: the comedy Killing Winston Jones and the superhero send-up Relatively Super (alongside Star Wars' Mark Hamill and Star Trek: The Next Generation's Michael Dorn). Of course, if none of that pans out, he could always take after Kip and train to become a cage fighter.