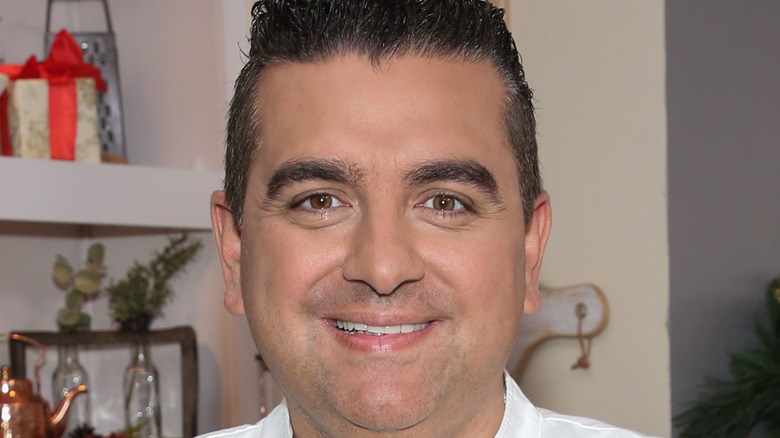 We may receive a commission on purchases made from links.
It's hard not to like Buddy Valastro. He is a man of many talents who is best known for his cheerful character, lovable personality, and strong work ethic. Though his celebrity career spans over two decades, he still attracts massive media interest and continues to delight his fans with exciting business adventures. The story is familiar; Valastro took over his family bakery when he was 17, after his father, a hard-working Italian immigrant, passed away. He successfully ran the original shop in Hoboken with his family, but he gained national media attention with the now legendary series "Cake Boss" –- a name backed up by his hard work -– which revealed the creative and hard-working process inside a pastry shop and portrayed the colorful dynamics between Valastro family members.
"Cake Boss" premiered in 2009 on TLC. It was a reality show built on cakes and family, but Buddy Valastro has come a long way from his original role. The success of the show only partially relied on the daring cake decorations. Valastro's energy was probably another reason the show became internationally popular. Following the spectacular success, Buddy Valastro couldn't stand still, and naturally, he was never the same after he stepped into the crazy media spotlight. He went on to create a family-operated empire but still managed to preserve his distinctive down-to-earth persona.
The bakery now operates on multiple locations
The "Cake Boss" story started with the original Carlo's shop in Hoboken, New Jersey. First opened in 1910 by Carlo Guastaffero, the shop was taken over in 1963 by Bartolo Valastro Sr., who successfully ran the business for over 30 years. Following his untimely death, the shop was passed on to his son Buddy Valastro. Buddy learned all the secrets of the trade from his father and inherited his drive and enthusiasm to pursue their joint dream of making a small, family-owned Carlo's Bakery into a household name (via Carlo's Bakery).
Valastro did just that. His appearance in the "Cake Boss" series made him a celebrity, while orders at Carlos' increased by a stunning 1,000% (via Salesforce). But Buddy Valastro didn't stop there — he expanded the business and opened several locations around the country.
According to the official website, Carlo's bakery currently operates in nine U.S. states, and on 12 different locations, with the original Hoboken store. The shops offer cookies, and traditional Italian pastries, including Valastro's favorite lobster tails, cupcakes, cake slices, and a selection of colorfully decorated whole cakes. Using a handy cake builder, you can also create your personal, custom-made cake. It allows you to choose flavors, colors, decorations, and even a personalized description. It seems as if anything is possible at Carlo's shops!
He has become a powerful TV personality
Buddy Valastro may have started as a humble, hard-working baker running a small family shop in New Jersey, but he has grown into a full-fledged TV celebrity. His success with "Cake Boss" opened the door for several spin-offs, including the "Next Great Baker," a competition show that had four seasons and was filmed at Carlo's bakery. There was also a successful run with "Buddy vs. Duff," a competitive show featuring Valastro and Duff Goldman (from "Ace of Cakes") battling for the title of the best cake maker. The show featured some grand cake designs and intense competitive situations between the two charismatic leads, so it's not surprising that the first season that premiered in 2019 was the top-rated Food Network show that year with an audience of 14 million people (via People).
Although he is best known as a host of his successful series, Buddy Valastro does not shy away from other media outlets. He is a familiar guest on various TV shows and continually shares cooking, life, or business experience to a broader audience across multiple media channels (via IMDB). Although he constantly appears in top-rated talk shows, the "Rachael Ray" show must be his favorite as he has been featured in impressive 72 episodes!
Valastro is no stranger to social media. He regularly posts on Instagram, Facebook, and Twitter accounts, where he maintains his media presence and shares news regarding business endeavors and personal stories.
He is now a millionaire
Buddy Valastro still believes in the American Dream, and he might be the best example of how hard work eventually pays off (via Vanity Fair). The success of "Cake Boss" opened many doors, and Valastro made sure to take the best from it. From the multiple TV spin-offs to the series of cookbooks and successful restaurant business, Buddy Valastro cashed in on his fame, and his estimated net worth now comes to an estimated $10 million (via Celebrity Net Worth).
Although it may seem that Valastro had it the easy way, it couldn't be further from the truth. "Cake Boss" was merely icing on the cake that came after years of hard work. As he shared with The New York Times, many people think he won the lottery, but the truth is that he spent years trying to earn his place in the competitive bridal market and continually worked on promotions that eventually landed him the show.
Despite the fame, influence, and wealth, Buddy Valastro is still present at Carlo's. In an exclusive interview with Mashed, he shared that he still works hard at the shop with his employees, saying he is "the general that's on the battlefield with them."
Some of his cakes reach astronomical prices
We have seen many daring creations coming from Buddy Valastro's bake shop, from the fantastic life-size piano cake to the massive, almost life-like-alligator cake. Though he admits that lobster tails are his favorite thing to bake, Buddy Valastro did earn the "Cake Boss" nickname for his grandiose festive cakes. The total cost of custom-made creations varies and is not often disclosed, but the price of standard cakes at Carlo's bakery is available on the official website. They start at approximately $40, going up to $150 for more elaborate pieces such as the two-tier rainbow cake. Among all the cakes that Valastro and his bakers whipped up, one certainly stands out for its record-breaking price tag.
In 2011, for the "Cake Boss" season finale, Valastro and his bakers were faced with a unique and intriguing demand –- to create a $30-million-cake. Designed for a New York socialite Devorah Rose, the cake surprisingly didn't feature some bigger-than-life design. The hefty price tag was dictated by dazzling decorations –- the millions of dollars worth of diamonds and jewelry used to embellish the chocolate-flavored cake. The design was simple, classic, and elegant, righteously allowing pricey jewelry to get all the spotlight. Not only was it the most expensive cake featured on "Cake Boss," but this diamond creation was also supposedly the most expensive cake ever made (via Business Insider).
His food empire now includes multiple business
Despite being an incredibly successful baker and opening many bake shops across the U.S., Buddy Valastro decided he wouldn't stop there. This baker-turned-entrepreneur continually chases new business opportunities. His enthusiasm eventually led to Buddy V's Ristorante, his first restaurant that was opened at the Venetian Resort in Las Vegas. Though Buddy is best known as a baking expert, he says that the restaurant business should come as no surprise as food is central to his family life (via Buddy V's Ristorante). The restaurant offers Italian-inspired menus featuring some classic pizza and pasta dishes, along with his family favorites such as eggplant parmigiana (endearingly called "my wife's eggplant parm") and, of course, a good selection of traditional Italian desserts.
Valastro's food empire was further expanded with Buddy Valastro Foods – a product line offering cake kits, fondants, and buttercream. You can also browse his recipes or watch some of his detailed tutorials. Not only did Buddy Valastro go all out on décor products, but he also included an additional line for tasty dog treats! The official website offers a selection of puppy treats that mimic a variety of sweet and savory dishes. As Valastro told People, he adjusted his signature recipes to create equally delicious bites that would be suitable for dogs. Judging by these business endeavors, we never know what Buddy Valastro has in store next!
He started a production company
Buddy Valastro has been a well-known TV personality since "Cake Boss" found its way to television in 2009. Following his success with the series and its several spin-offs, Valastro decided to show his expertise in another area — TV production. In 2014, Buddy Valastro and producer Art Edwards decided to launch Cake House Media -– a production company that would approach lifestyle programming from a different perspective. Valastro said in a statement, that production allowed him to show off creativity in a separate line of work and to create family-friendly TV shows (via The Wrap).
Since its inception, Cake House Media has mainly produced culinary shows, including some of Valastro's most successful series, such as "Cake Boss" and "Bake You Rich." It was also behind Food Network's "Bakers vs. Fakers" and "Cook vs. Cons," along with other lucrative culinary shows. As stated on the company's website, Cake House Media has dominated the culinary field, but it plans to go beyond cooking shows. The first of the series that steers away from the culinary world is TLC's "Unpolished" –- a reality show with Lexi and Bria Martone (including their big Italian-American family), who run a successful beauty salon on Long Island. It's a long way from cakes to nails, and we'll see what is the next big thing that Cake House Media will present. Whatever the theme, it will probably bring big stories and strong characters.
His business went international
The success of the "Cake Boss" series and Buddy Valastro's popularity could not be confined to U.S. borders. As Discovery stated, the show has aired in an impressive 200 countries and Valastro himself has now been dubbed into 45 languages making Buddy an international star. Naturally, it created a demand for outposts of Carlo's bake shops outside the States, and Brazil was chosen as the ideal destination for the first Carlo's bakery outside the country. In 2022, Buddy Valastro visited the shop to celebrate its 5th anniversary and he shared his experience with Mashed, claiming that he was proud of the products and that it meant a great deal to see the fans' reaction.
The second location outside American borders was launched in Canada in a slightly unusual form -– as a cake ATM that quickly caught on among the Canadians. The official website details all the current ATM locations — now available in Toronto, Calgary, Ottawa, and Quebec — and claims that the stocks are refilled daily. The machines offer several classic Carlo's cakes packed in neat, plastic containers. Along with ATMs, the Canadian outpost opened a central store in Port Credit, Mississauga, that offers cakes, pastries, cookies, and some signature savory treats (via blogTO).
He became a best-selling author
It's easy to describe how much "Cake Boss" changed Buddy Valastro's life: in 2010, just a year after the show premiered on TLC, Buddy Valastro had his first book published. "Cake Boss: Stories and Recipes from Mia Famiglia" was not merely a cookbook but a loving memoir of the Valastro family that described their history from the humble beginnings to the glorious success that ensued with the TV series. As with anything that Buddy Valastro does, the book gained a lot of publicity and became a New York Times bestseller! Valastro continued to write, publishing his second book in 2011. "Baking with the Cake Boss" consists of 100 recipes and decorating tutorials. The TV star and cake decorator said it included "everything I learned at my family's bakery, in the same order I learned it."
Throughout the years, Valastro did not stop publishing and currently has a collection of seven cookbooks, including "Cooking Italian with the Cake Boss," a selection of savory recipes proving that he is not merely a baker but also very skillful when it comes to cooking. As you may have guessed, "Cooking Italian" features some Italian-American classics, his family's favorites, and some of his signature dishes (via Simon and Schuster).
Success has only strengthened his relationship with his family
Buddy Valastro has been in the television business for more than a decade, and though exposure and the constant spotlight can sometimes have harmful or even devastating consequences, it seems that he managed to avoid many of the perils that fame might bring as his family guy image has never been tarnished.
Along with his Instagram account, where he continually outpours appreciation to his family, Valastro never misses a chance to comment on the importance of his family and how he would not be able to succeed without his wife Lisa, his sisters, and brothers-in-law, who are involved in the family business (via Entrepreneur). As it seems, the lucrative business will stay in the family, as Valastro shared that all of his kids are interested in being a part of his bakery empire.
In addition to the loving relationship with his family, Valastro's altruistic involvement proves that he didn't let fame and success negatively affect his compassionate nature. He continued donating zeppoles to Saint Joseph's Church in Jersey City, a tradition started by his father, and he is a part of the Make-a-Wish foundation, an organization that grants wishes to children with critical illnesses. Buddy Valastro shared how important this work is for him, and it is not difficult to see how much joy he brings these kids.
He lives in a sprawling New Jersey residence equipped with a bowling alley
The "Cake Boss" story started in New Jersey. Though the bakery now operates in multiple locations, Valastro and his family remain true to their origins and keep the company's headquarters and home base in New Jersey. Buddy Valastro and his wife reside in a grand family residence together with their four children, and the kitchen is naturally one of the focal points of the Valastro residence. In an interview with People, the couple shared some details, such as the fully-stocked fridge and the large dining area that can accommodate up to 20 people! Valastro also explains that it is a very Italian thing to have an additional fridge in the garage. Food Network also revealed that the family had to remodel by adding six ovens and two dishwashers to help them accommodate their guests.
The house is also equipped with a family bowling alley, which may sound like a perfect family recreation to have in the house, but the family now probably remembers it as a place where Buddy Valastro experienced a horrible accident when a pin machine impaled his right hand (via CNN). After several surgeries, he managed to recover, but the incident remains one of the most challenging moments in his life. TLC documented the accident and the recovery in the TV special "Road to Recovery."
He did not manage to avoid controversy
Buddy Valastro might not be described as a controversial personality, but as he is under the constant media spotlight with every aspect of his life is closely investigated and recounted, including some of the not-so-pleasant details. Probably the biggest faux pas he's ever had to face as a celebrity was a DUI charge in 2014. At the time, he was on the sixth season of the show — suffice to say, he was already a superstar –- and the news caused a media frenzy.
As CBS reported, he was pulled over, and after failing sobriety tests, he was arrested. What he did next was possibly even worse than the violation, and it did slightly tarnish his impeccable good-guy image. When faced with the arrest, Valastro allegedly said, "You can't arrest me! I'm the cake boss!" (via TMZ). Although he later pleaded guilty and apologized, this certainly wasn't one of his admirable moments.
Valastro and the "Cake Boss" production also got a lot of negative press for the Bar Mitzvah, "Beads & Oh Baby!" episode featuring Carmen Carrera. The disputed episode shows an inappropriate prank involving Carrera, a trans model and an actress, and Valastro's cousin Anthony. To make matters worse, Buddy Valastro even drops the Austin Power's quote, "That's a man, baby!". The episode was immediately pulled, but it shows that occasionally, even uncontroversial shows can get into trouble.
His family will be featured in a Lifetime Holiday Movie
If you think Buddy Valastro has done it all -– successful TV series, a chain of bakeries in and outside the U.S., seven book deals, a production company, a product line, and numerous collaborations -– you are in for a surprise. Buddy Valastro is not your average celebrity, and there is always another business venture for him to pursue. The last news came from A+E Networks. A Facebook announcement from June 2022 revealed that Buddy Valastro and his family will star in the new series and TV specials featuring A&E and Lifetime. In a detailed press release, the network shared that the contract involves multiple series, holiday specials, and the best part -– a Lifetime holiday movie!
Valastro corroborated the news in an interview with Mashed, stating that he is thrilled and delighted with the new project. He also confirmed that a Lifetime movie is part of the contract, confessing that starring in a Lifetime movie has always been "a secret wish." Based on everything he has done so far, there is no doubt that he and the entire Valastro family will rise to the occasion and provide some excellent TV entertainment in the future.