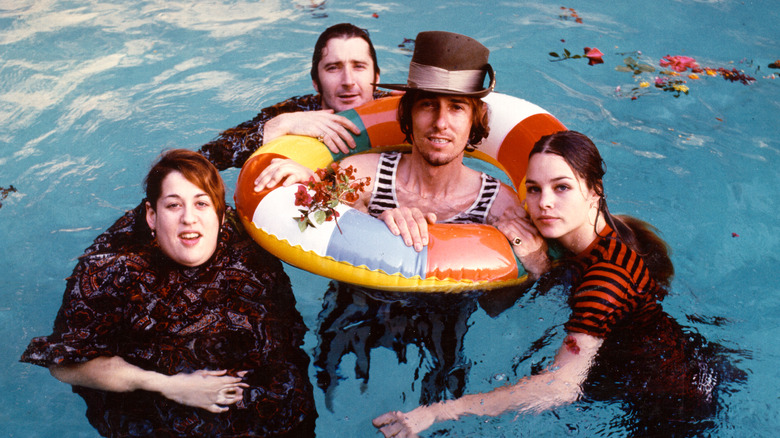 The Mamas and the Papas put the "flower" in "flower power." After all, Papa John wrote these lyrics (via Lyrics): "If you're going to San Francisco/ Be sure to wear some flowers in your hair/ If you're going to San Francisco/ You're gonna meet some gentle people there." But there was nothing gentle about John Phillips. When he met his future wife and bandmate Michelle, he was already married but had several ongoing affairs, as his first wife herself would confess to Michelle when she proudly announced she was sleeping with her husband (via Vanity Fair). When the two got married, Phillips made her a part of his band so as to keep an eye on her 24/7. Such was the disturbing start of the Mamas and the Papas.
And it didn't get any better when Denny Doherty and Cass Elliot joined the band in 1965, as per Biography. The band found as much fame as they found drama, betrayal, and substance abuse. Finally, tragedy made its way to the new Mamas and Papas (John Phillips' reunited band in the 1980s, as per the band's official website) when it was revealed that Mama Mackenzie was sexually abused by her father, John Phillips, for a decade. Mackenzie Phillips' confession was only the tip of the iceberg. Here is the tragic story of the Mamas and the Papas.
The following article contains depictions of substance abuse and rape.
The band was ridden with dramatic affairs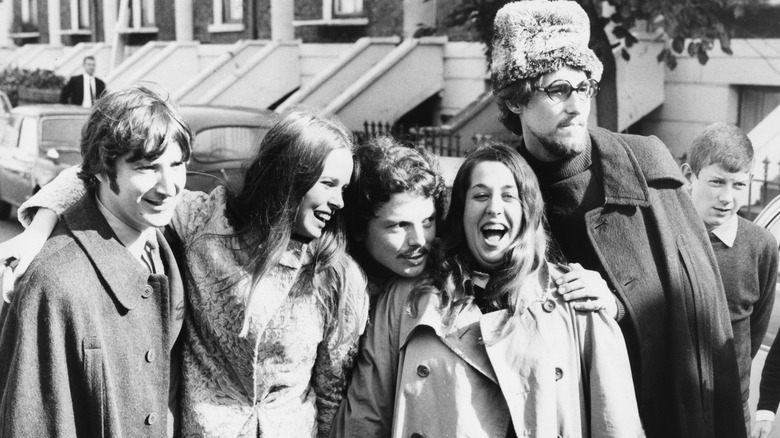 … From the very start. When John Phillips met 17-year-old Michelle Gilliam, he was already married. As the latter confessed to Vanity Fair," John was 25, married with two children, from an East Coast Catholic military family." However, Gilliam had no trouble starting a heated affair with Phillips, and it would turn out that he had several other affairs across the country. After Phillips divorced his first wife and married Michelle (who took his last name), he became extremely possessive of her. This drove her to do precisely what he didn't want her to, pursuing pretty much every man she came in contact with.
When Phillips formed The New Journeyman together with Denny Doherty, he brought his wife as a singer simply because he wanted to keep her close. But this was the beginning of Michelle and Doherty's destructive affair. The same year, Cass Elliot joined the group and the four became the Mamas and the Papas. But Elliot was deeply infatuated with Doherty (an unrequited love that followed her to the grave), and she hated Michelle's nonchalance: "Cass confronted me and said, 'I don't get it. You could have any man you want. Why would you take mine?'" (via People)
Of course, Phillips was also angered at the affair, writing the bitter "I Saw Her Again" (via Biography). Then, in 1966, Michelle Phillips had another affair, with Gene Clark from the Byrds. Phillips thus had her temporarily fired from the band.
Michelle Phillips had a hectic childhood
For some of the Mamas and Papas band members, chaos began long before the musical group. When Michelle Phillips was 5 years old (then Michelle Gilliam), her mother died suddenly following a brain aneurysm (via Vanity Fair). As a result of this, Phillips and her sister, Rusty, grew up with their father, Gardner "Gil" Gilliam. He was a film production assistant, then a county probation officer. Gilliam's work took him to Mexico, then to Los Angeles, and the two girls would come with him wherever he had to be. But new countries are not the only thing Gilliam exposed his daughters to.
According to Phillips, her father would overindulge in drugs and tumultuous affairs. Throughout the course of his life, Gil Gilliam got married six times. In a fairly creepy twist, when Michelle was 17 (and getting ready to marry the Mamas and Papas' John Phillips), Gilliam married a 16-year-old girl. When he gave his blessing to Papa John, he said of Michelle: "She hasn't finished high school, so if I were you I would throw a book at her now and again." Sheesh.
If you or anyone you know is struggling with addiction issues, help is available. Visit the Substance Abuse and Mental Health Services Administration website or contact SAMHSA's National Helpline at 1-800-662-HELP (4357).
Mackenzie Phillips was raped by her father for 10 years
Mackenzie Phillips was born to John Phillips and Susan Adams (John's first wife before Mama Michelle) in November 1959, as per All That's Interesting. According to the band's official website, in 1982, Phillips became a part of the New Mamas and the Papas, which was formed around Papa John and Papa Denny, and also brought Elaine "Spanky" McFarlane as the second female singer. The Mamas and the Papas seemed like one big happy family again, but there was an awful reality happening backstage.
In 2009, Phillips released her memoir, "High on Arrival." There, she describes how Papa John first raped her when she was 19, the night before her first wedding: "I woke up that night from a blackout to find myself having sex with my father. I don't know how it started" (via The Sun). She also wrote that they went on to have a consensual relationship for the following 10 years. But, after speaking to Oprah in 2009, Phillips realized this wasn't exactly consent, considering the power dynamics between father and daughter. She later told David Yontef during a Behind the Velvet Rope podcast: "I really had to rethink because I thought that I consented because I didn't scream and yell. I thought that I had consented for a myriad of reasons. And what I learned is that I had been groomed."
If you or anyone you know has been a victim of sexual assault, help is available. Visit the Rape, Abuse & Incest National Network website or contact RAINN's National Helpline at 1-800-656-HOPE (4673).
Michelle Phillips was controlled by her double-standards husband
John Phillips, although an acclaimed composer, exhibited very questionable behavior repeatedly. This became apparent in the early 1960s, when he showed double standards toward Michelle Phillips. When she spoke to Vanity Fair in 2007, Phillips said she was certain John was married from the second she saw him (in her words, "You could tell he was making The Call Home"). Nevertheless, the two became an item, and young-and-reckless Michelle went to Susan Adams' home to tell her she was in love with her husband. However, Adams was not surprised — she invited Michelle indoors and informed her that her husband had affairs everywhere his tours with the Journeymen took him.
But while affairs were the norm for him, Phillips was extremely possessive of Michelle, before and after he wedded her. Whenever Phillips would be on tour, he would check Michelle into a supervised dorm for teenage professionals (at the time, Michelle was 17 and an aspiring model). Later on, when Michelle became officially an adult, Phillips simply made her a part of his band, the New Journeymen. He also manipulated her into not signing her modeling contract and took her to voice lessons, as she was hardly prepared to be a singer at the time. Soon enough, Michelle would begin to retaliate childishly, having affairs left and right in an attempt to free herself from Phillips' clutches. In 1968, the two split up, and so did the Mamas and the Papas.
Mama Cass was traumatized because of her weight
As Ultimate Classic Rock reports, Cass Elliot had struggled with being overweight since she was 7 years old. She didn't let this be the boss of her, though: "Being fat sets you apart, but luckily I was bright with it; I had an IQ of 165. I got into the habit of being independent, and the habit became a design for living" (via Rolling Stone). However, obesity did bring Mama Cass one or two problems: one, the usual health problems associated with it, and two, it was used as an excuse by the unpleasant John Phillips for Elliot not to join his band.
Phillips said, "She and Denny were friends – well, she was madly in love with Denny. And she started following us around. Everywhere we went. It got to be a sadomasochistic game. Cass would get a job as a waitress in the nightclub 'cause we wouldn't let her sing with us. She'd rehearse with us, and then we'd say, 'OK, Cass, serve some f****g drinks, we're going onstage.' Finally, we let her join the group." The sadomasochistic game was Phillips' — as per UCR, he wouldn't let Mama Cass join the band because of her weight. In many respects, she was bullied and traumatized by Phillips, who resembled a mean grade school boy more than a prolific singer-songwriter.
Papa Denny was never supported by his family
Perhaps the Mamas and the Papas member who got the least amount of spotlight and drama, Denny Doherty was also the only Canadian singer in the otherwise-American group. As The Atlantic reports, Doherty was born in Halifax, Nova Scotia, and grew up with his father, who worked at the dockyards. Like many musicians in the early 1960s, Doherty dropped out of high school and formed a group with his friends: the Halifax Three. Through a series of fortunate events, Doherty then got to California, met Cass Elliot, then John Phillips, and the rest was history.
But no matter how successful the Mamas and the Papas got (they won a Grammy Award and were nominated for four others), Doherty's father stayed stone-cold unimpressed. When Doherty told him that the Mamas and the Papas had made it to the Billboard Top 40, he told his son: "Get yourself a trade. Something you can put in your arse pocket." Sadly, after the end of the Mamas and the Papas in 1968, Doherty was indeed broke, and he and his wife had to return to Halifax as they couldn't afford to pay rent in the U.S. anymore.
Cass Elliot died because of her diet at 32
In 1969, Time Magazine published an article reporting that Mama Cass had been on a strict diet for about two years, losing over 120 pounds in the process. But Time also revealed just how severe the consequences of the diet were. Elliot joked that the diet cost her about $2,000 a pound, as she was in and out of hospitals, and she consequently canceled $250,000 worth of shows as she simply couldn't attend: "The Mama Cass diet can give you acute tonsillitis, hemorrhaging vocal cords, mononucleosis and a case of hepatitis." This is what Elliot said back in 1969.
But this didn't stop her from dieting, following the same strict schedule that involved four days of no food per week. In July 1974, Mama Cass was at the peak of her career, as Ultimate Classic Rock reports. She had just completed a very successful solo tour in London, and producer Lou Adler said of her: "She felt she was opening a new career. She'd finally got together an act she felt good doing." Tragically, Elliot would die from a heart attack on July 29. Through a very sad irony, the very diet meant to save her life by preventing the diseases associated with obesity might have been part of the cause.
The band suffered because of John Phillips' addiction (and so did his children)
As Vanity Fair reports, John Phillips was addicted to amphetamines, speed, and virtually every upper available. He would thus work for 40 hours on end and, as the controlling person that he was, would drag his bandmates into his utterly exhausting schedule, too. The Telegraph also paints Phillips as an adrenaline addict with a propensity to take everyone around him in his downward spiral. The band suffered at Phillips' hands, but the three musicians were not his only victims.
Papa John also managed to get his children addicted to heavy drugs. Following the Mamas and the Papas' breakup, he became addicted to cocaine and heroin, and he made his family a part of it. His children from his first marriage, Mackenzie and Jeffrey, became addicted to cocaine by the ages of 13 and 14. Mackenzie recalled (via People): "I was allowed to go to school on acid if I wanted, and Dad signed papers on which I'd write excuses. I never dared write 'Please excuse Laura from school as everyone is just too f****d up'." As for Phillips' other children, one day Michelle Phillips knocked on his door and literally took his son, Tamerlane, from a room filled with needles and blood.
The only bit of poetic justice was explained by the Mamas and the Papas producer Lou Adler: "John was the ultimate controller, but as much as he liked to build up, he also tore down, including himself." In 2001, Phillips died following a liver transplant.
If you or anyone you know is struggling with addiction issues, help is available. Visit the Substance Abuse and Mental Health Services Administration website or contact SAMHSA's National Helpline at 1-800-662-HELP (4357).
Michelle Phillips' eight-day marriage to Dennis Hopper was excruciating
After the Mamas and the Papas broke up, Michelle Phillips hung up her musician hat and pursued a career in acting. But as Vanity Fair reports, she also became a sort of femme fatale, dating Jack Nicholson, Warren Beatty, and Dennis Hopper (and many others) in the process. However, when it came to Hopper, things took a dark turn.
According to Far Out, Phillips made her film debut in Hopper's "The Last Movie." When she met him, she became infatuated with him for all the wrong reasons: "This Florence Nightingale instinct (and, just for the record, girls, it doesn't work.) … I didn't know what I was doing." On October 31, 1970, they got married and, eight days later, they got divorced. Far Out enumerates Hopper being too high to recognize Phillips, shooting a gun next to her daughter, and trying to handcuff Phillips, claiming she was a witch, as potential reasons.
Phillips recalls: "My father dragged me into his attorney's office and said, 'Men like that never change. File for divorce now. It'll be embarrassing for a few weeks, then it will be over.'" Rumor has it Phillips cited "unnatural sex demands" as the reason for calling off the marriage — this was happening during a time when Hopper was forcing his film crew to take part in a non-stop drug-fuelled orgy. In one word, Phillips described her very short marriage as "excruciating."
Mackenzie Phillips lost her family after confessing to the incest
In 2009, Mackenzie Phillips appeared on TV as she spoke to Oprah about her memoir, "High on Arrival." Of course, this is where she made very serious allegations about her father, John Phillips. It was on the Oprah Winfrey Show that Phillips read the very disturbing excerpt: "Your father is supposed to protect you. Your father is supposed to protect you, not f**k you." Needless to say, this interview triggered quite a lot of mixed reactions. For example, as Billboard reports, Michelle Phillips was adamant her ex-husband could not do such a heinous thing (no matter how high he was), while her daughter, Chynna, admitted she knew about the incest as early as 1997.
When she spoke to Oprah again, Phillips admitted she regrets not doing her homework better before publishing her memoir and going public with this information. More precisely, she regrets not "preparing [herself] for losing [her] family": "I felt they would love me, no matter what." In her more recent memoir, "Hopeful Healing: Essays on Managing Recovery and Surviving Addiction," Phillips describes being disinvited from a party by one of her relatives (via People): "Another family member was angered that I might attend, and I was told she was just not willing to forgive me yet. She wouldn't forgive me! For abuses perpetrated against me as a child, or for exposing those abuses perhaps."