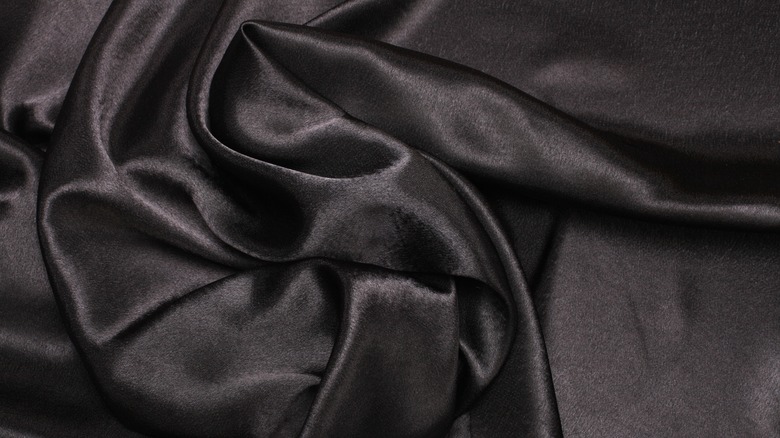 While we mostly see black in kitchens with stainless steel appliances, and décor for the contemporary bathroom, black has made its way into more rooms, achieving a contemporary, modern, and sleek look. We love how the color can be masculine and feminine at the same time. It gives a feeling of power and confidence, and can even be romantic when paired with the right touches. Black bedding is no longer the no-no it once was; designers are finding creative ways to use the statement color to emphasize personal taste, elegance, luxury, and modern style.
Color Psychology Meaning suggests that black is a color of power, strength, and elegance. That's a pretty awesome association based on the color of your bedsheets. The challenge, though, can be finding complementary paint colors for walls and furniture pieces that don't make the room look too dark, adversely affecting which emotions the color represents. Here we dive into five bedroom paint colors to pair with black bedding to set the room up to be a decorative hit.
Cream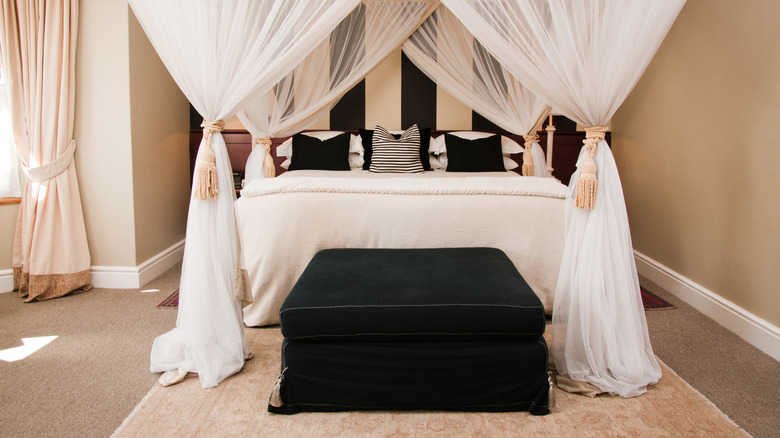 Black and white obviously go together, but white can be a bit bright and sterile for a bedroom. That's why we recommend going with a cream hue for the walls if you want to create a contemporary aesthetic. According to Rugs Direct, the contrast of the cream and black is timeless, and can highlight some unique room accents that may otherwise go unnoticed.
Since the goal is to keep an elegant and clean look in the bedroom with black bedding, we suggest staying away from busy wallpaper in order to let the basic colors stand on their own. Stick with solid hues of beige, cream, and light tan for the room, with minimal patterns like stripes and dots to accent the black bedding. Keep the rest of the furniture in neutral tones so as to not compete with the black color. To make a room feel wider than it is, paint the ceiling a different shade of cream. You'll be pleasantly surprised at the difference.
Pink
We love the contrast of a pink accent wall with black bedding for a girls' room, or even a chic nursery. According to Digs Digs, a pink and black room gives a modern glam look, and for a kids' room, it comes with an elegance that can easily grow into the toddler, adolescent, and tween years. An accent wall or two in the room with the bold contrast of black bedding would be beautiful.
There are a ton of pink paint shades that will add a dreamy splash of color, including the ever-popular millennial pink that is all the rage at the moment. We suggest going on the lighter, paler pink side of the color spectrum to really accent the bold contrast. Stay away from the bright shades, as they can be too extreme together in the room. The same goes for accent furniture. Night tables and dressers in neutral tones like cream and gray will blend in nicely without overpowering.
Red
A red and black bedroom may seem dark and uninviting, but it can actually make the room feel comforting and safe if you choose the right hues. According to Trendir, dark rooms are definitely trending, and choosing a deep red can really increase the sophistication of a bedroom with black bedding. Reds on the dark cherry and ruby side of the shade are best for making the room feel more vibrant instead of dark and gloomy.
Instead of painting all of the walls red, choose an accent wall to be your focal point of the room. A black comforter against a red wall is stunning and gives the feeling of luxury, romance, and class. Using black frames to house artwork with traces of red is another great way to add delicate touches of the two in order to bring the room together in a subtle way. Red is a rich color that, when paired with black bedding, can really elevate the room.
Green
Bring nature in with an earthy green shade of paint. Since green is a soothing tone that elicits feelings of balance and relaxation, combining that with the strong and bold color of black can turn your room into a comforting haven for sleep. You can easily paint the walls in a forest or emerald green without overpowering the room. While it may darken it a bit depending on the natural light of the bedroom, the overall aesthetic will be cozy and relaxing.
A simple way to accent the green with black bedding look is to use plants. There are many houseplants you can grow in low light that are easy to care for and look beautiful in a bedroom, notes The Sleep Judge. In addition, some types of houseplants are good for your health, improving the air quality just by being there. Green paint with black bedding is a great combination for nature-lovers wanting to bring the outdoors, indoors.
Blue
Blue is the color of the sky and the ocean, and it can also be either a complementary or contrasting shade against black bedding. We like breezy blues with gray undertones that will bring out the softer side of black in a bedroom. An accent wall in a pale blue would be a pretty contrast to the black, but you could also go a little bolder and paint the ceiling a sky blue. It's another perfect way to bring a little piece of nature indoors.
According to Rethority, an electric blue in the vein of turquoise and aqua on the walls can be playful and vibrant when paired alongside black sheets and comforters. This makes it a more-than-viable choice for a kids' playroom or bedroom. On the other hand, a navy tone offers an air of sleek sophistication. Navy is trendy and chic, and it is the perfect touch for a clean-lined guest suite.