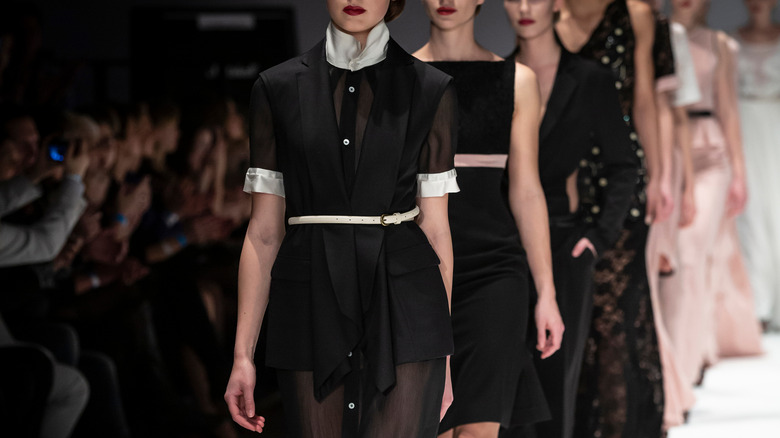 So many of us have wandered the designer handbag department in Nordstrom and scoured the ready-to-wear racks at Neiman Marcus, drooling over the craftsmanship that plays an integral part in designer merchandising. While we adore shopping and love it when we score a great deal on the jacket we've had our eye on for ages, there's something about luxury brands that just feels special and accomplished. There's nothing more satisfying than saving up your hard-earned paychecks to splurge on that YSL bag that you've had bookmarked on your laptop for months, and taking home a new bottle of Chanel No. 5 perfume can certainly make you feel as though you're paying homage to the likes of Marilyn Monroe and the glamorous women known for such expensive tastes. But of course, luxury items come at a huge cost, making them largely inaccessible to many a consumer.
Thanks to websites like Net-a-Porter and designer sections on the websites belonging to large department stores, browsing designer items is as easy as unlocking your phone and launching Safari. But affording said items is a whole other ballgame, and making such a purchase — especially in this economy — is far more of an investment than it is a casual credit card swipe. So if you're eager to add a designer item to your wardrobe and are scouring the options to see what will satisfy your taste (and your budget), we suggest doing your research first. As it turns out, there are some luxury brands out there that are simply not worth the money — this comes down to quality, resale value, company values, and more.
Rag & Bone
When we ponder the brands that make streetwear and casual clothing look effortless, Rag & Bone is up there in terms of luxury. The designer label has made it clear that they're the leaders in the less-is-more clothing space, and their website features a variety of ready-to-wear options that are chic and oh-so-cool. But when it comes to the prices of such basic clothing items, it's hard to justify Rag & Bone's pricing. One customer who found the designer label's clothing comfortable and fashionable left an honest review on Influenster: "It just isn't worth the price — unless brand name is very, very important to you," the customer wrote of Rag & Bone. "I think it's a good company but for no reason should it be so expensive!"
For instance, Rag & Bone's cotton rib tank for women is a great cut and a basic staple, but it'll set you back $295 — we're not kidding. You can get a similar top at Everlane for $40 — or you can find a ribbed tank at Target for about the same price as a cup of coffee.
So what exactly are you getting for such a hefty price tag? Rag & Bone created a program called Quality Guaranteed which, as noted by Vogue, ensures the luxuriousness of each and every item. But given that a tank top costs more than what most people make in an entire day, this luxury brand can stay on your miss list.
Burberry
There's nothing that exudes luxury and sophistication like a well-structured trench coat. Such outerwear can prove to the world in a split second that you're someone worth paying attention to, and hardly any other designer is so synonymous with that look than Burberry. The luxury label has a preppy, country club vibe to it that has taken an aesthetic approach intertwined with tweed and checked paneling, and while the label has significant recognition, it might be worth investing your money elsewhere. As noted by Jing Daily, Burberry has undergone a "massive restructuring effort" in recent years, as its revenue has taken a huge hit. The CEO of the company attributed falling sales to the COVID-19 pandemic and shifts in customer habits, but the luxury brand really took a nosedive when it had to rely on sales to make end's meet.
As it turns out, putting items on sale translates to catastrophe in the luxury clothing world, and customers who may have once splurged at Burberry started taking their business elsewhere. The ongoing pandemic made things even harder for the label, resulting in some pretty dried up numbers.
When it comes to your luxury splurging — well, let's just say that it's hard justifying a trench coat purchase that'll set you back $2,590 plus tax. A similarly stunning top coat with a belted waistline from Zara will ask just $80 of your hard earned pay check, making it pretty difficult to justify giving more than a month's rent to a company that's flatlining.
Chanel
When it comes to luxury clothing, few brands are as well known as Chanel. The titular name is as close to synonymous with fashion as anything these days, and the brand's styles have been graced by some of the biggest names in history. Marilyn Monroe was once famously asked what she slept in — her answer? Chanel No. 5 perfume. And in another connection to the Kennedy family (albeit a tragic one), Jackie Kennedy famously wore Chanel pink on the day her husband was killed. This designer label and its infamy is unrivaled in many respects, but is it worth the money these days? The answer is an unequivocal no.
As noted by Reuters, Chanel hiked up the prices of their "most sought after" items in recent years, even though the company is worth $340 billion. The decision came as retail success plummeted due to the COVID-19 pandemic, but a jacket that now costs you $3,750 may simply not be worth it (and we're having a hard time wrapping our brains around that cost in the first place).
Even further still, more information has come to light about Coco Chanel's connections to the Nazis, with Forbes reporting that she had an "agent number" and a Nazi code name. If you care about your morals (and your wallet), you may want to give Chanel a pass.
Dolce & Gabbana
Who can think about Dolce & Gabbana without envisioning that iconic scene from "The Devil Wears Prada" when Anne Hathaway's character asks how to spell the titular designer's name? While they are recognizable monikers in the fashion world, designers Domenico Dolce and Stefano Gabbana have made it clear that their work is more art than it is wearable pieces — the price tag of such designs reflecting that mentality.
"Do you ask the cost of a Michelangelo?" Dolce once asked The Washington Post, as he addressed a dress with a $60,000 price tag. "You don't ask the price. Beauty has no price."
And while you'd have to sell a kidney to even afford such a design from the luxury brand, you may not want to in the first place. As noted by An Injustice Magazine, Dolce & Gabbana has been the subject of much ire within the fashion community and beyond, as comments from the designers have been labeled as sexist, fat-phobic, anti-Semitic, and more. For instance, Gabbana himself commented on a photo of Selena Gomez in 2018, expressing his opinion that the songstress was "ugly." Singer Elton John even called for a boycott of the brand after Dolce made horrific comments about IVF, saying, "I am not convinced by those I call children of chemicals, synthetic children: Rented uterus, semen chosen from a catalog." So, if you are going to drop thousands on a luxury item, you might want to look elsewhere.
Balenciaga
Oh Balenciaga — the luxury label has been known for pushing the limits, with the chunkiest of chunky sneakers becoming quite the trend a while back. And while the designer label has certainly carved out a space all its own, you might want to think twice about dropping thousands of dollars on their newest footwear. As noted by CNN, Balenciaga dropped a new line of sneakers in May of this year, dubbing the campaign the "extra destroyed" look. And Balenciaga didn't mean destroyed in a meta way — the sneakers are literally ruined, covered in mud, and torn up to no end. What's even more upsetting is the price tag — a pair of these bad boys will set you back $1,850. We're not joking.
The obscene prices don't just apply to shoes, either. A tube skirt made of 100% wool — as part of Balenciaga's fall 2022 collection — will set you back $1,650. For a simple cotton mini skirt, get ready to cough up $1,050. And further still for the 100% cotton Sports Icon Repaired T-Shirt — which features prominent rips in the neckline and hemline — get ready to offer up an additional $1,050. We don't know about you, but buying an oversized t-shirt at the thrift store and distressing it ourselves seems like a much better use of time and money.
Coach
Some designer clothing labels are known for ebbing and flowing with the trends, and Coach is one of them. The storied handbags and iconic Coach t-shirts were hot in the 1990s and early 2000s, but took a nosedive when big totes became all the rage. Suddenly, the tiny purse is back in the spotlight thanks to the Y2K resurgence, but we're here to tell you that if you're going to drop some money on designer goods, Coach is not the right option.
One former customer made it clear on Quora – Coach skimps on quality, but still charges top dollar for their products. "Once upon a time, Coach bags and other goods were considered premium quality. … that quality has increasingly deteriorated," she wrote.
And we're here to tell you that investing in the brand might have you dishing out a ton of money on clothing items you can get for a lot cheaper. Take the cotton joggers, for instance, that'll set you back $250 on the Coach website, or the moto jacket that costs $1,250. Simply put, you can get the same items (take these joggers from Target for $25, and this moto jacket from Revolve for $98) for a lot less elsewhere.
Canada Goose
There's a trick for staying warm in the cold winter months — living in California. We're just teasing, and if you find yourself in the Midwest or in the windy cities, chances are you know someone who owns a Canada Goose down coat. These coats truly seem coveted in some circles and are the ultimate status symbol. But simply put, are they worth it? The answer is a big fat no.
Financial journalist Kerry K. Taylor noted the brand is one of "celebrity" inflation, and that its success can be boiled down to "marketing." Simply put, "It's too expensive, not worth the cost … [and] you can buy a comparable coat for less." Taylor also noted the brand's questionable history, as it's synonymous with animal cruelty and "the controversial coyote fur trimmed hood." Newsweek further elaborated on the brand's animal treatment, reporting that PETA has been after the luxury clothing manufacturer for years due to its use of animal cruelty. If that isn't enough to not buy a coat, we don't know what is.
If you're not yet convinced to take your business elsewhere, you might also want to know about the extremes people have gone to in their attempt to score a Canada Goose coat. Newsweek noted that in Chicago, six people reported being robbed of their Canada Goose coats, while a school in England literally banned students from wearing them to class because students who couldn't afford them were being bullied. So when it comes to bundling up this winter, stick with Patagonia.
Gucci
Father, Son, and House of Gucci — this luxury designer label is more of a religion than anything else, but buying into such a namesake might not be worth it these days. Gucci, of course, is renowned for class, style, and dressing the famous and rich among us, but as it turns out, people may just be buying the label rather than products of real quality. As noted by The Vou, Gucci's marketing suggests that the designer products are priced "as much as people are willing to pay." The higher profile the products are, then, the higher the price.
Perhaps that is part of the allure of Gucci — The Vou notes that a select amount of people wear the designer looks, ensuring that it's surrounded by an air of sophistication and exclusivity. And while that may be alluring to some, if you're going to drop thousands of dollars on a designer look, you might want to actually opt for a brand that's going to deliver on both the quality and the high profile nature (think Fendi, Tom Ford, or Saint Laurent). Of course, Gucci is also known for its yo-yo-like success, as the label has gone through a myriad of changes over its decades-long history. Perhaps its association with drama, family dynamics, and murder for hire makes Gucci that much more attractive to some customers, but when all is said and done, don't let the willingness of someone else's financial frivolity dictate how much you drop on a designer item.
Prada
Trying to understand Gen Z is like trying to keep your hair in a neat ponytail while on a rollercoaster — the young generation has been known to prank politicians en masse on TikTok, hit the streets in amazing numbers to protest inequality, and reject social norms as we know them. All in all, Gen Z feels like a huge season of change, and the luxury brands in the clothing space are feeling the pressure. One such label that has had a hard time relating to younger shoppers is Prada, the Italian company that was once at the top of the luxury game.
"Prada is not on my radar," Kiwi Zheng, a luxury shopper who works in finance, told Jing Daily. Zheng's comments were furthered by yet another young shopper, who said, "I feel Prada is not in vogue. My budget will likely go to brands like Dior, Chanel, or Gucci."
And the youthful consumers have a point — while Harry Styles has been tied to Gucci and Emma Stone has been the face of Louis Vuitton, Prada doesn't have a memorable young talent tied to the brand. Furthermore, dropping $3,600 on a pair of embroidered shorts simply doesn't seem worth it, especially when you consider Gen Z's love of thrifting and investing in sustainable companies.
Louis Vuitton
Speaking of Louis Vuitton, it should be noted that when you're thinking about dropping a decent amount of money on a luxury clothing item, you should do a bit of research into that brand's resale value. After all, spending $4,000 on a single item is a huge investment, and you might not love your current favorite five years from now — selling your designer choice to someone else should always be something you keep in mind, and as it happens, the well-loved designer label isn't reselling at as high numbers as you might think. Retail Bum notes that consumers are receiving about 80% of their money back when they sell a second-hand Louis Vuitton. That sounds pretty good, until you learn that Hermès bags are seeing a 90% return. This could significantly impact your decision as to what you ultimately purchase — is Louis Vuitton really worth all that cash when you could get a higher return down the line?
And while we love the idea of investing in a single item like a purse, Louis Vuitton offers clothing items that are simply crossing into the absurd category of cost. A cross-back sports bra, for example, will set you back $1,660, and we can't imagine spending an entire month's rent on something we're going to sweat in at the gym. Want something even more mind-boggling? This pajama shirt is $2,220 – we're not kidding. Sometimes, a simple oversized tee from the department store can do the trick for sleepwear.
Versace
Few names are as recognizable as Versace, as not only has the family dominated the fashion industry, but it's also been at the center of some high profile scandals (and murders). And while the Versace brand will always pack some sort of punch, it might not be worth investing your money in if you want to buy luxury. As it happens, the high-end profile of the brand has gone downhill in recent years, its exclusive feel taking a turn in 2011. As noted by PopSugar, things started to go a bit south for Versace when its collection with H&M came out. While we love accessibility, an allure of buying designer is the special, occasional aspect that comes with it. Being able to buy "Versace" at an everyday mall store like H&M definitely tampered the allure, despite Donatella Versace claiming it mirrored the brand's essence.
"For the collaboration we've brought back from the archives, as well as from more recent collections, some of the icons of Versace, such as the bright prints, the Greek key, and daring cuts," she said.
If the H&M collection wasn't a sign that the brand was losing steam on the luxury front, Versace had yet another nail put in its coffin when it was bought by Michael Kors. As noted by Vogue, it was acquired for $2.12 billion, but any revitalization was slim. Even Business Insider has asserted that Michael Kors "has lost its luster" — so if you're shopping designer, look elsewhere.