Rookie of the Year. Three NBA championships. Four MVP awards. Fourteen NBA All-Star appearances. Eight consecutive NBA Finals. Oh, and three Olympic medals for good measure. After being taken #1 by the Cleveland Cavaliers in the 2003 NBA Draft, LeBron James has become arguably one of the greatest — if not the greatest — players in basketball history. Possessing preternatural athletic ability and a basketball IQ that could rival any supercomputer, James will be hoop prototype for generations to come.
Off the court, he's a dedicated family man, and his foundation does life-changing charity work. But for the millions who love him, you can find just as many who hate him. Vehemently reviled by fans and players alike, James is both the NBA's most powerful superhero and most diabolical villain.
So how did we get here? Look no further, friends. From his infamous television special to announce his free agency plans, public statements that come across as egotistical and obnoxious, to his Hall of Fame-worthy temper tantrums, let's spot up and knock down the shady side of LeBron James.
The 2009 Eastern Conference ​Finals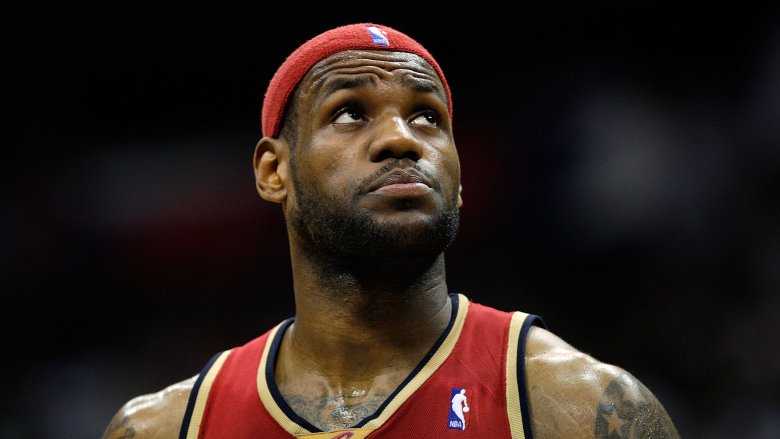 According to Bleacher Report, LeBron James had some self-aggrandizing sentiments ahead of Game 3 of the 2009 Eastern Conference Finals against the Orlando Magic. "If I could clone myself, we'd be all right," he said. "But I can't." Then up 2-0, James' teammates apparently weren't motivated by his remarks, as the Magic ripped off four straight wins to take the series and advance to face the Los Angeles Lakers in the Finals. Making matters worse, James refused to shake hands with opposing players as the buzzer sounded on Game 6. Instead, he stormed straight to the locker room, refusing to speak with the media after the game.
Two weeks later, the then-reigning MVP displayed no remorse for his actions. According to ESPN, James made it abundantly clear he was only sorry for not doing the media session after the game and not much else. When a reporter reminded him that players shake hands after a loss, James brushed him off.
"No you don't, no you don't," James said, becoming defiant when the issue was pressed further. "Teamwork has nothing to do with shaking hands. I'm not a poor sport at all." He continued, "Who brought up the rule that shaking hands, that's what you're supposed to do? No one shakes hands at the end of series all the time. No one does that. No one does that at all."
We're not sure what reality James was living in at the moment, but maybe it was the one where he was still bitter about the loss.
The controversial Vogue cover
At the time of this writing, LeBron James is one of only eight men to ever appear on the cover of Vogue. His 2008 issue proved to be, well, an issue. Shot by the famed Annie Lebovitz, James posed holding supermodel Gisele Bundchen, causing an outcry with many who felt that it resembled a vintage King Kong poster. The controversial shoot sparked an instant debate about racial and sexual stereotypes.
ESPN's Jemele Hill was pointed with her criticism of the cover, questioning why James wasn't more careful with his image and allowing himself to be "portrayed in such a distasteful manner." While Hill admitted the fashion mag might have been trying "to show the contrast between brawn and beauty," they only ended up successfully reinforcing the "animalistic stereotypes frequently associated with black athletes." Claiming the "black athlete being reduced to a savage is, sadly, nothing new," Hill lamented the fact that James being the first black man on the cover of Vogue would "be memorable for the wrong reasons" instead of being a ground-breaking moment.
James' response to the controversy? "Who cares what anyone says?" he asked, per Telegraph. Okay, then.
The Decision
All together now: "I'm gonna take my talents to South Beach and join the Miami Heat." That was the cringeworthy announcement LeBron James made on July 8, 2010, when Cleveland lost their hometown savior, and Miami got the best player in basketball to join All-Stars Dwyane Wade and Chris Bosh to form the newest "Big Three." While James' television special raised millions for the Boys & Girls Club, according to Cleveland.com, and changed two NBA franchises forever, it also changed the public's perception of the once infallible phenom. The backlash was quick and brutal.
NBA commissioner David Stern called the spectacle "ill-conceived." Michael Jordan slammed James for joining a rival instead of beating them. And James' fans burned his jersey. During an interview with CNN, James blamed racism for the avalanche of media criticism instead of his clumsy handling of the announcement. Jason Whitlock, a black sports journalist for Fox Sports, claimed James was living in a "racial cocoon of denial" as "an excuse to avoid dealing with his own bad" decision. Another black columnist, Mike Freeman, called James' assertion "laughable."
However, the harshest attack came from Cleveland Cavaliers' owner Dan Gilbert. In an open letter (via ESPN) to his team's fans, he called the decision "narcissistic" self-promotion and a "shameful display of selfishness." According to USA Today, Gilbert went even further when he dropped the price of LeBron Fatheads "from $99.99 to $17.41" (1741 is Benedict Arnold's birth year).
Cleveland's silver lining: A horrible record in 2011 that turned into selecting Kyrie Irving #1 overall in the draft.
A flopping and complaining hall of famer
With all due respect to King James' post-up game, his flop game deserves just as much. It's a thing of beauty. At 6'9" and 250 pounds, nobody is buying his constant exaggerating from minimal contact, but James is committed. He's been fined, called out, openly mocked by fellow players, roasted mercilessly – nothing works. James is seemingly incapable of not flopping.
But nothing holds a candle to what might be his greatest skill: complaining to the refs. It's expected at this point. If he's fouled, if someone fouls him, if he thinks someone fouled him, if he's hit with any violation large or small, James will let a referee know multiple times a game. For a player of James' caliber, the constant complaining comes off as immature and aggravating.
In fact, the statistical analysis site, FiveThirtyEight, found that James lags behind on defense on almost 20% of plays because he's too busy screaming at a referee. That takes a particular kind of shady.
The Miami Heat welcoming party
If you woke up one morning and learned that LeBron James, Dwyane Wade, and Chris Bosh all signed with your team in the prime of their careers, you would want to celebrate. With pyrotechnics and a laser light show, the Miami Heat welcoming party was a full-on, over-the-top spectacle that rubbed anybody not invited the wrong way.
Before the trio had even stepped on the practice floor, James was promising, "Not two, not three, not four, not five, not six, not seven…" championships. When asked how the way they would push each other in practice, the star forward said actual games would be "easy," essentially making the team a target night in and night out.
When it was all said and done, James' tenure in a Heat uniform lasted four years, earning back to back championship in 2012 and 2013 despite being only the third franchise in NBA history to reach four consecutive NBA Finals. Maybe he should have stopped counting at two?
Confusing karma
While the newly formed Miami Heat super team was having great success, the Cleveland Cavaliers were in complete disarray. On January 11, 2011, the struggling team suffered a humiliating 112-57 loss to the Lakers — the worst defeat in team history. If you were on social media that night, you assumed LeBron James was watching the game. "Crazy. Karma is a b****," James tweeted. "Gets you every time. It's not good to wish bad on anybody. God sees everything!"
Of course, many speculated this was a shot at Dan Gilbert and his former team, but James denied the claim in the most bizarre way. Per ESPN, he stated somebody else sent him the comment, and he posted it. Huh? James didn't bother to clarify that confusing statement but instead accused the media of reaching.
"I think everyone looks into everything I say," he huffed. "Everybody looks too far into it. No hit toward that organization. I've moved on and hopefully that organization is continuing to move on." When asked to expound further, "questions were cut off by a member of the Miami Heat public relations staff."
The mystery of Kyrie Irving is solved
When LeBron James returned to the Cavaliers in 2014, he joined forces with the best young point guard in the league – Duke dynamo, Kyrie Irving. The hype was real, and championships were expected for the next decade. Two years later, the pair hoisted the Larry O'Brien trophy and James fulfilled his promise to bring a championship back home. The future was bright with the NBA's own Batman and Robin.
Irving demanded a trade the following offseason.
Per ESPN, Irving was reportedly disenchanted with being in the shadow of James. Irving wanted to be the focal part of the offense and "catered to accordingly," but knew that was never going to happen while playing with a living legend. A "meeting to clear the air" was scheduled, but never took place, and Irving was shipped off to Boston. Many wondered why Irving would walk away from such a perfect situation without trying to make it work, and in 2018 we found out: he never wanted James to return to the Cavaliers in the first place.
According to Jason Lloyd of The Athletic (per Sports Illustrated), Irving "didn't think it was necessary." He explained, "LeBron said something to Kyrie on the court following a game when he was with Miami something to the effect of, 'Keep going, keep doing what you're doing. You never know, I could be back here one day.' And Kyrie basically said, 'What's he talking about, we don't need him.'"
Foot, meet mouth
Throughout his career, LeBron James has always been good for an outlandish quote that comes back to bite him. To wit: In 2010, he told GQ, "I love our fans. Cleveland fans are awesome. But I mean, even my family gets spoiled at times watching me doing things that I do, on and off the court." You'd think when you're the best player on the floor, you would let that be enough instead of sounding like an egomaniacal prima donna.
During a heated MVP race in 2018, where Houston Rockets' James Harden was the heavy favorite, James was at it again. "I would vote for me," he told The Associated Press. Citing the numerous injuries and roster turnover his team faced during the season, James claimed he was the only one keeping "this thing afloat." Harden went on to win the award, with LeBron coming in second.
After the Heat's Game 6 loss in the 2011 NBA Finals to the Dallas Mavericks, James' post-game press conference gave his detractors more evidence to call him arrogant. When asked if it bothered him that people were rooting for him to fail, James said they had to "wake up tomorrow and have the same life that they had before they woke up today." He claimed they were welcome to take their shots, but "they have to get back to the real world at some point." Not sure if shouting out your haters after losing a series you were favored to win is an excellent public relations strategy.
Peace out, Cleveland (again)
According to NBA.com, in the middle of the 2017-2018 season, the Cleveland Cavaliers "swapped out six players" in a series of trades, surrounding their superstar with younger players. Slate suggested the move was a ploy by management to entice LeBron James to stay, since he could opt out of his contract at season's end. He was pleased. The team made it all the way to the NBA Finals, where they were eventually swept 4-0 by the Golden State Warriors. Immediately after Game 4, the free agency speculation began.
When asked by a reporter if he had played his last game with the Cavaliers, James said he "had no idea." He said his family was a "huge part of whatever I've decided to do in my career, and they will continue to be that." He added, "So I don't have an answer for you right now as far as that."
A month later, on July 1, 2018, Klutch Sports reported that James agreed to a 4-year, $154 million deal with the Los Angeles Lakers. He signed it eight days later. Many in the media already expected this, because after time ran out on his final game with the Cavaliers, James seemingly blew off owner Dan Gilbert as he made his way to the locker room. Any chance Gilbert is going to regret writing that letter for the rest of his life?
His reputation arrived in LA before he did
Just days after LeBron James inked his deal with the Los Angeles Lakers, artist Jonas Never unveiled a mural welcoming The King to LA. A week later, he painted over it after it was repeatedly vandalized. "I thought I had learned a long time ago to never touch religion or politics," Never told ESPN. "I guess it is never touch religion, politics or anyone against Kobe," he continued, suggesting that Laker star Kobe Bryant's fans were possibly behind the damage, although he confessed that he truly didn't know who did it.
However, when The New York Times caught up with Lakers fans at the 2018 NBA Summer League, it was still a full-on Kobe Bryant lovefest. "He was 100 percent pure Lakers," said Matt Sheldon. "The best basketball player I've ever seen." Nathan Andrews added, "He gave his heart for the love of the game."
Love for their newest player? Not so much. "I'm not a fan of LeBron," Andrews continued. Another Laker fan, Stephanie Serrano, was less kind. "He's such a diva sometimes," she said. Yumul, an ultrasound technician in Las Vegas also piled on, saying, "I never liked him. I always thought he seemed really cocky."
But there was a sliver of hope when they caught up with Sheldon again. "You put up points in a Lakers uniform, you're good with me. And he's going to put up a lot of points in a Lakers uniform." Well, that's a start, right?! "It doesn't mean I need to hang out with him," he added. Oh.