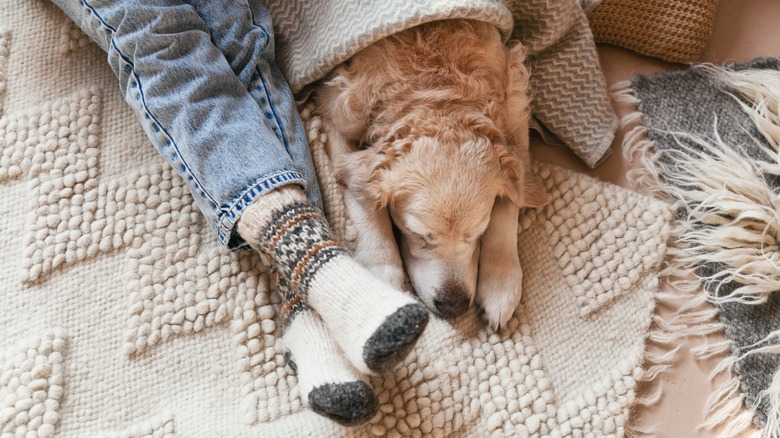 Of all the design trends that come and go, a cozy interior will always be in style. Though many people strive to make their home beautiful, sometimes they aren't comfortable. Some homes can lack warmth and can feel more like a model home than a space where people actually reside.
A home that's cozy and comfortable is what the Danish word Hygge seeks to define. According to HK Interiors, it is the feeling of coziness in your space that leads to contentment and a feeling of well-being. Rather than one style, Hygge is the state of mind you're in when you're enjoying a comfortable environment.
No matter how you define your style, creating a cozy interior can be simple. You can apply cozy features to your space and make them work for your personal style. Incorporate these designer-approved tips to create a home that makes you feel like cuddling up and relaxing.
1. Warm color palette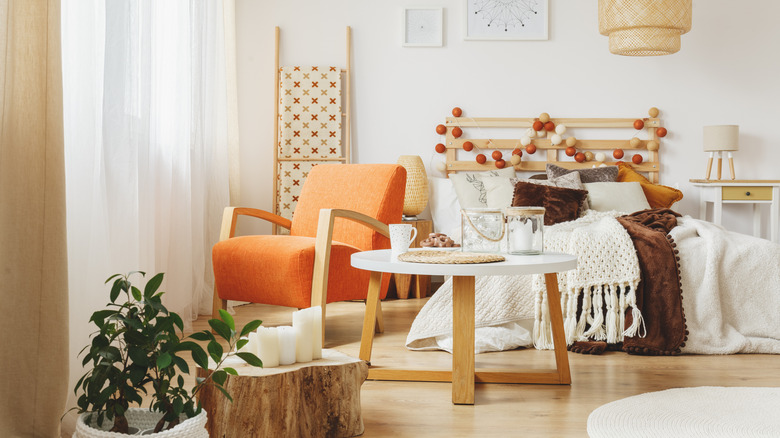 Give your entire space a cozy makeover by using a warm color palette throughout the home. Choosing warm tones will create a space that feels intimate, comfortable, and more inviting, according to Benjamin Moore. You can use warm neutrals like beige and cream, which are common for larger fixtures like paint and furniture. But if decorating your whole home in neutrals isn't for you, you can also use brighter warm colors like red, orange, and yellow, which can add playfulness and energy to a space.
However, you're not held to using only warm colors if you want to create a cozy atmosphere. You can add shades of blue, green, and purple, which are considered cool colors. Keep the undertones in mind as you choose colors. Though these colors are cool, you can find shades that have warmer undertones. The key to creating a warm color palette, if you're planning to mix cool and warm shades, is to make the majority of the color palette warm with small pops of cool tones as accents.
2. Add texture with rugs, throws, and pillows
Adding texture to a room creates visual interest, makes the eyes dance, and can even add a bit of color. Textures also make a home look lived in rather than as a showpiece. Using area rugs, throw blankets, and pillows are all great ways to make a space feel cozy and add warmth. Beyond the texture that throw pillows and blankets on sofas, chairs, and bedding provide, these elements also create a lived-in feel that makes a home feel comfortable and inviting.
When it comes to rugs, you can use multiple rugs in one space. You can use a larger rug on the bottom that creates a base and a blank canvas for smaller, more colorful rugs on top. Jute rugs provide a ton of texture and a neutral backdrop for other rugs, says StoneGable. Simple solid colors and geometric prints with a lot of open space can also work for your base rug. From there, you can add rugs of different shapes, sizes, and colors that bring more texture and visual interest into your cozy space.
3. Natural and organic accents
Bringing small bits of nature to a space adds some life. Adding something organic to every room will do wonders in creating a comfortable and warm space. Organic accents include plants and flowers. The lush foliage of houseplants and bright blooms of flowers can add some interesting textures to your space as well. And there are plenty to choose from that require different levels of care, depending on how much you want to take on.
But if taking care of live accents isn't for you, you can use natural elements like wood to achieve this warm look, too. Even a hint of wood in furniture or shelving can make a space feel instantly warm and welcoming. Natural and organic wood tones will always be on-trend, but they also add to the overall warmth of a space. You can also mix different wood tones to create a more layered look, says Ballard Designs, which will give the space more texture and depth. Woven textures and materials like rattan, jute, and wicker also help create a warm atmosphere with organic accents.
4. Mix and match furniture
Matching furniture may seem like an easy way to furnish your entire abode. However, matching pieces can make a space feel more like a showroom rather than a home. Mixing and matching your furniture and decor will make it feel like a space that's personalized to you and your tastes. Go for a look that's coordinating to make it look like you've curated furniture and decor over time rather than bought all at once.
Create a coordinated look by choosing a common thread, theme, or style and use different pieces that work together to achieve your desired look, explains KTJ Design Co. For example, you can choose a sofa and accent chairs that are made of the same fabric but differ in color and style. Choose lamps of different shapes, sizes, and finishes, or side tables that are crafted from the same material like wood or metal, but are of different heights or shapes. Your space will feel like it was carefully thought out rather than pre-chosen for you.
5. Use warm white for light bulbs
Of course, one of the best ways to create a warm environment is to give it a warm glow. Choose warm white lights for all your light fixtures to add a cozy wash over a room. Cool lighting feels can make a space feel sterile, reminiscent of corporate offices and doctor's examination rooms. Instead, warm lighting will provide that comfortable space that will feel more inviting and make you feel relaxed.
But the entire house doesn't have to have warm white light bulbs. According to LED Montreal, warm white is best for living and dining rooms as well as bedrooms; in these rooms, soft lighting is preferable. However, spaces like the kitchen, bathroom, or garage can use cool white lighting, where you may need more light to illuminate the space or need to see the exact color of an object. And if cool white is too blue for your space, neutral white is another way to go. Neutral doesn't have any tone to it and will still allow you to see the true color of objects.