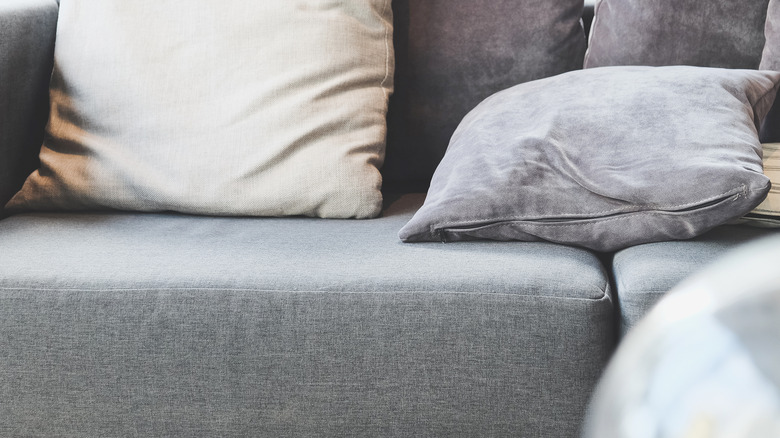 Decorating your living room or socializing area is a fun task, and one of the biggest decisions for these is what paint color to use for the walls. You might have an idea in mind, but a big question you should ask is: Will it match the furniture? If you own a gray couch, picking the perfect tint to complement it is as important as every other item on the checklist. Gray is a neutral color and therefore matches almost everything, but there are certain selections that will make the room pop even more.
Owning a gray couch is a great investment because it allows you to change up the room on a whim and easily find accents and decor that parallel it. According to Visual Heart Creative Studio, it also helps disguise dirt that can build up with daily use and easily assimilates to any design scheme you have. Whether you opt for a minimalistic look or something more eclectic, this neutral piece will blend in with any atmosphere.
So, which paint colors should you be looking at to produce the perfect backdrop for your gray couch? The following ideas will make your room sparkle and set it apart from your run-of-the-mill interior designs, creating the perfect place to hang out with family or entertain visitors.
1. Dark green
Not only is green a wonderful option for any room, but this paint color naturally combines with gray for many reasons. These shades can be found together in nature, so the human eye easily associates the two and finds in them a pleasing union. While there is a huge spectrum of greens to choose from, opting for a darker paint shade will make the gray couch stand out and create a calming, happy aura in the space it resides in.
Dark green represents many different emotions, and according to Dunn-Edwards Paints, it can instill feelings of security, trust, generosity, and wealth. Using it in a communal space can produce a lavish, engaging, safe atmosphere that will leave people feeling good whenever they spend time in it. The darker green shades also contrast nicely with a lighter or medium gray couch, reflecting the brightness and grounding it with the bolder, more intense wall tones. Don't be afraid to opt for an inky hue that inspires an elegant mood and look within the room.
2. Blush pink
Pink might not be the first color you think of when considering paint options for a living space, but it is actually a fantastic complement to any gray furniture. Blush pink can be a mellow, subtle pop of warmth that contrasts nicely with the cooler gray tone of your couch. Sticking to a lighter palette with the paint allows you to pull neutral shades throughout the room, especially with smaller accents and decor. This ensures the room doesn't become overly soft, but still offers a calming, peaceful presence that can be either masculine or feminine depending on the other decor.
Using blush pink tones also allows for you to add bolder pops of color. This is ideal if you're wanting a more eclectic or intense vibe, and the paint will still complement the gray couch by giving it a welcoming backdrop. According to Decoholic, this shade of pink is becoming increasingly popular with interior design themes, and brings a cozy feel to the area it is used in. Add cream, beige, and gray throw pillows or blankets to pull the neutral palette through, or use black accents for a unique aesthetic. The sky is the limit with this softer pink, so let your imagination run wild.
3. Black
Speaking of bold and unique aesthetics, incorporating black paint into your home is the ultimate act of courage. It also means you have an eye for design that airs on the side of stylish and audacious. Combining black walls with a gray couch is an exciting option, and one that allows for a variety of accent or decor additions. While some dark colors can make a space look smaller, according to Michael Helwig Interiors, using black walls with light furniture creates a bigger, limitless feel. By "expanding" your living area this way, you can get more creative with the rest of your designs. Use larger area rugs and mixed metals to pull the couch and paint together, or go for a natural look that sees wood and other materials taking up residence in the expanse.
Black and gray can both be colder colors, but they are also neutral, which means you can play around with the accompanying accents. Use other neutrals like cream or tans to add a touch of warmth, or throw in bright colors to add a visually appealing effect that speaks to your bold vision. Black walls give you the option to be unique and different, but it also creates an elegant backdrop for your gray couch.
4. Gray
You might think adding gray paint to a room with gray furniture is a recipe for a boring, monochromatic interior, but that isn't the case. Gray comes in so many tones and shades that it can easily be layered, creating depth by varying the hues you use. If your couch is a darker color, try using a lighter option for the walls. Tie in different woods and textures to add even more dimension, giving a little space between the two shades. The opposite goes for a lighter couch- use a slightly darker paint to offset the material.
Gray is a very popular color for interior design, because it allows for so much scope. Walls painted this color can host a variety of hangings and decor, and blend well with every kind of fabric. While some people think it can be a sterile, cold color, the truth is it is actually perfect for any abode because of its neutrality. You can brighten or warm it up with a few splashes of color, or keep it subtle with complementary nudes. Use different colored pillows and throws on the couch to avoid too much blending. According to GMBOEL, many designers prefer to work with gray because it boasts an easy elegance that can be molded or adjusted to any vision or theme.
5. Blue
Like white and blue, gray and blue are a great pairing for a living room or space. If your couch is gray, it can benefit from blue walls, thanks to the versatility these colors offer. Foter Magazine notes that these options instantly create an inviting atmosphere, one that says: "come and relax in here amongst this cozy but stylish decor." They blend together almost seamlessly, giving you less work to put in or thought to muster about accents and the color palette.
While every shade of blue can pair well with a gray couch, darker tones will set a lavish vibe up for the space, while lighter or brighter options will provide an eclectic, bubbly backdrop. Depending on your design plan, you can pick one end of the spectrum or the other, or even find a happy medium with a shade that sits in between. Picking a blue with a gray undertone is a good way to ensure the whole set flows, since they are easy to match to one another with simple touches around the room. Use wood furniture to incorporate a grounded feel that completes the minimalistic aesthetic.