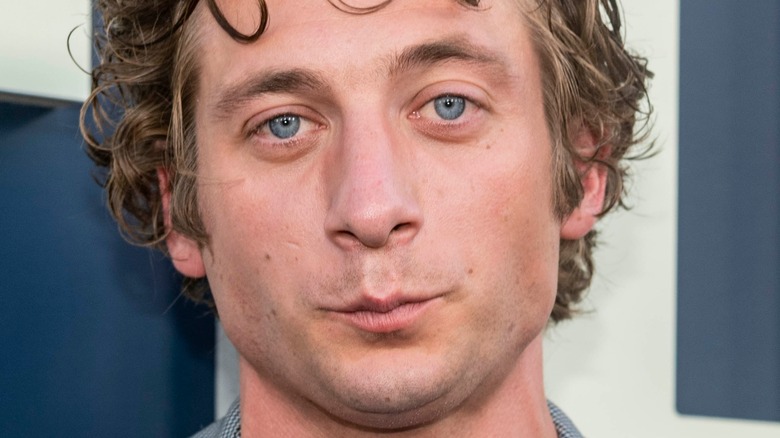 Yes, chef! Hot chefs dominated this summer, thanks to Jeremy Allen White bringing the heat in FX's hit series, "The Bear." White leads the show as Carmen "Carmy" Berzatto, a tatted pro chef trying desperately to save his late brother's Chicago sandwich shop from the brink of closing (with a smolder that can take down Twitter). While his hotness has reached a boiling point with "The Bear," he's been simmering for a while as a longtime TV presence. White's big break came with his role as Lip Gallagher on Showtime's "Shameless" following the dysfunctional Gallagher family. The show ran for 10 years and launched White's career and image as a bad boy with a heart of gold. You can even see him reading seemingly endless thirsty tweets for Buzzfeed (via YouTube).
With season two of "The Bear" now on the horizon after being confirmed for renewal (via Variety), let's look at White's career trajectory from struggling teen actor to TV icon and internet heartthrob to his future in acting and next projects.
He wanted to be a professional dancer before acting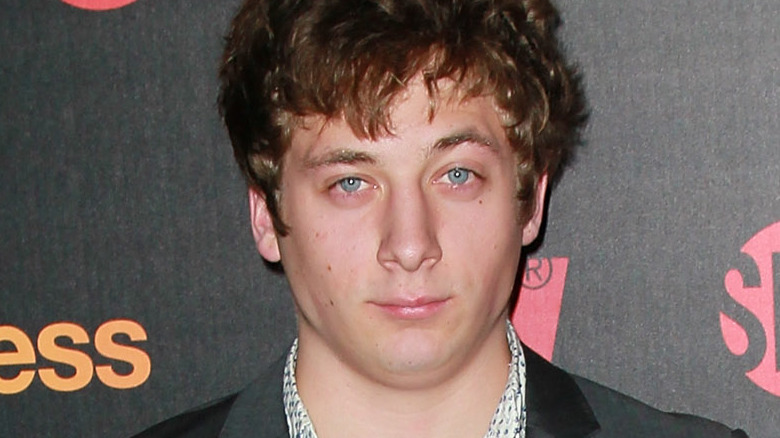 Jeremy Allen White was born February 17, 1991 (we love an Aquarius) and raised in Carrol Gardens in Brooklyn, New York. According to GQ, White had a knack for performing early on, possibly because it was in his blood. His parents were theater actors who tried making their breaks on Broadway. Much to our surprise, White's original passion was in dancing — not acting. As a child, he trained as a dancer in ballet, tap, and jazz. Unfortunately, White's dancing days were short-lived by the time he turned 11, as he felt disappointed with his middle school's lackluster dance program. "I didn't think it was serious enough for me. So obnoxious," he said about his young self. He made the pivot to drama and acting classes in its place soon after. Today, White admits that he can still cut a rug.
"I love to dance," he told Interview Magazine. "Going out dancing with friends is my favorite thing to do. I break out all my old moves. All my friends make fun of me because I have a very specific dance I do when the tempo changes. I guess it would be described as a, like, a weird sashay-tap thing. But if I could dance forever, that would be great."
His early acting credits include Law and Order and more
White transitioned from dance to drama in middle school and began acting professionally while still in high school. According to his interview with GQ, White said that acting was all he had on his mind, and he was desperate to drop out of school altogether. "I wasn't a bad kid, I just hated school," he said. "I knew it wasn't going to help me." As a compromise to finish his education while still pursuing his passion, he interned at a casting agency on the side, opening the door to minor roles in plays, television, and film as a teen.
According to IMDb, White had two professional acting credits in the same year when he was just 15, first in the television series "Conviction" and the film "Beautiful Ohio." You can also catch more of his early acting credits in "Law and Order," "Law and Order: SVU," and the independent film "Afterschool" starring Ezra Miller (and co-starring his future wife, fellow actor Addison Timlin). He also appeared in Joel Schumacher's 2010 film "Twelve" starring big names such as Chace Crawford, Emma Roberts, 50 Cent, and Zoe Kravitz.
He snagged his breakout role as Lip Gallagher in Shameless
White's big acting break came when he landed the role of Lip, the intelligent yet reckless son of the working class Gallagher clan in Showtime's long-running series, "Shameless." According to Interview Magazine, White got the role almost immediately out of high school when he was 18 and was beyond ecstatic to be a part of a significant project. "I was so stoked just to get the pilot and go out to L.A., I didn't even think about it going beyond that," he said. "When it got picked up for the first season and then again for the second season, I was just amazed that I got to live with a character for that long. That really doesn't happen for a lot of actors."
"Shameless" would run for ten years and 11 seasons of chaotic goodness, and while White's real life doesn't mimic his onscreen counterpart, he said he feels like he grew up alongside Lip into manhood. "I feel like Lip is finding out how to be a man, and I think every young man in their twenties is also trying to figure that out. That's something I got to explore on camera."
He met his future wife in high school
Sorry ladies, but this cut of meat is off the market. Jeremy Allen White and his wife, actress Addison Timlin, have a romantic and storied history together. According to GQ, White and Timlin met in high school when they were both 14. "I was instantly very much into her, and she, me too, I think," he says. "But she had a boyfriend. I was just so clumsy about all that stuff. And then she went to a different school and I was really broken up."
Like a Nicholas Sparks novel, White and Timlin would often cross paths. The two acted together (before they were a couple) in the 2008 film "Afterschool" starring Ezra Miller. In an interview with Harper's Bazaar (via US Weekly) in 2013, Timlin spilled the tea that their platonic friendship had made a "hard right turn into romance." In October 2019, White and Timlin tied the knot at a Beverly Hills Courthouse (via E! Online). The ceremony was small but in attendance were their best friends, actress Dakota Johnson and singer Chris Martin, and their baby daughter Ezer Billie White. They are absolute couple goals and share the sweetest pics on White's Instagram.
He is forever bound to his TV family
The Gallagher family actors are fiercely loyal to each other, even when apart. When Emmy Rossum, who played makeshift matriarch Fiona Gallagher, shocked fans when she announced she would not return to the show after Season 9, White's character Lip stepped up to the plate to keep the family together. Off camera, White had no ill will towards his screen sister Rossum. "I can't fault Emmy. I think she's ready to leave," he told Variety. "They'll never be able to find actors that can fill her shoes."
White credits William H. Macy, who plays alcoholic hot mess father Frank Gallagher, as a mentor and a showrunner role model. In an interview with Shoot, he said he thought about him when he signed on as the lead for "The Bear." "He set the tone and we've all admired him for 11 years, not only for his abilities as an actor, but the way that he behaves on set and the amount of respect he has for the rest of the cast, whether they're there for a day or 11 years, like us, and for the crew," White said. "He never complains. He's a lovely presence on set so I think all of us on 'Shameless' were really lucky to have him as sort of like a compass for what No. 1 one on the call sheet should look like."
We watched him and Lip become fathers
In Season 10 of Shameless (via Popsugar), longtime fans watched Lip Gallagher become a father, reflecting White's real-life experiences. In October 2018, Timlin and White welcomed their first child: baby daughter Ezer Billie White (via Pop Sugar). He shared the special moment on his Instagram of holding baby Ezer in the hospital for the first time (we're not crying, you're crying). "I'm just excited to have her. I'm excited to take her home," he said. In December of 2020, their second daughter was born, named Dolores Wild White (via E! Online).
While his Gallagher counterpart often finds himself in illicit turmoil with his family, White's real domestic life seems calm and normal. He often shares a window into his world with his beloved wife and two daughters. On his Instagram, he shared a pic of himself with his daughter Ezer on her birthday, captioned, "Holy smokes she's two! I love you, I love you, I love you."
He had an acting identity crisis after Shameless
After a successful ten years and 11 seasons, "Shameless" aired its season finale in April 2021 (via Variety). Lip Gallagher grew up, and so did White, right before our eyes. As White was coming to terms with saying farewell to his long-term character, he admitted he was internally struggling and had doubts about his career. He told GQ, "There was a period where I stopped feeling like an actor and I started feeling like I was just here to do this show," he said. "It was an upsetting head space to be in. When it was going to end, I was questioning: Maybe I do just exist on this show. What else is there? Am I an actor?"
Lucky for us, White was given the script for "The Bear" just as "Shameless" was wrapping. He told GQ that he was drawn to the role of Carmy for his instability and for parallels to his own life at that moment. "We kind of found each other at a similar place," he said. "He knew he's really gifted at this thing, but he could be painfully insecure about his abilities as well. I was feeling a little insecure at the end, too."
He has tried dramatically different roles
"Shameless" opened a new world of possibilities for White to explore as an actor, now for both worlds of film and television. In 2018, he starred as Elliot, a young man battling a deadly cancer diagnosis in "After Everything" alongside "Stranger Things" actor Joe Keery, Maika Monroe, and Marisa Tomei (via IMDb). In an interview with The Hollywood Reporter, White said his extended role as Lip might have prepared him for other complex characters. "The interesting thing about playing one character for so long is that I've grown along with Lip, and trying to find out what's going through him all the time is helpful in reading other characters and trying to connect to them."
That same year, he also appeared in Amazon Prime's psychological thriller series "Homecoming" as Joseph Shrier. The series stars big Hollywood stars, including Julia Roberts, Stephan James, and Janelle Monae. Although White only shared a scene (barely) with Roberts (according to Coveteur), he said it was still up there in the "top five moments of [his] life." White would later star alongside Alison Brie and Dan Stevens in the horror flick "The Rental," actor Dave Franco's directorial debut.
He worked in real restaurants and took culinary classes for his role in The Bear
White said he could barely cook when he signed on to play Carmy in "The Bear" (via GQ). He and co-star Ayo Edebiri (who plays sous chef Sydney, Carmy's butt-kicking right hand woman) took a crash course in cooking at the Institute of Culinary Education. Afterwards he staged (or interned) a the Michelin-starred restaurant Pasjoli under Chef Dave Beran. In his personal time, he gave himself extra homework and cooked through the Frankies Spuntino cookbook to understand dishes that Carmy would have grown up eating and cooking. White says now he can make a mean filet au poivre.
During an appearance on Late Night with Seth Meyers (via YouTube), White admitted that he didn't fool anyone at first that he was a real chef and not an actor in disguise. "I think everyone knew the deal, but there was a new line cook. I started cutting [vegetables], they weren't great. And I told her, 'I'm an actor, I'm not a chef,' and she goes, 'Oh I know.' She could tell just by my cutting." Once he had the basics and techniques down, White brought home his new skills to practice by feeding his family. "I did Christmas Eve dinner, I did Christmas Day dinner for me and my family — all big meals. I love a Sunday roast," he told People.
White is the face of hot chefs thanks to The Bear
Bon Appetit has coined Summer 2022 as "Line Cook Summer," thanks to White and "The Bear." Even the high-brow New Yorker addressed the sudden chef craze with a saucy cartoon (via Instagram).In an interview with NPR, White was taken aback by the internet's collective thirst for him and still wouldn't believe it was real. "I feel like I've fooled everybody," he said. Despite there being no romance or explicit scenes in "The Bear" (quite the contrary to his former show "Shameless"), all it took was a single still from the show going viral on Twitter to gas the flame.
White gets it, though, and expresses so in an interview with GQ about what people find so hot about his character. "What I find attractive in people is a determination. If you're truly good at something, that's incredibly attractive," White says. "I understand people having a crush on Carmy. I think I have a bit of a crush on Carmy." But how does his wife think of all this attention? Timlin posted a congratulatory Instagram pic rooting her hubby on, writing, "It is always a privilege to witness the work Jeremy puts in and the result will always take my breathe [sic] away. Congratulations to the whole team but to Jeremy especially, watching your dreams come true will always put a fire in my heart."
He's prepping for Season 2 of The Bear — and more
According to Variety, "The Bear" has been renewed for a second season by FX, which is expected to be released sometime in 2023 (via Good Housekeeping). According to showrunner Christopher Storer in an interview with Esquire, the next season will see the entire beloved cast return to the kitchen to hustle yet again. "I see the promise in my sort of found family in the kitchen," Storer said. "Can we use that to build something freshly, now that we've all found each other in this … system?" White is excited to keep exploring Carmy's role and see his vision. "We'll kind of see the construction of Carmy's sort of, like, dream restaurant," he said in an interview with The Wrap.
What can we expect from White in the meantime while we wait for our next appetizing course? According to IMDb, White is slated to star in the film "You Can't Win," an adaptation based on the 1920s novel of the same name by author Jack Black. Until "The Bear" Season 2 begins filming, White says he plans to put down the knife for a well-deserved break with his family. "I've been so lazy," White said in an interview with People. "I cook breakfast every morning for my daughters, nothing terribly fancy, but once we put them in bed, we're on Postmates or DoorDash."