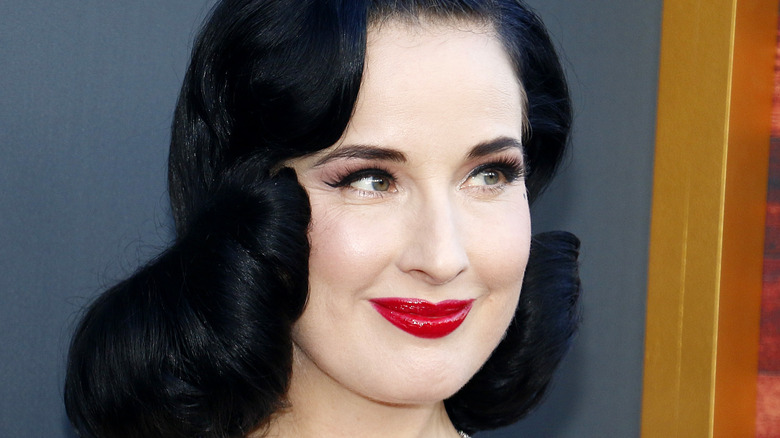 Known for her signature style and sultry appeal, burlesque performer, model, and businesswoman Dita Von Teese's eclectic home exudes both gothic and luxurious vibes. The 3,200-square-foot Tudor Revival offers much in the way of meticulous details, risqué touches, and glamorous gilded edges befitting a woman known as the Queen of Burlesque. Taking her inspiration from screen and burlesque legends of old, Von Teese's home is filled with vivid colors and an enviable array of collections, including rare burlesque memorabilia, hundreds of pairs of shoes, and vintage pieces as far as the eye can see.
In her home tour with Architectural Digest, Von Teese discusses her love of maximalism, her obsession with vintage, and her endless adoration of color, pattern, and texture. You too can bring in a similar luxurious and eclectic feel to your home by keeping a few principles and elements in mind as you choose items for your décor.
Expect the unexpected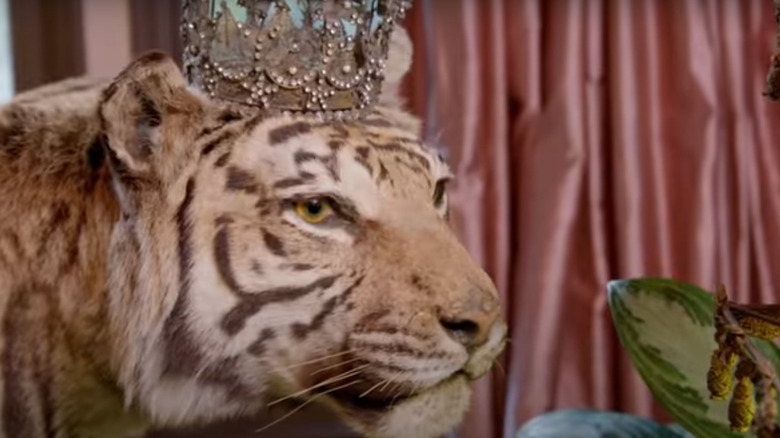 An overriding theme of Dita Von Teese's glorious California home is her love of unexpected touches — everything from an amazing collection of vintage taxidermy to walls decked in sumptuous velvets, satins, and feathers. Her foyer sports a set of swans and a stately peacock, while her living room boasts a tiger in a tiara. Every corner delights with some new visual treasure, including a collection of feathers used by burlesque performers of old and an artful layout of vintage men's magazines. Her pool house is not the expected California tropical oasis, but an intimate English pub in line with homes' Tudor style.
For your home, consider adding unexpected touches in the form of artwork and accents. Incorporate an animal theme (real or vegan) to add a glamorous, rich feeling of high Victorian gothic, especially when combined with fabrics like velvet and satin. Look for quirky additions like your own set of vintage tiaras, outlandish barware, or slightly racy artwork. Antique stores, thrift shops, and estate sales, according to Von Teese, can often provide the very thing you're looking for (via Collector's Weekly).
Show off your collections
In her tour with Architectural Digest, Dita Von Teese shows off the wealth of other personal collections that can be found in her home, including an impressive closet full of shoes, frames filled with vintage brooches, and a carefully-curated hoard of artwork and books. She also highlights similarly expansive collections of vintage taxidermy and memorabilia from performers like Mae West, Betty Grable, and Natalie Wood's famous Gypsy Rose Lee role in "Gypsy."
Don't be afraid to show off your own collections to their best advantage whatever they are. You can pepper them throughout your home for a small vignette effect or display them all in one place to garner an even more impressive presence. Consider giving those favorite objects you might normally harbor in closed areas an opportunity to shine. Beautiful shoes or dish ware belong where eyes can see them. Books are always a great opportunity to show off your obsessions. Your collections tell a lot about you, and should be part of the experience of any guest in your home. Even more minimalist homes can strategically display collections, perhaps in a rotating manner, that appease even the most clutter-averse.
Mix new and old
As someone who began collecting vintage clothing early, Von Teese's deep love of vintage comes through in both her signature style and the way she decorates her home. Rare vintage pieces of furniture like her bar, settee, and 1930s mirrored vanity are mixed with reproductions of antique styles like her sofa, which was modeled after a French furniture piece, and her headboard, modeled after one owned by Mae West.
While sometimes finding the right antique or vintage décor seems unattainable due to scarcity or cost, consider reproductions and duplicates, which can still give off a historic vibe at a lower price point. Custom furniture may not be in your budget, but you can often find readymade, highly accurate reproductions for a number of items. If money is not an object, according to Laurel Crown Handcrafted Furniture, custom-made reproductions can evoke the unique history and glamour of an antique piece even without the actual history itself.
Layer color, pattern, and texture
Dita Von Teese tells Architectural Digest that the walls of her home were initially all white, a deficiency she dutifully set out to correct by painting and adding wallpaper and luxurious drapery in swathes of all her favorite colors. The rooms of Von Teese's home have a rich layered effect of color, texture, and pattern that caters to her maximalist aesthetics. Her furniture, a mix of rich velvet, wood-carved pieces, and gilt accents make this once blank canvas a colorful swirl of visual sensations.
Whatever your love of color, consider ways to add layered richness to your room. If you prefer neutrals, don't be afraid to make up for what you lack in bright colors with texture and pattern. In Von Teese's bedroom, which she tells us is her one minimalist room, she mixes textures like satin, mother-of-pearl, acrylic, chrome, and glass to create a varied visual and tactile experience. If you thrive on color, use it liberally, even layering different shades of your favorite hues like in Von Teese's pink and red luxurious woman cave/library.
Make it personal
From colors to collections, Dita Von Teese's home distinctly and uniquely reflects her as a person and performer. Unlike the cookie-cutter perfection of some homes, this glorious Tudor Revival could belong to no one else but the Queen of Burlesque herself. The stairway features her own modeling and performance photos alongside burlesque-related memorabilia. The balcony overlooks a garden flush with red geraniums that remind her of her childhood in Michigan. Every detail in the home speaks to her own personal history and tastes.
Rather than relying on a drab and dreary pre-fab design, seek out ways to make your home distinctly you. You can do this with collections and artwork, or with scents and colors. Pull out those hidden-away family heirlooms to put on display. Use even the things that only you know the significance of, say a rock or shell from a beach vacation, or a framed pressed flower given to you by an old friend. It can be a favorite childhood item or simply a scented candle that evokes a memory. According to Ephemera Corner, even family photos and pieces of ephemera can make excellent décor when displayed thoughtfully and attractively.