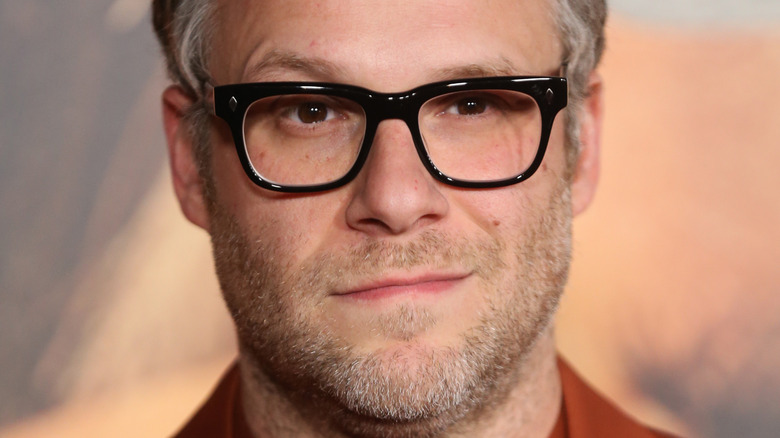 A jack of all trades, actor/writer/director/producer Seth Rogen has come a long way from his humble roots. Though he started out doing stand-up at bar mitzvahs as a teenager, nearly thirty years later, Rogen has become one of the leading comedic forces in Hollywood. His keen improvisational skills and trademark chortle are just some of the traits that have made him a modern icon for the millennial generation.
Discovered at age 16 by writer-producer Judd Apatow, Rogen's career has taken great strides since his early days on the NBC teen comedy "Freaks and Geeks." Though the show's ratings were too low for the network's liking (resulting in cancellation after just one season), the series received high praise from critics and became something of a cult classic for general audiences. It was Rogen's portrayal of the wise-cracking Ken Miller in "Geeks" that spring-boarded him to stardom – though there may have been a few stumbles along the way.
The road from a young Jewish kid in Vancouver to one of the biggest comedic stars in America was a long and winding one; here are all the details.
How Freaks and Geeks changed everything for the Rogen family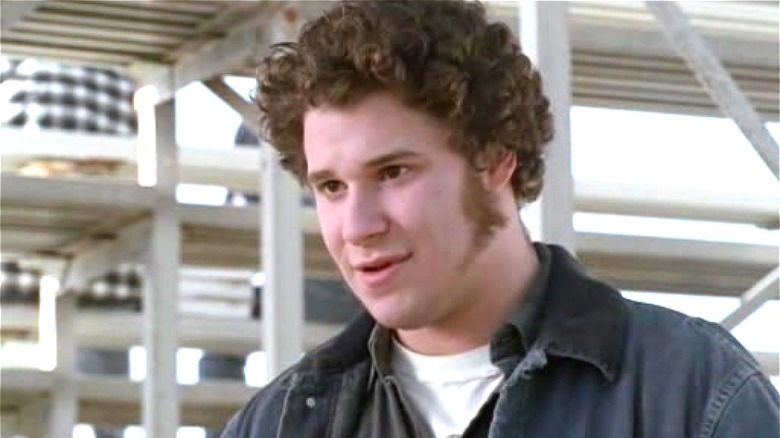 Before he became famous for his crude humor and enthusiastic pot-smoking lifestyle, Rogen grew up in Vancouver, British Columbia, Canada, among a tight-knit Jewish community. It was at bar mitzvah school that Rogen met his best friend, Evan Goldberg, with whom he would later co-write the scripts for "Superbad" and "Pineapple Express."
While Seth was honing his comedy skills as a teen, the Rogen family fell on hard times. In a 2008 interview with Toronto Star, Seth related how both of his parents became abruptly jobless when he was 16 years old.
"When I was 16, my dad lost his job, then my mother quit hers," he recalled. "They had to put our house on the market and move into a much smaller apartment."
As a result, the family had to sell their home and move to a smaller and more affordable residence. It was amazing luck and timing when an open casting call came around for Judd Apatow's "Freaks and Geeks." Rogen's audition impressed Apatow, and he and his parents relocated to Los Angeles so Seth could work on the show.
"I supported them to some degree," he said of that period. "But with your parents, isn't it always a question of who's supporting who? It was always the family's money. It was never my money."
Rogen's continued work with Apatow
Following the cancellation of "Freaks and Geeks," Rogen had impressed Apatow enough that the producer was eager to continue working with him. Apatow's next project was a college-centered comedy called "Undeclared," for which he hoped Rogen would take the starring role. However, things didn't go as planned when the Fox network vetoed Rogen for the lead; instead, he became one of the show's writers.
"It's uncomfortable for other people when this 18-year-old is ripping out scripts that are among the best," Apatow said. "I know I'm hanging out with one of the guys who's going to be one of the great comics."
"Undeclared" was a hit with critics, but like "Freaks and Geeks," it ended up on the chopping block after only one season. Rogen would continue his unofficial apprenticeship with Apatow, who gave him such challenging assignments as writing a screenplay in ten days, or coming up with 50 pages of movie ideas. Though Rogen had some difficulty with auditions for a few years following his short-lived TV acting career, it wouldn't be too long before Apatow found him another perfect fit – this time, in a movie.
The 40-Year-Old Virgin showed off Rogen's improv skills
After the critical success of "Freaks and Geeks" and "Undeclared," Apatow moved into film, directing "The 40 Year Old Virgin" in 2005. The comedy included an ensemble cast of characters, with "The Office" star Steve Carell in the lead playing the awkward yet lovable Andy. Seth Rogen was cast as Cal, one of Andy's co-workers, along with co-stars Paul Rudd, Romany Malco, Catherine Keener, and Jane Lynch.
Rogen made a big impression among audiences with his performance, with most of his dialogue being improvised. In one memorable scene, for instance, Rogen and Rudd engaged in playful banter while beating each other up in "Mortal Kombat," all made up on the spot. Rogen's performance was singled out for praise by some critics, and he also received a co-producer credit for the film.
"The 40-Year-Old-Virgin" was a surprise hit with critics, putting Rogen's face and name out into the public eye.
"Rogen's focused and he's driven but not in the way that a lot of people are," Rudd said of his co-star. "When you meet him, you wouldn't think he's focused or driven at all. You'd just think he's high. Which he might be."
Knocked Up turned him into a leading man
Early in Rogen's career, no one would have seen him as a romantic leading man. He was immature, unsophisticated, and not exactly on par with actors like Brad Pitt or George Clooney in the looks department. He was perfectly at home as a supporting character, cracking jokes on the sidelines rather than taking up the spotlight. At least, that's what everyone thought.
As he had many times before, Apatow had more faith in Rogen than even perhaps the actor himself. To prove it, he cast the funnyman as the star of his second directorial effort, the 2007 romantic comedy "Knocked Up." Rogen plays Ben Stone, an awkward slacker who has a one-night-stand with ambitious entertainment reporter Alison Scott (Katherine Heigl). When she gets pregnant, these two people who barely know one another are now plunged into a life-changing endeavor.
Once again, critics lauded Apatow's sophomore film, praising "Knocked Up" for its hilarity as well as its heart. Rogen also managed to surprise reviewers with his genuine performance. Reel Views wrote in their critique: "Rogen does a solid job presenting Ben's character arc from charismatic, irresponsible loser to assertive, responsible father-to-be." Anthony Lane of the New Yorker wrote: "Seth Rogen is unceasingly likable as Ben, and the puerility of the tale, which would otherwise pall for anyone over the mental age of fifteen, is somehow redeemed by his tolerant sweetness."
Superbad was Rogen's lifelong work realized
Seth Rogen's dream of a career in comedy began early, when he was as young as 13 years old. It was around this time that Rogen and Goldberg, while hanging around Point Grey Secondary school in Vancouver, began penning the screenplay for the raunchy coming-of-age comedy "Superbad."
The movie was based on the real lives of the young writers — including a few of their close friends — as they traversed the adolescent world of sex, booze, and pot. Goldberg and Rogen even named the two lead characters after themselves, and some twelve years later their screenplay would become a reality, with Jonah Hill as Seth and Michael Cera as Evan.
The teen comedy was a hit with both critics and audiences, bolstered by a unique blend of vulgar humor and charming sincerity.
"I think it's only in the last few years that I've grasped, we're one of those high school movies that's stood the test of time," Rogen said in 2022. "You don't know that's going to happen until years and years and years go by. Now that years and years and years have gone by, me and Evan look at each other and we're like, 'We did it.'"
You'll probably recognize Seth Rogen's voice in several animated projects
Part of Seth Rogen's trademark is his voice, with its low gravelly tone and easily identifiable chuckle. It's only natural, then, that animation studios would seek him out.
Starting with small roles in Seth McFarlane's "American Dad!" and "Shrek the Third," Rogen would go on to have his voice featured in many animated projects. In 2008, Rogen landed a voice acting gig in 20th Century Fox's "Horton Hears a Who!" as well as Dreamworks "Kung Fu Panda." In the latter, he is the insect martial arts master Mantis, a member of the Furious Five. He would go on to reprise the role in the two "Kung Fu Panda" sequels, as well as two shorts.
In 2009, Rogen was hired to play the gelatinous creature B.O.B. (which stands for Benzoate Ostylezene Bicarbonate) in Dreamworks's animated adventure, "Monsters vs. Aliens." He also provided the voice for the titular sarcastic alien in "Paul," co-starring the Cornetto Trilogy duo Nick Frost and Simon Pegg. Rogen then starred in, co-wrote, and co-produced the 2016 animated adult comedy, "Sausage Party."
Rogen has reportedly been cast as Donkey Kong in the upcoming Super Mario Bros. movie, and there has been talk of the character subsequently receiving his own film. Rogen has voiced so many cartoon characters, in fact, that 2022's Chip 'N Dale: Rescue Rangers film had a self-referential scene where many of them met each other.
Rogen teamed up again with Apatow and Goldberg for Pineapple Express
While Rogen and Goldberg were filming "Superbad," they were simultaneously developing the script for their next movie, "Pineapple Express." They eventually caught the attention of filmmaker David Gordon Green, who had previously wowed the indie movie circuit with films like "All the Real Girls" and "George Washington." Impressed by how well Rogen and Goldberg worked together, he signed on for his first studio comedy.
With Rogen co-starring alongside James Franco, co-penning the script with Goldberg, and longtime friend Apatow producing, the collective soon had another hit. "Pineapple Express" is a stoner movie, a buddy comedy, and a violent action-crime film all rolled into one huge joint. While "Express" had mixed to fair reviews from critics, some of whom felt that the movie seemed to fall apart into a muddled mess at the halfway point, it was a box office success, grossing $102 million worldwide.
At one, Rogen and co. considered making a sequel, but ultimately the idea was scrapped. "We tried to make one," Rogen told Howard Stern in 2020. "It was something we were very open to several years ago, but Sony was not that interested in [financing] it … I think we probably wanted too much money. Studios, they don't like giving away money."
A series of unfortunate films
While Rogen's brand of immature stoner comedy making him one of Hollywood's most sought after performers ("Knocked Up" made $220 million worldwide, "Superbad" $170 million), there was a period where it seemed like everything he touched turned to gold. Then came a regression to the mean.
Like them or hate them, "Drillbit Taylor," "Zack and Miri Make a Porno" and "Observe and Report" hardly set the box-office on fire. Rogen helped write the former, then headlined the other two with direction from Kevin Smith and Jody Hill, respectively.
"Report," in particular, seemed to chip away at Rogen's perceived bankability as a leading man. In the film he played Ronnie, an over-enthusiastic mall security guard. Despite co-starring Ray Liotta and the amiable Anna Farris, "Observe and Report" was blasted by the critics and a box office failure.
These films were then followed up by Rogen's first real "action" film, a Michel Gondry reimagining of the radio drama "The Green Hornet" (Rogen starred in and co-wrote with Evan Goldberg). It also flopped with critics and was quickly forgotten, even if did make $227 million worldwide.
Funny People was serious business for Rogen
How do you make a serious movie about comedy? Rogen dove deep with 2009's "Funny People," an Apatow production that paired Rogen with Adam Sandler.
Telling the story of a washed-up movie star (Sandler) attempting to return to his stand-up roots when he is diagnosed with cancer, Rogen was cast as the promising newcomer he hires as an assistant and takes under his wing,
In an interview at the time with the Australian magazine Girl, Rogen talked about the process of writing his own stand-up jokes for the movie, which the cast would test out on real audiences.
"I'd say each of us probably had around an hour of stand-up comedy material," Rogen explained. "We would perform. We'd bring in audiences. We built some comedy clubs on stage. We filmed in some actual comedy clubs. We would bring in crowds."
"Funny People" received mostly positive reviews from critics. Of Rogen's performance, the legendary Roger Egbert wrote: "The film presents a new Seth Rogen, much thinner, dialed down, with more dimensions. Rogen was showing signs of forever playing the same buddy-movie co-star, but here we find that he, too, has another actor inside."
Rogen makes his directorial debut
By 2013, Rogen had writer, producer, and lead actor credits under his belt. He then teamed up with Goldberg again to co-direct their first feature, "This is the End."
The zany apocalyptic comedy was based on a short film, "Jay and Seth Versus the Apocalypse," and featured a cavalcade of comedic actors playing quasi-fictionalized versions of themselves. At an L.A. house party at James Franco's house, friends Seth Rogen, Jay Baruchel, Craig Robinson, Emma Watson, Jonah Hill, Danny McBride, and several more stars in cameo roles have their revelry interrupted by world-ending events — including earthquakes, cannibals, and demons.
"This is the End" was a moderate critical and commercial success, but also had its share of controversy. A rumor emerged that Watson had left the set during a scene with McBride and Channing Tatum that she found offensive. Rogen attempted to clear things up in an interview with GQ.
"I think sometimes when you read something, when it comes to life it doesn't seem to be what you thought it was," he explained. "But it was not some terrible ending to our relationship. She came back the next day to say goodbye. She helped promote the film. No hard feelings."
On Twitter, he added: "I am very sorry and disappointed it happened, and I wish I had done more to prevent it."
The Interview resulted in terrifying backlash for Rogen
Rogen and Goldberg's second directorial project involved even more controversy for the filmmaking duo. In the action comedy "The Interview," Rogen co-stars with Franco as Aaron Rappaport and Dave Skylark, respectively. Skylark is the host of an entertainment news series in the U.S., with Rappaport being the producer of the show. When the two find out that North Korean dictator Kim Jong-Un (Randall Park) is a fan, they agree to do an interview with the mentally unstable leader. They are then approached by the CIA to take on a top secret mission to assassinate Kim.
Tensions between North Korea and the US being what they are, "The Interview" was a source of outrage for the North Korean Foreign Ministry. A representative from the Ministry warned that if the movie was released, it would be considered an act of war. A group of North Korean cyberterrorists also hacked into Sony's systems, releasing personal data of the company's employees, including social security numbers, unreleased film scripts and private emails.
Concerned about retaliation from North Korea, Sony halted the nationwide theatrical release of "The Interview," instead limiting the movie to digital rental and purchase. Rogen would later admit that the negative events surrounding the movie were "traumatizing" for him and Goldberg, and they haven't directed a movie since.
Rogen received high praise from Steve Wozniak for Steve Jobs
In 2015, Rogen went against type and proved his dramatic acting chops in the biopic "Steve Jobs." Helmed by acclaimed director Danny Boyle, and with a screenplay written by the equally lauded Aaron Sorkin, "Steve Jobs" tells the story of Apple co-founders Jobs and Steven Wozniak (played by Rogen). Michael Fassbender was nominated for Best Actor by the Academy Awards for his portrayal of the charismatic Jobs, as was Kate Winslet for Best Supporting Actress for playing Joanna Hoffman, Apple's marketing executive.
Despite not earning any award nominations himself, Rogen impressed with his performance as Wozniak. In a review of the film, Aisha Harris of Slate singled out Rogen in particular. "Throughout Danny Boyle's movie, it's Woz's scenes that resonate the strongest and feel the most satisfying," Morris wrote. "Since his debut in Apatow's 'Freaks and Geeks,' Rogen's made a specialty of characters whose dramatic travails surprise you, even within a comedy."
As for the man himself, Wozniak had only good things to say about Rogen. "I thought he did an excellent job," Wozniak told the BBC. Though its profits were disappointing at the box office (as per Box Office Mojo), critics gave "Steve Jobs" positive reviews for both the cast's performance and Sorkin's writing.
Rogen took on an iconic role in Disney's remake of The Lion King
For better or for worse, the trend of Disney remaking classic animated features into live-action re-imaginings doesn't seem to be going away anytime soon. From Angelina Jolie's "Maleficent" to "Cruella" with Emma Stone, these modern takes on classic Disney movies have varied in quality, but many have performed well at the box office.
In 2019, director Jon Favreau took the reins for the hyper-realistic CGI remake of the musical family film "The Lion King." The movie included an all-star cast, including Donald Glover, Beyonce, and James Earl Jones (reprising his role as Mufasa); Rogen played Pumbaa with "Billy on the Street" star Billy Eichner as Timon, forming the carefree comedic duo who perform "Hakuna Matata."
"They're very, very, very close friends," Rogen said of the characters in 2019. "And like any two people who spend a lot of time together, they start to have things that bother one another about each other. Meerkats are very quick, fast-paced animals and warthogs are … a little on the slower side."
Variety's Peter Debruge had high praise for the pair, saying: "Rogen and Eichner's riffing sessions result in a fair amount of fresh material, and an overall even-more-likable version of these two beloved characters."
Seth's role in Pam & Tommy earned him an Emmy nomination
In February 2022, Rogen produced and starred in the ostensibly biographical series "Pam & Tommy." The Hulu eight-episode series dramatized events surrounding the real-life leak of a sex tape with "Baywatch" actor Pamela Anderson and Motley Crue drummer Tommy Lee, which became huge news in the mid-'90s and predated many issues of internet piracy and pornography.
Based on a 2014 Rolling Stone article, the series cast Rogen as Rand Gauthier, the down-on-his-luck contractor who stole the tape from the celebrity couple's mansion.
Initially, Rogen and Goldberg were expected to head the project with their production company, Point Grey Pictures. The series was to be directed by Rogen's longtime friend, James Franco, also set to star as Tommy Lee (via Collider). However, director duties eventually fell to "I, Tonya" filmmaker Craig Gillespie, and Sebastian Stan was cast as Lee. Point Grey Pictures remained involved, with Rogen and Goldberg credited as executive producers.
Critics had mostly positive things to say about "Pam & Tommy," with particular praise of Lily James for her performance as Anderson. Rogen, meanwhile, earned his first Emmy nomination for acting, in the category of Outstanding Supporting Actor in a Limited Or Anthology Series Or Movie.
Producing The Boys and other projects
Though still an on-screen presence, Rogen is quite active behind the camera these days. He and Goldberg founded Point Grey Pictures in 2011, and though many of their projects began with a focus on independent film, the production company has evolved to have a heavy presence in streaming and television.
Point Grey Pictures has had its fingers in several pies over the last decade. From cable shows like "Preacher" for AMC and Showtime's "Black Monday" to streaming series originals like Hulu's "Future Man" and Amazon's "The Boys," Rogen and Goldberg's company has been busy.
In 2020, Rogen spoke to The Hollywood Reporter about Point Grey's evolution and the benefits of crossing over to new media. "'Preacher' was our first show, and it opened the door for us right away to do a lot more different stuff," Rogen said. "All of a sudden, in the TV world, we are playing in levels of budgets that, if you were to transfer over to the movie world, is a much bigger arena than we are generally working in."
With the rising popularity of shows like "The Boys," Rogen and his company seem to have a much wider world of entertainment now available to them. With upcoming projects like a new "Teenage Mutant Ninja Turtles" movie and a "Darkwing Duck" series reboot (via Variety), it will be interesting to see where his career goes next.