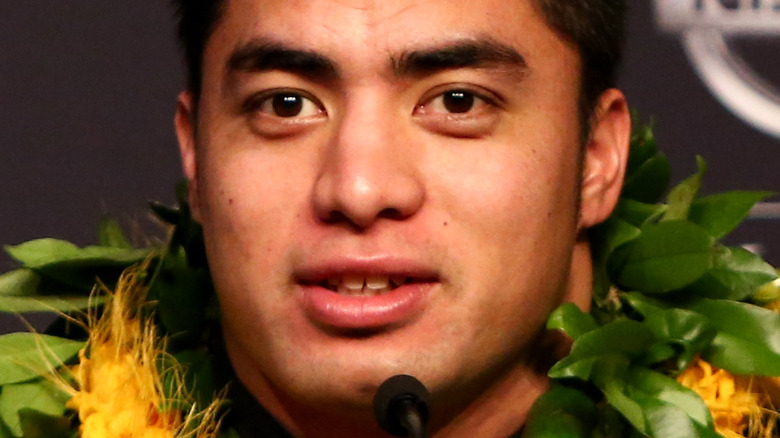 Manti Te'o is a former NFL player, but he is arguably more well known for being the victim of a catfishing scandal that tarnished his reputation. The athlete's shocking story is revisited in "Untold": The Girlfriend Who Didn't Exist," a Netflix documentary that gives Te'o the opportunity to open up about what really happened when he fell for catfisher Naya Tuiasosopo's hoax.
This story first made headlines in 2013 when Deadspin shared that Te'o's girlfriend, who he previously announced had died of cancer, did not exist. This in-depth piece revealed that the athlete had actually maintained a year-long online relationship with a secret admirer who had been using another woman's photos to trick him. The football player first opened up about the distressing discovery in a statement obtained by ESPN in 2013. "To realize that I was the victim of what was apparently someone's sick joke and constant lies was, and is, painful and humiliating," Te'o said at the time. In the aforementioned Netflix doc, Te'o stated that he'd long forgave Tuiasosopo. As he told Esquire, "I had to do that and I felt like it was necessary for me to do that in order for me to move on with my life and to be happy again."
This elaborate hoax is only one of the many hardships the athlete has faced. These tragic details about Manti Te'o prove his resilience.
Manti Te'o was bullied for falling for his catfisher's hoax
As previously mentioned, many believed that Manti Te'o helped fabricate the fake girlfriend hoax in an attempt to gain publicity. In the Deadspin article that first broke the news, a friend of catfisher Naya Tuiasosopo alleged he believed Te'o knew his girlfriend's true identity all along, claiming the duo posed for photos together on since-deleted social media accounts. Unfortunately for Te'o, these statements really didn't help to prove his innocence.
The athlete was not seen as a victim in this situation. Instead, he was harassed online, and he was even the subject of a "Saturday Night Live" skit that poked fun at his naivety. It probably didn't help that social media showed no mercy after finding out about the catfishing scandal. Te'o found himself at the center of many Twitter memes and jokes. Even celebrities got involved with the commentary and criticism, which likely hurt the athlete even more. Seth Meyers, for example, shared a Tweet that read, "These Te'o jokes are all very funny but let's all try and remember that a person who never existed is dead."
Te'o reflected on this bullying and the impact it had on him in his Netflix documentary, "Untold": The Girlfriend Who Didn't Exist." Per USA Today, he explained that he questioned why this scandal happened to him. The athlete turned to his faith in an attempt to cope, and this was when he began to heal.
The football player's sexuality was questioned
Manti Te'o's former catfisher, Naya Tuiasosopo, is a transgender woman who had not yet come out as trans at the time of the scandal. As a result, many questioned Te'o's sexuality after discovering Tuiasosopo was the person who had been posing as his girlfriend, according to Yahoo! Sports. This led to an uncomfortable interview where Katie Couric grilled Te'o about whether or not he was gay.
Couric also questioned why he decided to date online in the first place. "Why wouldn't you want a real girlfriend, who you could actually spend real time with in person?" she asked the athlete. Te'o then explained that he was drawn to his fictional girlfriend, Lennay Kekua, because she led him to believe that they shared the same culture. He also felt that she understood his Mormon faith and his upbringing. Couric explained that some people believed Te'o had fabricated his story in an attempt to hide his sexuality. However, when she asked the athlete if he was gay, he responded, "No, far from it. Far from it." Unfortunately for Te'o, it seems that Couric, along with the general public, didn't see how inappropriate these questions were.
Manti Te'o lost millions
Manti Te'o's highly anticipated NFL draft should have earned him a contract worth tens of millions of dollars. Instead, the athlete's career took a hit as a result of the catfishing scandal. According to CNBC, Te'o, who was then a promising football player at Notre Dame, was not even a first-round pick during the 2013 NFL draft.
Sports economist Patrick Rishe spoke to CNBC about the contracts and endorsements Te'o' potentially lost out on. "Even if he plays 10 years in the league, this is millions over the first four years that he never gets back," Rishe said. He continued on about what could have happened if Te'o hadn't run into so many setbacks before the NFL draft. "Here's a guy who was a hot commodity during his senior year at Notre Dame," Rishe said. "If he performs well in the national championship game, if there isn't a story about the hoax girlfriend, and he had performed well at the combines, not only is he going to be picked in the top 10 and earn more money, but he's going to be more likely to get the endorsement deals."
Te'o did stick around the NFL, but a series of injuries left him on the sidelines throughout his first few seasons. According to Celebrity Net Worth, Te'o's entire NFL career has earned him only $10.4 million, which is only a fraction of what he was projected to make prior to the scandal.
He watched a fellow Notre Dame student fall to his death
Outside of the infamous catfishing scandal, Manti Te'o has endured another traumatic event that likely left a lasting impact. A Notre Dame profile of the athlete recounted that he watched student cameraman Declan Sullivan pass away after he fell from a hydraulic lift while filming a football practice. According to the article, Te'o comforted Sullivan in his final moments by kneeling at his side and reciting a prayer. He later attended the videographer's funeral to let his sister know that he was there for her as she grieved her brother's passing.
An investigation later revealed that Notre Dame failed to ensure the student's working conditions were safe, which ultimately resulted in his death. The Los Angeles Times reported that Sullivan was sent up in the lift on an incredibly windy day. Even Sullivan himself questioned the university's decision to have him film from the lift. On the day of his death, he shared as series of chilling tweets (via HuffPost). "Gust of wind up to 60mph … I guess I've lived long enough," he posted. A little over an hour later, he wrote,"Holy f*** holy f*** this is terrifying." In the end, the Indiana Occupational Safety and Health Administration fined Notre Dame $77,500 for a number of violations that contributed to Sullivan's death.
The athlete faced poverty as a child
Family has always been important to Manti Te'o, and after the catfishing hoax story broke, he seemed most concerned about their well-being. He told the AP at the time (via Sports Illustrated), "As long as my family's OK, I'll be fine."
As noted in a Notre Dame profile of the athlete, Te'o is the oldest of five siblings, and as a child, he took on a leadership role in his household. The football player's family lived in poverty in a small home in Hawaii, but he made an effort to protect his younger siblings from the effects of their family's financial situation. The feature highlights one instance in particular where he and his little brothers and sisters played games with flashlights in their house after their power was shut off due to nonpayment.
The family's closeness is still apparent even years after Te'o's life-changing scandal that could have put a dent in their relationship. A Facebook post shared by the football player's father reveals that the challenges Te'o faced have only strengthened the family's bond. "We are truly grateful for all of the experiences we had while traveling that journey with him — both the good and not so good," the father wrote in reference to his son. "It has only brought us closer together, and it revealed just how much grit, determination, and courage this guy has."