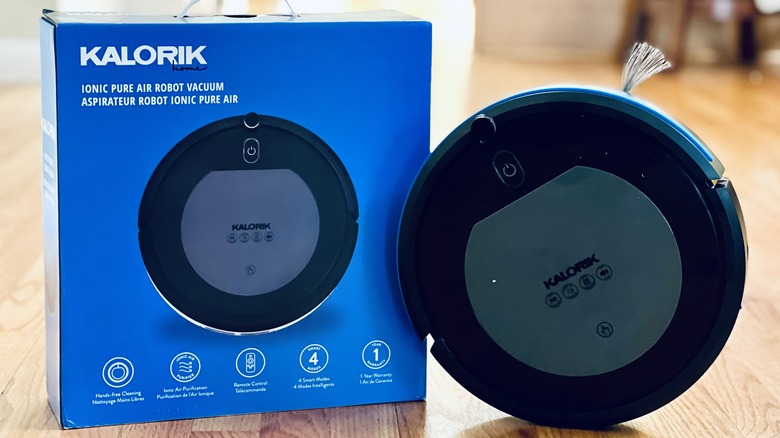 Robot vacuums are a miracle worker in the set-it-and-forget-it day of house cleaning. Advantages like not needing to be home, self-charging capabilities, and built-in sensors (among others) makes using them a no-brainer. The robot vacuum selection out there is pretty hefty, though, with so many options from wireless Bluetooth connectivity to purification systems that kick on when cleaning. Since these vacuums can get up there in price — even into the thousands for the primo bells and whistles — we decided to take a look at the less expensive models and see if they work just as well, or even better than their pricy counterparts.
To that end, we tested out the cheapest model at Home Depot to see if it's worth the price. After looking at the Roomba and Shark models online ranging from $250 to $800, we decided on the Kalorik Vacuum Cleaner with Air Purification at $129. It wasn't available in store, so we opted to buy it and have it shipped (for free). In about a week, the Kalorik was in a box on our doorstop ready to unpack and be put to work.
What we ordered from Home Depot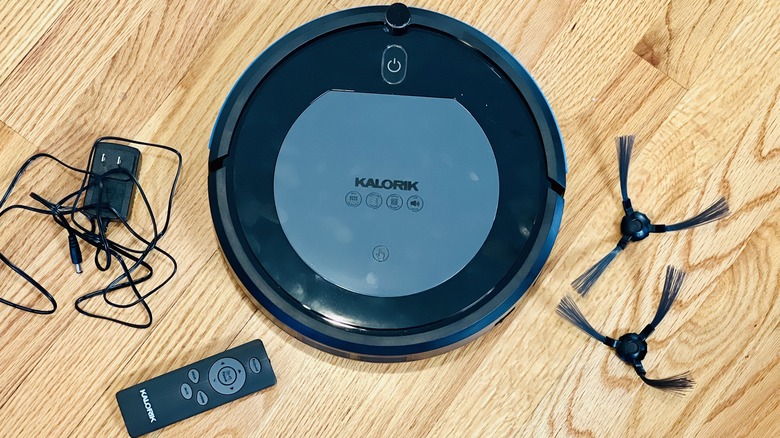 Once we opened the box and took a look at all the contents, the process for setting the Kalorik up seemed pretty straightforward. The sweeper brushes came packages separately, a detail we appreciated as that prevents bending and therefore altering the machine's performance. There was also a mini brush to clean out the vacuum if needed.
We were also pleased to discover that a remote control was included to direct the vacuum one way or another, a useful feature if you really need to get, say, the kitchen cleaned before moving on to the bedrooms (as opposed to other models that go on auto-pilot when cleaning). It also helps when the vacuum gets stuck and needs some help getting back on track. The remote control had four settings, including auto sweep, focus sweep, random sweep, and a manual mode.
Reviews at Home Depot noted that the Kalorik was efficient at picking up dog hair, but they also said the battery life seemed to be very short, so we were keen to test for both. And according to the Kalorik website, the vacuum's savviest feature is that it also serves as an ionic air purification system, with negative ions attracting pollutants and eliminating them to improve air quality, all for $129.
How we tested the Kalorik
We decided to test the Kalorik on our kitchen floor since it accumulates the most dirt from cooking, foot traffic, and the outdoors (as it leads to the garage). After charging the robot vacuum for the recommended six hours before first use, we waited for the green light to flash, then pressed the power button. We directed the machine to the kitchen via the remote, which was super helpful as we didn't have to mess with lifting the device and setting it in the room; we also didn't have to use our smartphone to open the app, make sure the device was connected, and then direct the machine where to go. Once it was there, you could see it getting to work, using the sensors, re-adjusting, and continuing to clean.
The kitchen has mostly hardwood floors, so we also wanted to see how the vacuum would do on carpet to get a full sense of its capabilities. According to Home Gears Lab, robot vacuums are generally better on hardwood floors, but should easily be able to adjust to carpet. We moved the Kalorik with the remote to the living room rug and set it free. We were sure to clear anything that it would suck up instantly and cause problems like LEGO pieces and cords.
Did the vacuum exceed expectations?
We were very impressed with the fact that a lower-priced robot vacuum had a lot of bells and whistles. The best part about the Kalorik was the remote control, as we could manually direct where it needed to go, which was especially helpful for rooms like the kitchen and kid's playroom where there is naturally more dirt to sweep up. Additionally, if we needed to pick the machine up for whatever reason, we liked that it was lightweight and able to continue working when we set it back down.
Although there was quite a bit of bumping into chairs and walls, we did appreciate the fact that the vacuum was able to adjust accordingly. According to Review Geek, this is all due to the many advances in technology specific to cleaning and navigation with better sensors to detect walls and objects. We also didn't notice any damage to chairs, tables, or anything else it bumped into, which means it can handle delicate furniture.
As for how the Kalorik performed on the carpet as opposed to the hardwood floors, it did better on the former than the latter. On hardwood floors, we noticed the vacuum did leave some dirt behind, but it was quick to go back and do another pass before moving on to the next area of the room. On the carpet, the machine left those beautiful vacuum lines with minimal to no dirt behind.
How it could be improved
When we tested the battery life of the Kalorik, we did notice that the device ran out of juice sooner than we'd like, which was a major drawback as we couldn't step out for an hour or so and come back to a completed job. According to Living Smarter, the average battery life for a robot vacuum is about 60 to 70 minutes (for a space about the size of a small apartment). When looking at multi-room homes, however, you'll need something that can clean for longer periods of time.
We also noticed that although the machine was great at going from hardwood floors to carpet, it did get stuck on rugs that have padding underneath. Overall, the vacuum required monitoring, which we were not a fan of, given how other robot vacuums for a bit more could do the job without needing to be charged, cleaned out, or monitored in case it got stuck.
Additionally, the Kaloric doesn't have a docking station like other robot vacuums, so it does not clean the filter itself. That means that filter has to be cleaned manually, which can be gross depending on what the vacuum is picking up.
Would we buy it again?
Overall, the Kalorik Robot Vacuum is a lower-priced option that can take on the role of an assistant maid for basic upkeep, but isn't a replacement for heavy cleaning. While it accomplished the task of cleaning our hardwood floors and carpet, we feel there are better options out there that can do a better job, even though they are more expensive. Features like docking stations that charge themselves would be super helpful, especially if you want to leave the house and let the vacuum work. The other cool feature about a docking station is that the machine can empty the bin itself when full so you don't have to manually clean the filter. These little add-ons may seem unnecessary, but they really help in making a hands-off experience.
Although Toms Guide notes that a robot vacuum shouldn't replace your heavy-duty handheld vacuum, we also know that this chore doesn't happen every day. Still, we definitely recommend a robot vacuum for your home, as it's a handy cleaning tool that is super easy to use. And while this may not have been our favorite, if you are looking for a cheaper option for a small space, this one can do the job.