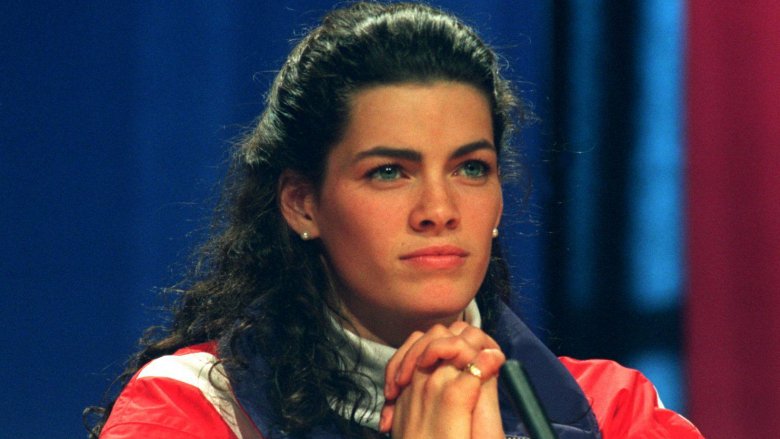 Nancy Kerrigan is one of the most famous American figure skaters in history, but the two-time Olympic medalist and former U.S. national champion is rarely remembered for her achievements in the sport. Due to an off-ice incident that took place during the trials for the 1994 winter games, Kerrigan became a national talking point and found herself under the spotlight, put on a pedestal by the same press that later appeared to revel in tearing her down. What began as a fruitful relationship with the media quickly started to sour, and Kerrigan's life took a sharp turn for the worse. But this was nothing new for Kerrigan, who had known hardship from a very young age. Let's take a closer look at Nancy Kerrigan's tragic real-life story.
Nancy Kerrigan's mother lost her eyesight right in front of her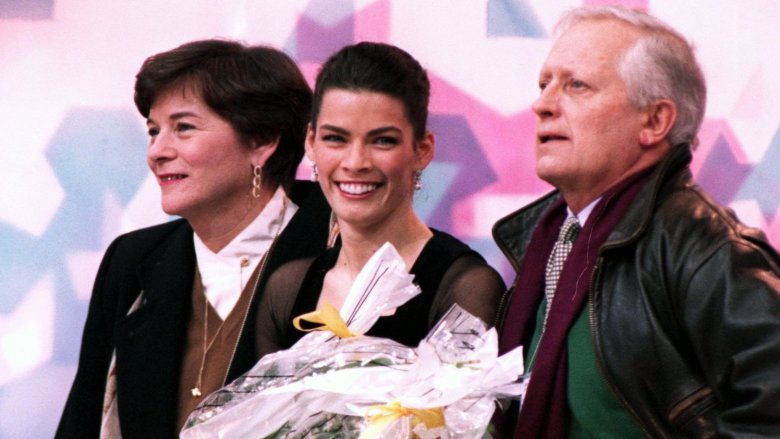 Life first decided to throw Kerrigan a curveball when she was just a child, riding in her mother's car with her two siblings, Mark and Michael, like it was any other day. What none of them realized until it was too late was that Nancy's mother, Brenda Kerrigan, had contracted an extremely rare virus that would have devastating consequences for the family. Brenda's vision started to blur on that journey, and by the time the virus was finished with her, she was completely blind in one eye and able to see just "a teeny bit" from the other.
"I've never had any pain," Brenda told The New York Times in 1992. "It was just a virus, like you'd get a common cold." Brenda insisted that she was grateful for still being able to see her daughter up close, but her compromised vision meant that she could never watch her out on the ice. Instead, she watched Nancy from a television in order to gain a closer view. "As nice as it is being able to look at television up close, being underneath the stands my husband Dan and I feel we're missing something. We don't see people and that's a loss. It's really lousy for him. It's much more fun being part of a crowd."
Nancy Kerrigan's dad bartered for skating lessons
Watching Nancy perform from underneath the stands instead of in them was just one of the many sacrifices that her father made in his lifetime. After Brenda went unexpectedly blind, Dan Kerrigan (a welder by trade) was forced to assume all of the duties his wife had previously performed, on top of his own. They couldn't afford to put Nancy through the skating lessons she wanted, but instead of telling her she couldn't have them, Dan struck a deal with the manager of the local rink — he would operate the Zamboni and keep the ice in good shape, and in exchange, his daughter would be taught how to skate.
"Nancy and I would get up at 4:30, then I'd wake Dan up," Brenda said, recalling their day-to-day schedules. "I'd make Nancy's breakfast. What's the big deal about a glass of juice and a bowl of cereal? Dan would drive her to the rink, get on the Zamboni to make the ice, take a nap while she practiced, drive her to school and then go to work himself." All of his hard work and sacrifice paid off, as Nancy rose through the ranks and quickly became a skater with Olympic potential.
Nancy Kerrigan was attacked by her rival's ex-husband
It was her raw talent and clear Olympic potential that almost led to Nancy Kerrigan's downfall. Two days before the trials for the 1994 winter games began, she left the ice at Detroit's Cobo Arena, and before she could even remove her skates, she was attacked by a man. The assailant (who clubbed Kerrigan in the knee with a baton before fleeing) was later identified as Shane Stant, who had reportedly been hired by the ex-husband of Kerrigan's skating rival Tonya Harding.
"I was walking from the practice rink to the locker room but I never made it," Kerrigan told the Daily Mail. "After I walked through some curtains, someone came from behind them and ran alongside me on my right. He hit me very hard, just once, then kept running. Fortunately, I guess, his aim was bad. The doctors who treated me told me that if the bar had hit me one finger-width lower my knee cap would have been smashed and I might never have walked again."
The aftermath of the attack was captured in shocking footage, sparking a media frenzy fueled by the revelation that Harding was somehow involved in the plot to crudely remove Kerrigan from the running. The plan backfired, as Harding (caught up in a media storm of her own) only managed to finish eighth at the Olympic Games in Lillehammer, while Kerrigan was able to recover in time for the Games and take home a silver medal.
The public turned against her
After the attack, Nancy Kerrigan was immediately offered an array of endorsement deals, and she made a lot of money before the Olympics even started. According to Business Insider, the 1994 women's figure skating finals were the most-watched Olympic event ever — complete with a narrative fit for a soap-opera. The American public was gripped, and while Kerrigan did prove she was better than embattled rival Tonya Harding at the games, the gold medal went to Ukrainian teen Oksana Baiul.
Unfortunately for Kerrigan, she did not appear as graceful in defeat as she had appeared on the ice. In another moment that would change the trajectory of her life, Kerrigan was caught on camera behaving like a sore loser because she thought Baiul was holding up the medal ceremony in order to apply some makeup. "Oh come on, she's going to get up there and cry again," Kerrigan said. "What's the difference?" Kerrigan later explained that she had been falsely informed that Baiul was holding up proceedings when, in fact, the organizers were hastily trying to find the Ukrainian national anthem, but the damage to Kerrigan's reputation quickly became apparent.
She started getting death threats
Nancy Kerrigan's time at the Olympics was tainted by the attack. She couldn't go anywhere without somebody staring, pointing, or taking her photograph. "It was like, 'Oh, look, there's that girl that was attacked,'" Kerrigan recalled. The ordeal was made all the worse by the fact that Kerrigan and Tonya Harding had to practice together. "At our first training session there were over 300 cameramen, a media zoo." Her misery was compounded when she narrowly missed the gold medal, then was uninvited from the closing ceremony by the Norwegian royal family.
Concerned that her infamy might make her a target, the King of Norway reportedly asked Kerrigan not to attend the event for her own safety. The move seemed over the top to some members of the public at the time (many people even thought Kerrigan fabricated the conversation with the king), but threats were made on Kerrigan's life. "I was getting death threats," she said. "What did I do? They talk of it as the Tonya and Nancy story but I played no part other than being a victim. I was even asked not to go the closing ceremony at Lillehammer in a message from the King of Norway as it was feared I could be a security risk."
The Disney drama
The biggest gig that Kerrigan managed to land following the attack was with Disney, who struck a deal with the skater worth a reported $2 million that involved a book, a movie, and public appearances. While her teammates enjoyed the closing ceremony at Lillehammer, Kerrigan was back in the States riding a fire engine with Mickey Mouse as part of a Disney World parade — just one of the many duties she had to carry out as part of her new role. She was already on thin ice with the public following her sour grapes at the Olympics (on top of criticizing 16-year-old winner Oksana Baiul, Kerrigan also caught heat for commenting on the judging), so when she once again spoke out of turn without realizing she was being recorded, the daggers came out big time.
"This is so corny, this is so dumb," Kerrigan was caught saying during the Disney parade. "I hate it. This is the most corny thing I have ever done." The skater later explained that she was talking about the fact she was being asked to wear her silver medal during the show, but the public's opinion of her worsened all the same. Disney issued a statement defending Kerrigan (via The Independent): "The Walt Disney company doesn't associate with people who are perfect." But needless to say, that book and movie based on her life never materialized.
Nancy Kerrigan's brother was involved in her father's death
Nancy Kerrigan fever eventually died down, and the press moved on to other matters, though the skater was thrust into the limelight once again in January 2010, when her father died following an altercation with her brother. During an argument over the use of a telephone, Mark Kerrigan allegedly grabbed his 70-year-old dad, Dan, around the neck so hard that he snapped his larynx and caused his heart to fail. "It took this defendant — an angry, mean, nasty, drunk son of his — to take Daniel Kerrigan down, to end his life," Assistant District Attorney Elizabeth Keeley told the court during his trial (via the New York Daily News).
His defense lawyer argued that it was his father's pre-existing coronary heart disease that killed him rather than the scuffle that night, and despite a history of violence, Mark evaded murder and manslaughter charges. He was sentenced to two and a half years for assault and battery in 2011. "I'd just like to say that I loved my father and I miss him very much," Mark was quoted as saying by NECN. "I'd like the opportunity to return home with my family so that we can finish grieving my father's loss and so I can be there to help my mother."
She spoke out against her brother's conviction
When Mark Kerrigan became eligible for parole, he made a shocking decision — he asked the judge not to release him. This request was reportedly made to avoid the bail conditions that would have been imposed upon him if he left prison six months early — stipulations that included counseling sessions and regular sobriety tests. Defense attorney Janice Bassil argued that the cost of such programs was too high for her client to afford, but judge Kathe Tuttman rejected that notion. "It is not up to Mr. Kerrigan to decide that he wants to serve the sentence instead of the conditions of the order," Tuttman said, according to a report in CBS Boston.
According to Nancy Kerrigan, her brother never should have been locked up in the first place. Not for the first time in her life, she criticized a judge's ruling, telling Matt Lauer that her brother's sentencing was a mistake. "He shouldn't have been charged," she said during her 2013 appearance on Today. "My dad had a heart attack and that's that. Since then, we did the same thing we've always done — take things one thing at a time, and you get through it. Life's challenging and hard, and we stick together and move on."
Hollywood chose Tonya Harding over Nancy Kerrigan
The defining moment in Nancy Kerrigan's life may always be the time she was attacked by a goon allegedly in the employ of a rival skater Tonya Harding's ex-husband. Kerrigan's fortunes did improve in the immediate aftermath of the attack, but through no fault of her own (the way she tells it, at least) she later lost it all. In 2017, a movie based on figure skating during its so-called golden age upstaged Kerrigan to focus on Harding.
Screenwriter Steven Rogers was drawn to Harding's tale after watching an ESPN documentary on her rivalry with Kerrigan and began work on what would become I, Tonya, starring A-list actress Margot Robbie as Harding. "Nothing against Nancy Kerrigan, but I wanted to tell the story of the people who potentially thought [the attack] was a good idea," Rogers told Entertainment Weekly. Director Craig Gillespie was somewhat apologetic when addressing Kerrigan's indirect involvement in the film. "I knew it would be a hard journey for [Harding] to take, to have to bring all of this up again after 25 years, but I feel actually even worse for Nancy … she's still known for this even though she won two medals at two different Olympics."
I, Tonya won an Oscar and Harding walked red carpets alongside the stars. Kerrigan had little to say about it. "I haven't seen the movie," she told the Boston Globe. "I'm just busy living my life."
Nancy Kerrigan suffered a series of miscarriages
Though Tonya Harding got lots of attention for her Hollywood blockbuster in 2017, Nancy Kerrigan at least had Dancing with the Stars to keep her busy. The former Olympian took part in Season 24 of the show, and during her stint, she shared some heart-breaking information about her personal life. Kerrigan reportedly suffered through "at least" six miscarriages over the years. Kerrigan married her agent, Jerry Solomon, in 1995, and the couple welcomed a son named Matthew (pictured) the following year, but it would be another eight years before she gave birth to a second child.
"I always thought I'd have three kids by the time I was 30," Kerrigan said (via People). "The first time that you go in and they tell you, 'Oh there's no heartbeat,' it's devastating. I felt like a failure." The Olympian revealed that one of her failed pregnancies went wrong at such a late stage that she had already told her son that he was going to be a big brother. "How do you explain [a miscarriage] to a little kid? Having to tell them that it was now gone and they had to take it out? He asked why and we had to explain, 'Because it's dead. It's not alive anymore.' That was awful."