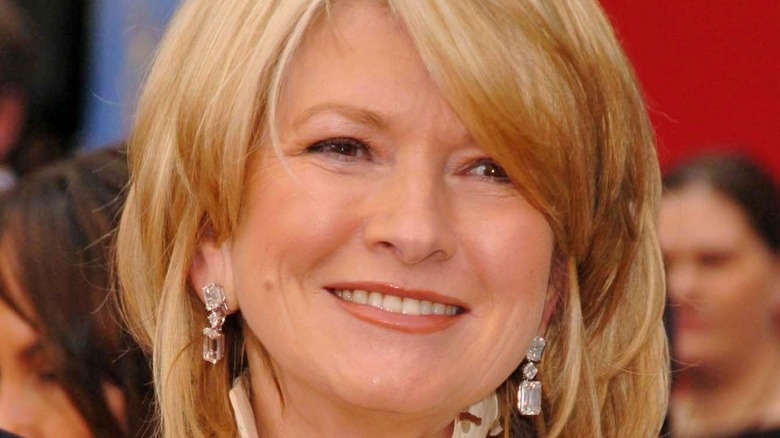 Passionate about gardening, cooking, entertaining, crafting, and decorating, Martha Stewart transformed her interests into a home interior and exterior empire. Using this passion, she grew a staggering real estate portfolio and boasts an impressive collection of properties, some of which she still owns today. As a business mogul, cookbook creator, and lifestyle expert, she has several properties in multiple cities on the East Coast.
According to Martha Stewart, the Northeasterner has several properties sprawled out in various parts of New York, Connecticut, and Maine. These homes, one of which she gave viewers an inside look at on MTV Cribs, are not just residences. They also provide inspiration for Stewart's decor line that she recently launched. To recreate Martha Stewart's home style for yourself, keep reading for the details of all the properties Stewart once lived in, owned, and currently calls home. You may even find inspiration in her home line collections for your living space.
Humble beginnings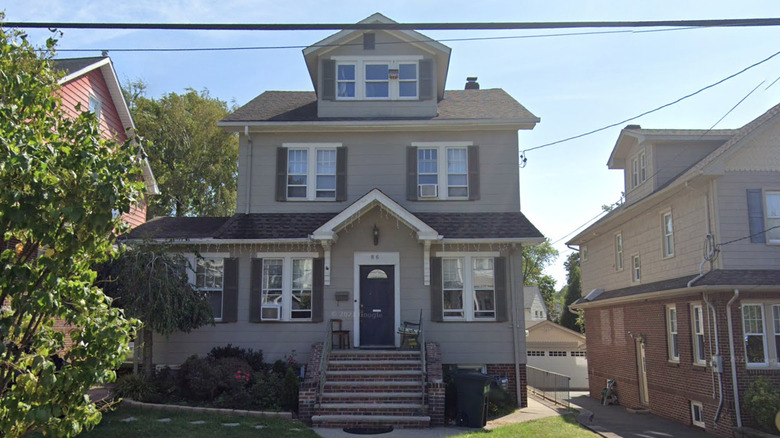 The second of six children, Martha Stewart, or Martha Kostyra as she was born, grew up in a traditional family home at 86 Elm Place in Nutley, New Jersey. According to CNN Money, the three-bedroom, 1,922-square-foot residence dates to 1930. In 1987, Stewart's mother sold the home to buyers. This three-story Colonial-style home is where Stewart grew up and spent her early years. The star lived here from the young age of three throughout her high school years (via Fox News).
Stewart learned and explored her adoration for crafting, cooking, and sewing in this house. Her mother taught her these skills in her youth. Martha also picked up her father's passion for gardening (via Velvet Ropes). A holly bush and fig tree that Stewart planted with her dad still stand on the property. From humble beginnings, Stewart developed a joy for lifestyle tips, recipes, and domestic activities that she continues to share with the public.
Cantitoe Corners is home
According to The New York Times, Stewart calls Katanoh, New York her permanent home. The lifestyle expert resides here on a stunning 152-acre estate. First settled in 1784, the property has seen many renovations, updates, and refurbishments since Stewart purchased the estate in 1999 from its previous owner, Ruth Sharpe. The main house, also known as "Winter House," features 12 bedrooms.
Over the years, Stewart added structural updates to the main home, including a complete kitchen and dining area extension. Other home renovations included converting a barn to a project room and adding a garage to the grounds. She also developed and executed a remodel of the enclosed porch in front of the main house. She even had the front of the home turned to face in a completely different direction. Stewart loves the new space, which is also home to her beloved budgies (via MTV Cribs).
The home features a working farm
The estate that Stewart calls home is not just a place for slumbering but is an actual working farm that is tended to regularly by Stewart and staff. According to Martha Moments, this small village is a sprawling estate that includes several fields of vegetation, horse stables, and areas for other animals. With the traditional roots of the 1925 farmhouse still intact, Stewart has updated the property for modern times, including the home's interiors and the exterior grounds.
The grounds include a range of updated structures such as new chicken coops, fresh stables for her Friesian horses and donkeys, and grazing fields. Other sites of note on the estate include two greenhouses where Stewart grows numerous organic vegetables, fruits, herbs, and plants. She often uses these fresh veggies inside her kitchen to make green juice, seasonal salads, and other delightful dishes. (via Martha Stewart).
The upstate estate includes multiple properties
It should come as no surprise that Stewart's sprawling farm estate is home to not one but several residences. According to The New York Times, the vast, upstate New York property features five structures on the property, plus the main house. Each living space serves a specific purpose on the farm.
One of the most notable buildings on the Cantitoe Corners estate is the "Summer House," the original 1770 Colonial-style home on the farmland. The stunning dwelling is next to the main house and features a lush garden. Maple Avenue House is a guest residence frequently used by visitors and family members. In addition to these homes, there are also a tenant house and a cottage. A contemporary-style home is also on the property, away from the other structures (via Velvet Ropes). Other buildings on the land include various barns, stables, and storage facilities.
The estate inspired Stewart's country living line
"My mission has always been to teach people of all ages to make their homes and lives more beautiful and functional for everyday living," Martha Stewart said to Architectural Digest. Staying true to this mission, Stewart launched four design collections to help organize her different styles. Stewart drew inspiration for the designs from her impressive real estate empire. For example, the Bedford line is an inspirational project that reflects the natural beauty of Stewart's Cantitoe Corners estate in Bedford, New York.
This quaint farmhouse collection features calming, neutral paint colors, pale wood tones, and upholstered pieces in soft cream, taupe, and beige colors. The country decor line embraces outdoor elements and pairs functionality with aesthetics (via Elle Decor). Plucking inspiration from her Bedford vegetable gardens, this decorative lifestyle line celebrates the same farm-to-table approach Stewart practices on her upstate New York farm.
Seal Harbor Lane is Stewart's summer retreat
Stewart owns a lovely home in Mount Desert Island, Maine. According to Architectural Digest, this harbor estate is also known as Skylands and is the main inspiration for one of Stewart's decor lines. The property dates to 1925 and features a gorgeous view overlooking Seal Harbor. The estate has several dwellings for guests and entertaining. These areas complement the main house, which features about a dozen rooms.
Large, old pine and maple trees surround the house and adjacent properties at this summer retreat estate. This residence is one of Stewart's personal favorites and where she often spends her summer vacations (via ABC News). Stewart purchased this home fully furnished from the Ford automotive family in 1997. Aside from it being an inspirational space for her lifestyle collections, Stewart is restoring this property to its former glory days with a neighboring real estate portfolio addition.
Skylands features unique architectural details
Stewart's Skylands residence might be aging, but it encompasses a unique, old-world charm and impressive architecture. According to Architectural Digest, there are wood beams on the ceilings and tastefully aged accents throughout the rooms. Many furnishings come from the Ford family, including the cutwork tablecloths. Picture damask printed wallpaper in a space full of bold copper and metal accents. The outside terrace features lush greenery, garden statues, and plenty of cozy spots for lounging.
Stewart's Skylands line features design elements representative of this forest manor home (via Elle Decor). The collection highlights elegant features and architectural influences found at the residence, like the garden ornaments and velvet bedding. The line is full of textured fabrics with movement and dimension, featuring a muted color palette with pops of soft tones. Expect to find modern furniture pieces with streamlined edges and sharp corners. This contemporary line features a traditional twist inspired by the treasured property.
Stewart purchased the neighboring property at Ox Hill
One view of the harbor was not enough for Stewart. According to Mount Desert Islander, the star purchased the property next to Skylands, known as Ox Hill, to expand her 63-acre Seal Harbor retreat. This grand estate is equally impressive. The 10-bedroom home features eight bathrooms, a view of the water, and stunning forests. While not quite as large as its Seal Harbor neighbor, it is still beautiful and comes with an elegant formal garden that once belonged to the Skylands property. The Mount Desert town values the property at $3.75 million.
Built in the 1900s, this 6,800-square-foot property, formerly known as Ox Ledge, is the work of architect Duncan Candler. He also designed Skylands for Henry Ford's son, Edler Ford. These properties were part of the Ford estate and shared a driveway at one point in time. Stewart's latest real estate purchase brings the two properties back together again.
Stewart used to own this Big Apple penthouse
Yet another addition to Stewart's real estate portfolio is this property set in the hustle and bustle of Greenwich Village. According to CNN Money, this prestigious New York apartment belonged to Stewart before she sold it in 2011. This penthouse city condo has one bath and four terraces. The duplex-style residence totals 3,300 square feet in living space with private keyed access for entry into the home. A similar condo unit in the building is pictured here.
While this West Village duplex may not be Stewart's home anymore, it's still an impressive New York property. The luxury apartment is in a 15-story building located in the heart of New York City. Residents enjoy access to a health club and complimentary concierge service. Stewart is no stranger to the Big Apple and used this residence as inspiration for a home design line in her collection.
Stewart's New York City home inspired her Perry line
According to Martha Stewart, the lifestyle maven's Perry Street home decor collection draws inspiration from Martha's Greenwich Village apartment. The light-filled living space features floor-to-ceiling windows, like in this picture of a similar unit in the building. This mid-century modern-inspired collection focuses on maximizing space in clean and understated ways. City apartments often inspire homeowners to get crafty in their storage capabilities and functionality. These concerns inform the decorative elements in this line. The Perry collection offers urban design elements fit for any size apartment, big or small.
You can expect to find soft pastel colors mixed with luxurious velvet fabrics on chairs and sofas. There is also a fun assortment of metallic accents. Decorating with reflective accents like metals and mirrors can help create the illusion of more space in smaller apartments. The glamorous elements in this collection are ideal for those decorating a city duplex like Stewart's Perry Street abode.
Stewart lived at Lily Pond Lane in the Hamptons
While this Victorian-style Hamptons residence may have inspired one of Stewart's decorative lines, she removed this listing from her real estate empire listings. According to House Beautiful, Martha Stewart sold this Hamptons house to publisher Kenneth Lerer for $16.5 million. Although no longer her property, the former vacation home did receive some of her personal touches and updates throughout the estate.
The historic home received several structural renovations from Stewart after she purchased the property in the late 1990s. These structural renovations included Stewart replacing the plaster ceilings and modernizing the outdoor garden area with new updates around the home. The Lily Pond residence expanded to 6,710 square feet with five bedrooms and four bathrooms. This home displays an impressive glass-enclosed porch and a tiled kitchen (via Fox Business). The home also showcases marble accents in the bathrooms and chandeliers in the main rooms.
Lily Pond inspired Stewart's Hamptons line
Even though the classic Hamptons cottage is no longer a piece of Stewart's real estate portfolio, there is still a decorative line inspired by the property on Lily Pond Lane. According to Martha Moments, after being convinced by her daughter, Alexis, to purchase the property in 1990, this residence became a filming location. Stewart filmed several episodes of "Martha Stewart Living" at the estate.
The Lily Pond collection is unique because it experiments with patterns and prints in unique ways not found in other Martha Stewart collections (via Martha Stewart). When shopping for elements in this decorative line, you can find pieces that look like they belong in an English cottage. The Lily Pond estate-inspired pieces draw influence from the beach and an ocean-themed color palette. The overall collection focuses on outdoor entertaining. The summery collection celebrates the unique style of Hamptons homes, and combines navy blues, yellows, greens, and other warm tones to stunning effect.
Stewart enjoyed Central Park views
Stewart owned another New York City apartment. According to The New York Times, this prestigious Fifth Avenue building is a residence with stunning views overlooking Central Park. More than one famous name has graced these halls, including Halle Berry, Cindy Crawford, and a reclusive heiress named Huguette Clark. After Clark passed away, Stewart tried unsuccessfully to acquire her desirable 42-room apartment in the building (via NYMag). Eventually, the residence was sold in a $55 million deal (via Business Insider).
In Stewart's apartment, space and functionality are at the forefront of the design (via Martha Stewart). The streamlined urban style is evident in the kitchen, which features sliding doors under the countertops and cabinets with glass doors to make the small space appear larger. Stewart equipped her kitchen with Duralab cabinets to create plenty of storage space. She also added shallow drawers for utensils, dishes, and other accessories for entertaining guests.
Turkey Hill is where Stewart started her empire
According to the Chicago Tribune, Stewart began her empire at Turkey Hill over three decades ago. This 19th-century, 4-acre farm home in Connecticut was Stewart's first studio, and it's where she wrote cookbooks, created gardens, and made memories. However, the lifestyle maven sold the house in the spring of 2007. The sale of the treasured home does not overshadow the importance of the property for the lifestyle influencer since this is where she launched her career.
Over the years, the property received many upgrades and renovations (via Martha Stewart). Exterior additions included landscape renovations, chicken coops, barn structures, and garden beds. Additionally, the four-bedroom house received a fresh coat of paint. Interior renovations included kitchen alterations in the late 1990s. Influenced by a career of domestic living and home styling, Stewart has used her extensive real estate portfolio and decorating savvy to inspire how we live for decades.