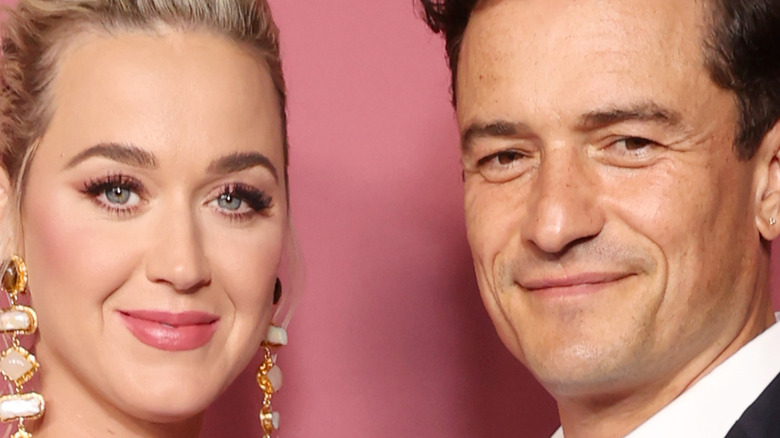 It's been quite the whirlwind romance for singer Katy Perry and actor Orlando Bloom. The couple has faced their fair share of ups and downs — and it all goes back to a flirtatious moment on the red carpet in 2016.
When speaking with Vogue India, Perry called Bloom "an anchor who holds me down." She shared a glimpse into what it is like to have a person like Bloom in her life. "Orlando is like a sage. When we first met, he said we would pull the poison out of each other, and we really do," she revealed. "It's exhausting, but we really hold each other accountable. I've never had a partner who was willing to go on an emotional and spiritual journey like Orlando."
The "American Idol" judge was previously married to Russell Brand, and the "Pirates of the Caribbean" star was married to Victoria's Secret model Miranda Kerr. After those relationships ended, the two found each other in the hills of Hollywood. Here's all you need to know about Perry and Bloom's relationship — from their on-again, off-again status to their plans to expand their family.
Katy Perry and Orlando Bloom: the beginning
At the 2016 Golden Globes After-Party, Katy Perry and Orlando Bloom were spotted getting rather cozy. They spent the night flirting with each other, according to Billboard. Then, in February 2016, Perry and Bloom were caught attending an Adele concert, where they were spotted publicly sharing a kiss (via Daily Mail). Later that month, the two also reportedly vacationed together in Hawaii. "They looked very loved up and really into each other," a source reportedly ET. "They were comfortable letting everyone see them as a couple — lots of PDA and hand holding."
A few months later, Perry and Bloom both attended the 2016 Met Gala; however, they did not show up together. Nevertheless, the two arrived with similar accessories — Tamagotchis. Coincidence? Maybe not.
On July 28, 2016, Perry performed her new song at the time "Rise," at the Democratic National Convention, and Bloom attended and made sure to capture it on camera (via Cosmopolitan). After his showcase of boyfriend material, he may have hinted that their situation-ship might be something more.
They take fashion advice from each other
Katy Perry is known to step out into the public eye in out-of-this-world, flamboyant outfits. Some may say she has odd fashion taste, but that won't stop her from putting on "weird-a** things," as she told W Magazine that's what she enjoys wearing. She's graced the red carpet in some of the wildest looks – from a chandelier hat to a cow print look to a cheeseburger costume. Don't put anything past her. Luckily for her, she shares a mutual passion for fashion with her partner, Bloom. The couple does not hold back from giving their honest opinions to each other, especially with fashion.
"We tell each other the truth," the "Fireworks" singer told People. "I'm like 'Babe don't wear that. You look like, something, don't.'" She admitted to the outlet that she's setting aside all of her strangest clothing for the couple's daughter, Daisy Dove. "I kind of already have a vault," she said. "I'm saving things for her. I don't know where she's going to be able to wear all these crazy outfits, but I'm saving them for her. Also, trust and believe I am always on the hunt on Etsy late at night just finding little cute costumes for all the holidays. I've got a gingerbread dress favorited — just all of my dreams come true."
Orlando Bloom's flossing habit aggravates Katy Perry
What would a relationship be without pet peeves? When Katy Perry appeared on "Heart Breakfast with Jamie Theakston and Amanda Holden," she got candid about Bloom's worst habit — flossing. You might think this means he doesn't floss and is unhygienic about his teeth, but that's not the case. "He loves to floss, which, thank God, because some partners don't, and it's disgusting," Perry explained. It's actually what Bloom does with the floss once he's done with it.
"He leaves floss everywhere," she dished. "On the side of my bed, and in the car, and on the kitchen table." And it's not a matter of there not being enough trash cans in the houses. According to Perry, "there [are] bins everywhere!" Theakston suggested the "California Gurls" singer train the Hollywood actor better, but Perry admitted she's already tried the best she possibly can.
They broke up temporarily
On February 28, 2017, Katy Perry and Orlando Bloom announced their split after rumors began to circulate. In a joint statement to People, their representatives wrote, "Before rumors or falsifications get out of hand, we can confirm that Orlando and Katy are taking respectful, loving space at this time." Of course, that didn't exactly stop the rumors.
Following their breakup, there were claims that they'd broken things off harshly. Perry quickly took to Twitter to shutdown the rumor mill. She tweeted, "HOW BOUT A NEW WAY OF THINKING FOR 2017!? U can still b friends & love ur former partners! No one's a victim or a villain, get a life y'all!"
During a three-day live stream, James Corden asked Perry to rank her ex-boyfriends from worst to best, and Perry listed Bloom in second place, coming up short behind John Mayer (via Cosmopolitan). "They're all amazing lovers and I would have sex with all of them after I get out of this place," she said. Despite being her No. 2, Bloom was spotted with Perry again in together August 2017 at an Ed Sheeran concert. A source allegedly told E! News that the two looked cuddly and "definitely seemed like they're back together."
Orlando Bloom is Katy Perry's 'wild stallion'
Orlando Bloom and Katy Perry's relationship has had its fair share of scandalous moments. Bloom being photographed naked on a paddleboard takes the cake, though. A picture of his bum surfaced on the internet back in 2016, but it wasn't until 2022, when Perry was asked about them on an episode of "Kyle and Jackie O Show," that she talked about it (via Daily Mail). The host, Kyle Sandilands, asked her now if Bloom has begun wearing pants on vacation now that he'd welcomed a baby. "He's not changed one bit! You can't put reins on that man! He's a wild stallion, and that's how I like it!" she responded.
Bloom himself talked about the photos with Howard Stern, who told him, "Good for you being this good-looking and having that kind of equipment. You're truly blessed" (via 9Honey). The actor shot down the compliment, saying, "Things are expanded on cameras with a big optical lens. It is an optical illusion."
Orlando Bloom proposed to Katy Perry on Valentine's Day
On Valentine's Day 2019, Orlando Bloom popped the question to Katy Perry with pasta … and a helicopter. The couple shared the news with a selfie displaying the ring on Instagram along with the caption "full bloom." During an episode of "Captial Breakfast with Roman Kemp," the singer announced the details of the proposal (via Harper's Bazaar). "So, I get there and he's clean-shaven, he's not wearing tennis shoes. I'm like, 'Ah s***, something is going down.'"
Perry further realized something was up because Bloom was ordering everything and anything on the menu willingly — and he's apparently never the type of person to do that. She also recalled that he was nervous based on his heavy breathing. "And then I got on a helicopter, and then he asked me to marry him," she said. The proposal was followed by family and friends waiting for the two to celebrate the engagement.
Orlando Bloom's ex-wife 'absolutely adores' Katy Perry
In 2013, Miranda Kerr and Orlando Bloom called it quits after almost 13 years together. During those 13 years, they dated, tied the knot, and welcomed their son Flynn (via E! News). While speaking with the Kristina O'Neill for The Wall Street Journal's The Future of Everything Festival, Kerr got candid about co-parenting with Bloom (via Harper's Bazaar). "Even when we were separating, I thought, 'Is this in the best interest of Flynn?' She ultimately determined that it was. "If you put everything in that perspective it takes it away from anything too personal between you and your ex," she explained. "It really makes it about the child."
Kerr feels fortunate to "absolutely adore Katy" as the stepmother to her and Bloom's child (via People). And again, this goes back to what's in the best interest for Flynn."For Flynn to have a happy father and a happy mother is the most important thing," Kerr said.
The couple swear by therapy
On an episode of Chelsea Handler's podcast, "Life Will Be the Death of Me," Perry got candid about her relationship with Orlando Bloom and motherhood (via Women's Health). "Orlando and I do couples therapy … the resentment can get really strong when you're both working hard," she told Handler. She revealed that going to a specialty therapy retreat called the Hoffman Process has helped keep her and Bloom "in tune." Both attended separately; Bloom attended before the couple's temporary breakup and Perry went after.
Perry recalled the experience as off the grid — you leave your cell phone behind and get to the root of your thoughts and behaviors."Basically, it's a place you get to go to where you re-wire the neuro-pathways in your mind and you get to discover," Perry explained. "There's so much awareness. You get to discover why you have these patterns and habits and where they're coming from."
Perry announced the couple's pregnancy in a music video
It's only fitting for the singer-songwriter to announce the news of her pregnancy via a music video. In her video for "Never Worn White," Perry revealed her baby bump. Bloom broke his silence about the baby news in March 2020 when he shared a picture on Instagram of pregnant Perry. He captioned the post, "My babies blooming."
Perry spoke with SiriusXM's Mikey Piff and confirmed that the baby was planned and that the two of them are "looking forward to this new interval of life." She explained, "I'm so grateful for everything that I have been able to do and achieve and all the goals that I've been able to kind of check off my list and dreams and the life I've lived thus far, and I think I've just been trying to create this space in my own life where I'm not running myself too ragged and, you know, creating space for something new to happen like this."
The parents announced their daughter's birth through UNICEF
The couple welcomed their first daughter, Daisy Dove, in late August 2020 (via CNN). The new mom announced the news of the arrival of her newborn with UNICEF. On the organization's official Instagram, a photo of Daisy gripping her parents' hands is accompanied by the caption: "As UNICEF Goodwill Ambassadors, we know UNICEF is there, on the ground, doing whatever it takes to make sure every expecting mother has access to a trained health worker and access to quality healthcare."
The following day, Perry reposted the photo and caption on her Instagram feed. "We are floating with love and wonder from the safe and healthy arrival of our daughter," the parents wrote. After the arrival of their newborn, the couple did not release any additional details. However, they did highlight how fortunate they were for a "peaceful" birth and acknowledged that not everyone's birthing experience is like theirs. They added, "In celebration of the heart we know our daughter already has, we have set up a donation page to celebrate DDB's arrival."
The couple has a sweet morning routine with their daughter
Ever wondered what a day in the life would be like for the "Dark Horse" singer as a mother of one? In November 2021, the new mom gave a glimpse into her morning routine for WSJ Magazine's My Monday Morning. "The first thing I do when I wake up is a little tiny verbal ritual," Katy Perry revealed. "I do it every single morning. I say to myself out loud, 'Thank you, God, for today. I am grateful for every day.'" Perry also turns on a special tune, "Lovely Day," by Bill Withers. This is followed by playtime on the floor and reading books.
The family starts their mornings at around 7 or 8 a.m., depending on the day. Perry does get to get her beauty rest every once in a while, though. "Sometimes I get to sleep in and Daddy takes [Daisy] until 9, which is super," Perry revealed. One thing that is always a part of their morning routine: family breakfast.
Will Katy Perry and Orlando Bloom have another baby?
Since welcoming daughter Daisy Dove, Katy Perry has changed. She told Variety she has put her needs second to Daisy's. "As a new mom, those first six weeks are like, 'What?' It's just the biggest life change ever," Perry admitted. "You're responsible for someone's well-being that can't even hold their head up. It's a real shift, and you become not No. 1 on the call sheet. And it's the best." In an interview with Elle UK, the singer referred to her daughter as "the greatest gift" she's ever gotten. "I think what children do, in general, is teach you that all you need is love," she went on to say. So, would Perry like more children?
In an April 2022 interview with E! News, Perry explained why she and Orlando Bloom are not looking to expand their family further just yet. "I'm in Vegas, and I can't do that show with anything in my belly, especially a human," she said. Her residency was set to end in August 2022, but she extended her shows into October (via iHeart). The mom of one said she's thoroughly enjoying the time she gets to spend with her little one. "She's running, she says 'I love you,' she colors, she's got pigtails," she dished.