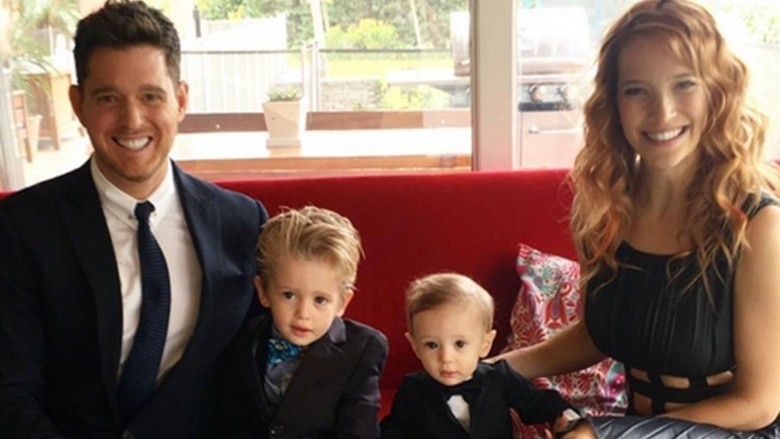 In November 2016, hearts broke around the world when singer Michael Bublé announced that his 3-year-old son, Noah, had been diagnosed with cancer. Here's everything you need to know about the family's fight against this terrible illness.
No one initially suspected cancer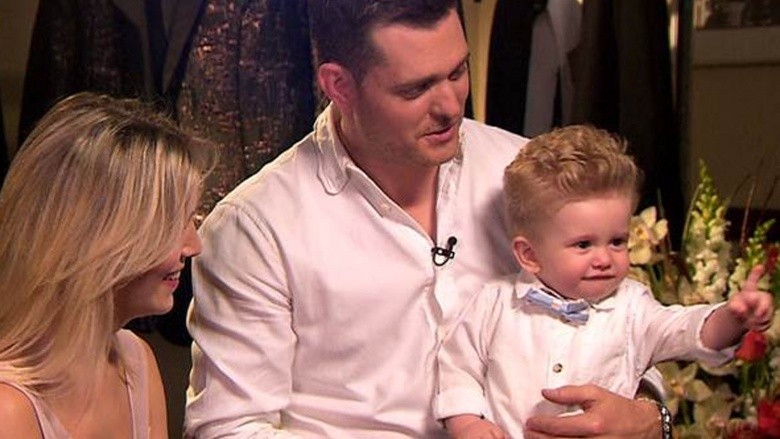 Bublé and wife Luisana Lopilato initially thought Noah was suffering from mumps. According to The Sun, mumps symptoms in children include painful swelling underneath the ears, as well as fever, dry mouth, headaches, joint pain, loss of appetite, fatigue, nausea, and abdominal pain. The disease is increasingly rare due to the prevalence of the measles-mumps-rubella (MMR) vaccine, but if contracted, symptoms typically fade away within a week with no lasting negative effects, The Sun reported. Many childhood cancers reportedly have symptoms similar to mumps, especially leukemia, which can also cause swollen glands under the ears and jaw.
He released a heart-wrenching statement
Bublé released a statement about Noah's diagnosis in November 2016. "We are devastated about the recent cancer diagnosis of our oldest son Noah, who is currently undergoing treatment in the U.S.," he wrote on Facebook. "We have always been very vocal about the importance of family and the love we have for our children. Luisana and I have put our careers on hold in order to devote all our time and attention to helping Noah get well. At this difficult time, we ask only for your prayers and respect for our privacy. We have a long journey in front of us and hope that with the support of family, friends and fans around the world, we will win this battle, God willing."
Noah is undergoing chemotherapy
Noah was reportedly diagnosed with liver cancer after a biopsy on Nov. 1, 2016. Bublé and family took Noah to doctors in Los Angeles for a second opinion, where an ultrasound found cancer. "If God wanted it to be discovered that way, it's because he wants to save Noah," the singer's sister-in-law, Daniela Lopilato, told Gente magazine. "Cancer is a horrible illness, but we have faith in Noah being able to overcome this. We know he will. The time to start a long and very difficult treatment has come, but it's got to be done." Us Weekly reported that Noah has already started chemotherapy, which he'll continue for about four months. The good news? The treatment reportedly gives him a 90 percent chance of beating the disease.
Daniela previously told an Argentinian TV station (via the U.K. Express) that speculation on Noah's diagnosis is not only distressing (noting the family is "broken in half" over the news) but also inaccurate. "Michael and my sister will publish more statements…" she said. "…The only thing I ask if that you don't speculate because not everyone has children and can understand what this means." Noah's little brother, Elias, was born in January 2016.
It's Bublé's second hiatus
Bublé is having a particularly trying 2016. Noah's diagnosis came as the "Haven't Met You Yet" singer was on a press tour to promote his new album, Nobody But Me. He previously had to bail on public appearances in May 2016 to undergo vocal cord surgery. Some of his engagements were rescheduled for summer 2017, but it's unclear if he will be able to keep those dates.
He received an outpouring of support
Fans have rallied around the singer and Lopilato, who is an Argentinian model and actress. Other stars have offered support to the family as well, including Sharon Osbourne, Ronan Keating, and Ellen DeGeneres. A source told Us Weekly, "[The family has been] inundated with kind wishes today, and that's really helping."
Actress Shannen Doherty, who's currently undergoing chemotherapy and radiation treatments to battle breast cancer, told Entertainment Tonight that her advice for the Bublé family is to keep believing. "Just trust in your doctors. Make sure you have amazing doctors, a great team, and know that organizations like the American Cancer Society [and] Stand Up to Cancer, they are doing so much good for cancer," Doherty said. "And [there is] so much research that we have much better chances now. Stay positive. That positivity, that outlook on life that you can get through something, it actually does get you through."
The family is hopeful
Noah was initially diagnosed with cancer when Lopilato took him to get checked out by a doctor in Argentina. Since then, the family has set up shop Stateside. "They are really sad but hopeful. They immediately got him very good care and they are hoping and praying for the best," a source told Us Weekly. "They are getting him the best doctors around. It's really heartbreaking. This was a real shock, but they are doing everything they can. They're staying positive and Noah is a fighter."
Bublé makes a powerful promise
Bublé has vowed that he will not sing again until Noah has defeated liver cancer, but he did lend his powerful voice to one final performance, singing a tender, prerecorded cover of The Beach Boys' "God Only Knows" for the BBC's Children in Need fundraiser on Nov. 18, 2016. The annual telethon raised more than $56.6 million for the charity.
Treatment is progressing
In February 2017, the family released a statement about the cancer treatment. "We are so grateful to report that our son Noah has been progressing well during his treatment and the doctors are very optimistic about the future for our little boy. He has been brave throughout and we continue to be inspired by his courage. We thank God for the strength he has given all of us."
The family also expressed its gratitude in response to the outpouring of support from around the world. "We'd like to thank the thousands of people that have sent their prayers and good wishes to us," the statement said. "As we continue this journey we are greatly comforted by your support and love."
Noah is recovering
In April 2017, it was reported that Noah was recovering beautifully. "Thank God, my son is well," Lopilato said at a press conference. "My son's recovery is a long process, as you all know, and he has to continue with check-ups … But we are very happy."
"Now I value life much more," she added. "…I would like to thank people for their support, for the prayers they said, for their love, and I want them to know that they reached us and that it helped us a lot to come through this."
In August 2017, the family hosted a Spider-Man themed birthday party for the brave little boy.
Bublé is back at work
In June 2017, Bublé and Lopilato made their first public appearance since Noah's diagnosis at the Governor General's Performing Arts Awards ceremony, according to The Hollywood Reporter. The singer held back tears as he told the audience, "I am truly humbled that I have been allowed to be one of your musical representatives and that you would bestow this honor upon me during what has been a difficult time for my family."
Bublé will headline the British Summertime festival at Hyde Park in London on July 13, 2018. The crooner is also set to host the 2018 Juno Awards on March 25, 2018.
The family may be growing
In January 2018, several Latin American news outlets reported that Lopilato and Bublé are expecting their third child. At the time of this writing, neither Lopilato nor Bublé has released a statement confirming or denying the happy news, but reports claim they've shared the news with friends and family. If true, the baby is due sometime in summer 2018.