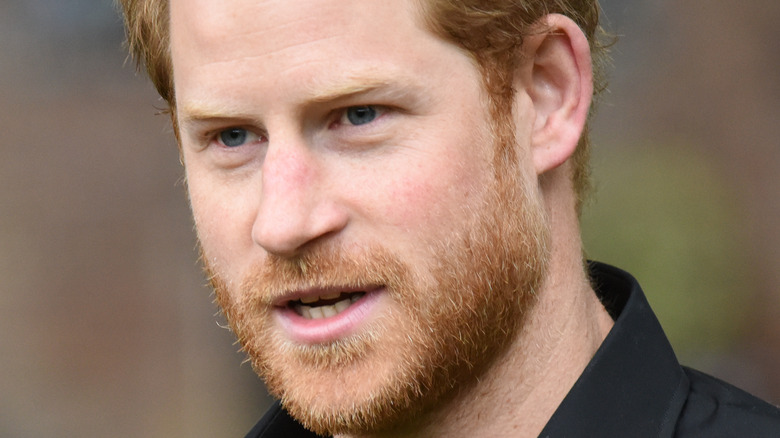 It's clear that Prince Harry takes his role as a father seriously, and he's been very open over the last few years about how he really feels since becoming a father of two. Last summer, soon after the birth of his daughter, Lilibet Diana, the Duke of Sussex met Ed Sheeran, whose own daughter was 10 months old at the time. Sheeran asked how he was doing with the new addition and Harry replied, "Two is definitely a juggle" (via Hello!).
Despite the juggle, Harry is seemingly enjoying fatherhood. In a "Today" interview with Hoda Kotb at the Invictus Games — an international sporting event for wounded servicemen and women — the Duke was asked what he loves about fatherhood (via YouTube). "I love it. I love every part of it," he responded. "I've always wanted to be a dad. I've always wanted to have my own kids, and now I got two little people who I'm responsible for," Harry said.
Harry seems to be adjusting to the responsibilities of fatherhood well, though his approach to discussing important issues with his children has recently had fans talking.
Prince Harry is involved in all aspects of fatherhood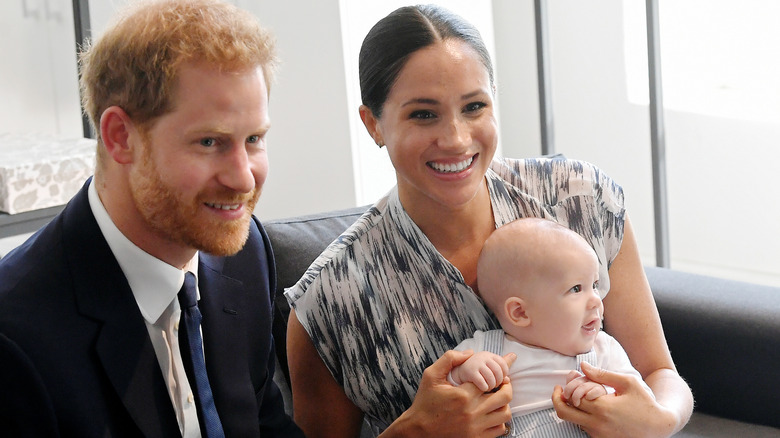 Prince Harry's excitement over his children is apparent in the way his face lights up when he speaks about them, especially with his son Archie, who is starting to understand the world. Whether it's discussing the nickname that his son Archie calls him or the special trait Archie has in common with the Duke, you can tell that he's an actively involved dad.
Harry seems like he is a great role model for his children, and he exposes them to the importance of respecting people's differences. In a People magazine cover story, Harry discussed a conversation he had with Archie while watching the Invictus Games. The duke showed Archie a video of wheelchair basketball and rugby from prior footage of the 2018 Invictus Games in Sydney. "I showed him how some [players] were missing legs and explained that some had invisible injuries, too. Not because he asked, but because I wanted to tell him," he explained. "Kids understand so much, and to see it through his eyes was amazing because it's so unfiltered and honest."
Twitter is divided on Harry's approach to parenting
Twitter fans were divided on Prince Harry's straightforward approach to talking with Archie about disabilities. Some appreciated his way of discussing the topic — one person tweeted, "It is very important to not 'other' people with disabilities when talking about it to children. Normalize talking about disability in everyday conversations and make it a point to be inclusive in presenting that perspective to others too." Despite this positivity, others thought that discussing disabilities with a child who is just turning three is too early an age to gain any true understanding. One Twitter user replied, "What kid at nearly 3 can understand this."
A teacher shared a professional perspective on the topic, stating, "I taught nursery school and was amazed at what young kids pick up on. Of course, they would notice a missing limb or someone in [a] wheelchair and be curious. They love to learn." Another shared a similar sentiment, saying, "I love Harry. He is very compassionate. This is so important for children to learn."
Harry is no stranger to internet divides over his behavior, though we hope the Duke of Sussex is taking these latest comments in stride.
Harry is following in his mom Diana's footsteps when it comes to parenting
Like Princess Diana, Prince Harry was never one to enjoy the status quo. While he began therapy through the encouragement of his wife, Meghan Markle, to help heal his pain from losing his mother, Diana, he started to have realizations about his childhood. "I became aware that I had been living in a bubble, within this family and within this institution, and I was almost sort of trapped in a thought process or a mindset" (via Oprah Daily).
"Family members have said, 'Just play the game and your life will be easier,'" says the prince. "But I've got a hell of a lot of my mum in me … the only way to free yourself and break out is to tell the truth."
Talking to children about the hard subjects is one part of telling the truth in parenting that isn't always easy, but can open the doors to inspiration and positivity. At the Invictus Games, the Duke addressed the athletes and shared what he tells Archie about growing up, "What I remind him is that no matter what you want to be when you grow up, it's your character that matters most," said Harry (via Town & Country). "And nothing would make his mum and me prouder than to see him have the character of what we see before us: You."
It's clear that Harry is choosing to raise his kids in a different way than he was raised, and instead of a blind obligation, he's taking an active role in talking to his kids and explaining all aspects of life to them.