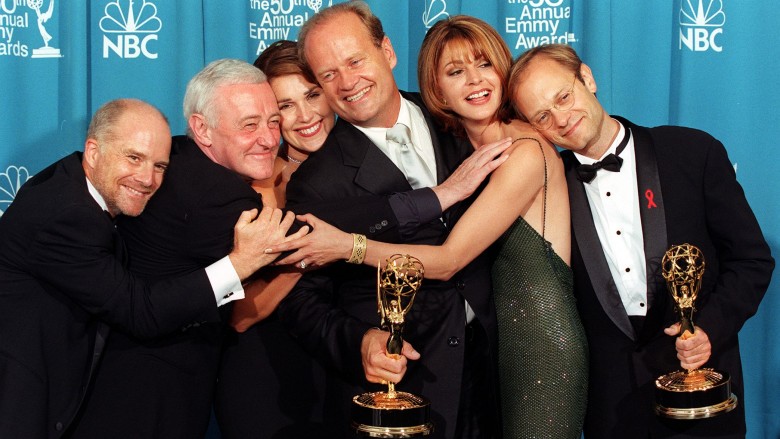 Best known for playing Frasier Crane on Cheers and Frasier for 20 consecutive years—20 years!—Kelsey Grammer has racked up multiple Golden Globes and Emmy wins over the course of his distinguished career, but it's been over a decade since he made weekly appearances on our TV screens. Although we've been missing him, that doesn't mean Grammer hasn't been busy. Here's the real reason we haven't seen much of him lately.
He's been working on Broadway
Like a lot of actors, especially ones with Shakespearean-level intonation, Kelsey Grammer started out in theater. He appeared in the original production of Stephen Sondheim's Sunday in the Park with George with the illustrious role of Young Man on the Bank. He was also in Broadway revivals of MacBeth and Othello before Cheers came along, but his character names weren't as funny.
After spending so many years in TV, Grammer went back to his roots—this time with more singing. In 2015, he appeared in the original Broadway cast of Finding Neverland and in 2010 was nominated for a Tony Award for his role as Georges in La Cage aux Folles. It's obvious he's completely home on stage, even when things around him aren't going well. Here's a clip from La Cage aux Folles in which Grammer lets his sonorous voice entertain the crowd while they wait for a sound problem to be fixed.
He's been working as a voice actor
Grammer has one of the most marvelously distinctive voices in Hollywood, and he hasn't been letting it go to waste: when he isn't busy in front of the camera, he's been working steadily as a voice actor. With roles in Toy Story 2, Anastasia, Storks, Legends of Oz: Dorothy's Return, and more, he's carved out a niche for himself through vocal film and TV work.
It looks like the roles will just keep on coming. In the upcoming Bunyan and Babe film, Grammer plays a villainous landowner, and he also voices Blinky on the Netflix cartoon Trollhunters. Series creator Guillermo del Toro wrote the part especially for Grammer, giving him a rare opportunity to voice a non-evil character for a change.
He's been busy with the Simpsons
Did you think we forgot about Sideshow Bob? No way.
Grammer's best known for Frasier Crane, but his most beloved character might be Sideshow Bob on The Simpsons. Bart's archnemesis has been around since season three, with Grammer voicing the role all along. Series co-creator Sam Simon was also a writer on Frasier and had Grammer in mind for the erudite clown sidekick. As he read the script, Grammer flashed back to an old boss, actor Ellis Rabb, whose voice had a musically melodramatic tone, and essentially impersonated Rabb to bring Sideshow Bob to life. It worked well: Grammer won an Emmy for Outstanding Voice-Over Performance in 2006.
According to David Mirkin in the commentary track of the episode "Sideshow Bob Roberts," Grammer was always happy to get a chance to play Bob and game for anything. Except laughing. Mirkin insists Grammer hates doing Bob's evil laugh—which is tough, since Sideshow Bob is known for his maniacal chuckle. You'd think he'd have a problem voicing his signature grumble in the famous rake scene during the episode "Cape Feare." But Kelsey got off easy in that one: in the commentary track, showrunner Al Jean said the episode was too short and there was nothing they could do to stretch the time. Someone had the idea to multiply the number of times Bob got hit in the face with a rake. Though it was only supposed to happen a couple times, they stretched the bit to its legendary length, and Grammer only had to make the sound once. Ah, the beauty of voiceover work.
He's been producing TV shows
Ever since Frasier, Kelsey Grammer has had his hand in production almost as much as acting. In addition to producing TV vehicles for himself such as Boss, Partners, Hank, and Back to You, he's had great success with the show Girlfriends and its spinoff, The Game. Basically, Grammer's been constantly producing.
As of late 2016, Grammer sold a pilot to ABC about a military vet who returns home and has to move in with his conservative mother, who has plenty of opinions about how the neighborhood is changing. It looks like Grammer will stay behind the scenes for this one—where he's probably readying his next TV pitch as we speak.
He was sued over the film Swing Vote
In Swing Vote, the 2008 Kevin Costner comedy about a crazy election that comes down to one vote, Grammer played the Republican nominee. The film didn't make much and critics didn't take to it, but one person was truly excited about the movie—in the wrong way.
Bradley Blakeman, a former aide for the George W. Bush administration, sued everyone involved in the film—including Kelsey Grammer, who he accused of stealing his idea. He claims he gave Grammer a copy of his script Go November in 2006, and says Grammer agreed to play the Republican president. When Grammer showed up in Swing Vote, Blakeman proclaimed thievery was afoot. How close were the two movies? Well, Blakeman says Swing Vote stole his idea to release an election movie close to a real election, they both feature real newscasters playing themselves, and they both contain dirty politics and a Republican president—essentially the most generic elements in every political film ever made.
After a judge threw out most of Blakeman's argument, he decided to settle rather than lose more money in court. Blakeman thought he'd get quite a payday, but wound up with a whole $10—almost covering the price of his movie ticket.
He's busy with his six kids, one grandson, and another child on the way
Kelsey Grammer evidently loves kids: he's 61 years old, and his fourth wife is pregnant with his seventh child. With a 32-year age gap between his oldest and youngest child, they have quite the varied family. Kelsey's grandson Emmett will be five years older than his future aunt or uncle.
And Grammer is perfectly happy to have an even bigger family. In 2014, he told People he'd definitely have more kids, and now that there's one on the way, it still might not be the last. "It's just this overwhelming gratification of being close to life like this," he explained. "It just gives you such hope and joy. I've never felt more alive or more serenely happy than in the throes of life with these young people. I really enjoy it." With that big of a family, it's amazing he can do anything more than change diapers and attend an endless number of PTA meetings.
He's been keeping his sisters murderer in jail
With all of his fame and success, you'd figure Kelsey Grammer has a pretty ideal life. But his past is full of tragedy that still lingers.
Grammer's parents were divorced by the time he was two, and he was raised by his mother and grandfather. By the time he'd turned 11, Grammer's grandfather died, the first in a long line of tragic deaths. At 13, his father was killed by an ex-con who'd been released early after being deemed no longer a threat, only to head back to jail for threatening to kill a judge that once granted a restraining order against him. Then, in 1980, his two half-brothers both died in a scuba diving accident. But the death that hit him hardest was the murder of his 18-year-old sister, who was sexually assaulted by four men, stabbed, and left for dead. Though she tried to crawl to a nearby home to get help, it was too late. Grammer himself had to come and identify the body.
Freddie Lee Glenn was convicted for her murder (and the murder of two others) and sentenced to death. When the state overturned the death penalty, Glenn was eligible for parole. Kelsey showed up to the parole board to testify against Glenn and reiterate the tragedy of taking his sister's life. Glenn wasn't granted parole, but he became eligible again in 2014. Grammer returned to oppose parole again and was successful, but the fact that he still has to revisit his sister's death every five years is heartbreaking.
He had a heart attack
While paddleboarding near his second home in Hawaii, a 53-year-old Grammer suffered a heart attack. Though his spokesman told the press it was a mild event, Grammer later revealed the attack nearly killed him, telling Entertainment Tonight, "They had to blast me twice and get me started all over again. [It was] like somebody was actually trying to tear my chest apart with, like, the jaws of life."
The heart attack came three weeks after his sitcom Back to You was canceled and right before the commercial disappointment of Swing Vote—and then he got sued. 2008 was a tough year, but at least he still had that second house in Hawaii.
He had to deal with backlash from the Real Housewives of Beverly Hills
Camille Grammer was married to Kelsey for 13 years, and when producers showed interest in Camille appearing on Real Housewives of Beverly Hills, he encouraged her. In a later interview with Oprah, he felt he "owed her fame" as a kind of payback for their many unhappy years together. According to Camille, she went on the show not knowing that divorce was a possibility.
Unfortunately for her, she then had to deal with news of her divorce—and Kelsey's affair with new wife Kayte—all while she fought with other housewives. Camille speculated that Grammer wanted her on Housewives to get her out of the house, make more room for his mistress, and humiliate her. She wasn't humiliated too badly, since she's appeared on nearly every season of ROBH since 2011 and hasn't kept quiet about her difficulties with Kelsey.
He's had to deal with three difficult divorces
It's not a surprise that the divorce between Kelsey and Camille was less than simple. It didn't help that a month after divorce papers were filed, the press found out that Kelsey's new 29-year-old girlfriend, Kayte Walsh, was pregnant with his baby. The divorce was finalized in 2011—the same month he married Walsh. Though Camille and Kelsey have kids together, they share no love. Camille says co-parenting with Kelsey is horrible, claiming "He has to learn to love his kids more than he hates me." She went on to describe him as a "total dick… He's an ass. I can say it all night." Though that split was by far the most public, it's not the worst divorce he's had to deal with.
The divorce from Grammer's first wife Doreen Alderman was fairly smooth, and little has been reported about their marriage. But his second divorce was the most emotionally taxing. He married 23-year-old Leigh-Anne Csuhany, who he met while attending a strip club where she was working, and after only nine months, he decided he wanted to split and annul the marriage. Claiming that Csuhany was of unsound mind, Grammer filed for custody for their unborn child; the three-months-pregnant Csuhany left the Grammer home and checked into a hotel in Malibu. Ten days later, she was found passed out in her room, surrounded by empty pill and wine bottles and a suicide note that read "Kelsey doesn't love me." She was rushed to the hospital, had her stomach pumped and was fine, but the unborn child didn't survive. After all that, his dealings with Camille probably don't seem so bad.
He's working to maintain his recovery from addiction
Grammer's been through a public battle with cocaine and alcohol. He even had to leave Frasier to go to Betty Ford after a DUI-related car crash. Dealing with the murder of his sister, and his feeling of being somehow responsible for it, led him to turn to alcohol to cope. Even with all his success and fortune, he still struggled with addiction. After his stint in Betty Ford, Grammer attended AA and got completely clean—but unlike most former alcoholics, Grammer has now quit AA and drinks regularly.
Grammer calls himself a reformed drinker, and says he likes having a bit of alcohol every day. He claims to be in a much better place due to his new happy marriage, and claims he has complete control over himself. Cocaine is a different story, however: Grammer says he'll never touch the drug again, knowing that it would put his life at risk.
He's been making movies
Though he hasn't been racking up awards nominations like it was the '90s, Grammer still acts regularly—mostly in movies. He appeared as the villain in Transformers: Age of Extinction, as Beast in the X-Men franchise, and even got in on the Expendables franchise. Essentially, if you have a big-budget franchise, Grammer will be in it at some point. We're looking at you, Fast and the Furious.
Grammer's latest film, Nest, is a sci-fi adventure starring Kellan Lutz —just the latest chapter in a career that's stayed consistently busy since the '80s. See, he used to be so huge as Frasier Crane, it only seems like he's never around; in reality, Grammer's as in-demand as ever in movies, cartoons, Broadway, and behind the scenes. And who knows? He's starring in a new pilot for Amazon this season, so he might even go back to dominating our small screens again.