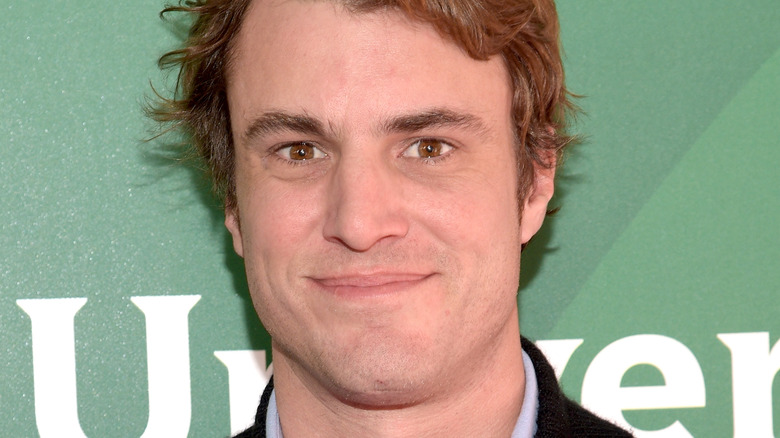 Once upon a time, Southern Charm's Shep Rose was beloved by Bravo fans and his fellow reality TV cast members. From his fun-loving persona to his keen ability to be a good friend, Rose demonstrated many wonderful qualities for five seasons. But when Season 6 rolled around in May 2019, some people observed a change in the television personality both on and off the show.
Rose was embroiled, for example, in a nasty feud with co-star Austen Kroll's on-and-off girlfriend, Madison LeCroy. Not only did Rose refer to LeCroy as "white trash," but he supposedly crossed a line with her before she ever dated Kroll. Uh-oh. Then there's the topic of Rose's questionable off-air antics, which reached a concerning peak when, in August 2019, he filmed a woman who appeared to be experiencing homelessness seemingly without her consent. Rose uploaded the video to this Instagram Stories, sparking widespread outrage … but more on all of this below.
Would the public ever forgive Rose? As of this writing, the jury is still out on that one. In the meantime, let's unravel the shady side of Southern Charm's Shep Rose.
Shep Rose crossed a huge line
Many Southern Charm fans were disturbed when Shep Rose took to his Instagram Stories to violate the privacy of a woman in New York City who appeared to be experiencing homelessness. In the since-deleted clip, Rose mocks her for collecting cans, saying, "Look at me, nice cans! I mean, the cans you have!" (via People). In response, the woman covers her face and yells back, "No! No!" It's a truly heartbreaking scene, to say the least. Rose, however, seemed amused by the incident, captioning the video with: "I love double entendres. Yes she was camera shy. But she laughed." Ugh.
Needless to say, countless social media users took Rose to task, with one person tweeting: "@BravoTV you need to listen to all the voices calling for Shep Rose to be fired from Southern Charm. His behavior toward a homeless woman was cruel & unacceptable. No human being should be treated in such a way for entertainment."
Rose initially tried to blow off the criticism, sarcastically stating he would undergo "sensitivity training five times a week" to make up for his wrongdoing. But when the backlash intensified, he offered up a somewhat real apology. "It was a stupid joke and bad idea all around," Rose wrote in since-deleted tweet (via Us Weekly). Claiming it was all "a bit out of context," he added, "Yeah, wasn't cool or funny. Mea culpa."
About those Southern Charm chlamydia accusations…
A shocking plot line in Season 6 of Southern Charm revolves around Madison LeCroy's allegation that Shep Rose gave his ex-girlfriend and co-star, Danni Baird, chlamydia when they dated many years ago. Both Rose and Baird flat-out denied LeCroy's accusation, but the damage was already done. Before we go any further, we want to make it clear — there's nothing shameful about having an STD. But what is problematic? Outing someone's (alleged) health issues without their consent.
Baird was understandably devastated by LeCroy's claim and detailed her humiliation while speaking with The Daily Dish in July 2019. "It's hurtful … It makes me sad that it is gonna be out there," Baird, who later broke down in tears over the situation at the Season 6 reunion, said. "…And it doesn't just affect me; it affects other people that I've been involved with in my life. And I think that is the part that hurts the most." Aww, poor Baird.
As for Rose? He didn't do much to defend Baird from LeCroy's wrath, despite maintaining a close relationship with her post-breakup. At the time of this writing, the TV star has yet to release a statement on the matter. Perhaps he had his reasons for keeping quiet, but we wish Rose had stood up for Baird here.
Shep Rose's thoughts about using protection are questionable
Shep Rose has always had a way with the ladies, enjoying his bachelor life in Charleston, S.C. to the fullest. While there's nothing wrong with playing the field, his take on safe sex is a little problematic. What are we talking about exactly? We raised our eyebrows when Rose admitted to not using protection in a 2014 appearance on Bravo's Watch What Happens Live. After host Andy Cohen pressed Rose about whether his sexual partners use protection, he said, "I assume that they do" (via Bustle). Yikes. Assuming your sexual partner uses protection is no bueno, because safe sex is very important. Not to mention, putting the sole responsibility on your partner to use protection without addressing it with them first isn't cool.
Obviously, Rose's views on protection could have changed since then. And to be fair, it's worth pointing out the reality star said he wasn't serious in a since-deleted tweet captured by Bustle: "Of course I was kidding. Being on live tv for an hour isn't always a precise and measured forum." We suppose Rose has a point there.
This Southern Charm star might be a bit elitist
As previously mentioned, Shep Rose referred to Madison LeCroy as a "white-trash" hairdresser during Season 6 of Southern Charm. LeCroy was obviously hurt by the comment, leading Rose to apologize in a later episode. "I was angry and I said some things that I shouldn't have said and they were rude and I apologize," he told her (via Decider). "Will you accept my apology?"
However, Rose was back to his old tricks shortly after his "I'm sorry." After LeCroy accused Rose of giving co-star and former girlfriend Danni Baird chlamydia, he went on what appeared to be a classist rant to her on-and-off boyfriend, Austen Kroll. "This is what happens when you bring someone in who just don't belong, who belongs in a honky-tonk bar sitting on a stool that's a saddle talking to Tonya at the end of the bar," Rose told a seemingly flabbergasted Kroll (via Vulture). However, he later backtracked once again during a Southern Charm after show, stating: "I'm not going to get into name calling anymore. Honestly, I'm above all this."
Hm … we're not so sure about that.
Did Shep Rose hit on a married woman?
In case you're wondering where Shep Rose's animosity toward Madison LeCroy stems from, it could have something to do with their complicated past. According to LeCroy, Rose hit on her years ago when she was still married. "I don't know if he's still bitter from me declining him when I was married," she said while at a dinner party filmed for Southern Charm in June 2019 (via The Daily Dish). "And I wasn't interested." Rose's co-star, Cameran Eubanks, seemingly backed up this accusation, saying, "Shep would hit on anything that stands upright." Shots fired.
For his part, Rose downplayed LeCroy's accusation, claiming he never actively pursued her. "She came out to our beach house and I mean, cute blonde, I was like, 'What's up, baby,'" he said during a Southern Charm after show. "I never had her number once, never texted her once. I mean, I like whispered some s**t in her ear, big deal."
Ah, a classic case of he said, she said. We're not sure what really went down here, but it's not a good look for Rose regardless.
Rose tried to kissed his Southern Charm castmate without her consent
In case you didn't already know, Shep Rose was once romantically interested his co-star, Chelsea Meissner. He tried to woo her away from his friend, Austen Kroll, but Meissner wasn't interested. However, this didn't stop the reality TV star from pursuing her with an attempted nonconsensual kiss. Understandably, Meissner felt uncomfortable with the exchange, as did viewers.
When Andy Cohen asked whether the incident was blown out of proportion at the Season 4 reunion special, Meissner replied: "No, I don't think so, but I think it's easy for him to just get girls outside to make out with him and because I wasn't going for it, I felt like it was a little more forced." She also addressed Rose's drunk side, stating, "I'm not saying he's a monster. I'm not saying he pulled me out by the hair. But, drunk Shep is a little different."
The co-stars have since mended fences, but we hope Rose learned a valuable lesson about consent thanks to this situation.
Paging Southern Charm's Mr. Hypocrite
Throughout Southern Charm's long run, Shep Rose has frequently discussed his privileged upbringing and has said only certain people can roll with his crew. Not to mention, he's a little judgmental when it comes to women. "I really, really dislike girls that wear f**k me dresses," he told People in 2016. "It's so embarrassing and they would never taste mom's meatloaf." What's more? Rose also roasted Austen Kroll's on-again, off-again girlfriend, Madison LeCroy, for supposedly not being good enough. In a Season 6 episode, he said, "She wouldn't last one second in my world."
We can't help but stop here to point out Rose's somewhat hypocritical ways. Just one example? Look no further than that time he was reportedly kicked out of a fancy golf tournament for allegedly getting too drunk. According to a source cited by TMZ in March 2019, Rose was allegedly "belligerent and pestering guests" and was "blocking people's view" with his "dancing," resulting in his removal from the viewing area. We can't help but find it funny how high and mighty Rose can be, despite his sometimes poor behavior in public. You can't make this stuff up, right?
You're a mean one, Mr. Grinch
One of Shep Rose's darker qualities is his apparent mean streak — a character trait his castmates have discussed before. Cameran Eubanks, for instance, revealed that Rose once made her cry, stating during a Southern Charm after show in June 2019: "He's made me cry before and a couple hours later, he will call me and say, 'Oh my God, I'm so sorry; I shouldn't have said that.'" She added, "He gets this deep anger within him and it just, he hasn't learned how to control it. He could do well with anger management."
On a similar note, Rose's bromantic co-star Craig Conover accused him (and producer Whitney Sudler-Smith) of being a bully in an episode of Southern Charm around that same time. "He's mean," Conover said (via Romper). "They put other people down to make themselves feel better and that's sad."
We're not sure why Rose can sometimes be so cranky, but we hope he finds true happiness one day, because life is too short to spend it angry.
Is Shep Rose green with envy?
During the Season 2 finale of Southern Charm, Shep Rose and Craig Conover got into a huge fight while attending a charity event. Although arguments between the co-stars aren't uncommon, this particular spat stuck out because of Rose's obvious jealousy. According to People, the drama starts during the event's date auction, after an attendee places a high bid of $5,000 to go out on a date with Conover — a turn of events Rose isn't too happy about. Not only does Rose receive a lower offer, but he feels annoyed with how cocky Conover seemingly appears.
"Craig thinks he's so cool right now," Rose says in the episode. "I want to kill him." But wait — it gets worse. After Conover tells Rose his life "f**king sweet right now," the latter replies, "What do you have, a girl that fake-bought you?" Ouch.
All we have to say here is that jealousy isn't an attractive quality, especially for someone who finished grade school a long time ago.