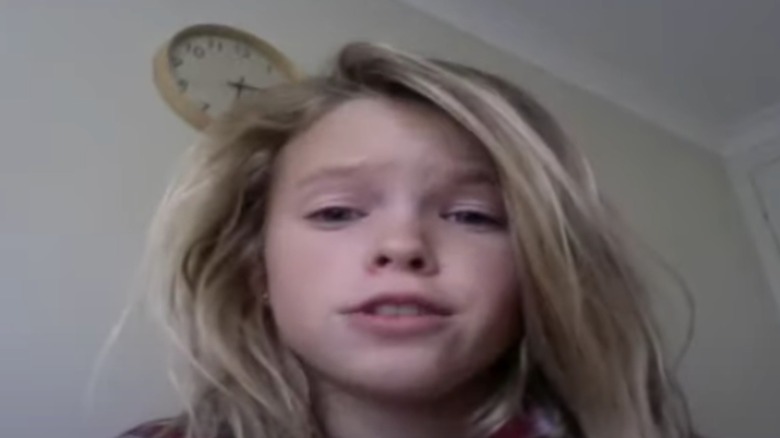 When HBO's "Game of Thrones" came to an end in 2019, it's safe to say we all assumed we were bidding farewell to the TV world of Westeros. However, in 2022, the prequel series, "House of the Dragon," has brought us straight back into George R. R. Martin's fantasy world — and so far, it's been better than ever. One of the standouts in the show is Milly Alcock's Rhaenyra Targaryen, the only daughter and heir of King Viserys. Like her great-great-great-and-add-a-few-more-greats-granddaughter Daenerys Targaryen (played by Emilia Clarke in "Game of Thrones"), Rhaenyra is fiercely determined, coldly ambitious, and deeply passionate. And thanks to Alcock's captivating, layered performance, she seems to be all fans are talking about.
But who is Alcock, anyway? For most "House of the Dragon" fans, she'll be a new face. Prior to the show, the young actress only appeared in a few Australian TV shows — in fact, she moved across the world to the U.K. during the pandemic to film the show. Curious to learn more? Here is the stunning transformation of Milly Alcock.
Milly Alcock grew up in Sydney with a love of acting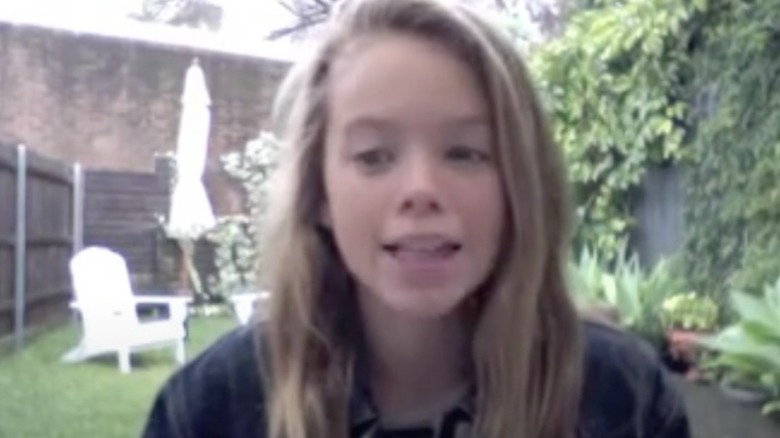 Milly Alcock was born on April 11, 2000 and grew up in Sydney, Australia in a sporty family. However, she soon found herself drawn to the arts. "I think I got my interest in acting because everybody was uninterested in acting," Alcock told Vogue Australia. "I grew up in a predominantly rugby union household; it doesn't make any sense."
It all clicked for Alcock when she was still very young. As she told Flaunt, she spent her childhood obsessing over "Breakfast at Tiffany's." Then, when she was just 6 years old, she was cast in the titular role in "Little Red Rocking Hood," a rock 'n roll version of the classic fairytale. "I remember being on stage," she told the Evening Standard. "I had this euphoric feeling. And I was like, 'I want that, whatever that is. Yeah, I want to feel like that for the rest of my life.'"
She got into an elite arts high school by making a phone call at 13
As soon as Milly Alcock fell in love with acting, her natural determination kicked in — she knew that she wanted to make acting a part of her life, so she did everything in her power to make her dream a reality. "I've always been a bit too independent from a very, very young age," she explained to the Evening Standard. At just 4 years old, for instance, she had "sat my mum down … and told her it was time for me to go to big school." In the same spirit, Alcock started going to acting classes and even tried to get into professional projects by getting herself an agent.
When the time came to go to high school, Alcock knew she wanted to go to a school that would help her pursue her dream to become an actor. She chose Newtown High School of the Performing Arts (via Stylist). "I enrolled myself into high school and told my mum when the audition was. I called up my agent when I was 13, called the agency, like, 'Hi, can I have an audition?', because I learned very young that no one's going to do it for me," she said. Luckily, her tactic worked.
Milly Alcock got her start on Australian TV
After doggedly pursuing acting throughout her childhood, Milly Alcock landed her first role in the Australian show "Wonderland" at the age of 2014. She went on to appear in other shows like "High Life," "Janet King," "A Place to Call Home," "Pine Gap," and "Fighting Season" throughout her teens (via IMDb). Despite her experience on Australian TV, for Alcock, it was still relatively small compared to shows and movies from America or the U.K. "I just did like guest-y roles beforehand … teeny tiny parts in teeny tiny Australian jobs," she told The Wrap several years later.
In fact, as Alcock told the Evening Standard, most of her roles on Australian TV were in police dramas, which are, as she put it, "the only jobs that you can do" in Australia. Alcock's experience in Australia's TV industry opened her eyes to its problems. "There's no budget," she said. "The government really does not fund the arts. There's no appreciation of the arts at all. People don't go to the theater, really; they can't afford it." Eventually, this realization would help her make the decision to leave Australia behind for good.
She dropped out of an arts high school to take on a new role
In 2019, Milly Alcock found herself facing a life-changing decision. She had just auditioned for a new project, "Upright," that would require her to move away from home into rural Australia. Alcock's final exams were coming up, and ultimately, she decided to leave school behind in favor of the show. "I was like, I either have to sit all of my exams in rural Australia or I was just going to drop out of school," she said to Stellar Magazine (via JustJared). "So I dropped out because it was never really my thing."
As the actress later told Vogue Australia, she never looked back. "I knew that this opportunity would be so much more of a valuable experience than getting my piece of paper," Alcock said. "I never doubted it for a second. I was almost too impulsive." In fact, the actress recalled, she knew almost instantly that this was the opportunity she had been waiting for. "I couldn't say no and I couldn't let the fear and anxiety of not finishing school haunt me, because that would have defeated the whole purpose of leaving."
Meg in Upright ended up being a life-changing role
Milly Alcock left school early and set off to play Meg in the series "Upright" opposite Tim Minchin. The show ended up taking off internationally. For Alcock, it was her first big role and her first experience of being in the limelight. "Meg is such a huge character, and I feel kind of a responsibility to do a really good job," she told Foxtel in a featurette.
According to viewers and critics alike, Alcock did do a good job. She received rave reviews and a whole new troop of fans. She even took home the 2018 Casting Guild of Australia's Rising Star Award (via RadioTimes).
At first, it was all a bit overwhelming. "I'm still young, I'm still at home. This is my first big response to anything I've done, so I feel a bit out of my depth at the moment," she told Vogue Australia. But "Upright" was just the beginning of her rise to fame.
Milly Alcock still had a part-time job after Upright
Even though the "Upright" series proved to be hugely successful and even led to another role in the 2020 show "The Gloaming," Milly Alcock had yet to really make it into the big time. Plus, the COVID pandemic made pursuing her dream career a little more challenging. As she later told Stellar Magazine (via Just Jared), Alcock was still living a pretty normal life at home in Australia at the time. She even had a pretty unglamorous part-time job. "I was washing dishes in a restaurant, living in my mum's attic," Alcock said.
As her "Upright" costar Tim Minchin told News.com.au, the COVID pandemic had made it hard for the young actress to keep up her momentum after the show. "Millie was on a roll … and then COVID came along and it's been tough for her … she was really just hitting [her] straps and had her career just completely roadblocked," he said.
She didn't realize she was getting the audition of a lifetime
After a slow time during the pandemic, Milly Alcock eventually landed the role of a lifetime in the "Game of Thrones" prequel, "House of the Dragon." However, when the actress first got the audition, she didn't even realize what a big deal it was. "I got a self-tape for an unknown HBO project and I went to shoot it with a friend of mine," she told the Evening Standard. "He said, 'This is a 'Game of Thrones' scene. This is the scene with Arya Stark.'"
As Alcock later told Hype, getting the part was "very fluky." After just two self-tapes in Australia, she landed the part — "like two weeks later, I got a phone call and my life changed," she said. When she found out the news, Alcock happened to be at her friend's house. She "asked if he had a bottle of wine, he did, so I just got drunk," she confessed in an interview on HBO Max.
Milly had to do a lot of preparation for House of the Dragon
HBO's "House of the Dragon" was Milly Alcock's first project outside of Australia and her first fantasy series — naturally, she had to do a lot of prep work before filming began. After getting the part, she began reading the scripts over and over again. She also trolled through the "Fire and Ice" Wiki to get up to speed on the various families and locations in the Westeros universe. She even made "big graphs of all the Houses and all the rankings within the Houses" to get an "understanding of what was at stake within the world," as she told The Wrap. Alcock also worked with a dialect coach to perfect her British accent for Rhaenyra.
After spending all of this time preparing to enter George R.R. Martin's world, the final step was to actually get on set and into costume. "It's vital to have costumes and decor that allow you to lose yourself within the space," she told Schon!, adding, "We don't exist in the confines of Earth, so having the sets and being able to interact with the sets — as opposed to a blue screen or something that you couldn't tangibly see, touch and feel — was beneficial as an actor to be able to fully invest in that."
She took a bold leap while filming House of the Dragon during lockdown
When "House of the Dragon" began filming, Milly Alcock packed her bags and moved away from her home in Australia to a new flat in London. "I jumped on a plane and moved to London," she told Hype. "I was staying in Primrose Hill, very la-di-da, and it was my first time living on my own." At first, living alone in a foreign country during the pandemic wasn't easy, but the cast and crew helped her settle in. "They were aware that I was a 21-year-old by myself in a global pandemic on the other side of the world, doing a job where I was so out of my depth," she said.
And, as Alcock told Flaunt, her new group of flatmates helped her make the transition. The group of friends held makeshift movie nights. Ultimately, London became a place where she discovered herself and entered a new phase of her identity.
She moved to London permanently after filming House of the Dragon
After "House of the Dragon" finished filming, Milly Alcock decided to stay in London, moving to the trendy east part of the city. "I haven't been in one place for a very long time because I've been working," she told Schon!. "So I'm really happy just settling, and just slowing down in London, and moving into my first flat."
As she settled in London permanently, Alcock found that a new chapter of her career was beginning. Her days as an Aussie TV star appeared to be over. "I would say that recently, there has been an influx in auditioning for international roles where I play an American or a British person, but that's only because of the path that I decided to take in my career, to make it more international," she said. "I don't live in Australia anymore, so I'm not auditioning for Australian stuff as much, but that's not to say that there are not quality Aussie projects happening at the moment."
Milly Alcock took up photography during lockdown
In addition to starring in one of HBO's biggest shows ever and doing plenty of self-discovery, Milly Alcock also picked up a new hobby during the lockdown in London: photography. As the actress explained to Flaunt, she enjoys taking pictures of surprising moments of beauty she sees around her, such as a group of children playing in the street in Paris. "I think as humans, we are inherently drawn to beauty," she said. "Beauty is completely subjective. Some people might see the photo of the kids in Paris and say, 'Oh the composition is wrong — it's a bit slanted.' I think the beauty is in the mistakes because it's alive."
For Alcock, photography is simply another means of self-expression. Rather than trying to take photos that are aesthetically pleasing, she focuses on capturing her subject honestly. "The ability to control an image and evoke a certain feeling is what drew it to me," she said. "And not always searching for the aesthetic, but a movement and a motive of the person in front of the lens that gets you interested."
She is adjusting to life in the spotlight
The first episode of HBO's "House of the Dragon" was watched by a record-breaking 10 million people. The second episode was watched by 10.2 million (via Variety). Needless to say, Milly Alcock shot to fame in the space of a week. As the show was released to the public, she began to realize just how big it was. "It's only been in this part that we've been reminded of how big it is," she told the New York Post at the time. "I don't really know how to approach it. It's extremely intimidating. So, I've been a bit more reclusive than I normally would be."
According to Alcock, the fan response has been pretty overwhelming, with people camping outside of her hotel waiting for signatures. As she told the Evening Standard, she had to learn to turn on her public persona as she got more and more attention. "And then you have to, like, switch on. I mean, I've only ever lived my life as me and now people care. It wasn't like I've done other big jobs," she said.
There's a lot Milly Alcock still wants to do
In 2022, Milly Alcock has successfully taken the world by storm. But the young actress isn't satisfied yet. She still has big plans for her future — and she's just as driven as ever. "I was always hypnotized by cinema and would get this sense of being overwhelmed every time I watched a film," she told Vogue Australia. "It was a weird feeling. Through that intuition, I felt like this is what I have to do for the rest of my life."
So, what is in store for Alcock for the rest of her life? Well, as she told Schon!, she'd love to take on classic roles like "Hedda Garbler or Eve in 'All about Eve.'" She also has ambitions to show her versatility. "I want to play a boxer," she said to the Evening Standard. "Or I want to play a Valley Girl." Ultimately, she wants to keep learning. "I want to learn skills through this job," she said. "I mean, I'd rather take a great script over a skill, but why not do both?"
One thing's for sure — we certainly haven't seen the last of Milly Alcock.