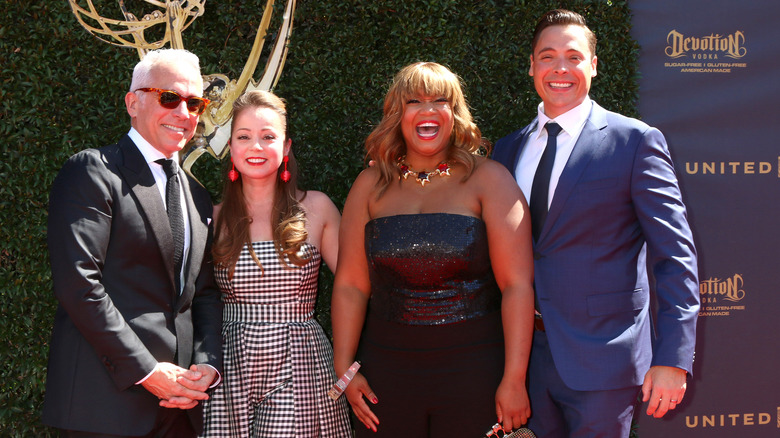 We may receive a commission on purchases made from links.
Popular television channel Food Network has discovered some of the world's most popular chefs, delivered quality cooking tips and recipes, and entertained viewers with top-rated shows. Food Network is as popular as ever, ending 2021 as one of the top cable networks in the nation, per Discovery, thanks in part to its weekend programming. One of those weekend shows is "The Kitchen."
On "The Kitchen," a marriage of a cooking show and a talk show, co-hosts Jeff Mauro, Sunny Anderson, Katie Lee, Geoffrey Zakarian, and Alex Guarnaschelli, all experienced chefs and Food Network veterans, share stories, give each other tips, and, of course, cook. "The Kitchen" airs weekly and often has a theme to categorize the recipes, like tailgating, childhood favorite meals, or whatever holiday is approaching.
Fans have enjoyed "The Kitchen" since 2014. After several hundred episodes, it may seem as though there's nothing new to learn about the popular cooking show, but there's a lot you don't know. Here's the untold truth of Food Network's "The Kitchen."
Coronavirus didn't stop 'The Kitchen' from filming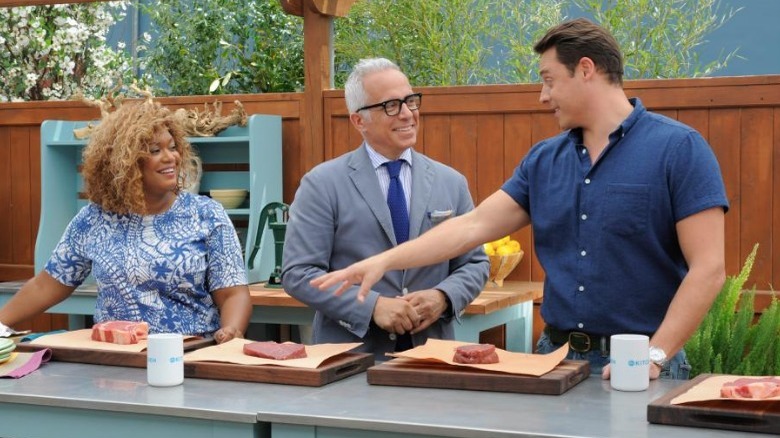 The COVID-19 pandemic has affected every industry in one way or another. Restaurants, hotels, and airlines were hit hard, and the entertainment industry was forced to get creative to continue filming their regularly-scheduled programming. Food Network was no exception, and in 2020, the cast of "The Kitchen" used their own kitchens until they were allowed to congregate again.
Normally, "The Kitchen" is filmed in a studio in New Jersey. When the world went on lockdown, the cast connected via Zoom to cook their favorite meals from home. "I've always had respect for crew, any crew on a television set, but this gives you a whole new appreciation," cast member Jeff Mauro told the Chicago Tribune of his experience filming remotely.
Being at home meant the cast didn't have the resources at their disposal that they typically do while on the set of "The Kitchen," but this didn't affect the quality of their work. The chefs shared tried and true recipes they've been making for years in the quarantine-edition episodes, proving their skills to fans. The cast also continued cooking dishes based on various themes while filming separately, including an episode full of easy-to-make recipes for a whole day of eating that catered to viewers who were also in quarantine.
The pandemic helped ratings
Quarantine during the COVID-19 pandemic left the world with nothing but time. With that time, people tried their hand at a variety of new things. From TikTok trends to the sourdough craze, everyone was looking for something to do and many of us were looking for something to watch.
Not only did "The Kitchen" keep filming during the pandemic, but it caught the attention of a lot of viewers, too. 2020 brought "The Kitchen" their highest-rated premiere in over a year, per Discovery, Food Network's parent company.
It wasn't just "The Kitchen" that performed well in 2020. Other Food Network shows like "The Pioneer Woman," "Trisha's Southern Kitchen," and "Chopped" saw high ratings, too, among others. Discovery's chief lifestyle brand officer told the New York Post that "People are gravitating to our networks and talent because we provide more than entertainment right now." As the world gradually opened up, though, the ratings declined, and Food Network has dropped significantly since its peak in May 2020, back to numbers similar to those before the pandemic.
The hosts have all written cookbooks
It's common for TV chefs to write cookbooks. In fact, it'd be pretty difficult to find a TV chef who hasn't written one. As is expected, all the current hosts of "The Kitchen" have published at least one cookbook, all featuring different themes and dishes that showcase their kitchen skills.
Chef Jeff Mauro has only published one cookbook, called "Come on Over: 111 Fantastic Recipes for the Family That Cooks, Eats, and Laughs Together." It was released in early 2021, and features his favorite meals to cook for a big group. Katie Lee has authored multiple cookbooks. Her most recent, "It's Not Complicated: Simple Recipes for Every Day," gives readers easy recipes to take the hassle out of cooking. As she shared with Interview magazine, one of her favorite films, "It's Complicated," inspired the cookbook.
Sunny Anderson has just one cookbook, "Sunny's Kitchen: Easy Food for Real Life: A Cookbook." It contains recipes for comfort food inspired by her family roots and years of travel. Per his website, Geoffrey Zakarian has written four cookbooks, including one specific to the Dutch oven, and another that details how to best utilize your pantry. Alex Guarnaschelli has multiple cookbooks, too. Her most recent offering is called "Cook with Me: 150 Recipes for the Home Cook: A Cookbook," and it details how her family has affected her life as a chef.
One host left 'The Kitchen'
Like many talk shows, "The Kitchen" has had different lineups of hosts since it started. While Alex Guarnaschelli is part of the group now, she wasn't always. The original five were Jeff Mauro, Sunny Anderson, Geoffrey Zakarian, Katie Lee, and former "Mexican Made Easy" host Marcela Valladolid.
Valladolid left after a few years with the cast, sharing that she departed to spend more time with her family, per Distractify. She explained her decision in a since-deleted blog post and noted her gratitude for her time on the show in an Instagram caption. "Thank you for watching and following. It truly was a blast and I am so grateful to the cast and crew for this incredible journey!"
Since leaving the Food Network, Valladolid has stayed busy with various projects, including hosting cooking classes via Zoom and writing a children's cookbook. Through everything she does, Valladolid's Mexican heritage shines through. As she told Parents magazine, "We're living it because we love it … it's a part of who we are."
Sunny Anderson guest starred on Emeril Live
Before "The Kitchen" was even a thought at Food Network, Emeril Lagasse was entertaining viewers on "Emeril Live," keeping them intrigued by yelling signature phrases like "bam" and "kick it up a notch." Lagasse often had guests join him in the kitchen to share their skills. In 2005, he invited future "The Kitchen" host Sunny Anderson, and Lagasse cooked one of her recipes on the show.
Years after her guest appearance on "Emeril Live," Anderson and Lagasse reunited on former Food Network star Rachael Ray's show. Anderson said of her appearance on Lagasse's show, "There are only a few moments like that in life where you can really remember them as being not only a defining moment, but a game-changer."
Anderson's relationship with the Food Network began in earnest just a few years after appearing on "Emeril Live." In 2007, she began hosting various shows of her own and continued doing so until "The Kitchen" premiered (via IMDb).
As a chef, Anderson aims for simplicity. Whether you're brand new, or a seasoned cook, she wants her recipes to be accessible. In an interview with Parade, Anderson said, "I try my best to show people easier ways to get things done in the kitchen."
Jeff Mauro competed on 'The Next Food Network Star'
Food Network chefs have been discovered many, many ways over the years. Some have come to be known through their restaurants. The Pioneer Woman, Ree Drummond, was discovered through her blog. Others have been discovered just by being guests on the network, like Sunny Anderson. The Food Network always needs chefs, and eventually, they took matters into their own hands to find their next star.
In 2005, the Food Network launched their own competition show to find more chefs, called "The Next Food Network Star." This led the network to stars like Guy Fieri, as well as "The Kitchen" co-host Jeff Mauro, who won season 7. In addition to co-hosting "The Kitchen," he's also the host of "Sandwich King."
Starring on Food Network is a dream come true for Mauro. When asked in an interview about his involvement in "The Kitchen," he said, "My dream was to have a talk show format where I can improvise, be funny and cook all at the same time, while interacting with other people, so to me it's a dream come true" (via FN Dish).
New host Alex Guarnaschelli is one of the few to have beat Bobby Flay
Renowned chef Alex Guarnaschelli is a more recent addition to "The Kitchen," but it is hardly her first experience with the Food Network. The seasoned chef has appeared on multiple Food Network shows, including "Chopped," but one of her most elite credits is for beating Bobby Flay in the competition show "Beat Bobby Flay."
If you're unfamiliar with the show, competitors challenge master chef Bobby Flay to see who can cook the better dish. It's rare for anyone to beat Flay, but Guarnaschelli managed to by cooking her signature dish, Lobster Newburg. "I feel like I'm dreaming. I think I just beat Bobby Flay," she said upon her win (via Food Network). Guarnaschelli didn't have to beat Bobby Flay to prove her skills as a chef, though; her resume speaks for itself.
Fans of Guarnaschelli can find her on the Food Network for years to come. In 2019, the chef signed a deal with the network to co-host "The Kitchen," judge contestants on "Chopped," and be involved in other digital projects with Food Network. In a statement, Guarnaschelli said, "Food Network has been my extended family for as long as I can remember, and if I didn't have a knife in my hand right now, I would pinch myself at the thought that I get to continue to have the opportunity to create so much fun and delicious content and memories," according to Variety.
Katie Lee announced her pregnancy on the show
"The Kitchen" content is usually food-related, but every now and then, a surprise comes along, and something completely unrelated to food is discussed. On an episode most co-hosts thought was going to be run-of-the-mill, chef Katie Lee announced her pregnancy. "We're going to have a new member of 'The Kitchen' family," she said before removing her coat to show her growing belly, happily surprising her co-hosts (via Instagram).
Once she had shared the news with her co-hosts, Lee announced her pregnancy to the world in an Instagram post, saying, "Eating for two," adding, "Baby Biegel is on the way!" Lee is married to television producer Ryan Biegel, whom she married in Italy, according to Vogue. Per Instagram, the two welcomed their child in September 2020.
Lee and her husband met because of food, as he was a producer on her show "Beach Bites with Katie Lee," and, as she told Interview magazine, the two fell in love because of food. "I think this dish is the reason Ryan first fell in love with me," she said of her roasted chicken with croutons.
Multiple hosts have competed on Iron Chef
The hosts of "The Kitchen" are all talented chefs, but only two of them have earned the coveted title of Iron Chef. After "Iron Chef" aired in Japan, the Food Network brought it to America, and "Iron Chef America" saw hundreds of guests challenge notable chefs like Bobby Flay and Masaharu Morimoto, as well as "The Kitchen" co-hosts Alex Guarnaschelli and Geoffrey Zakarian, to epic culinary battles.
Guarnaschelli became an Iron Chef when she competed on and won "The Next Iron Chef: Redemption." Guarnaschelli had competed for the title of Iron Chef prior on "The Next Iron Chef: Super Chefs," but was eliminated. Guarnaschelli kept a good attitude, though, and noted in an interview that she would take some time to relearn forgotten skills. She said, "After all, I am the next, next next Iron Chef!" And she was correct.
Zakarian earned the appellation Iron Chef after winning "The Next Iron Chef: Super Chefs," per his bio. Fans of the show can surmise it's not an easy competition, and Zakarian confirmed it. He told Atlantic City Weekly of his time on "Iron Chef," "it was the most difficult and physically demanding thing I have ever done, and I hope to never do it again!" Since he has the title, he probably won't have to compete again. And he doesn't need to. Both Zakarian and Guarnaschelli prove their Iron Chef status every week on "The Kitchen."
The show has seen some high-profile guest stars
"The Kitchen" is on week after week, and it often invites guest stars to showcase their favorite recipes. Chefs, lifestyle gurus, actors, and talk show hosts have all joined the hosts of "The Kitchen" for special episodes.
A friend of the hosts on "The Kitchen," Food Network favorite Bobby Flay has been featured on a couple of episodes, including a special Cinco de Mayo edition where he competed in a round of Tool Takedown, a popular segment on the show.
Hosting extraordinaire Martha Stewart visited for an episode, too. She showed the co-hosts how to make her Chocolate Chip Cookie Icebox Cake, which is just layers of cookies alternating with layers of whipped cream.
"The Kitchen" doesn't only feature chefs as guests. Actor Daniel Radcliffe, best known for his eponymous role in the "Harry Potter" movie series, appeared in an episode where he assembled a burger by playing Build a Burger, a Twister-like game where toppings were chosen according to wherever his hands and feet landed. In another episode, talk show host Wendy Williams came on to share her love of cooking and taste some of the co-hosts' dishes (via Food Network).