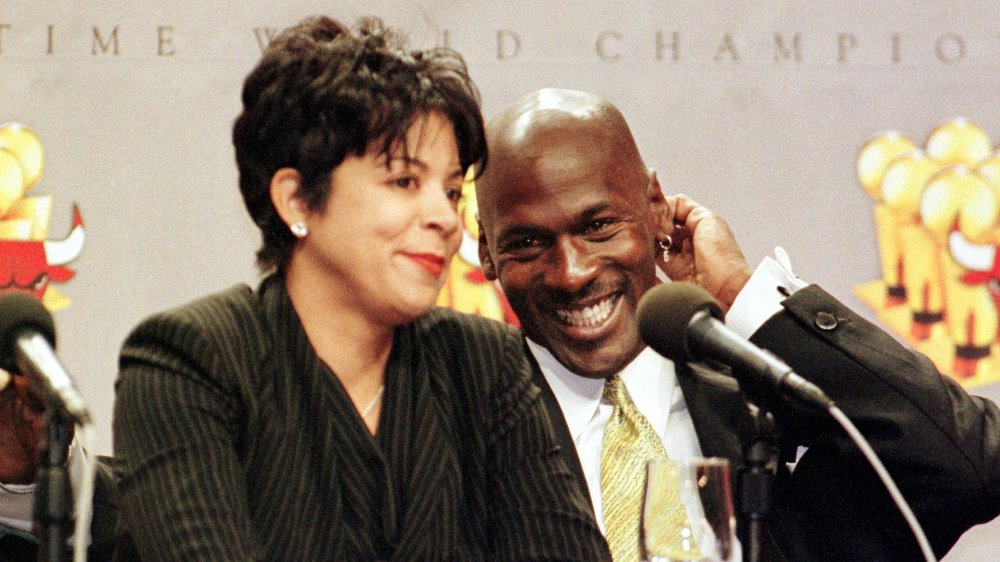 These days, Michael Jordan is married to Yvette Prieto, a model who is quite a bit younger than the sports legend, making their relationship one with an uncomfortable age gap. However, Prieto isn't Jordan's first wife. The basketball star was once married to Juanita Vanoy (who went by Juanita Jordan during their marriage) for 17 years.
In a 1992 interview, Juanita revealed that contrary to sensational tabloid stories at the time that claimed she was "a groupie" or that she "fell in front of [Michael's] car" in order to meet him, she was actually introduced to Michael by a "mutual friend." It was as simple as Juanita going to a basketball game with some friends who happened to know Michael, and they all went to dinner after the game. She and Michael hit it off, and the rest, as they say, was history. This all happened in 1985, and the pair dated until 1989, eventually tying the knot in a casual Las Vegas wedding ("The bride and groom wore jeans," noted The Washington Post).
While Michael is obviously known as a dominating figure on the court, "anyone who knows Juanita Jordan will tell you that she has never been intimidated by Michael Jordan, never blinded by the basketball legend's money and fame — and that she always knew where she stood in the game," according to The Washington Post. Clearly, there's a lot more to the sports star's ex-wife than you likely ever knew.
Juanita Vanoy grew up on the south side of Chicago
Sure, Michael Jordan famously played for the Chicago Bulls, but his ex-wife, Juanita Jordan, was raised in the city. Born on June 13, 1959, she "grew up on the Southside … and attended Christian Fencer High School," according to Amo Mama, which also claimed she began modeling when she was a teenager. The Washington Post reported that Juanita later worked for "the American Bar Association and Heitman Financial Services." When she met Michael, she "was a loan officer … and she had hoped to complete an associate's degree at a local junior college." She also "wrote copy for Copley News Service during the 90s."
The same outlet noted that Juanita's "friends say she has never forgotten where she came from." And while she went on to enjoy the finer things in life when she married the man who would become the NBA's biggest star, Juanita made sure that her children had a connection to her roots.
"Living in the suburbs was a life that they got to enjoy because of their wealth, however, it was important to me that they also experienced how I grew up," she told Crain's Chicago Business. Opening up about taking them to her old neighborhood to visit her mother, she explained, "They saw how their cousins lived, … they saw how people on the Southside of Chicago didn't have as much as they did. The saw … what the real world was about."
Michael Jordan initially denied paternity of his first child
When Juanita Vanoy and Michael Jordan got married in 1989, they were already the parents of a son, Jeffrey Michael Jordan, who was born in 1988. However, there was some discrepancy, at least on Michael's part, as to whether or not he was the father.
"She told me she was pregnant, unwed, and that the father of the child was Michael Jordan," attorney Michael Minton told The Washington Post in 2002 of his July 1988 meeting with Juanita. "She felt she could not get Michael's attention or cooperation or response without the retention of a legal representative." But Michael apparently "admitted paternity within a few months," and when the couple tied the knot in Las Vegas, Jeffrey was at their wedding. Michael and Juanita then welcomed a second son, Marcus, in 1990, while their daughter, Jasmine, was born in 1992.
Perhaps unsurprisingly, all three kids have a passion for sports. Jeffrey and Marcus followed in their dad's footsteps by playing basketball in college — Jeffrey with the University of Illinois and Marcus at the University of Central Florida — however, neither went pro. As for Jasmine, she seems to have inherited her mother's business sense and studied sports management at Syracuse University, before taking a job as a field representative for the Nike Jordan Brand, which surely makes both of her parents proud.
Juanita Vanoy didn't sign a prenup, but insisted on a postnup
By the time Juanita Vanoy was five months pregnant with her first child with Michael Jordan, the two had been engaged since the previous year, but things had "stalled," according to The Washington Post. That's apparently why her lawyer, Michael Milton, who had been hired to draw up a prenuptial agreement for the couple, was surprised when he "received a surprise phone call from Juanita telling him that she and Michael had gotten married at the Little White Chapel in Las Vegas at 3:30 a.m." He explained, "I congratulated her and then reminded her that the prenup had not been signed. She told me to work on a postnup."
It apparently took Milton, who had already been trying to negotiate terms with Jordan's representatives for two months, an additional year and a half to work things out. While he's legally bound to keep the exact details of the martial contract under wraps, Jordan's lawyers later claimed that he had "negotiated terms that were 'extremely beneficial and greatly exceeded any statutory benefit Vanoy Jordan would have received under Illinois law.'" Jordan may not have been too pleased by that, however, he did sign the postnup in the first place and you can't blame the lawyer for simply doing his job (and apparently doing it really well).
Michael and Juanita Jordan called off their divorce years before finally splitting
News broke in 2006 that Michael and Juanita Jordan were headed for a divorce. While the announcement came as a surprise to some, "[t]heir marriage had shown signs of trouble before," according to People. Juanita had reportedly previously filed for divorce back in 2002, but then a month later, they announced they were reconciling and withdrawing the petition. At the time of the "previous divorce petition, [Juanita] said efforts to save the marriage had failed and future ones 'would be impractical and not in the best interests of the family.'"
Apparently, sources claimed that "[Michael] ha[d] not been home much" in the months leading up to the split, according to The Washington Post, and Juanita's "divorce filing assert[ed] that they ha[d] lived 'separate and apart' for some time."
Another issue may have been the fact that Michael was allegedly unfaithful. According to reports, "he had an affair with Karla Knafel." The Chicago Tribune reported that sports star even admitted to "paying her $250,000 to keep their relationship secret," but that didn't stop her from suing him in 2013, claiming that he was the father of her child. While that claim was later dropped, it was, according to a private investigator who spoke with The Washington Post, only one of a number of "compromising situations" in which Michael was allegedly involved "in the company of a half-dozen women."
Juanita and Michael Jordan depended on each other during their marriage
Michael Jordan can obviously handle himself on the basketball court, however, he may not have had such a legendary career in the NBA if Juanita Jordan hadn't been managing their personal lives. During their years as husband and wife, Juanita "took care of the home and the kids" while also "support[ing] her husband as he became more successful," according to Amo Mama.
In turn, Michael was the one that Juanita turned to when she needed a hand. "When Juanita couldn't get the stereo to work, he's the first person she called," a friend of the exes, Les Coney, explained to People in 2006. And while the publication notes that the former spouses "were never prone to public displays of affection," they did "clearly communicate," which is a key factor if you're trying to make a marriage successful.
However, the couple also faced outside influences. "You read about women wanting his attention. But grown men and children do too," Coney said. "He's a magnet. He hasn't played basketball in … years, but still, people stop and take pictures and ask for autographs. Marriage is hard for any couple, and if you add celebrity to that, it's even harder."
Juanita Vanoy and Michael Jordan's split may be 'the most expensive show biz divorce ever'
When Michael and Juanita Jordan ended their marriage, she could have been walking away from "a high life of big houses, private jets, and elegant jewelry," according to The Washington Post. However, it was the NBA legend who ended up losing a fortune in the split in what Forbes notes may have been "the most expensive show biz divorce ever." Due to the fact that "[Michael] earned much of his vast fortune during the course of the marriage — mostly off the court, thanks to rich endorsement deals," Juanita was legally entitled to a large chunk of his money — or rather, in the eyes of the legal system, their money.
That's why Juanita was granted $168 million after they reached a divorce settlement in 2007. She also got their 8,000-square-foot penthouse, according to the Chicago Tribune. She sold it in 2014 for $3.2 million, a tidy deal that she locked down herself as a licensed real estate agent.
Obviously skilled at doing business within a pricey housing market, Juanita also scored "a massive mansion in Chicago's River North neighborhood" for $4.725 million the same year she signed her settlement with her ex, suggesting that she was ready to move on after their highly publicized split. And what better place to do so than in a multi-million-dollar new pad?
Juanita Vanoy wouldn't let her sons wear No. 23
Both of Michael Jordan's sons followed their dad's basketball footsteps, and while neither managed to become NBA legends like their dad, Jeffrey Jordan did play with the University of Illinois, and Marcus Jordan took the court for the University of Central Florida. However, their mother, Juanita Jordan, wanted to make sure that they created identities independent of their famous father.
"For my sons, when they were playing basketball, … the coaches always wanted them to wear the number 23 because their dad was number 23," Vanoy told Crain's Chicago Business in 2013. "It was important to me that they learn not to try to be their dad. They needed to understand that they had to develop their own skills and they needed to work hard and learn how to manage their own challenges." Vanoy says that she "would insist that they not wear number 23," which is something that she felt would help them "establish" their "own identity."
Michael agreed that his children would face hardships when it came to establishing themselves, and in a "tactless way" he acknowledged that during his Hall of Fame induction speech in 2009, according to ESPN. "You guys have a heavy burden," he told his three kids. "I wouldn't want to be you guys if I had to." Granted, he may have had a point, but Juanita was a tad moe graceful when it came to addressing the issue her children face due to their famous father.
Juanita Vanoy and Jasmine Jordan could be twins
Jeffrey and Marcus Jordan may have taken after their father when it comes to his love of basketball, but Jasmine Jordan was the one who took after their mother in physical appearance.
Jasmine hopped onto Instagram to celebrate "Grandparents Day" on Sept. 8, 2019, dedicating a special message to her dad, Michael Jordan, and her mom, Juanita Vanoy to celebrate their first holiday as grandparents to her baby boy. "They're the greatest parents ever and I'm so grateful for them!" Jasmine wrote. "Keemie has incredible grandparents. Blessed beyond measures."
While the sentiment was sweet, as were the photos that Jasmine shared of Michael and Juanita, many followers couldn't help but notice how much she looks like her mother. "Twinning with your mom!!" one person wrote in the comments. Another added, "Beautiful like your mom."
With the same eyes, nose, and sweet smile, it's clear that Juanita passed plenty of features down to her daughter, which makes us curious if little Keemie (who's face was not revealed in the photo) looks like his grandma as well.
Juanita Jordan still talks to her ex-husband
Although many exes can (often understandably) be resentful of their former spouse after a marriage breaks down, Juanita Jordan is still friendly with Michael Jordan. In fact, when the pair split, some people who knew the long-time couple were surprised by the news, despite the fact that the two had apparently been experiencing issues for years. "I'm shocked and disappointed that their marriage didn't work," family friend Les Coney told People, adding that they're both "wonderful people" and that he had "no doubt they'll be putting their kids first."
That, indeed, seems to have been the case since their split, which is one of the reasons that they still talk. "Mostly our conversations are about the children," Juanita told Crain's Chicago Business in 2013. "Divorce was certainly new to me. I had to learn that you have to communicate. That it's not about you or your ex-partner. It's about making sure the children are all right [sic]."
However, she did refer to Michael's marriage to his second wife, Yvette Prieto, with a laugh, saying, "I don't remember him saying, 'By the way, I'm getting married.'" Some things are surely easier to talk about than others when it comes to opening up to your ex.
Juanita Jordan is inspired by 'women who have gone through adversity'
Juanita Jordan told Crain's Chicago Business that she's someone who's inspired by "women who have gone through adversity and come out of it, maybe not unscathed, but without bitterness," mentioning famous female figures like Hillary Clinton, Oprah Winfrey, and the late Jacqueline Kennedy.
She has also embraced that spirit while supporting worthy causes. During her marriage with Michael Jordan, the couple "founded the Michael and Juanita Endowment Fund to support charity organizations," according to Amo Mama. In more recent years, Juanita has served "on the board of Reel Beauty Inc., a Chicago-based nonprofit that mentors teen girls." Beyond that, she also had plans to start "a foundation to fund programs that benefit the arts and children. The Washington Post also notes that Juanita "has been the honorary chairwoman of a number of charities and cultural events [and] publicly urged an investigation into the Highland Park Police Department over allegations of racial profiling," while "through it all, [she] strove to stay grounded and not be completely seduced by the Jordan whirlwind and aura."
Obviously a good example for her children to follow when it comes to being benevolent, Juanita told Crain's Chicago Business, "It was important to me to instill in them that they needed to give back." It certainly seems like Vanoy is on her way to being the kind of inspirational woman that she herself looks up to.
Michael Jordan's ex-wife is 'in a good place' these days
While enduring a divorce can be tough, Juanita Jordan is enjoying her life these days, years after her split from Michael Jordan. The iconic athlete's ex-wife opened up to Crain's Chicago Business in 2013 in her first interview since she ended her marriage with the NBA legend. "I'm in a good place," she said.
"I wanted to simplify my life," Juanita explained. "I got off boards, I downsized the way I lived. I had to because I wasn't going to be in a huge house. I really looked forward to the basic things: my children and my good friends." In fact, The Washington Post pointed out that "[t]hese days, Juanita Jordan is keeping her own counsel, confiding only to her family and very close clique of longtime girlfriends." Juanita also noted that it was also important for her to remain an active part of her kids' lives, even after they went off to college, saying, "[T]hat required a lot of time."
Beyond that, Juanita reportedly "collects art, especially from African-American artists, practices Bikram yoga, and loves to travel to Europe, visiting France, Italy, and London," according to Amo Mama. Additionally, The Gazette Review claimed she "has been in a long-time relationship with Ken Reynolds since 2006," but the details of that alleged relationship remain unclear, as of this writing.