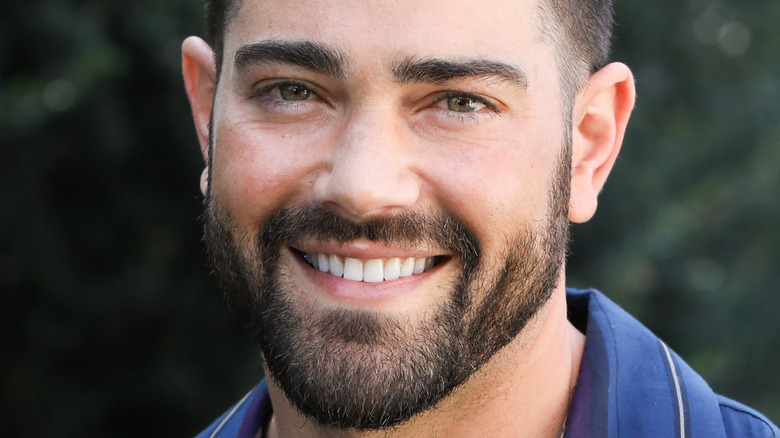 If you turned on a television in the 2000s, there's a good chance you caught a glimpse of Jesse Metcalfe. The heartthrob is perhaps best known for his role as John Rowland on "Desperate Housewives" from 2004 to 2009, but he's got a long string of acting credits. His professional TV career started in 1999 on the show "Passions," on which he played Miguel Lopez-Fitzgerald for half a decade. He's also had roles in many other films and shows over the years, like "John Tucker Must Die," "Chase," and "Dallas." In recent years, he's brought his talent and good looks to the Hallmark Channel in films like "Fairfield Road," "A Country Wedding," and "Christmas Next Door," as well as the Hallmark show "Chesapeake Shores" (via QC Approved).
Metcalfe is known for playing hunky characters, but there's more to him than just muscles and a charming smile. In fact, there's quite a lot that you probably don't know about the handsome star.
He fell in love with acting as a teen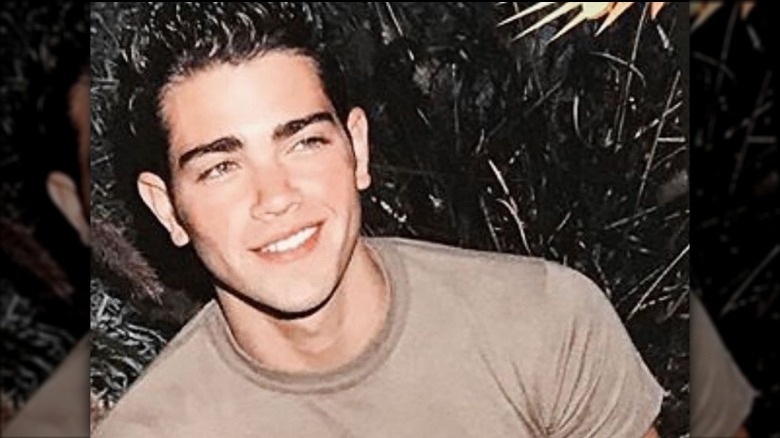 Growing up, Jesse Metcalfe wasn't quite sure what he wanted to be. "First, I wanted to be a cowboy, then I wanted to be Superman, then Indiana Jones, then a psychologist, then a filmmaker…" he told Life Stories Productions.
Discovering acting as a teenager, though, changed everything. While he didn't immediately decide he wanted to do it as a career, Metcalfe found that it helped him in another way. As he explained to the Kansas City Star (via Daily Actor), while he "was relatively social" growing up, he was also "a bit shy," and discovered that acting brought him more confidence. "The shyness and insecurity when you're acting, it does melt away, because you're not really being YOU," he explained. "And you can really put yourself in the circumstance of your character and think your character's thoughts. It takes you on a personal journey."
As noted by Schön! Magazine, Metcalfe attended New York University's Tisch School of the Arts, where he studied directing and also took acting classes. He began modeling to help pay for school, which eventually led to his breakthrough role on "Passions." Metcalfe ended up dropping out of school to move to Los Angeles for the part, and the rest is history.
Jesse was uncomfortable with the attention paid to his appearance on Desperate Housewives
Playing John Rowland on "Desperate Housewives" catapulted Jesse Metcalfe to fame, but the road to stardom wasn't an easy one. While he wasn't as young as the teenager he played on the show and not exactly a newcomer to show business, he was still overwhelmed. "I definitely wasn't ready for so much exposure so quickly," he admitted in an interview with i-D. "I was 26, and I think [my] meteoric rise coalesced with the rise of the internet. It was like a tidal wave."
Metcalfe's status as a sex symbol led to some unwanted attention, as his "appearance was also criticized and picked apart by a lot of people in the media," he explained. Metcalfe frequently appeared shirtless on the show, which came with "a lot of pressure" to stay in shape. He added, "You can run your body into the ground working out, not to mention the other things male actors do to stay fit" (via i-D).
Jesse Metcalfe went to rehab
In an effort to cope with the crushing burden of his fame after "Desperate Housewives," Jesse Metcalfe turned to partying. "There were certainly a lot of perks, but it was bigger than me and all-consuming and I was swept up in it," he told i-D. "But then it all comes crashing down in the quiet moments, when you're home alone." Feeling "a great deal of anxiety and pressure" being in the public eye, Metcalfe turned to drugs and alcohol.
The actor went to rehab and got clean in 2007. He opened up about the decision in a now-deleted Instagram post in 2018, revealing that the experience inspired him to work on the film "Steps" (via Us Weekly). "You can't wait for the phone to ring, you have to create [your] own opportunities, by telling your own stories," he wrote. Alas, the film, which was raising money through crowdfunding, never got off the ground; its Facebook page hasn't been updated since 2018.
In an interview with more! Magazine (via Contact Music), Metcalfe said his struggles with addiction were character-forming. "I've had to learn most lessons the hard way, but that's the reason I'm so ambitious," he said.
If you or anyone you know is struggling with addiction issues, help is available. Visit the Substance Abuse and Mental Health Services Administration website or contact SAMHSA's National Helpline at 1-800-662-HELP (4357).
His career hasn't always been steady
Jesse Metcalfe may have become a recognizable face after "Desperate Housewives," but that doesn't mean he landed steady work after that. Part of this was because of his good looks, which made it difficult for him to branch out to other types of characters. "The industry tends to think if you look a certain way, that's all you have to offer," he told i-D.
While Metcalfe was able to book roles, many of them were in low-profile projects like the 2010 TV movie "Fairfield Road" and the critically panned "God's Not Dead 2" (2016), which holds a 10% Tomatometer score on Rotten Tomatoes. "I did a string of indie films that didn't work," he told i-D of such projects.
In an interview with Variety, Metcalfe expressed some regrets over how he handled that phase of his career. "In hindsight, I realized I should have been more strategic," he said. I was so hungry coming off 'Desperate Housewives' and getting 'John Tucker Must Die,' I think I jumped too quickly at a lot of roles after that. It's really about patience."
Still, he's happy with how things turned out. Now that he's a Hallmark star, his career is on more stable ground, and he's grateful for the difficulties of his earlier years. "I've come out stronger and better having been through what I've been through in my career," Metcalfe told i-D. "I wouldn't go back and change anything."
Jesse Metcalfe is a talented musician
Jesse Metcalfe's acting talents have been on display for decades now, but viewers of his earlier work might not know that he also has a killer set of pipes. He's put his musical talents on display many times, such as in the film "Harmony from the Heart" (via ET).
It was the Hallmark show "Chesapeake Shores," though, that really let him showcase his talents. His character on the show, Trace, is a musician — something that was Metcalfe's own idea. He explained to Schön! Magazine that the show is based on a series of books, but that in the books, his character had a totally different career. "My character in the books was an architect, and I personally didn't think that would be as interesting as him being a musician," he said. "I think everyone involved agreed, and that idea started to take shape."
Metcalfe loved being able to make music on the show, revealing that he even wrote some songs for the series. His musical talents don't end there, though — he grew up playing the piano, guitar, and clarinet.
He was on Dancing With the Stars
Jesse Metcalfe is a man of many talents. Not only can he act, sing, and play multiple instruments, but he's also got some pretty smooth moves on the dance floor. The "John Tucker Must Die" star competed on "Dancing With the Stars" in 2020 and, while he had no previous experience, impressed audiences as he danced with pro partner Sharna Burgess.
Alas, they didn't win the competition, as their DWTS stint lasted only five weeks — but Metcalfe said he had a blast in the reality competition. "I think the journey was cut short a bit, but everything that's meant to be will be, and this was the end of the road for me. I trimmed down, I lost 10 pounds, and I really think it helped with my posture," he told ET. "Overall, it was just such an amazing experience. It was very challenging but incredibly rewarding."
The competition was not only fun for Metcalfe, but it also gave him a greater appreciation for dance. "Maybe much like acting, I think the average person doesn't realize how difficult of an artform it is," he told Heavy.
He's expressed interest in doing a home renovation show someday
Jesse Metcalfe is a man of many layers. While he admitted to Heavy that he's not the biggest fan of reality television — "authentic" shows like "Dancing With the Stars" being the exception — there is one type of reality show he could see himself on now that he's done "DWTS."
Metcalfe, it turns out, is very big into home renovations and is an experienced property flipper. Per the CTPost, he paid $1,158,500 for a house in 2017. The next year, he sold it for $1,807,000 after fixing it up. "I'm really into architecture and interior design, so maybe something in that arena?" he told Heavy of the possibility of returning to reality TV.
He's even looked into the possibility, telling The List that he's floated the idea of "a home renovation, home-flipping show" to networks. It seems it may only be a matter of time until we see Metcalfe taking the home renovation world by storm.
Here's why Jesse left Chesapeake Shores
Much to the dismay of fans, Jesse Metcalfe left the Hallmark show "Chesapeake Shores" in 2021. He'd been on the show since 2016, and felt his time there had run its course. "Life's all about growth," he told ET. "I tend to put myself in challenging situations because I feel like that's the fastest way to grow."
Acknowledging that his departure from the show was unexpected, Metcalfe admitted that the choice to leave was difficult but necessary, saying, "sometimes the hardest decisions are the best ones to make and the ones that you grow the most from."
Leaving "Chesapeake Shores" also frees up some time for Metcalfe to pursue other projects. During the ET interview, he explained that he was hoping to break into some higher-profile projects. "I really want to up the bar in my career," he said. "Not to look down on any of the previous work that I've done, but I want to continue to pursue a film career, and I think the best way to do that is to get on a respected, critically acclaimed television show." Wherever his career takes him, fans will no doubt be excited to watch Metcalfe as his star continues to rise.
Jesse Metcalfe is a fan of rom-coms
Even though we're well into the 21st century, romantic comedies still tend to be primarily marketed to women, as noted by The Tab. There are plenty of men who love rom-coms, though, and Jesse Metcalfe is one of them. The actor has starred in plenty, like "The Other End of the Line" and "John Tucker Must Die," and he genuinely enjoys the process.
"I love shooting rom-coms," he told Heavy. "It's something that as a viewer, everyone can relate to. … Love relationships are really what drive human beings. It's the most important thing in our lives."
Not only does he love starring in rom-coms, but Metcalfe also loves to sit down and watch them, calling them "a not-so-guilty pleasure." Metcalfe is clearly in touch with his emotions, saying, "I'm not afraid to have a good cry when I watch a movie." As for his favorite romance flick, Metcalfe named the 2004 classic "The Notebook."
He moved across the country to Miami
Jesse Metcalfe spent his early career in Los Angeles, having moved there in the late '90s to star on the soap opera "Passions" (via Schön! Magazine). After spending decades in the city, Metcalfe made the move to Miami in January 2022.
The actor spoke to Aventura Magazine about the move to Florida, explaining that the COVID-19 pandemic turned the acting industry on its ear, and the changes allowed him to make the move. "With Zoom, Skype, and other ways to communicate, you don't have to live in Los Angeles anymore," he said.
In an interview with KTLA (via Monsters and Critics), Metcalfe said he was ready for "a change of pace" as well as "some new scenery." He also admitted that it didn't hurt that he got a great offer on his home in Los Angeles, making the move to Miami that much sweeter. Metcalfe seems thrilled with his new location, telling Aventura Magazine, "The city is beautiful, and for me, it is a breath of fresh air after so many years in Los Angeles."
Jesse Metcalfe does his own stunts
While Jesse Metcalfe is best known for romantic films like "Christmas Under the Stars," he's also an action star. Metcalfe starred alongside Bruce Willis in 2020's "Hard Kill" and the "Dead Rising" films, which are based on a video game (via Fox News). Metcalfe works hard to stay in top-notch shape; per Men's Journal, he prefers physically challenging exercises that work numerous parts of the body at the same time.
Staying in peak physical shape helps him with all of those action scenes, especially as he prefers to do his own stunt work. In an interview with Nuke the Fridge for "Dead Rising: Watchtower," Metcalfe said he even shooed his stunt double off the set before a big fall, deciding to do it himself. "There's not a single moment in the movie where you're like, 'that's not Jesse,' cause there isn't one," he boasted. "I seriously challenge anyone to find one."
Speaking with ET Canada, Metcalfe revealed that he's also trained in MMA fighting and boxing, which helped him when filming "Hard Kill." He said, "I'm not a UFC fighter by any means, but I know how to throw a punch, so I didn't need to develop fighting skills from the ground up. I know enough, and I'm well-versed enough in the art of stage combat to do this stuff on the fly, so that's what we did."
He has a massive Instagram following
Social media has been a game-changer for the entertainment industry. With talent and luck, influencers can build entire careers on platforms like Instagram. Speaking to i-D, Jesse Metcalfe speculated that his career might have been a bit easier if social media had been around when he was starting out, saying, "It seems like a lot of actors now get sent right to the top — one television show can lead to a hundred-million-dollar movie. I wish there had been Twitter and Instagram when I was coming up."
Metcalfe is making up for the lack of social media in his youth now, though, and is keeping his many fans updated on several social media platforms. The actor boasts over 190,000 followers on Twitter and a whopping one million followers on Instagram as of this writing. He's less prolific on TikTok, but still has more than 8,000 followers on the platform.
He's fond of Meghan Markle
Jesse Metcalfe has been in the entertainment industry for quite a while, so it should be no surprise that he's got plenty of famous friends. He's even brushed elbows with royalty, and has been friends with Meghan Markle, the Duchess of Sussex, for years.
While we don't know too much about the relationship between the Hallmark star and the former actress, Metcalfe had nothing but nice things to say about his pal in a 2019 interview with ET, defending the "Suits" star against her many detractors. "Obviously, the news is flooded with all these negative stories, and she just has crazy trolls and stuff, but hey, you know, screw the haters!" he said. "I mean, who cares?"
While Metcalfe and Markle don't seem to be super close — Metcalfe admitted he didn't plan to invite the duchess to his (now canceled) wedding — he does think of her fondly, saying, "She's lovely."