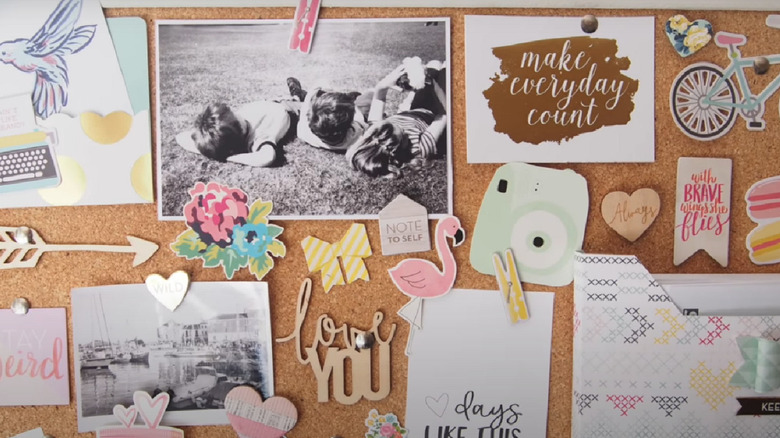 Cork boards are a great way to keep things front and center — be they notes, memories, ephemera, tasks, or inspiration cues. While, for many, online platforms such as Pinterest and Canva now function in a similar way, designers and artists often rely on physical pin boards to keep on task and provide a visual, tangible reminder of current projects (via ARTnews). In the home, cork boards fulfill a key role, often serving as a hub, littered with memories, notes, shopping lists, and favorite items in central locations like home offices and kitchens.
While their design has come a long way from the school bulletin boards of yore, cork boards can be pretty basic when you purchase one from office or home retailers. There are, however, several simple DIY projects that can jazz up your cork board of choice, whatever you plan on putting on it. From paint to frames and fabric, you too can step up your cork board game with fabulous results.
Fabric and pattern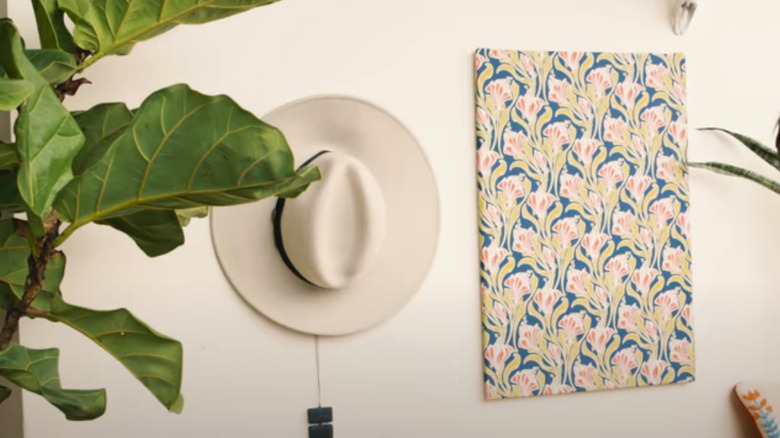 One of the easiest ways to decorate your garden variety cork board is with fabric. Offering an array of patterns and textures to complement any design scheme, fabric can be easily applied with adhesives, tacks, or staples. Whether you favor stripes, florals, or polka dots, you can accomplish anything from a formal vibe that perfectly matches other decor elements to a fun, casual look. Covered boards are far more exciting than the original cork while still allowing for easy pinning.
Great fabrics for this DIY project include velvet, burlap, cotton, linen, and tweed. If you are looking for a formal solution, go with stripes or a pretty damask to complement your current color scheme. Choose florals for a cottage or shabby chic look. Burlap and vintage bark cloth are great options for creating a board in modern farmhouse settings. The great thing is that if you use a non-permanent adhesive method like staples or double-sided fabric tape, you can change out your fabric seasonally or whenever the mood strikes. Try creating a gridwork of ribbon or twine if you'd like to keep things pin or tack-free (perfect for homes with children or pets). According to Driven By Decor, you can also add a pocket for stowing items.
Color
Color, in a variety of forms, is a perfect addition to any cork board to meld it into your decor scheme seamlessly. Whether you are using paint (via Girl in the Garage) or adhesive vinyl (carved out by hand or a vinyl cutter), it's easy to add all-over color or intricate patterns to your board. Designs can be simple or elaborate, such as in the above example, which incorporates tape and paint to form a fractured effect, giving a modern edge to the board.
You can also use rubber stamps or lino print blocks to create patterns with paint or ink on most board surfaces. Stencils work well for larger designs. If you'd like to keep the cork as is, you can also paint the exterior frame, which is often just wood. While paint and ink are a more permanent solution, adhesive vinyl can be removed easily if you decide you want to switch up your design.
Frame it
Framing your cork board is an excellent, stylish way to integrate it into your current design in a way that looks deliberate and intentional. While many boards arrive unframed or simply surrounded by wood, you can remove the cork from any existing frame and choose from a number of DIY methods to create a new one. This can include using pre-made picture or poster frames or applying wood molding around the perimeter, explains The Happy Housewife.
The frame can easily match other artwork hanging in your space, and it looks especially great on gallery walls when integrated with other elements. If you prefer a little glamour, paint your frame gold and add some gold leaf. Rough, weathered wood looks great in cottage or farmhouse decor schemes. A faux-marble or simple painted black gloss frame works perfectly for more modern spaces. You can also find beautiful frames at thrift or antique shops and have the cork cut or sized for a relatively low cost.
Build it
If you are starting from scratch, consider building a custom cork board out of tiles. Numerous retailers sell small 12 x 12 cork tiles that can be arranged in any configuration, framed or unframed, to achieve any size and dimensions needed. Cork flooring tiles also make a great option when enclosed by an exterior wood molding frame, allowing your board to be as large or small as fits the space. If you vary the tiles in size or color, you can achieve a delightful patchwork or grid effect that adds more interest to your board even when it's empty.
Another innovative way to assemble a cork board is to glue wine corks together in a frame, which, according to The Creatives Hour, is the perfect solution for a kitchen and a great way to reuse and preserve corks that may have sentimental value from celebratory bottles.
Think big
If you're looking to go even larger, cork sheeting is a great way to make entire walls or sections of walls into a giant cork surface. Most sheeting is easily applied with an adhesive backing like contact paper or peel-and-stick wallpaper. Large cork walls have instant visual impact, adding texture to any blank wall as well as ample room for your content.
There are also numerous places to use a cork wall outside the home office, including the front of the refrigerator for an easy alternative to magnets that slip and slide. You can even slap one on columns, half-walls, or other unused spaces that are highly visible to keep things in view. A wall of cork above a desk offers room to spread out and rearrange materials, which works particularly well if you use the board as part of your creative or work processes. Unique locations for a cork board wall include foyers and children's bedrooms (via Little House on the Corner).