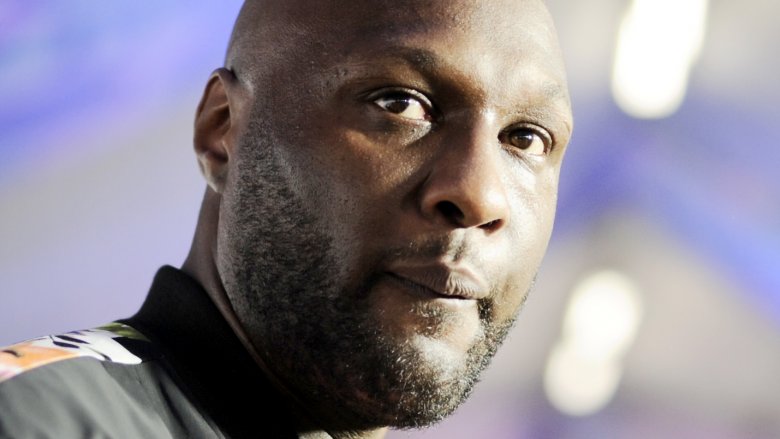 We may receive a commission on purchases made from links.
Staying in shape is kind of a no-brainer job requirement for professional athletes. Training, maintaining a healthy diet, and avoiding vices such as drugs and alcohol are some of the cornerstones of high-level athletic performance. However, cleaning up and keeping up one's appearance doesn't seem to have a bearing on athletic prowess. In fact, there are some players who are able to put up numbers that are top notch, even if their hygiene seemingly is not.
Whose teammates are holding their noses and rooting for someone to take a shower? Which famed coach has been caught on tape making gross moves? And who just needed to lay off the beer and hot dogs? From basketball to golf and football to futball, it seems there are all-star stinkers in every sport. Plug your noses as we investigate athletes with questionable personal hygiene.
Adam Morrison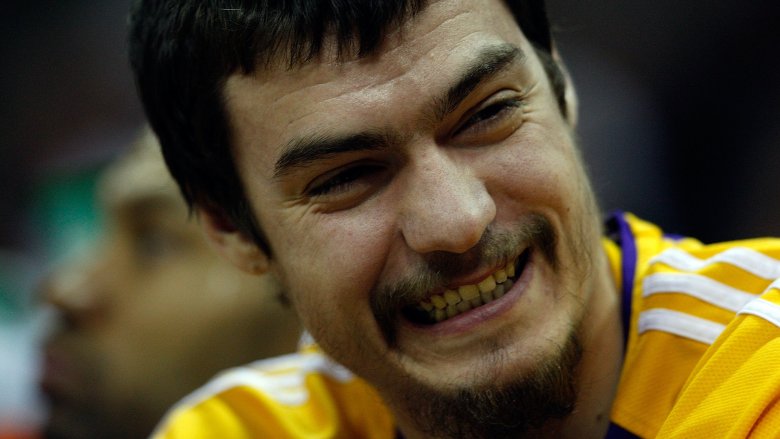 Retired NBA small forward Adam Morrison didn't leave an overwhelmingly positive legacy on the league. A third round draft pick, Morrison admitted that he did not live up to his hype when his professional career ended just six years after it began, telling Bleacher Report that he "didn't deliver." But it wasn't just Morrison's game that allegedly stunk. According to Charlotte Bobcats teammate Jared Dudley, Morrison's lack of personal hygiene was more memorable than his game.
"Remember Adam Morrison? He never took showers, he did the chewing tobacco that he spit all the time, and he wore the same three polos the whole year," Dudley told 106.7's the Grant and Danny show (via The Big Lead). "This is a guy who made a lot of money, too, at that time. He was the face of diabetes, he was doing everything, he was on the cover of college games, he was [everywhere], and he was by far the worst and [most] disgusting."
While it's impossible to know if Dudley's accusations about Morrison's alleged funk are true, the money thing is legit. Bleacher Report claims Morrison made "just under $17 million" on his NBA contracts, not to mention big bucks from endorsement deals with Adidas and Johnson & Johnson, which he now lives off of quite comfortably as "a retired and extremely wealthy suburban dad." So, when Dudley says things like, "[Teammate] Gerald Wallace had to force him to take a shower one time. Had to force him. Imagine that. Imagine forcing a grown man to take a shower. He should be ashamed of himself," something tells us Morrison couldn't care less.
Ronny Turiaf and Boris Diaw
For some reason, the discussion of body odor seems to come up often in interviews with NBA players—there's another example coming up here shortly—and perhaps more surprising than even the question itself, is the willingness that some of these guys have to throw their fellow players under the bus. Power Forward Amar'e Stoudemire is among the gossip mongers, and he actually went for the twofer.
In an interview with ESPN's Dan Le Batard (via NBC Sports), Stoudemire was asked, "Kevin Love told us that Ronny Turiaf smells worse than anyone in the NBA. Can you confirm?" He replied, "Confirmed. Confirmation, granted." When asked who's second, Stoudemire said, "I dunno, man. I try not to get close to these guys. But I think Boris Diaw might be a close second. 1a and 1b."
Granted, Stoudemire is also a guy who once tweeted, "I love the smell of the weight room. That's right weight room. Not breakfast. #funny," which is clearly a joke, but also means that maybe we should take the olfactory observations of the 2003 NBA Rookie of the Year with a grain of smelling salts.
Joachim Löw
Nobody had to call out German soccer coach Joachim Löw for his…low personal standards, because he was caught on camera not once, not twice, but, like, a lot of times engaging in some decidedly unsavory behavior. First, he was reportedly captured putting his hand down his crotch, then smelling his fingers immediately afterwards. NBD, right? Happens to the best of us. (Not really.) Days later, Löw supposedly went digging again, this time down the backside, followed by another healthy sniff.
After the clips went viral, Löw was put in the awkward position of having to explain them. "I saw the pictures as well and obviously sometimes you do things subconsciously. It happened and I am sorry," he told The Guardian. "It was adrenaline and concentration. I will try to behave differently in the future."
"Behaving differently" may be a tall order for Coach Löw, considering after his "scratch and sniff" moments went viral, savvy soccer fans began posting compilation videos of many more gross-out moments, including armpit whiffs and freshly-nose-picked snacks.
Everybody ready? All together now: Ewwwwwwwwww!
Brian Grant
Remember what we said back there about NBA players calling each other out on their offensive odor? Well, even five-time NBA champion Kobe Bryant isn't above slinging a little stinky shade on his teammates. During a live Q&A, Jimmy Kimmel asked Bryant, "Who is the smelliest player you ever played with?" Bryant replied, "Brian Grant, because of his dreads."
According to an interview with Xavier Magazine, Grant grew his signature dreadlocks after becoming inspired by the music of Bob Marley, most notably the song, "War," which highlighted the kind of institutional racism Grant reportedly dealt with growing up in rural Ohio. According to Bleacher Report, Grant's lifetime NBA earnings topped $100 million, some of which he used to fund various philanthropic efforts. He received the 1998-99 J. Walter Kennedy Citizenship Award, which is given to "a player, coach or athletic trainer who shows outstanding service and dedication to the community." Moral of the story: those dreads may have been a bit gross, but what they stood for sure wasn't.
Babe Ruth
The Great Bambino's off-the-field lifestyle was almost as legendary as his 714 career home runs. It even became a motto—"Ruth did it on hot dogs and beer"—used to criticize scandalized slugger Barry Bonds during the controversy surrounding Bonds' alleged steroid use. However the extent of Ruth's unhealthy ways is still somewhat of a debate.
According to The Cambridge Companion to Baseball, Ruth's supposedly tremendous appetites for food, booze, cigars, and women were reported ad nauseum to the point where his collection of personal vices became lionized as "an ideal avatar of the Roaring Twenties." As such legends go, the perception of the Sultan of Swat's lust for life only mushroomed over time.
In 1925, a supposedly "out of shape and overweight" Ruth passed out on a train headed from New York to Florida, according to Philly.com. He was immediately sent back to New York, but after missing a connecting train in North Carolina, news quickly spread that Ruth had died. "The bellyache heard 'round the world," as it was dubbed by sportswriter W.O. McGeehan eventually grew into the legend that the slugger's abdominal issues were caused by "consuming too many hot dogs, soda pop and beer on the train ride between Knoxville and Asheville," according to the Asheville Tourists team blog.
As it turned out, Ruth had been sick long before the train ride. He was treated for an "intestinal abscess," from which he recovered and lived for another 23 years. But you have to think that at some point, the fact that folks actually believed he died from a mythical hot dog and beer binge would have caused him to maybe go for a salad every now and then.
John Daly
Though John Daly's career stats may not place him among the legends of professional golf, you could easily say he is the Babe Ruth of the sport based solely on his off-the-green lifestyle, which would be questionable for a rock star, let alone a professional athlete.
Photographed countless times with a club in hand and a cigarette poking out of his mouth, Daly is completely unapologetic about being called the "Wild Thing" of golf. In an interview with Graham Bensinger, Daly talked about some revelations from his book, My Life in and out of the Rough: The Truth Behind All That Bull**** You Think You Know About Me, most notably the fact that he still smokes around two and a half packs a day, drinks up to 15 cans of Diet Coke a day, and does not drink water.
"Rich Beem and some of the other guys, they call me The Camel, because I don't drink water. I never drink water on tour," Daly admits. And that's not all. When it comes to eating at one of his favorite spots, McDonald's, Daly says he would regularly put down "two Big Macs, two or three cheeseburgers, a chocolate shake, and a regular coke" in a single sitting.
Daly is also unabashed about his drinking. In an anecdote from his book, he recalls an evening in 1990 when he wound up in an ambulance after "I'd passed out with my eyes open and the guys I was drinking with thought I'd had a stroke or something." Granted, this doesn't necessarily translate to Daly being particularly unclean, but ask yourself how close you'd like to get to a drunk guy who's eaten several pounds of McDonald's and been smoking all day.
Lamar Odom
On a very special episode of Keeping up with the Kardashians, Kim Kardashian decides to inform her sister, Khloe Kardashian, about a delicate issue concerning her then-husband, Lamar Odom's, oral hygiene.
"I almost throw up in my mouth every time I hug him," Kim says to Khloe in an apparent reference to Lamar's halitosis. It is later revealed in the episode that the former basketball star suffers from a fear of going to the dentist "because it hurts." Kim offers to arrange a visit to her dentist, who will put the big man completely under so he "won't have to hear a tool."
We'll just go ahead and state the obvious here: out of all of the questionably unhygienic things Odom has been accused of, having bad breath seems like it would be pretty low on the list. But we like to keep things PG around here, so we'll just stick to talking about root canals.
Andrew Luck
The NBA isn't the only rumormill in the sports world. As it turns out, some pretty huge NFL stars are also willing to spill the tea on who skips the showers every now and then. In an interview on ESPN radio's Mike and Mike (via CBS Sports), former Indianapolis Colts quarterback Matt Hasselbeck dropped this bomb on current Colts quarterback Andrew Luck: "He's grungy… He's kind of like a college kid still. Does that make sense? He takes pride in not showering, kind of thing."
Luck responded with the simple retort, "I do shower twice a day." He has admitted that his signature bird's nest beard doesn't do him any favors. "I know it's a bad look. My girlfriend tells me every day. My mom tells me. I realize it's a bad look. But I'm not going for any specific look," Luck said, according to USA Today, adding that he keeps the beard through the season to avoid razor burn.
Whether that's actually the reason for his "grungy" look or it's really one of those athletic superstitions he doesn't want to talk about, his questionable personal hygiene seems to be working for him. In 2016, just four years into his pro career, Luck was voted by his fellow players one of the top 100 in the NFL. That same year, he signed a $140 million dollar contract extension with Indy, making him the highest paid player in the league. Dirty beard or no, he seems to be doing just fine.