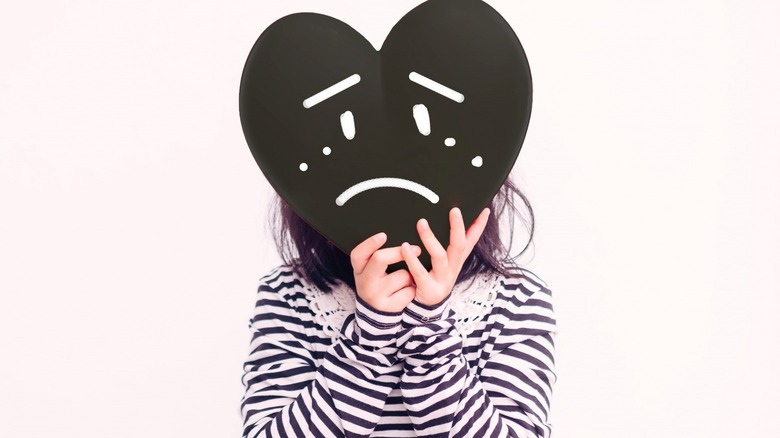 The COVID-19 pandemic has brought on many hardships. People have mourned the loss of loved ones, fought through sickness as a result of the virus, and faced many other stressful challenges. It is no wonder then that these times of hardship have also affected our mental health. According to a 2021 study published in the journal The Lancet, the first year of the COVID-19 pandemic increased the prevalence of anxiety disorder and major depressive disorder worldwide. Not only have adults' mental health been affected in negative ways, but it turns out that children have struggled with mental health issues as well.
In an exclusive interview with Health Digest, Dr. Sanam Hafeez, NYC Neuropsychologist and Director of Comprehend the Mind, discussed the prevalence of mental health issues in children since the start of the pandemic. Additionally, Dr. Hafeez addressed the many ways that COVID-19 affected the mental health of children. She provided a few tips for adults on how to help children cope with their mental health struggles.
Examining mental health issues in children
The start of the pandemic took a toll on children's mental health. Citing a 2020 survey of 1,000 parents conducted by the Ann & Robert H. Lurie Children's Hospital of Chicago, Dr. Hafeez noted that 71% of parents claimed the pandemic had taken a toll on their child's mental health. About 69% said the pandemic was the worst thing to happen to their child. Notably, Dr. Hafeez also highlights that a national survey of 3,300 high schoolers in the spring of 2020 found that nearly a third of students reported an increase in unhappiness and depression.
Unfortunately, the effects on children's mental health at the start of the pandemic may continue for the time being — for others, the impact may last a lifetime. "Some [children] will struggle with returning to constant socialization as schools adjust to new guidelines, and remote learning ends," said Dr. Hafeez. "Some schools will continue with social distancing, others can make masks optional, and it can all be very confusing and overwhelming for children. And in poorer countries, schools may stay closed longer, forcing students to drop out. Parents must be patient with their children as they try to grapple with their new normal."
How COVID-19 has affected children
Dr. Hafeez mentions a large list of COVID-19-related factors that have impacted children's mental health. In addition to mourning the loss of loved ones, financial burdens have driven many families to scrape by through times of unemployment. The uncertainties of health and financial security can be a burden that weighs on a child's mental health. Furthermore, social isolation has negatively impacted children's mental health. A 2022 study published in the journal Revista Paulista de Pediatria found a significant correlation between social isolation and anxiety and depression in adolescents and children. Social isolation was found to increase levels of cortisol — the stress hormone — which led to impairments in mental development. Notably, long-term cortisol release due to chronic stress may be associated with increased perceptions of negativity (per Psychology Today).
School is another area that has been causing problems for children's mental health — particularly limited access to resources. Citing a statistic from UNICEF, Dr. Hafeez says that over 463 million children didn't have access to remote learning and may continue to have their education disrupted.
Why children are facing issues from social isolation
According to Dr. Hafeez, some children are more resilient than adults in the face of a crisis. "Many kids were already used to Zoom and felt comfortable being on camera as their means of education," she said. On the other hand, some children with attention problems had difficulty learning online compared to in the classroom. "Others felt self-conscious about being on camera in front of their peers," explains Dr. Hafeez.
Another reason for these mental health issues is a lack of socialization. "Being away from an in-person classroom environment and/or summer camps was extremely stress-inducing for most kids and teens," said Dr. Hafeez. "Many might have picked up on the anxiety their parents were experiencing as the pandemic raged on. If one or more parents lost a job, or kids/teens were aware of the death of a parent or teacher due to the pandemic, this was a jarring reality to contend with at a young age."
Many children developed anxiety and depression for the first time. For example, some children developed "health anxiety" and became so fearful of catching the virus that they avoided spending time with people outside of their immediate family. "Because nobody in our lifetime had experienced a similar situation, there was no precedent that parents or even professionals could offer these children on how to cope or feel in such an extraordinary circumstance that the entire world was navigating as the pandemic progressed," Dr. Hafeez explained.
Signs of mental health complications in children
Parents can be on the lookout for a few telltale signs that their child has been negatively affected by the pandemic in terms of mental health. According to Dr. Hafeez, fear of leaving home and health anxiety, may indicate a negative impact on mental health. For example, the child may be fearful of catching the virus and only wish to interact with immediate family members. Dr. Hafeez also mentions signs like antisocial behavior, depression, anxiety, and loss of interest in previous activities or hobbies.
Furthermore, Dr. Hafeez mentions that the child may have difficulty concentrating and show marked changes in their in academic grades. Other notable signs of the pandemic's negative impacts on a child's health include changes in appetite, mood swings, not caring about personal appearance/grooming, and sleeping too much or too little, says Dr. Hafeez. But fortunately, there may be things you can do to help.
How adults can improve their kids' mental health
Despite all of the negative impacts that the pandemic has had on children's mental health, there are a few things that adults can do to improve the situation. "First, have a discussion," says Dr. Hafeez. "Many kids may clam up and say that everything is 'fine.' As a parent, you know your child best and know when things are awry. Don't be accusatory or scolding. Come from a loving place. Ask how you can help." Additionally, Dr. Hafeez says that being a good listener can help. "Listen to their needs and give them a shoulder to lean on without encroaching on their personal space," she says. "Understand that it may take time for them to work on themselves and overcome issues that have developed since the pandemic began. Never make them feel as if they have failed or disappointed you."
Finally, if it feels like you are not able to help your child, Dr. Hafeez recommends seeking help from a mental health professional. "Make sure your child understands that this is not a punishment but something being done to help them return to being their pre-pandemic 'best-self,'" she said.
To find out more about Dr. Hafeez, visit www.comprehendthemind.com.
If you or someone you know needs help with mental health, please contact the Crisis Text Line by texting HOME to 741741, call the National Alliance on Mental Illness helpline at 1-800-950-NAMI (6264), or visit the National Institute of Mental Health website.