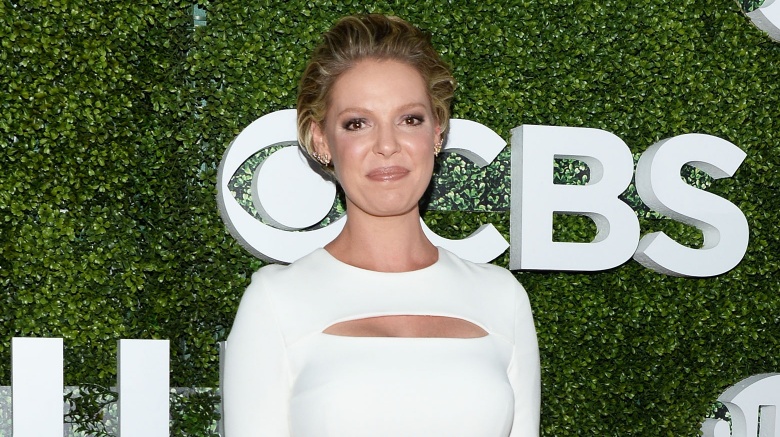 At one point, Katherine Heigl was considered TV's newest "It" girl, with a stunning future ahead of her on both the small and silver screens. She's since completely dismantled her own reputation with a series of gaffes, and her career is now an unrecognizable shadow of what it was once poised to look like. Thanks to some careless words and poor professional decisions, Heigl has gone from famous to infamous, and her reputation has reduced her from starring in an ultra-hit TV series to being known as that one woman who was in the Nyquil commercial. Here's how she ticked off everyone in Tinseltown.
Biting the hand that feeds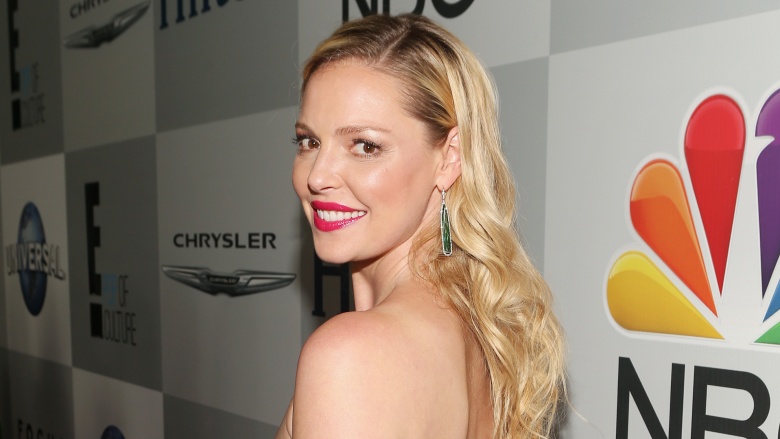 Grey's Anatomy's popularity was instant upon arrival, but the medical dramedy has also outlived most of its original cast and still thrives in its Thursday night ShondaLand spot. For those few series originals that remain, it's been a steady paycheck source for over a decade and has provided a rare sense of stability in what is otherwise a very fickle industry.
For Heigl, the show offered her a launch pad from which she was expected to jump straight into the A-list pool. Her turn as Dr. Izzie Stevens earned her an Emmy for best-supporting actress as well as two Golden Globe nominations. However, she quickly muddied the waters of her involvement with the series by publicly denouncing its writers and declining consideration for the Emmys in 2008. In a statement, she explained, "I did not feel that I was given the material this season to warrant an Emmy nomination … I did not want to potentially take away an opportunity from an actress who was given such materials." She'd previously had a sticky situation with the network over salary negotiations, and her words about the scripts were considered an "ungrateful slap in the face" to the scribes who'd helped her get so far in the first place.
Grey's Anatomy creator, Shonda Rhimes, slammed Heigl for her unkind comments, telling Oprah Winfrey (via Us Magazine), "On some level it stung, and on some level I was not surprised. When people show you who they are, believe them. I carry that with me a lot. It has served me well."
Fool me twice …
Heigl's history of bad-mouthing didn't begin (or end) there. Earlier the same year that her controversial comments on Grey's came down, she also put down the first big movie role she got, Judd Apatow's Knocked Up (2008). She told Vanity Fair in 2008, "It was a little sexist. It paints women as shrews, as humorless and uptight, and it paints the men as lovable, goofy, fun-loving guys. It exaggerated the characters, and I had a hard time with it, on some days. I'm playing such a b***h; why is she being such a killjoy? Why is this how you're portraying women? Ninety-eight percent of the time it was an amazing experience, but it was hard for me to love the movie."
Unsurprisingly, her comments were not well received by the others involved with the movie, including her co-star and on-screen love interest Seth Rogen, who told The Hollywood Reporter, "People seemed to like it. We were funny together. I was having a really good time, and then when I heard afterward that she didn't like it, that she seemed to not like the process, and she did not like the end product either, I think when that happens — also your trust feels somewhat betrayed."
Rogen added that neither he nor Apatow ever received a personal apology from Heigl for her words, but that they didn't want the hubbub to hurt her career. "The only people who in this situation should in any way take anything from it is me and Judd because we're the ones she was talking about. For other people to not work with her because she didn't like her experience with us is — I think is crazy," he said. As generous as his spirit might've been on that last note, it wasn't just her words that have hurt her reputation over the last few years.
Can't go home
After Heigl left Grey's Anatomy in 2010, she suffered a series of cinematic setbacks. Although Knocked Up and her subsequent rom-com 27 Dresses (2009) did well at the box office, things started to go downhill very quickly for Heigl's filmography. Critics had a field day slamming her movies like Killers (2010), New Years Eve (2011), and One for the Money (2011), and ticket-buyers weren't too keen on any of them either. While promoting the latter of those disappointments (a film which, by the way, earned her a Razzie nomination for worst actress) Heigl expressed an interest in returning to her roots on Grey's to reprise her role, perhaps in a last-ditch effort to reboot her reputation.
However, Rhimes publicly declined the offer, telling TV Guide, "I think it was really nice to hear her appreciating the show. At the same time we are on a track we have been planning. The idea of changing that track is not something we are interested in right now." In case that was too polite to make Rhimes' perspective clear, she's also since turned Heigl's name into a noun referring to difficult people on a show set. Yowza.
Diva behavior
Although Heigl has since changed her tune and told Howard Stern in 2016 that she's trying so hard not to be difficult on any given set she's been working on that she even hesitated to tell the costume team she needed a different size for her shoes — "I remember wearing shoes a size too small because I was afraid to tell wardrobe they weren't big enough because I didn't want to be difficult," the former Roswell star explained — she's come about her reputation honestly.
The Hollywood Reporter revealed that some people who had worked with her on other projects complained of her history of being difficult on the set of her projects. For example, one anonymous source who'd been involved with the family comedy film Life as We Know It (2010) said, "She can cost you time every single day of shooting. Wardrobe issues, not getting out of the trailer, questioning the script every single day. Even getting her deal closed … was hard. She hit that point of 'no.'"
Momager or nutjob?
Another problem with Heigl is that she comes with some serious baggage in the form of her mother, Nancy Heigl, who's earned her own rep in the industry. For example, the same THR source who'd spelled out Katherine Heigl's punishing personality on the set of Life as We Know It, also complained of her momager's treatment of the crew, too. "I have never experienced anything like Nancy Heigl. It's about the mouth. 'F*** you. You are a f***ing liar.' … Whatever you'd say, you were an idiot. The call would be, 'This is the worst craft service we've ever had! There's nothing to eat! This is the worst wardrobe!' You knew that every day, you were going to get slammed." Even the film's producer, Denise Di Novi, who attempted to defend Heigl against claims of her diva demeanor, had to admit that the Heigl women "are not shrinking violets" and will "tell you what they think." Sounds about right.
Katherine Heigl, however, thinks her mom's staunch persona has been a complete plus for her progress. She told Vanity Fair, "She manages everything — finances, agents, lawyers, publicists, contacts with studios, producers, all of it… She didn't care if she made any friends in this town. Her job was to protect me and to be very fierce in defending me. I always have one person saying, 'If you don't want to do it, you don't have to do it.' With other people, your agenda is never the most important agenda. My mother was the only one who thought what I wanted was important. She is really smart and really savvy, and she refuses to make choices based on fear. This is a fear-dominated industry; it's about rise and fall, and my mother refuses to be intimidated by that. This is all a game of chicken, and my mother is really good at chicken." Too bad that close relationship has resulted in her career being clucked in the process.
Sorry, not sorry
Hindsight being 20/20 and all, Katherine Heigl has since expressed remorse over the way she's handled certain situations in her past. She told Howard Stern in 2016 that she did apologize to Rhimes for her controversial Grey's dis, saying, "I was really embarrassed, so I went in to Shonda and said, 'I'm so sorry. That wasn't cool. I should not have said that.'" However, her apology was only half-hearted because she also doubled down on her belief that the writing for her character was not good enough that season. "I wasn't feeling good about my work that season, no … There was a part of me that thought, because I had won the year before, that I needed juicy, dramatic, emotional material, and I just didn't have that that season," she said. "I think there were 12 series regulars on that show, and everybody deserved their juicy, dramatic, emotional season. I'm not a writer, but I imagine it must be very difficult to do that for everybody."
It's not the first time she's continued to chomp on her foot without a care in the world. She also told The New York Times in 2010 that she was "particular" about her work but that she didn't want to back down about her feelings on any given subject. "I've been told I'm too forthright with opinions. Well do they want a fierce woman or milquetoast? Should I be me, or should I pretend to be something I think people want? Pretending seems pretty ridiculous to me. I didn't think that what I was was so bad that I needed to hide it."
That take it or leave it attitude might seem brave, but it's also cost her in the way of public reputation and work opportunities. According to The Hollywood Reporter, she was once passed up for what might've been a perfectly matched small screen role because "she's not worth it."
One for the money
Another reason Heigl has earned some snarls from the industry is that her pricetag has been rather exorbitant. As reported by the New York Post's Page Six, Heigl was dropped from the cast of Garry Marshall's ensemble dramedy Valentine's Day in 2009 because of her excessive asking price. She reportedly wanted $3 million for a small cameo role that would've required two weeks or less of work, "and no other actors asked for nearly that amount." Heigl denied the story in a statement from her rep, saying that she "walked away from the project for multiple reasons" (gee, we wonder what that might mean), a statement which did little to restore her popularity for sure.
For what it's worth, Heigl did eventually join the next one of the late Marshall's ensemble movies — that is, New Year's Eve — but the film did nothing to improve her Rotten Tomatoes average, that's for sure.
Publicist switcheroo
Trying to keep up with who's representing Heigl on the publicity front may cause a case of serious whiplash because, while her mother has remained firmly planted in her manager spot, her publicists have been playing a game of musical chairs over the last few years. In 2010, Deadline revealed she fired her long-time rep Jill Fritzo because she wanted to work with someone based in the west coast, but the publicist she went with, Melissa Kates, fired Heigl as a client, which was a rare move for someone in Kates' position.
Although the reasoning for Kates' dismissal of Heigl was never revealed, insiders were surprised at the move, especially considering Kates was opening her own agency at the time and could use a "legitimate movie star" like Heigl on her client roster. She went crawling back to her old rep Fritzo who "took her back with open arms," but the change-up couldn't have been any kind of helper to Heigl's professional profile.
Time for a turnaround?
Katherine Heigl has had a lot of trouble recovering from what was decidedly a bad decade in public relations, but the actress has not stopped trying to make her way back into the spotlight all the same. Following her failed effort to capitalize on the book-to-screen craze with a starring role in One for the Money (2012), Heigl went on to nab starring roles in smaller films like 2015's Jenny's Wedding and 2017's Unforgettable. Unfortunately for her, both were critical misses that also failed miserably at the box office. Her luck was no better on the small screen, either, as not one but two television series featuring her in the lead — NBC's State of Affairs (2014-15) and CBS's Doubt (2017) — were dead on arrival and unceremoniously cancelled after a single season.
However, the book isn't closed on her career just yet. Following the departure of Meghan Markle from USA's hit series Suits, Heigl stepped in to join the series for its eighth season and has engaged in a massive clean-up project to restore her reputation. In an interview with Today, for example, she talked about her personal life as a mother and about grieving the loss of her brother. In a chat with People, she showed a lot of humility and gratitude for the opportunity to star in a show she'd loved so long. Heigl has had trouble connecting with audiences in recent years, but she's well on her way to reaching them both professionally and personally once again.