Though you might expect tons of scandals from channels like MTV and Bravo, the Food Network has a reputation as the more well-behaved TV sibling. Believe it or not though, that reputation has not been earned — and it's probably not even deserved.
The Food Network has been on the air for decades. First launched in the US in 1993, the cable channel has been aired internationally since 2009. Of course, their path to success has not always been an easy one. As with any other venture, difficulties and scandals are bound to crop up along the way (especially when you're working with reality TV shows), and they are no exception. In fact, the Food Network has had quite a few scandals, and some of those shocking situations have rocked the channel, and it's adoring fans, to their very core. Here are some of the biggest scandals the Food Network has faced over the years.
A Make-A-Wish kid was turned down by Ina Garten… twice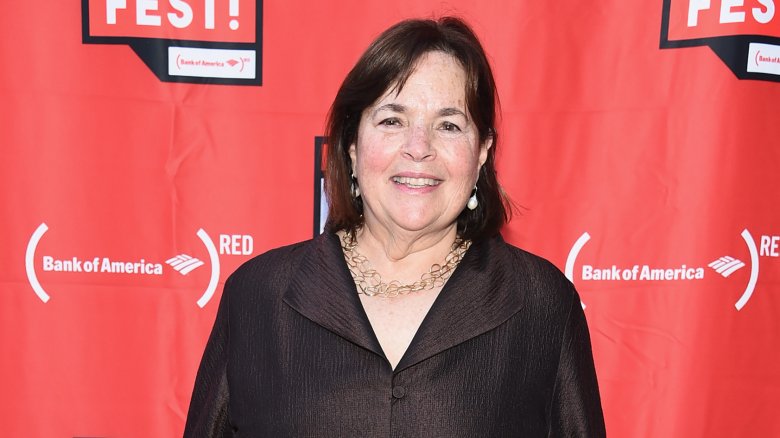 Ina Garten, host of Food Network's Barefoot Contessa, comes off as the sweet grandmother everyone wishes they had. She revealed a not-so-nice side, however, in 2011 when a child requested to meet her through the Make-A-Wish program. Enzo Pereda, a 6-year-old battling acute lymphoblastic leukemia, watched Garten on TV while he was sick in bed, and had been dreaming of cooking a meal with her for years.
Pereda's family organized the request to meet Garten through Make-A-Wish, but was turned down because she was busy on the road, publicizing her new book. A year later, Pereda made the same request and was again tuned down due to Garten's busy schedule. His family wrote about the incident in a now-defunct blog, which is when the media picked up on the story.
After the news got out, Garten did some damage control, inviting Pereda onto her show. It was too little, too late. The Peredas rejected Garten's offer, saying that young Enzo had "moved on" and would instead fulfill his wish of swimming with dolphins.
Mario Batali skimmed tips
Chef Mario Batali may be a culinary guru, but some of his business practices are less than savory. The chef came under fire in 2010 when a class action lawsuit was filed against him on behalf of some of his employees. The suit represented 117 people who worked for Batali in his restaurants. According to the lawsuit, Batali illegally skimmed tips, keeping four to five percent of the money that should have gone to his servers in order to pay the restaurants' sommeliers.
The case dragged on for years, with Batali finally agreeing to a settlement in 2012. As part of the settlement, the chef agreed to pay $5.25 million to not just the employees named on the lawsuit, but to any of the employees who lost tips as a result of Batali's tip skimming (aside from those who chose to opt out of the settlement) from July 22, 2004 to February 14, 2012.
Mario Batali was accused of sexual harassment
A sexual harassment scandal in 2017 threatened to put an end to Batali's career when four women accused him of inappropriate touching. Batali didn't deny the allegations of harassment, which spanned 20 years, saying "there are no excuses." In a statement to Eater, he added, "That behavior was wrong and there are no excuses. I take full responsibility and am deeply sorry for any pain, humiliation or discomfort I have caused to my peers, employees, customers, friends and family."
The effect of Batali's apology was diminished when he used his situation as an opportunity to publicize his website. In an emailed newsletter where he again apologized, Batali added a link to his Pizza Dough Cinnamon Rolls which he called a "fan favorite."
Between the charges brought against him and his unimpressive apology, Batali's career took a nosedive. ABC fired him from his hosting role on The Chew. Food Network also distanced itself from Batali, announcing that they would no longer be producing his show Molto Mario which they had previously planned to revive.
In May of 2018, the NYPD announced they were conducting an investigation of the accusations, but that investigation was closed in January 2019 with no charges filed. According to CNN, only one of the two cases being investigated was within the statute of limitations, and the NYPD was unable to find probable cause for either of the cases.
Anne Burrell discriminated against her employees
Anne Burrell worked alongside Mario Batali on Iron Chef America as his sous chef before hosting several of her own shows on Food Network, but it seems the two celebrity chefs have more in common than that show. In 2009, she was sued for discriminating against female employees at Centro Vinoteca, a West Village restaurant where she used to be a chef. According to the lawsuit, Burrell was accused of calling the plaintiffs, who were all women, a string of derogatory, and often sexually degrading names. She also reportedly made remarks about their cleavage, and is said to have openly commented on their sex lives. The lawsuit also alleges that only female staff were treated in this manner. When they complained, Burrell allegedly had them fired. Although a settlement was reached in that case, Burrell has not commented on the validity of the accusations. Details of the settlement are not available.
Robert Irvine's fake resume
Sometimes the mantra "fake it till you make it" works, and other times it comes back to bite you. Chef Robert Irvine shot to fame as the host of Food Network's Dinner Impossible. His resume was impressive, boasting, among other things, a British knighthood, cooking for four former US presidents, and a friendship with Prince Charles — as well as a hand in creating his wedding cake when he wed Princess Diana. It all turned out to be too good to be true, however, when it was revealed in 2008 that Irvine's resume was substantially padded.
Irvine left Dinner Impossible in disgrace, although the show continued to air with Michael Symon at the helm. While Symon did a great job hosting the show, his presence on Dinner Impossible was temporary. After Irvine apologized and some time passed, Food Network welcomed Irvine back. According to Symon, that was the plan from the beginning, adding that he knew when he signed his contract that Irvine would likely be returning to the show.
Geoffrey Zakarian filed for bankruptcy
Chopped star Geoffrey Zakarian made name for himself as a restaurateur. Not only does he play a role on four Food Network shows, but he has a stake in several restaurants Unfortunately, fame and fortune don't make you immune from financial troubles. The chef filed for personal bankruptcy a just few months before he won Iron Chef: Super Chefs in 2011, after a class action lawsuit was filed against him by his former employees at his now-shuttered restaurant, Country.
According to the lawsuit, Zakarian shorted his staff on overtime pay, falsified pay records, and docked their paychecks for meals they never received. The former employees asked for $1 million in damages and an extra $250,000 in penalties.
Zakarian denied the allegations, but the cost of fighting the lawsuit was too much for his wallet. His publicist, Jaret T. Keller, said the chef "filed for bankruptcy due to the enormous costs of defending a class action lawsuit by former employees of a restaurant in which Mr. Zakarian is no longer involved."
Graham Elliot was sued by employees
Former Iron Chef contestant Graham Elliot stirred up controversy when he was accused of mishandling tips by his employees. Thirteen former waiters at his restaurant, the self-named Graham Elliot in Chicago, joined in the lawsuit originally filed by former waiter Gregory Curtis in 2012.
According to Curtis, the wait staff was forced to pool their tips, which would then be redistributed among the staff. Curtis said food runners and cooks should not have been entitled to a share of the tips as they "do not customarily and regularly receive tips." He sued for the wages that were lost as the result of the tip pooling.
Elliot didn't contest the claims, and ended up settling with his former waiters for an undisclosed amount. Under federal law, tip pooling is only allowed if the money is distributed among people who typically receive tips, a category that does not include food runners and cooks.
Paula Deen's racial slur
Scandal broke out in 2013 after Paula Deen admitted to having used the "N word." The racist language came to light as part of a lawsuit filed by a former employee of a restaurant co-owned by Deen. Deen said that "of course" she had used the word, although she hadn't used it in some time.
In a now-deleted YouTube video, The Guardian said that Deen appeared on camera to apologize for her "totally, totally unacceptable," language, adding "I've made plenty of mistakes along the way but… I beg for your forgiveness."
Deen's apology might have been more convincing if her company hadn't released a statement defending her use of the word. In the statement, they claimed that Deen used the slur in "quite a different time." The company tried to justify Deen's language, saying, "She was born 60 years ago when America's South had schools that were segregated, different bathrooms, different restaurants and Americans rode in different parts of the bus. This is not today."
Sandra Lee's questionable Kwanzaa Cake
When Sandra Lee made a Kwanzaa Cake in 2009, AV Club described it as "a pile of ridiculousness slathered in despair and sprinkled with nonsense nuggets." The angel food cake was topped with store-bought frosting, corn nuts that she called acorns, and pumpkin seeds, then filled with apple pie filling. It was terrible, but terrible food isn't a scandal. What was scandalous is the offense she caused by declaring her train wreck of a dessert a celebration of Kwanzaa.
Food stylist Denise Vivaldo eventually stepped up and admitted responsibility. At the same time she said she'd been forced into its creation, she claimed to have done some research. Salon wanted to know what research that was, so they did their own. With the help of African diaspora expert and cookbook author Jessica Harris, they confirmed it was as authentic as you can probably guess. Harris said, "The thing that's potentially offensive to me is characterizing/determining a holiday about which neither the cake preparer nor the recipe designer has the first clue."
Paula Deen's diabetic crisis
Paula Deen's food has always been more delicious than healthy, and when she announced she had been diagnosed with Type 2 diabetes, not many were surprised. According to The New York Times, her official 2012 announcement came three years after her diagnosis, and when they asked her about the delay, she responded, "I wanted to wait until I had something to bring to the table."
Apparently, what she was bringing to the table was a deal with Novo Nordisk, the pharmaceutical company behind a non-insulin injectable diabetes medication. Deen and her sons were the new faces of a major drug campaign, and that just added to the scandal.
ABC News says many condemned her for hiding her diagnosis while continuing to promote a cooking style that's heavy on the butter, sugar, and portion sizes. Food Network was quick to say they knew nothing about the diagnosis, while other celebrities were quick to condemn the hypocrisy. Anthony Bourdain summed it up when he tweeted, "Thinking of getting into the leg-breaking business, so I can profitably sell crutches later."
John Besh was edited out of this show
John Besh caused so much controversy that he was edited out of a January 2018 episode of Iron Chef Showdown that had been filmed in the spring of 2017. If you look closely, you can see him in the background in parts of the episode, but he was otherwise completely erased from the footage. The deletion happened after Besh was accused of sexual harassment by 25 of his employees at his restaurants. They claimed that sexual harassment was the norm at Besh Restaurant Group, which is co-owned by Besh.
In another complaint, filed separately, a former employee who Besh had an affair with claimed that Besh coerced her throughout the relationship. Besh admitted to cheating on his wife with his employee, although he claimed that the affair was completely consensual. Besh's apology fell short. After the news broke, it was announced that Besh would also be edited out of an episode of Bravo's Top Chef.
Bobby Flay "quits" Iron Chef
In 2017, something shocking happened on Iron Chef Showdown when Food Network star Bobby Flay yanked off his apron in mid-competition, revealing a shirt that said, "THIS IS MY LAST IRON CHEF BATTLE EVER".
Vanity Fair says the producers were stunned. Not only did no one know he was going to do it, but it was impossible to edit out. When they told Flay, he answered with, "I know. That's the point."
Flay later told People the whole thing was a joke, and he was just having some fun on the last episode of the season. He added he would be happy to return to Iron Chef, but by 2018 it was clear it wasn't a joke after all. People says he told Michael Symon his grueling schedule — including six to eight battles a week — was too much. "… it crushes me," he said, adding that the Food Network absolutely didn't approve of the way he handed in his resignation.
Cat Cora's DUI
Cat Cora narrowly avoided jail time in 2012 when she was involved in a low-speed traffic accident while driving with a blood alcohol level more than twice the legal limit. Today reported she admitted to drinking three beers before rear-ending a BMW, and when police got to the scene she was given a breathalyzer and a DUI before being taken to the Santa Barbara Sobering Center.
Eater got a hold of the 911 call made by the driver of the BMW, who claimed Cora "was wavering around the road… she's yelling and acting really weird. … She's just been very aggressive. … She was just driving insane."
Cora got off easy, with three years' probation, a fine, a suspended jail sentence, and nine months of DUI school. She also issued a statement, saying, "I deeply regret my decision to drive that evening after my designated driver became unavailable. I learned a very important lesson from this experience and take full accountability for my actions. This will never happen again."
Rachael Ray/ Rachel Roy
Sometimes, stars don't even need to do anything to get caught up in scandalous drama, and that's exactly what happened to Rachael Ray after Beyonce released Lemonade in 2016. According to Vanity Fair, it was a single lyric — "He only wants me when I'm not on there, He better call Becky with the good hair" — that sent Beyonce's fanbase on a maniacal quest to find out who Becky really was.
Only a few hours later, the ex-wife of Jay-Z's ex-business-partner posted an Instagram photo captioned, "Good hair don't care, but we will take good lighting, for selfies, or self truths, always. live in the light #nodramaqueens." Fans took that to mean she was admitting she was Becky — and her name was Rachel Roy.
Roy tried to clarify she's not Becky, but Bey fans didn't give it up. To make matters worse, they starting confusing her with Food Network's Rachael Ray, and deluged Ray with a ton of hate. Roy sent the chef flowers, while Ray sent a bottle of wine and a straw. Well played.
Giada De Laurentiis' rumored cheating
Giada De Laurentiis announced she and husband Todd Thompson were splitting after 11 years of marriage in 2014. It wasn't long before the rumor mill started churning, and by 2015 E! News reported on her public denials, with the chef claiming she had never cheated on her husband.
Accusations just kept coming, and it was claimed she had hooked up with both John Mayer and Bobby Flay. Rumors about a fling with Mayer started way back in 2010, and when her divorce almost coincided with Flay's divorce from Stephanie March, tabloids thought that was a smoking gun. She denied it, saying (via US Magazine), "Well, we're very good friends… but I don't think that's ever going to happen because I'm smarter than that." In 2018, her choice in friends came back to haunt her again, when longtime friend Matt Lauer fell into disgrace. Fox News reported there had been rumors the two had been more than friends, but that, too, was denied.
Nigella Lawson's drug use revealed
Nigella Lawson is a major player in the culinary world. In addition to her cooking chops, the English television personality is a noted author and journalist, with eight books that have sold millions of copies.
But her good girl image took a hit in 2013.The multi-millionaire and her ex-husband, Charles Saatchi, accused Francesca and Elisabetta Grillo, two of their former assistants, of defrauding the couple of hundreds of thousands of pounds. The Grillo sisters contested the charges, claiming they were allowed to spend the couple's funds by Lawson, if they didn't reveal her drug use to Saatchi.
The Grillos claimed Lawson took cocaine and had abused prescription drugs for years. During the trial, Lawson admitted to having taken cocaine on more than one occasion. She denied claims that she took the drug on a regular basis, stating, "I have never been a drug addict. I've never been a habitual user. There are two times in my life when I have used cocaine." The Grillo sisters were acquitted of the charges.
The lying contestant
The Next Food Network Star's third season was shaken by some serious shadiness. The OC Register reported that it was just before the final vote that Joshua Adam Garcia — better known by the acronym with a military vibe, JAG — was forced to withdraw for lying about his background.
Garcia had claimed to have graduated from the New York Restaurant School, and while he attended, he didn't graduate. According to The Army Times (via Reality TV World), he also lied — a lot — about his military service. Contrary to his claims, he was never deployed in a war zone, had his career as a Marine cut short for unspecified reasons, and wasn't actually a corporal. He was a formal corporal, as he had been demoted over a hazing scandal.
Paul Rieckhoff, founder of the Iraq and Afghanistan Veterans of America, said, "Pretending to be a combat veteran for any reason should not be taken lightly. That's absolutely unacceptable. It's an insult to the 1.6 million Americans who have been to Iraq and Afghanistan."
Wolfgang Puck takes on the BBB
There are only a few names that carry the same kind of weight as Wolfgang Puck, and that's why Los Angeles Times reporter David Lazarus thought it was strange that according to the Better Business Bureau, his Spago restaurant only warranted a B-. There were no complaints, no scandals, but still, that less-than-perfect grade was there.
That sent Lazarus searching through the BBB database, and found there were a ton of other, less high-profile examples of businesses with no complaints who still had imperfect scores. That made him wonder if there was some kind of pay-to-play system in place. Puck said there was, telling 20/20 that his poor grades came because he hadn't paid for better ones.
Slate called the BBB a "protection racket," and more investigation turned up confessions from the BBB's upper echelons, saying there was no way for a business to get an A+ rating… unless they joined… and paid. That goes against everything the BBB supposedly stood for, and proved that ratings aren't everything.
Alton Brown makes racist and homophobic remarks
Alton Brown's not an easy guy to figure out. On the one hand, he seems to want to come across as a man of the people, explaining cooking in terms just about anyone could understand. On the other hand, he cultivates a persona that he describes as "evilicious," and has been known to make insensitive remarks about not only his fellow chefs but also some of his fans, particularly those in the plus-sized contingent.
On one occasion, Alton, speaking in front of an Iowa audience, did anything but wow the crowd according to one blogger — in fact, he left many of them speechless, not knowing what to make of remarks that came across as racist (a reference to a "real live Negro") and homophobic (a crack about a girl in the audience having "two daddies"). He then went on to compound his insensitivity by delivering a big ol' slap in the face to everyone who works in the restaurant industry, bragging about a time he bullied a North Carolina restaurant into making an item not on the menu by threatening to come back into the kitchen.
News of his comments don't seem to have made it to major news sites, but it did make waves on blogs, social networks, and forums where word spreads fast.
Bobby Deen appears in brownface
Paula Deen isn't the only one in the family prone to jumping feet-first into controversy. You'd think the Deens would have learned something from all the flak Paula received in 2013 over past racist remarks, but apparently, they didn't. Or perhaps, for the Deen family, any publicity is good publicity? Kind of hard to explain, otherwise, why in 2015 they would have tweeted out a photo, hashtag #TransformationTuesday, in which Bobby was shown wearing ridiculous brown facial makeup meant to impersonate Cuban-born Ricky Ricardo in a bit of I Love Lucy-themed cosplay. Ummm, needless to say, this didn't go over well with the Twitterati, who were quick to remind the Deens that yeah, racism is still is no longer a thing.
The tweet quickly disappeared from Paula's account, but thanks to the magic of thousands of screen captures, it has an internet half-life of approximately forever. Oddly enough, the one thing no one seemed to weigh in on is how weird it was for Bobby and his mom to be dressing up as a married couple. The racism thing was nasty enough, but that just took things to a whole new level of "ick."
David Burtka lets his jealousy dictate hubby's Broadway career
David Burtka and Neil Patrick Harris just seem like the cutest couple ever, don't they? Quite the new millennium fairy tale — former child star of Doogie Howser, M.D. comes out of the closet, meets and marries the chef of his dreams, and together they raise two adorable kiddies.
Turns out there's a snake even in this Garden of Eden — David Burtka, star of Food Network's Life of the Party with David Burtka, is extremely jealous over the fact that his hubby's quite the man-magnet, and doesn't trust Harris to be immune to temptation. In fact, when Harris was offered the starring role in the musical Hedwig and the Angry Inch in 2014, insiders said Burtka issued an ultimatum: six months max for Harris on Broadway, since any longer than that, he thought, would just be asking for trouble. Despite winning a Tony for his performance as the musical's title character, Harris did, in fact, step down from the role. Since he and his honey bunny still appear to be living happily ever after, perhaps chef Burtka really does know best.
Eddie Huang goes all misogynistic on Twitter
Eddie Huang has had quite the checkered career: attorney, stand-up comic, clothing designer, even drug dealer, before finally finding his niche as a restaurateur and celebrity chef with his Food Network hit Cheap Bites. When his autobiography Fresh Off the Boat got turned into a TV series, Eddie could add one more line to his oddball resume: sitcom character.
Where Eddie got into trouble, however, was in his chosen role as an activist speaking out on behalf of racism directed towards Asians, particularly Asian men. In a New York Times op-ed piece, the Food Network star expressed himself in a way that was itself seen as racist, not to mention sexist, saying: "I feel like Asian men have been emasculated so much in America that we're basically treated like Black women." When he was called out on Twitter about this by African-American lesbian activist Mia McKenzie, his dismissive response of "are we dating cause you wildin. lol" did not help matters one bit.
Giada spits out her own cooking
You know that old saying "Never trust a skinny cook"? Obviously not the motto of the Food Network, where most of the stars seem chosen for their photogenic looks and star power as well as their culinary chops. Superstar chef Giada de Laurentiis, however, owes her perfect size-2 physique to a super-gross secret. While she preaches the gospel of portion control, an inside source connected to Giada's TV show told Page Six the petite chef never eats one single bite of all that supposedly irresistible food she seems so happy to prepare. In fact, sometimes Giada doesn't even let that nasty old food touch her lips — instead, she uses an assistant as a kind of "stunt double" for close-up teeth shots, and then has the camera pan back out to show her taking an empty fork out of her mouth. On those occasions where she actually does put food into her mouth, she doesn't swallow it. Instead, Giada spits it into a dump bucket that is kept just off-camera. Ewww, now that's an appetite-killer for sure.
Jamie Oliver is accused of cultural appropriation
While Jamie Oliver used to be the host of a show called The Naked Chef, he never actually stripped down for the camera, so no scandal there. In fact, the most shocking thing he's done lately isn't even the tiniest bit salacious. It's more of a marketing misstep, yet it's one that got quite a few people pretty upset with him: he released a product called "punchy jerk rice," with its name and flavoring supposedly inspired by traditional Jamaican cooking. Well, the problem with this product is threefold: Oliver isn't Jamaican, the recipe he uses isn't really all that Jamaican either, and in Jamaica (and elsewhere, outside of Jamie's world) "jerk rice" isn't even a thing — jerk is a spice rub used to flavor meat.
Protests came from all over, including a Jamaican chef who said he taught Oliver how to make authentic jerk chicken. Dawn Butler, member of the British parliament, and daughter of Jamaican immigrants, called Oliver's product an act of cultural appropriation. While Jamie tried to explain away his faux pas by saying his intent was just to pay homage to the flavor's inspiration, many in the Jamaican community still think he's the real jerk.
Marcela Vallodolid and Paul Hollywood's affair
Sexy Mexican chef Marcela Valladolid has appeared on several Food Network shows including her own Mexican Made Easy and a long-running stint on The Kitchen, while British celeb chef Paul Hollywood is best-known as a judge of The Great British Bake Off. In 2013, however, they collaborated on-screen, judging The American Baking Competition. They became quite cozy off-screen as well, indulging in a brief fling that nevertheless had some serious fallout. Eventually, the show was canceled, but the drama didn't stop there. Paul's wife filed for divorce, and Marcela and her husband also divorced.
Although Marcela is no longer currently hosting any TV shows, she's moved on in her personal life, now mother to two kids with her new fiance. Paul, on the other hand, still has a thriving career, judging Bake Off and hosting cooking shows for various TV networks including the Cooking Channel. On the domestic front, however, things have gone pretty far south since he and Marcela parted. While his wife eventually welcomed him back after the affair, she booted him out again a few years later when he got caught kissing a cooking show contestant.
Patrick and Gina Neely faked the happy couple act
To everyone who watched Down Home With the Neelys during its 11-season run on the Food Network, Pat and Gina seemed like the perfect couple, living and working and cooking side-by-side. But then, all of a sudden, game over. Marriage over, show over, even their restaurants closed down. What could have caused this sudden, total Neely-pocalypse???
It took several years before the entire truth came out, but in a 2018 interview with People Magazine, Gina revealed that her 20-year marriage had grown stale and that she'd actually planned to leave Pat before they were offered the TV show. Gina, a former bank manager, never wanted to become a TV personality, and the pressure this put on her family, not to mention having to fake a happy relationship when she was just no longer feeling it, finally caused her to crack. In 2014, she grabbed her bags and headed out the door, and after that, only her lawyers did the talking with Pat.
While the divorce was rough on Pat at first, he's since rebounded with a new wife and kids. Gina, the reluctant TV star, has gone a different route, appearing in a reality dating show on the Bravo network called To Rome For Love. Down Home With the Neelys, however, lives on in perpetuity, thanks to the magic of reruns — even though we now know it was all a sack of lies.
Rachael Ray sells herbicide-tainted dog food
Rachael Ray has gone way beyond celebrity chef to one-woman powerhouse: TV host, author, entrepreneur, and champion of all animals in need. In fact, she's so into doggos that she created a very special food with her own beloved pooch in mind, a portion of the profits from which are donated to her own Rachael Ray Foundation whose mission is to help animals in need.
Well, what about animals who have become ill from ingesting suspicious chemicals? Chemicals, perhaps, found among the "natural" ingredients in Ray's "Nutrish" line of pet foods? A $5 million lawsuit filed in 2018 alleges that Nutrish foods contain glyphosate, an herbicide used to make weed-killers such as Roundup. Rachael herself was not named in the lawsuit, and claimed to be feeding Nutrish to her own dog despite the controversy. Petsmart, one of the brands biggest retailers, didn't drop Rachael or her product line, but did issue a statement that it would be closely monitoring the situation. The lawsuit was eventually dismissed, but this most recent issue, on top of other earlier complaints, poor reviews and even recalls of Ray's pet food products, indicate that she might not be such an animal nutrition guru, after all.
The racist episode of The Pioneer Woman
On the second season of The Pioneer Woman, Ree Drummond made a racist joke that offended many of her viewers. On the show, Drummond made Asian hot wings for her family and friends, laughing at their disgusted faces when she pulled the tray out of the oven. Drummond said "I'm just kidding guys, I wouldn't do that to you," and then replaced the hot wings with American Buffalo wings.
The blog Thick Dumpling Skin called out Drummond, saying Food Network needs "better Asian representation," writing, "Why must we watch non-Asian cooks who can't pronounce 'Sriracha' and don't have a chopstick drawer show us how to make our own dishes? And how come, when they do, we have to watch as their entire family mocks it — like in this episode of The Pioneer Woman?"
Eater called for Food Network to stop airing the episode in 2017, five years after it first aired, citing several complaints from the Asian community.
Guy Fieri's homophobic remarks
Thinking before you speak is something Guy Fieri has yet to learn. The chef came under scrutiny in 2011 when some of his offensive remarks were revealed to the press. According to David Page, creator and former producer of Diners, Drive-Ins, and Dives, Fieri's charm wins over audiences, but his off-camera demeanor isn't as sparkling. "Any time any woman mentioned 'cream,' Guy went into a sexual riff," he told City Pages. "When cutting the show, you had to tell the editors to watch Guy's eye line, because it's always on breasts."
Fieri also revealed his distaste for the LGBT community. According to Page, one of the restaurants they visited for the show was run by two men who Fieri "had decided… were life partners." Page said Fieri called him and said "You can't send me to talk to gay people without warning! Those people weird me out!" Page added that from that time forward, the show's researchers were told to make a note if they picked up any "indications of homosexuality" during the pre-interview process.