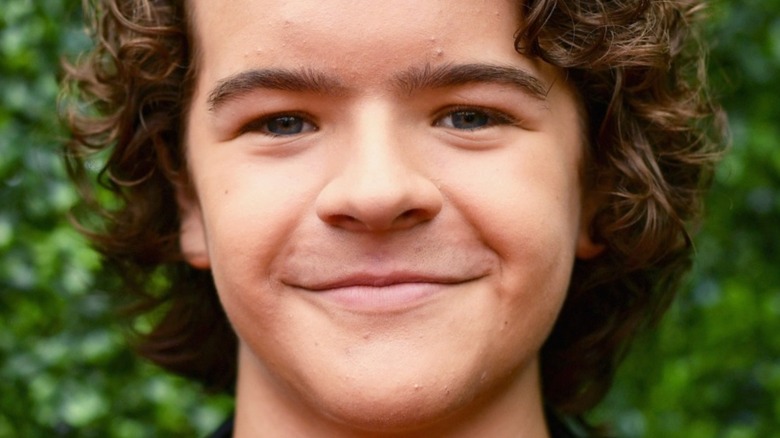 "Stranger Things" would not be the same show if it wasn't for Dustin Henderson. We'll even go far enough to say that the whole city of Hawkins would have fallen to ruin by now if it weren't for this baseball hat-wearing teen boy — and it's all due to his inspiring attitude that the actor who plays him also exudes.
Throughout the course of the series, not even a demogorgon has been able to dampen Dustin's positive spirit. It's something that has always helped him through the darkest of times — whether he's fighting his way through the Upside Down or being berated by the bullies at school.
Many times, Dustin has been made fun of for his role in the Hellfire Club, but other times, it's been because of a condition he has called cleidocranial dysplasia. "I talk about it in the first episode of Season 1 when the bullies are making fun of me because of my teeth," the actor who plays him, Gaten Matarazzo, told a crowd at Rhode Island Comic Con. It turns out, Matarazzo also has this condition off-screen. "You're always born with it," he explained. "And it affects pretty much every bone in your body."
What exactly is cleidocranial dysplasia?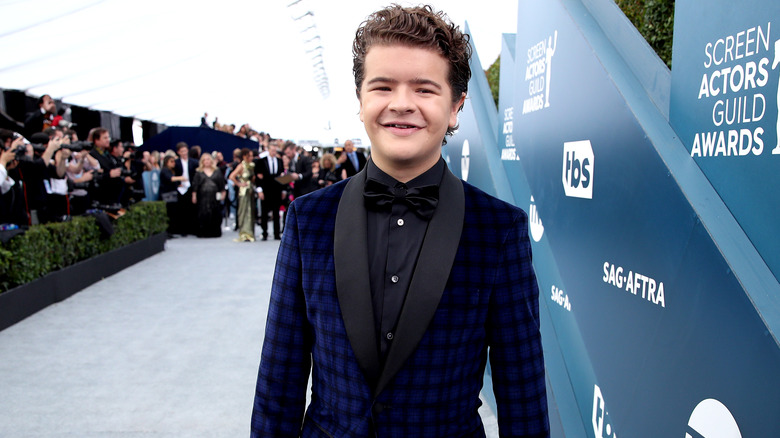 Cleidocranial dysplasia, commonly referred to as CCD, is an extremely rare condition that affects one in a million people. In fact, many of those who have been diagnosed with it have never met another person who has it. "There was a conference recently, and about 125 people with the condition were there," Gaten Matarazzo once said during an interview with WE. "The oldest was 86, and he'd never met anybody with the condition."
The condition affects how bones in the body form. According to Johns Hopkins Medicine, some people may have fragile or altered bones, while others may be born missing major bones altogether.
For Matarazzo, the condition has caused him to be born without collarbones. It has also affected his teeth. "With CCD, your baby teeth don't want to come out, and your adult teeth don't want to come in, and you more than likely will have more teeth than you should," the actor explained at Rhode Island Comic Con. In many instances, people with cleidocranial dysplasia will turn to various surgeries in order to correct what the condition has caused to their bodies.
He's had multiple surgeries due to CCD
As of today, Gaten Matarazzo has gone through four surgeries, in addition to multiple extractions of baby teeth. After these procedures, the actor has also had to wear an orthopedic appliance to help his adult teeth grow down into place (which is why his "Stranger Things" character Dustin Henderson is missing his front teeth throughout the first season of the series).
Unfortunately, medical procedures will continue to be common in Matarazzo's life. "I will have more surgeries coming. I will have more extractions coming, more of these appliances pulling my teeth down and braces," he explained on "Live with Kelly & Ryan" in 2017.
The actor's latest surgery in January 2020 required him to be under anesthesia for four hours while doctors extracted 14 of his baby teeth in order to help six adult teeth pop through. "This was such a big one, it may be the last one I need," he wrote on Instagram. "Hopefully at least."
He initially lost out on a lot of acting roles due to his condition
Gaten Matarazzo has had dreams of making it big in show business ever since he was a kid. However, his parents always wanted to prepare him for the worst thing that all aspiring actors experience: rejection.
The film and television industry didn't seem to understand him at first. "I remember casting directors would constantly tell me, like, 'Oh, kid. We love you, but just get those teeth in,'" he recalled on the podcast "Inside of You."
At the time, Matarazzo was only 7 years old, and people in the business weren't understanding of why he was still missing some of his teeth. "I'd explain the condition," Matarazzo said. "And then they'd tell me, 'Well, you're not going to have much luck in this industry then.'" At least, that was until the young actor walked into an audition for a show that would soon be named "Stranger Things."
His condition was written into Stranger Things after he landed the role
Gaten Matarazzo's world completely turned upside down when he was officially cast in a new sci-fi series for Netflix. However, he never thought "Stranger Things" would turn into the success story that it is today. "It was going to be a mini series. I was going to be in three or four episodes," he explained on the podcast "Inside of You."
Matarazzo had originally auditioned for the role of Mike, but was told he had been cast as a boy named Dustin — someone whose character hadn't been solidified into the story quite yet. "What they really wanted to do was they wanted to make sure that each character in the show was unique, and they had something that was realistic and personal," the young actor explained on "The Doctors." It turns out, Matarazzo had exactly that.
While he was stretching during his audition, he was asked by the creators about his missing collarbones. As soon as he explained his condition, the writers knew they needed to include it in the character of Dustin. Fans took notice, too. Following the premiere, there was a 94% increase in the number of people reading about cleidocranial dysplasia online, according to a study done by Oklahoma State University in Tulsa.
Here's why Dustin's teeth are missing in Season 3
By the time Season 2 of "Stranger Things" rolled around, Dustin Henderson was still a fixture on our screens, running around Hawkins in his color blocked baseball cap. Something was different, though: He now had a full set of front teeth.
This changed in Season 3. When it premiered, Henderson's front teeth were, yet again, missing. His girlfriend Suzie in the series had told him that "kissing is better without teeth," but the twist still had fans of the series searching the Internet for answers when it came to Gaten Matarazzo's health. That's when the young actor began opening up about how he had been wearing dentures during the previous season.
Following the finale, Matarazzo underwent a surgical extraction to help pull his front teeth into place. Throughout Season 4, he is seen sporting braces to help straighten his pearly whites and give him the smile he's always dreamed of having. "You need your teeth," he told an audience at Rhode Island Comic Con. "You need your teeth."
He hopes to use the spotlight to bring attention to the condition
The success of "Stranger Things" has brought all eyes on Gaten Matarazzo. However, he's hoping to focus the spotlight on another important cause: helping others with cleidocranial dysplasia that do not have the resources available to them that he has had.
Many people diagnosed with CCD undergo various surgeries, and these bills add up over the course of time. Unfortunately, many insurance companies do not cover extractions and claim that these surgeries are elective — forcing people to pay for them all on their own. Matarazzo has since partnered with the organization CCD Smiles to help raise money and support those around him who can't afford fixing their smiles. "I think that having an organization keeps me grounded," the young actor told WE. "It gives me an objective, and it gives me a purpose to be in the limelight."
While the fame that "Stranger Things" has provided him has been unforgettable, nothing will ever beat the feeling of helping someone in need. "That's really exciting to know that your work is affecting other people besides yourself," he said on "Live with Kelly & Ryan." "That you're making an impact in the world."